Looking for the best Robinhood stocks under 1 dollar to buy in August 2022? Well, you've come to the right place. Check out our top picks and get a rundown of each company on our list.
Best Robinhood Stocks Under $1
United States Antimony Company (NYSE: UAMY)
The United States Antimony Company is one of the world's primary suppliers of natural resources, including antimony and zeolite.
The company is involved in the transportation, smelting, and mining of these precious metals and minerals. It has operations in Mexico, the United States, and other global regions.
One reason you might want to start trading a penny stock like this on Robinhood is the growing demand for the above-mentioned minerals.

The global market size for zeolites could achieve a compound annual growth rate (CAGR) of over 3% from 2021 to 2026. Its earnings reached $14 billion by the end of the forecast period.
Meanwhile, the demand for antimony could expand 6% from 2018 to 2023. As such, this could potentially drive the stock price higher within the next five years.
Financially, the company remains stable, with its last-quarter revenue growing 103.7% year over year and its net income by 90% during the same period. It reported sales of over $7.70 million in 2021 compared to $5.3 million the year before.
If you're looking for a stable investment with potential upside, United States Antimony Company could be a good option.
Almaden Minerals (NYSE: AAU)
Another noteworthy Robinhood penny stock is Almaden Minerals, a Vancouver-based mineral exploration company that focuses on gold and silver.
It has proven and probable reserves that equate to over 85 million ounces of silver and a million ounces of gold in its drilling and mining sites in Mexico. These two minerals remain invaluable in various industries, maintaining their demand and increasing their value.
The value of gold, for example, grew 24% in 2020. Moreover, it could likely go up by 4% year over year in 2022 after contracting in 2021.

Choosing penny stocks in this industry is high risk because mining is often subjected to many challenges that range from tight regulations to environmental issues. However, Almaden Minerals can decrease this risk with its focus on sustainability and community engagement.
The business is less likely to experience significant operation interruptions, such as poor environmental compliance. These could contribute to an enormous decline in its stock price.
As a long-term investment, Almaden Minerals may be a solid play. This is particularly true after its project has been selected to be included in a pilot project by the United Nation's Expert Group on Resource Management along with Mexico's Ministry of Economy. This means that the company is endorsed by two major organizations, which could increase its appeal to investors.
By the end of this year, it is expected that Almaden Minerals will have completed a feasibility study on its Ixtaca project in Mexico. A positive result from this study could mean an influx of cash and an increase in the stock price.
Camber Energy (NYSE: CEI)
Investors looking for low-priced energy stocks can consider Camber Energy, an American company that provides custom power and energy solutions to commercial and industrial enterprises.
Oil prices rise due to the demand, geopolitical tension in Europe, and the lack of electric vehicles on the market. These factors suggest that this penny stock price could continue to grow, at least in the short term.
However, even if the prices of oil and natural gas stabilize, this might remain one of the ideal Robinhood penny stocks. This is due to its leadership in electric and energy solutions.

For example, it has recently acquired over 50% of its interests through its subsidiary Viking Energy Group. It did so in businesses that develop, design, and create proprietary electric detection, distribution, and transmission systems.
As of its last report, Camber Energy, Inc.'s proven reserve was 73,800 barrels of oil equivalent. The business also holds a sizable stake in Viking Energy Group, Inc. An exclusive license for a carbon capture system in Canada is held by the subsidiary.
The average daily volume of shares traded in Camber Energy, Inc. is about 56 million. The stock's low and high points during the last 52 weeks were $0.33 and $4.85, respectively.
Evolve Transition Infrastructure LP (NYSE: SNMP)
Another energy penny stock to watch out for is Evolve Transition Infrastructure, a company founded in 2005. This limited partnership focuses on the acquisition, development, and processing of natural gas pipelines and energy systems.
In a way, it functions similarly to Camber Energy. Nonetheless, it is also different since it is making money helping businesses and the government transition their energy infrastructure to something more sustainable like using low-carbon sources.
Levo is currently undertaking the biggest fleet conversion program in the Midwest. It has partnered with a school district to convert the school buses into 100% zero-emission vehicles.
It is also funding a project of HOBO, a renewable fuel developer. Hopefully, it could boost the latter's capacity to over 115 million gallons of fuel each year.

Further, its solid financials could attract more investors to its penny stock. Although its net income declined last quarter year over year, its revenue increased by 58% while its net profit margin climbed by 26%.
Despite the fact that Evolve's future appears bright with electric school buses and renewable energy fuel, the present remains the truth. Additionally, Evolve has not yet created any projects related to the new approach as of yet.
Given this, it can take some time before the firm starts to make any substantial profits. As a result, it is expected that the SNMP stock will continue to rise on news. As a penny stock with a small float, the risk is very significant.
Who will be left to purchase if everyone is buying if the price rebounds with such a tiny float? If you choose to purchase SNMP stock, you must ask yourself this question.
In addition, 93% of Evolve's entire income presently originates from its largest customer, Mesquite, where earnings are currently heavily concentrated. Given this, it creates a new danger if Mesquite is badly affected.
With the energy market surging, there could be a short-term trading opportunity with SNMP stock. You could, however, be able to locate greater sustainable energy investing prospects elsewhere.
Top Penny Stocks Under $1 On Robinhood
Kelso Technologies (NYSE: KIQ)
Robinhood also affords investors a chance to trade penny stocks in the transport equipment industry, and one of the leading options is Kelso Technologies.
As one of the leaders in this sector, the Texas-based company will design, manufacture, and then sell components for vehicles like trucks and railway systems. The latter could bring in a lot of cash for Kelso.
The market data showed that the global market for railway equipment could grow by 6.26% by 2026. This growth is due to factors like population growth, infrastructure rehabilitation, and the need for urban connectivity.
Through its subsidiary KIQ X Industries, Kelso is also investing heavily in road-to-no-road solutions with its heavy-duty suspension project called KXI Wildertec.

It has already partnered with two developers that will supply people and knowledge to make the prototype more legally compliant. These types of projects could improve the trajectory of its stock prices.
As for its financials, the company had $2,335,812 cash on hand as of June 30, 2022. With $4,848,880 in total assets and $1,513,968 in total liabilities, Kelso had a quick ratio of 1.92 and a current ratio of 3.22.
Most investors may look at this as a company with a lot of debt, but it is still manageable. Kelso Technologies has been increasing its revenue and gross profit margins over the past few years.
The bottom line is that Kelso Technologies is a penny stock worth considering for Robinhood investors. It is a transport equipment sector leader with a strong history of revenue and gross margin growth.
While it does have some debt, it is manageable. Plus, the company is investing in growth initiatives that could improve its financials going forward.
Inuvo Inc. (NYSE: INUV)
Inuvo Inc. is a company behind IntentKey, a media platform that uses artificial intelligence (AI) to gather and showcase audience data. In turn, the technology helps brands find high-quality leads and customize their marketing strategies to a target audience.
This platform makes Inuvo one of the few companies that leverage two fast-growing segments today: artificial intelligence and e-commerce.
Gartner believes that the revenue for AI software globally could be over $62 billion in 2022, an increase of more than 20% compared to the previous year.
Meanwhile, the recent spike in online orders could mean a growth CAGR of 16% for the e-commerce market in the same year, according to Insider Intelligence.
Still, investing in Inuvo comes with challenges. For example, the growth of AI depends on the maturity of its targeted industry.

In the past three years, Inuvo has shown a noteworthy increase in its sales. After two years of sales decline, the firm recorded a strong bounce at the topline in 2021 with a 34% YoY growth in revenue.
In 2021, revenue reached $59.8 million, with ValueClick sales accounting for 49% of that total and IntentKey subscriptions for 51%.
Over the years, the business generated a gross profit margin of 73.4%, which is more than one might anticipate for a software developer. Due to a change in the sales mix, the gross profit margin decreased from 81.4% in 2020.
In 2021, operating costs came to $51.7 million as the business increased its marketing efforts. To $33.1 million, marketing costs rose 20.7% over the previous year. In the year, the category increased to 64% of all operational expenses.
The corporation managed to generate a smaller operating loss of $7.8 million despite the rise in expenses. Compared to $8.0 million the year before, this is considered a significant advancement for the company.
Overall, it remains one of the best stocks under $1 on Robinhood because tech gains momentum fast, allowing an investor's capital to grow significantly in only a short period.
Borqs Technologies Inc. (NASDAQ: BRQS)
For a few dollars, investors can buy Robinhood penny stocks, such as Borqs, and capitalize on the massive growth of three technologies today: the Internet of Things (IoT), cloud, and wearable devices.
The China-based company is a central player in creating IoT solutions. This is a promising tech segment that could achieve a CAGR of over 10% until 2027.
It then complements this service with the cloud, whose market size already reached nearly $370 billion in 2021 and could still expand 15.7% from 2022 to 2030.
On the other hand, the demand for wearable devices will continue to soar in North America. This is a region that accounts for most of the sales for this product. As a desirable penny stock, Borqs is also well-positioned geographically.

The Chinese market for IoT alone could surpass $300 billion within the next three years. This accounts for over 25% of the total global market volume.
Also, a renewable energy and energy storage system will be built at the Mahana multi-family residential property in Barbers Point. This is under a $2.5 million sale agreement and contract signed by the company's solar energy subsidiary, Holu Hou Energy.
Holu Hou is a provider of design for service solar plus energy storage systems. It includes a ground-breaking energy-sharing product for the residential and multi-dwelling unit building markets.
Since the Kalaeloa region has had high electricity costs historically, the installation of renewable energy has been focused there during the past few years.
According to the deal, HHE will build the Mahana property's second phase, boosting its total solar capacity to about 640kW.
Evofem Biosciences Inc. (NASDAQ: EVFM)
In its 2021 fourth-quarter report, the company has increased the number of units shipped for its lone product by 73%. Evofem's hormone-free contraceptive, called Phexxi, improved its net sales by 109%.
The company also has several studies in the pipeline, such as prevention medications for bacterial vaginosis and chlamydia. According to market data, the global therapeutics market for chlamydia alone could be worth $3.4 billion in 2026 from $2.55 billion in 2021.

Regarding its financials, Phexxi's net product sales climbed to $6.0 million for the three months ending June 30, 2022. This is up 42% from $4.3 million for the three months ending March 31, 2022. For the second quarter of 2022, the rise is due to increased ex-factory sales and lower gross-to-net adjustments of 40%.
In the second quarter of 2022, total operating expenditures dropped by 8% to $30.5 million from $33.2 million in the first quarter of 2022.
At the time of writing this, CNN Business has indicated that four analysts it polled gave this stock a buy rating.
Should You Buy Penny Stocks On Robinhood?
Investors looking for a simpler and quicker way to invest in penny stocks under $1 might want to consider Robinhood. The platform streamlines penny stock investing with its zero commission fees and no minimum account requirement.
Investing is also easy with its user-friendly interface and accessibility. Additional features like market data research, trade on margin, in-depth industry news, and research reports also make it a viable option for traders.
Keep in mind, though, that Robinhood only supports shares listed in major stock exchanges and, therefore, does not offer OTC stocks.
How to Find Penny Stocks Under 1 Dollar on Robinhood
There are a few ways you can go about finding penny stocks on Robinhood. First, you could do your own research outside the platform, find a stock you like, and then search for the ticker on Robinhood.
Next, you can check out the Trending List on the homepage. The Trending List is a nice touch because it can cue you into stock movements and help you gauge investor sentiment about hyped up stocks.
If you want to do a deep dive into all of Robinhood's penny stocks, you can also search specifically for stocks under $5 and run through the whole list.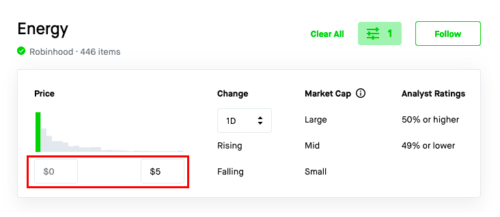 You can also dial in your search by adding additional filters like, health, tech, etc.
Robinhood Stocks Under 1 Dollar: Final Words
All in all, Robinhood might be one of the best platforms on the market to start trading penny stocks. It boasts a wide range of features and has an extremely accessible and trimmed-down UI.
That being said, there are some drawbacks to using the platform for trading penny stocks—especially if you're looking to trade OTC stocks.
This is a double-edged sword, though, and might not be a drawback depending on who you ask. Some people like that Robinhood only trades stocks listed on major exchanges, as it adds a layer of legitimacy to the underlying companies.
Something to consider is that you can always use other platforms, like Webull, to do your due diligence, as it has more robust research features. And then you can double back to Robinhood and make some fast trades.
Regardless of which platform you decide to use for stock trading, make sure to approach penny stocks with caution. It's easy to get stuck on the success stories and overlook when folks have their cheap stocks go sideways.
So always do your own due diligence, and only invest what you can afford to lose. In short, choose penny stocks wisely.
Robinhood Stocks FAQs
Can You Do Penny Stocks on Robinhood?
Yes, traders can buy and sell penny stocks on Robinhood. This investment platform has around 5,000 stocks to choose from.
You can search for penny stocks on the Robinhood app by typing in "penny stocks." This will bring up a list of penny stocks that are available to trade.
Can You Get Rich Off Penny Stocks?
It is possible to make money with penny stocks. However, investors need to remember that, while they could give high returns, they are also mostly duds.
Traders still need to perform extensive market research through news and company updates to make smart investment decisions.
What Is the Cheapest Penny Stock on Robinhood?
Penny stocks have various prices. The cheapest are those that investors can buy below $1.
These include United States Antimony Company, Almaden Minerals, Camber Energy, Evolve Transition Infrastructure LP, Kelso Technologies, Inuvo Inc., Borqs Technologies Inc., and Evofem Biosciences Inc.
What's the Hottest Penny Stock Right Now?
The hottest penny stocks are usually those that are in tech, healthcare, and energy. Although these are high risk, they are also high-return options.
Some possible choices are Camber Energy, Kelso Technologies, Inuvo Inc., Borqs Technologies Inc., and Evofem Biosciences Inc.
How Do Beginners Invest in Penny Stocks?
Platforms like Robinhood or Webull are likely the easiest way to start trading penny stocks. Signing up is easy. They also run some great promotions that give you free stock for registering.
Before you sign up for any platform, we recommend that you do a deep dive on trading stocks.