Steve Sjuggerud's proprietary software is turning heads in investment circles. But is it legit? Read my True Wealth Systems review to find out everything you need to know.
What Is True Wealth Systems?
True Wealth Systems is a premium newsletter led by Steve Sjuggerud and published by Stansberry Research.
Some perks include investment ideas, bonus reports, trade alerts, and more.
The service's X factor is its proprietary software that the team uses to scout out opportunities across 40 sectors. It also acts as an advanced warning system that alerts them to upward or downward market trends.
These trade ideas typically revolve around stocks or ETFs, with a heavy emphasis on ETFs.
The newsletter's risk profile is moderate, which Steve balances out further with his characteristically cautious approach.
Also, members can expect a typical holding period of about 6 to 18 months. However, this really depends on the shape of the market.
This is just the tip of the iceberg: there's a lot more going on under the surface.
Stick around for the full breakdown.
>> Sound like a good fit. Sign up for 75% off <<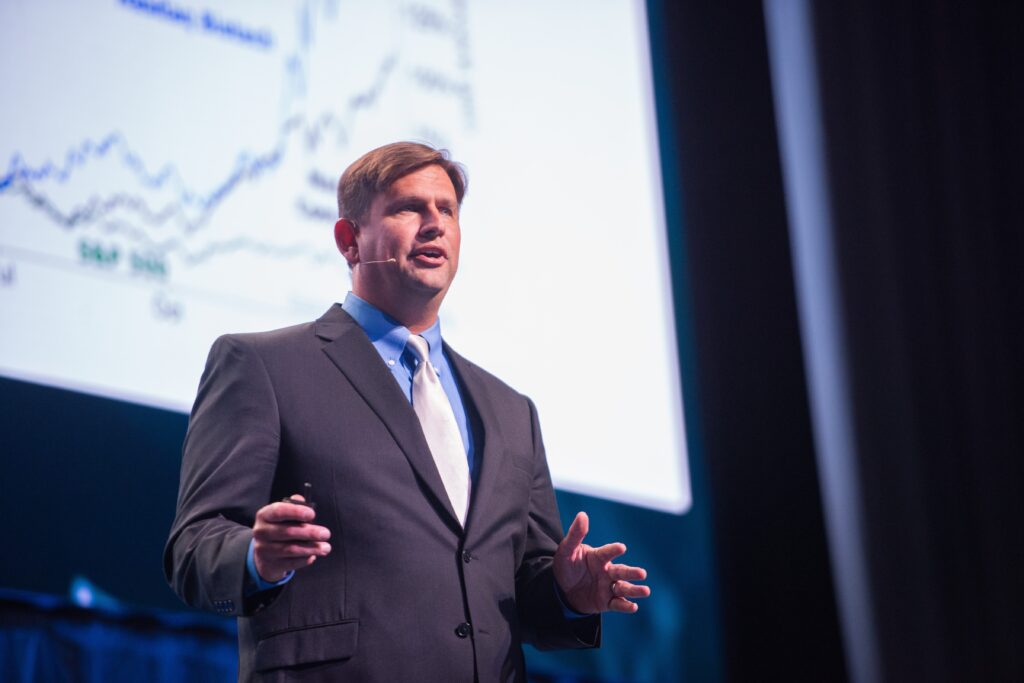 Who Is Steve Sjuggerud?
Steve Sjuggerud is a gifted analyst with a heavy specialization in commodities and ETFs.
He boasts a more conservative investing approach than many in the industry, which has helped him build a strong following over the years.
Before teaming up with Stansberry Research, Steve wore quite a few hats in the financial industry.
Some positions he took on include stockbroker, vice president of a $50 million global mutual fund, and hedge-fund manager.
In short, he's been around the block more than most.
He's also been credited with pinpointing major market-moving events long before they emerged. Among the most notable was when he called the "Bernanke Asset Bubble."
Now that you know more about the mind behind True Wealth Systems let's see what the latest deal offers.
>> Get the team's latest trade idea <<
What Comes with the Newsletter?
In addition to the monthly newsletter issues, the research suite is packed with Steve's latest research into what he calls the Oil Boom.

24 Months of the True Wealth Systems Newsletter
Members signing up under the latest deal receive two full years of the newsletter.
New issues are published on the first Thursday of the month, and alerts are sent straight to your inbox.
Each issue provides members with one carefully vetted investment idea — usually a stock or ETF.
The team backs each recommendation with supporting research and market commentary. Their proprietary software helps point the way, but they do all the other legwork.
Since they focus on a range of industries, this could be a great place to start building out a diversified portfolio.
Also, some stock selections might pay dividends. However, it's not the service's core focus.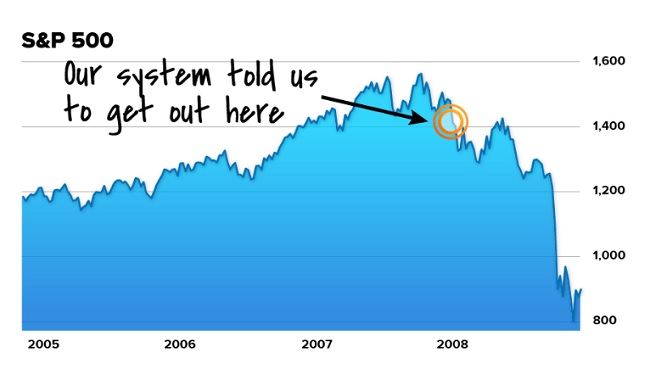 Trade Alerts
The team sends out alerts whenever something needs members' attention. This includes both buy and sell alerts.
Buy alerts are issued when a new addition is made to the service's portfolio.
On the other hand, sell notifications let members know when it's time to cash in or make a strategic exit.
It's a convenient feature that could set folks' minds at ease when going about their day.
Not everyone can spend every waking moment with their face glued to the screen.
So it helps to have the team (and their advanced warning system) keep a diligent watch on the markets.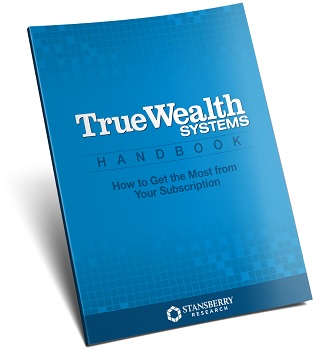 True Wealth Systems Handbook
This handy… handbook teaches the ins and outs of the newsletter's strategy.
If you're new to investing or just want to understand the team's approach, I recommend starting here.
It explains the strategy, how the system was built, what they look for in an investment, and much more.
There are also some solid insights into their secrets for picking stocks and ETFs.
It's a well-written, easy-to-digest blueprint that could teach you how to invest like Steve and the team.
This is definitely worth a read if you're a fan of self-directed trading.
>> Access all these features and more <<
Oil Boom Portfolio Bonuses
As mentioned, this package offers additional insights designed to make the most out of an oil boom, including extra investment ideas.
Keep reading for a deep dive into each resource.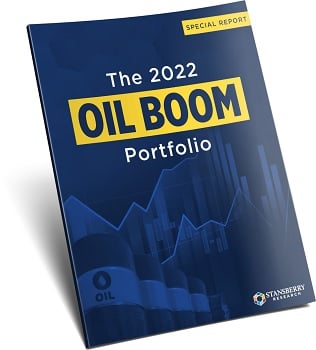 The 2022 Oil Boom Portfolio
This bonus report reveals five opportunities in the oil industry that Steve believes could see sizable returns down the road.
Each company tackles a different facet of oil production or distribution.
He's tight-lipped about the tickers, so I can only share the hints he dropped in his recent presentation.
He likens this company to the "Royal Gold" of oil and gas.

This company builds, operates, and maintains rigs in over 100 countries.

This company manufactures one of the most important parts of an oil rig.

This company is Steve's favorite independent oil company

This company is one of the largest pipeline companies in the US.
If you want to know the stock symbols of his top five opportunities for the oil boom, everything you need to know is in this report.
It also provides loads of supporting research detailing why Steve's bullish on each company.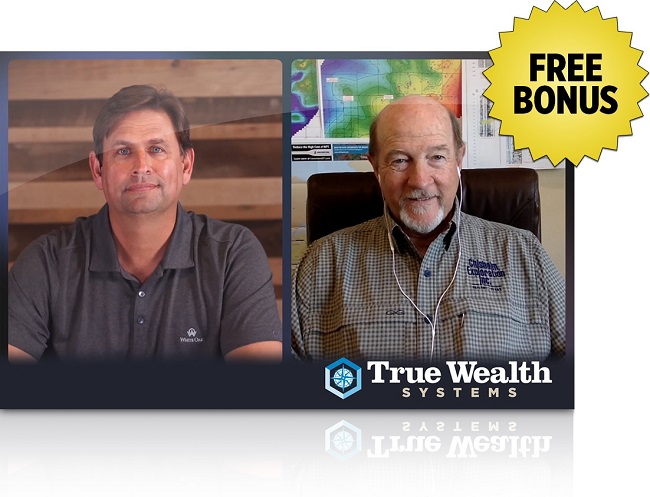 Exclusive Interview with Oil Industry Insider Cactus Schroeder
Steve sat down one-on-one with oil insider Cactus Schroeder.
And members can listen in on demand.
Cactus has thrived in the industry for three decades. So he has deep roots and a wealth of insider knowledge to draw from.
He also owns his own oil exploration company, Chisholm Exploration Inc.
During the interview, Cactus paints a vivid picture of where the industry is today and where it could be headed in the future.
He also shares some insider knowledge that builds an even stronger case for Steve's oil stocks.
Similar to the exclusive portfolio, this resource is for members' eyes only.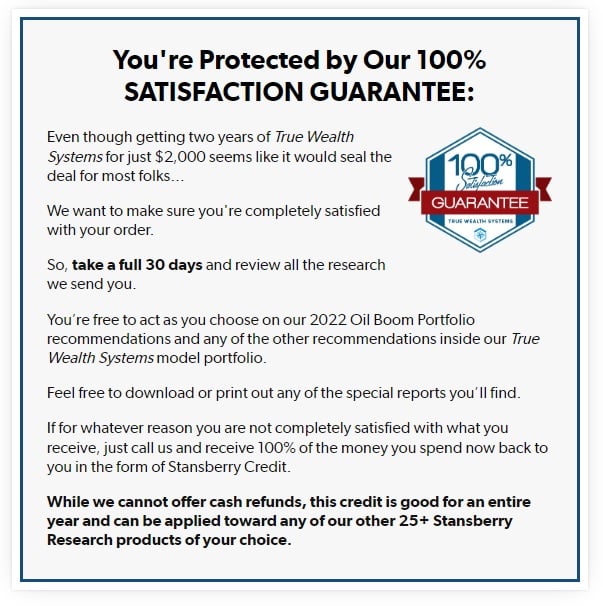 100% Satisfaction Guarantee
Under the latest deal, new memberships come with a 100% satisfaction guarantee.
If for any reason, you feel these insights aren't a good fit, you can opt for a full credit refund on the price of your subscription.
The credited amount can be put toward any combination of Stansberry's catalog.
A cashback refund would be ideal, but this is a fair compromise. It also lines up with many premium services in the research industry.
Plus, Stansberry Research has been in the business for over two decades, so it's amassed quite a catalog.
There are 25+ quality services to put this credit toward.
>> Make the most out of Steve's guarantee <<
Is True Wealth Systems Legit?
True Wealth Systems is a legit investment newsletter.
Steve and the team meticulously crafted advanced software that pinpoints opportunities in over 40 sectors.
The system development was led by two PHDs and 15 computer programmers. And the team has tested it against decades of data across all markets.
I also appreciate the newsletter's broad scope.
Having a narrow investing niche isn't inherently bad. But if a specific market tanks, it could be catastrophic for portfolios.
The team casts a wider net, so members can follow threads linked to a variety of industries.
True Wealth Systems Pros and Cons
True Wealth Systems is a stellar service, but there are a few rough edges to consider.
Pros
Excellent price with a 75% discount

Premium stock market analysis

Uses an advanced warning system

Tackles a broad range of industries

Advanced trading strategies
Cons
Mostly focused on stocks and ETFs

No community forum
True Wealth Systems Reviews
True Wealth Systems has locked in an impressive 4.3/5 rating on Stock Gumshoe.
Here's a quick peek at the rating: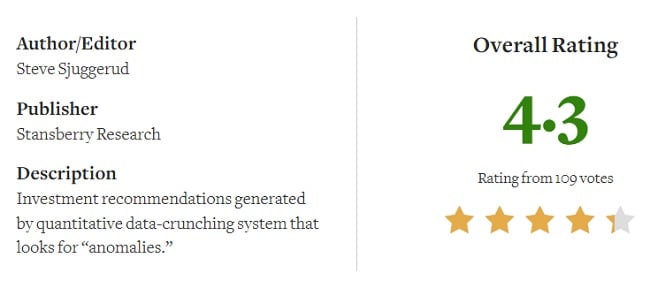 This is a good sign, but there's a caveat.
As a third-party site, we can't verify the veracity of each rating (good or bad).
Still, this could indicate that the general sentiment is largely positive.
>> See why so many trust Stansberry <<
True Wealth Systems Pricing
A two-year subscription to True Wealth Systems usually costs $8,000.
However, Steve and Stansberry Research are sweetening the deal and cutting down the price tag by 75%.
This means you can sign up for two years of service for $2,000 — not too shabby.

The cost is more than most entry-level newsletters I've seen. But this is premium research, so I think it's only fair to compare apples with apples.
Similar services I've reviewed in this bracket can retail for about $2,500… for just one year.
But with this newsletter suite, you get two full years, which is a huge upgrade.
Is the Service Right for Me?
True Wealth Systems is best suited for folks in search of investment ideas within a wide range of markets.
While it has a slightly higher risk profile than some of Steve Sjuggerud's other services, like True Wealth, he still brings the same cautious approach to his analysis.
So it might be a good fit for someone looking for a methodical style to scout out stocks and ETFs with significant upside potential.
The service's advanced warning system adds another layer of due diligence that many could appreciate.
It's also important to keep in mind that the team recommends having $2,500 in capital to get started.
This isn't required, but it's a friendly suggestion.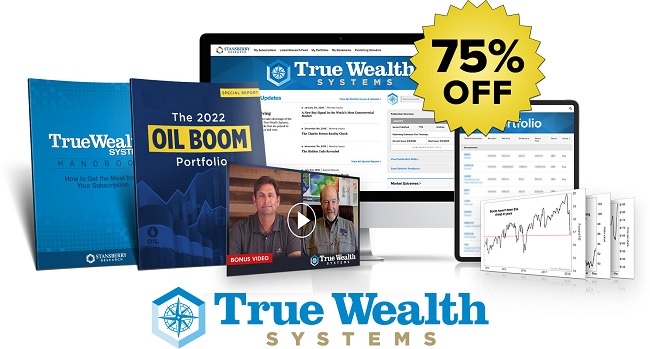 True Wealth Systems Review: Final Thoughts
True Wealth Systems is an excellent service, and the two-year subscription is worth every penny.
Steve and the team have outdone themselves again and put together an exceptional package with the latest Oil Boom bundle.
Also, as an expert on commodities and ETFs, Steve's uniquely positioned to lead the charge on this front.
Aside from the exclusive research into the Oil Boom, the monthly newsletter offers great, varied analysis.
It doesn't share the same slant toward oil opportunities as the bonus reports, which means members can enjoy a healthy blend of diversified investment ideas.
And the whole package is backed by a satisfaction guarantee.
Members have a full 30 days to give this service a shot. If it doesn't live up to your expectations, you are free to use in-house credit toward other shining stars in Stansberry's catalog.
I recommend giving True Wealth Systems a close look if you want an opportunity to make the most of an oil boom.
>> Claim your 75% discount TODAY <<