Donald Trump announced late last year his bid for the presidency in the 2024 election. If he becomes president again, many companies he has an intimate relationship with could benefit. Check out the four stocks we feel have the potential to take off.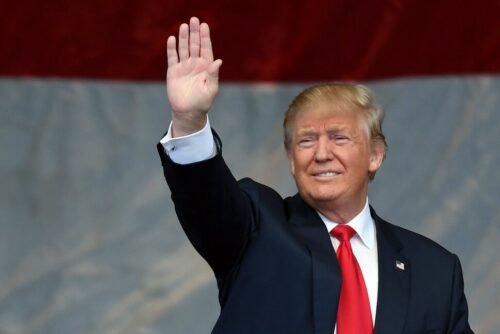 Related: What Trump 2024 Could Mean For The Markets
Trump Stocks To Watch out For
Digital World Acquisition Corp (NASDAQ: DWAC)
Digital World Acquisition Corp is about as much a Trump stock as you can get. The special purpose acquisition company (SPAC) first appeared in 2020, looking to acquire a target in fintech, tech, or media.
This blank-check company has long been slated to form a merger with the Trump Media & Technology Group. Former President Donald Trump heads the technology group.
The first rumors of this marriage hit the internet in late 2021.
At the core of Trump Media & Technology Group is the Truth Social app, designed to rival the likes of Twitter and Facebook.

Donald Trump created the social media platform after being banned from Twitter in January 2021.
The deal was initially scheduled to have been completed by now. However, DWAC recently extended its merger deadline to September of this year.
Digital World Acquisition Corp shares jumped to nearly $100 when the SPAC announced plans to merge with the Donald Trump media technology group.
It saw an uptick when the former president announced his bid to run in 2024.
DWAC's stock price is back down to more manageable levels following a lull in information. Reelection could garner even more interest for DWAC and Truth Social.
Phunware Inc. (NASDAQ: PHUN)
Phunware is a provider of mobile software and blockchain technology. The company is based out of San Diego.
Founded in 2009, Phunware is a pioneer of multiscreen-as-a-service software.
It helps many of the world's most well-known brands redefine the mobile experience.
As an all-in-one platform, Phunware provides companies with the tools to build a mobile presence.
These organizations can then manage and monetize these systems on their own.
Its cloud platform powers the online experience that users walk through.

In turn, this helps brands unify strategies and make educated consumer-based decisions.
Phunware already has industry solutions for several business models. These include retail, healthcare, hospitality, sports, and entertainment.
Donald Trump has taken an interest in what Phunware can do. The former president hired the company in 2020 to build a smartphone application.
The application was tied directly to Trump's attempt to be president that year. Phunware could once again become part of the Trump campaign and potential reelection.
Phunware's stock price has not seen much movement over the last few years as it continues to find its place in the market.
Again partnering with Donald Trump could be the catalyst for a boost in share performance.
Rumble Inc (NASDAQ: RUM)
Rumble is an online video platform similar to the likes of YouTube. It launched in 2013 and has headquarters in Florida and Ontario.
The company's developers created the service to give small content creators a voice.
Where other sites favored influencers, Rumble became a place for small content creators to express themselves.
This ideology resonated with a lot of people. From 2020 to 2021, Rumble's user base grew by 35 million users in one year.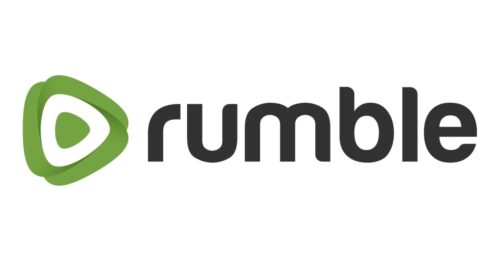 In 2021, Rumble acquired Locals to further develop its creator economy. This premium software service allows content creators to connect more intimately with core supporters.
The platform has become popular with conservatives, and Donald Trump in particular.
The Trump media app Truth Social announced it would join Rumble's ad platform as a publisher in August last year.
In 2023, the interactive video site announced a partnership with Donald Trump, Jr. for a biweekly live stream show. Called Triggered with Don Jr., it will discuss current events.
Being somewhat intricately tied to the Trump family, Rumble could stand to gain from presidential reelection.
ExxonMobil (NYSE: XOM)
ExxonMobil is one of the world's largest publicly traded energy providers.
With 135 years of history, the company has grown from a regional kerosene marketer to exploring oil and natural gas on six continents.
Alongside its energy business, ExxonMobil also has a large presence in the chemical industry.
Its facilities design chemical components in electronics, vitamins, medical equipment, and much more.
Across the planet, ExxonMobil markets products under Esso, Exxon, Mobil, and ExxonMobil brands.

The company also owns XTO Energy, a major player in United States oil and gas production.
When former president Donald Trump won the 2016 election, ExxonMobil stood to benefit. At the time, Trump pushed the United States to rely less on foreign oil.
Trump's reelection in 2024 could put big energy companies like ExxonMobil into the spotlight if the president follows the same pursuits.
Even news from campaign promises could cause ExxonMobil stock to move.
ExxonMobil has fared well over the past year, growing some 50% in stock price to climb to new heights.
Financial numbers also look great, with revenue gains of at least 45% each quarter.
Are Trump Stocks a Good Investment?
Trump stocks certainly could be a good investment if he wins the 2024 election.
Whether we like it or not, Trump's words and actions often impact the companies he touches. Simply his announcement to run again in 2024 caused some stocks to stir.
Anything can happen between now and election time. There's no guarantee that Trump will become the 2024 republican candidate.
Investors wanting to jump in on Trump stocks now could see spikes or decay. It all depends on how the former president approaches his campaign.
Should he become the 47th president, the stocks mentioned in this article could likely see positive movement.
The companies in this article are tied to Trump in some way. However, we also made our selections based on the company's performance.
Each one has a suitable plan for growth even if Trump leaves the ring. This leaves a potential for earnings before the next election passes.
There's little doubt that Donald Trump will continue to appear in the media in the coming months. Keeping a close eye on his strategy will help guide you in investing.
As with any investment, it's essential to do your research before investing.