Like CarMax and its competitors, the pre-owned vehicle industry is healthy and thriving.
All combined, the industry generates annual revenue of $153 billion.
Approximately 41 million used cars are sold yearly, and the market shows no sign of slowing down.
But, who are the biggest Carmax competitors? Read on to learn more.

What Is CarMax?
CarMax was founded in 1993 as a subsidiary of Circuit City stores and is headquartered in Richmond, Virginia.
With over 200 locations in the United States alone, CarMax is the largest used-car dealer in America.
To date, it has sold over nine million cars, employs over 27,000 employees, and sells both new and used vehicles.
CarMax provides its customers with a range of vehicle choices, including domestic, imported, and luxury cars.
Their success results from two segments of their business: automotive sales and vehicle financing.
CarMax SWOT Analysis
CarMax purchases used vehicles from owners and resells them at fixed, no-haggle prices.
Their no-haggle model sets them apart from all other dealerships. Before sale, CarMax completes safety inspections to ensure quality standards.
Vehicles deemed unfit for sale are sold through auctions and licensed dealers.
CarMax also offers its customers financing options through third-party providers.
Depending on the customer's credit history and other relevant data, CarMax receives additional revenue and profits by offering this service to its retail customers.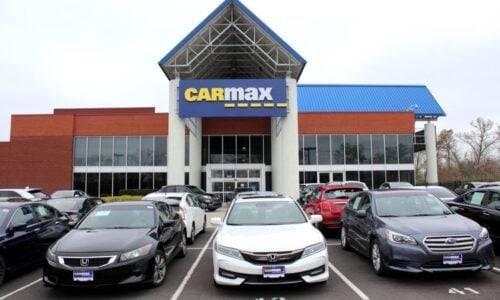 Strengths
CarMax's biggest advantage is its online and retail presence.
Potential buyers can browse online, place a car on hold, and test drive the vehicle before signing any paperwork. Most other online retail car companies do not allow a customer to test drive a vehicle before purchase.
CarMax also offers a seven-day money-back guarantee, matching and exceeding its competitors' offerings.
The company has a strong distribution network, and excellent relationships with dealers and suppliers.
It also ranks high in customer satisfaction as both a car retailer and auto finance service.
Weaknesses
CarMax needs to hold large amounts of inventory, sometimes for long periods of time.
The inventory selection is sometimes not varied enough.
The company's marketing strategies are limited and weak compared to top CarMax competitors.
Opportunities
The current supply chain bottleneck has caused an increased demand for used cars.
Changes in government policy may increase export opportunities and demand.
The CarMax Auto Finance sector may benefit from rising interest rates.
Threats
CarMax's biggest threat is fast-rising competition.
The company also faces potential threats from changes in government regulation in the car marketplace. The push for green energy vehicles may further strain the company's inventory management and supply.
The condition of used cars it buys may reduce the potential profit margin for the company.
Biggest CarMax Competitors
In such a substantial and competitive market, pre-owned vehicles have consistently been the preferred type of vehicle purchase for its fiscal benefits.
Pre-owned vehicles are typically less expensive and do not depreciate as dramatically as a new car.
The best way to save money is to buy a used car; CarMax and its biggest competitors know this.
CarMax's biggest competitors include Carvana, Autotrader, and Cars.com.
And with that, let's get under the hood of these pre-owned car companies.
Carvana
Carvana began in 2013 as a subsidiary of DriveTime and became an independent company in 2015.
Headquartered in Tempe, Arizona, it is an online retailer for pre-owned vehicles.
Buyers can opt for Carvana's in-house financing options.
Customers can choose to have a vehicle delivered or pick one up at any company's vehicle vending machines.
The company offers a seven-day return policy, customary of many used vehicle retailers.
Carvana was one of the first companies to offer online car purchasing and delivery right to the customer's doorstep.
Carvana made its mark in the used car industry with its unprecedented multi-story vehicle vending machines.
Carvana targets those who despise the traditional vehicle-buying process by making it easier, faster, and less painful – like buying from a vending machine.
It is one of the fastest-growing companies within the market, boasting nearly 4,000 employees and reporting revenue totaling nearly $4 billion.

Autotrader
Founded in 1997, Autotrader is headquartered in Atlanta, Georgia.
A subsidiary company of Cox Automotive, Autotrader purchases new, used, and pre-owned vehicles from private owners and dealers to list on their online platform.
Autotrader seeks to serve its customers beyond the vehicle, including reviews, advice, and automotive comparison tools, in addition to listing financing and insurance options available.
Autotrader is strictly an online marketplace for cars and is relatively small compared to its competitors.
It has just over 850 employees and generates just over $1 billion per year.

Cars.com
Cars.com is an online automotive classifieds company founded in 1998 and headquartered in Chicago, Illinois.
One of the leading automotive classifieds websites in the United States, Cars.com also operates NewCars.com, PickupTrucks.com, Auto.com, DealerRater, and Dealer Inspire business divisions.
Cars.com serves and the parent company for DR Media Holdings.
Cars.com primarily works to connect potential car buyers and sellers on its site.
Unlike its competitors, Cars.com does not own any of the vehicles listed for sale.
It turns a profit by selling online subscription advertising products to car dealerships and automotive original equipment manufacturers.
The company has about 1,300 employees and brings in annual revenue close to $607 million.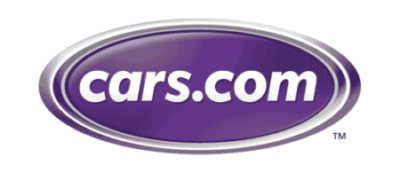 CarMax Competitors Analysis: Final Thoughts
CarMax's biggest competitors include Carvana, Autotrader, and Cars.com.
The company maintains its majority hold of the market share by offering new, used, domestic, imported, and luxury cars with over 200 locations for its customers to test drive any vehicle prior to purchase.
With its myriad of options for its customers, CarMax continues to dominate its market with 14% of the used car industry.
Each of its competitors holds less than 8% of the sector.
CarMax's in-person and online retail experience gives customers the ability to find a used vehicle that works for them, while also cashing in on offering financing options at the same time.