The Stock Dork is reader supported. We may earn a commission, at no additional cost to you if you buy products or signup for services through links on our site.
Over the past few years, we've seen a dramatic shift in the way consumers shop.
Many people now rely on the internet to buy their favorite products. Online shopping is not only convenient, but it also gives consumers a broader range of items to choose from.
The COVID-19 pandemic has caused the e-Commerce space to boom, as many consumers preferred to shop online for safety reasons.
Even as the pandemic comes to an end, there's still high demand for e-Commerce.
We've rounded up the best e-Commerce stocks to buy today, so you can benefit from growth in this sector.
Wondering where to buy the stocks listed in this article?
Check out
Webull
! Webull is an excellent trading app for beginnings and experienced investors alike. They have zero fee trading, and you'll even get a free stock (valued up to $1600) just for
signing up
!
Best e-Commerce Stocks To Buy
Amazon.com Inc. (NASDAQ: AMZN)
Amazon is the company that fundamentally changed the e-Commerce market.
Originally focused on selling books, Amazon has its eyes set on rendering brick and mortar establishments obsolete.
Through Amazon, consumers have access to an unparalleled marketplace of products and services.
No matter what you're looking for, there's a good chance you can find it on Amazon.
Consumers have relied heavily on Amazon over the past year to get their essentials, and this isn't slowing down anytime soon.
Their revenue and earnings numbers have been growing steadily – they saw revenue increase by 44 percent in the first quarter of this year.
Amazon currently has one of the highest share prices on the market, so it's not going to be right for every investor.
This online retail giant has proven that they aren't going anywhere anytime soon, so it may be a good long-term portfolio pick for those who can stomach the high price point.
Buyers may want to wait for a price dip before adding this stock to their portfolio in order to really maximize returns.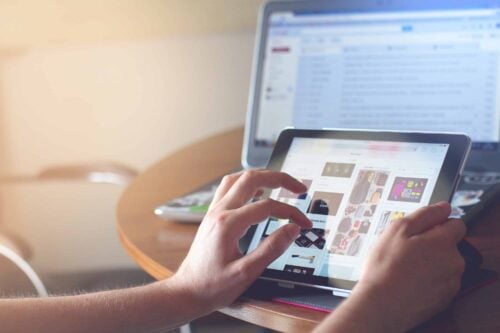 eBay Inc. (NASDAQ: EBAY)
As another one of the largest eCommerce platforms in the US, eBay facilitates online sales between consumers and businesses.
eBay has played an important part in allowing consumer-to-consumer transactions to continue in a pandemic world.
eBay gives consumers the option to buy, purchase, and bid on new and used goods.
You can find anything you need on eBay. Whether it's a new bluetooth motorcycle helmet or a gaming mouse, eBay has it.
It's P2P model is very different from Amazon and other more traditional retailers. Since they offer peer-to-peer transactions, they don't have to worry about supply chain issues as much as other retailers.
eBay stock has seen consistent growth over the past year. However, they still have a relatively low P/E ratio, meaning they could be slightly undervalued.
The company has also announced that they will be buying back $5 billion in shares this year, which could help keep its stock price stable.
This is an attractive e-Commerce pick to watch moving forward.
Etsy Inc. (NASDAQ: ETSY)
Etsy is another peer-to-peer e-Commerce company that has done very well over the past year. Etsy allows members to set up their own 'shops' to sell handmade and vintage items.
Part of Etsy's appeal is its selection of unique items that consumers can't find anywhere else.
Like eBay, Etsy doesn't have to worry about supply chain issues. They also have a very loyal customer base – in 2018, 60 percent of their sales were from repeat buyers.
Etsy has made a few notable acquisitions this year, which shows that they are invested in continued growth for their business. The most notable of these is Depop, a clothing resale app.
Etsy's focus on handmade and vintage items sets them apart from other big names in e-Commerce.
This stock has delivered excellent returns over the last year, and this appears to be just the beginning.
Chewy Inc. (NYSE: CHWY)
Chewy is a popular e-Commerce retailer that specializes in pet products.
They offer products from thousands of different pet brands. They also provide recurring subscriptions for pet essentials.
After hitting a peak in February, Chewy stock has dropped slightly since then.
This was likely due to investor concerns about loosening COVID-19 restrictions in the U.S. Many people thought that consumers would prefer to buy their pet products at brick-and-mortar stores.
However, this doesn't appear to be the case, and Chewy stock is slowly recovering.
The company is expected to be profitable for the first time this year, which would likely give this stock a boost.
Chewy has carved a unique niche for themselves in the e-Commerce market, and appear to have strong long-term growth prospects.
Looking for more stock picks?
Get a new trade every week for free with
Trade Ideas
. Trade Ideas sends you a new pick every single week along with the reasoning on why it could be ready to break out. Sign up for free
right here
.
e-Commerce Stocks: Retailers

Walmart Inc. (NYSE: WMT)
With sales of $510.33 billion in 2019, Walmart is the largest American retail corporation.
Crypto Alert
Bigger Than Bitcoin and Better Than Gold
Even gold misses the mark.
Cryptocurrencies (like Bitcoin) are the ONLY assets that have all four of these features.
Features that can truly protect investors from today's unprecedented money printing and interference from governments.
But Bitcoin is NOT the primary cryptocurrency at the forefront of this new money revolution.
These three supercryptos are the ones taking the lead and helping investors make the most money.
Click Here For All Of The Details
We earn a commission if you click this link and make a purchase at no additional cost to you.
The coronavirus pandemic completely changed the brick-and-mortar sales narrative as consumers switched to online purchases for safety reasons.
While many other retail giants struggled during the pandemic, Walmart was able to transition to e-Commerce fairly easily.
They also offered services like curbside pickup to keep consumers coming back.
While this stock has dropped off slightly from its peak in December, it has since recovered well and is on an upward trajectory now.
Walmart is often considered a good 'recession-proof' stock because of their focus on essential items.
They also offer a 1.54 percent dividend yield, which is certainly enticing to income investors.
Target Corporation (NYSE: TGT)
Target is the 8th largest retail chain in the US. While they're known primarily for their brick-and-mortar stores, they have been expanding their e-Commerce efforts over the past few years.
They now offer a robust online shopping experience. Customers can opt for delivery or pick up their items at a local Target location.
Target stands out from its competitors due to the quality of their items. They offer a variety of high-quality and sustainable products at a relatively affordable price.
The company also consistently updates their business model to provide a better experience for customers. For example, they have been opening small-format stores in urban locations for better accessibility.
Target stock has been on a steady upward trajectory over the past year, delivering very strong returns for investors.
In addition to this sustained growth, this stock also provides a 1.38 percent dividend yield.
Overall, Target has proven itself to be a reliable portfolio addition.
e-Commerce Stocks: Software
Shopify Inc. (NYSE: SHOP)
Shopify is a Canadian-based platform that makes it easy for small businesses to sell online.
This platform offers a wide variety of e-Commerce tools and integrations. These include product listings, payment processing, email marketing, and more.
Shopify stock is very expensive, and there's some indication it could be overvalued.
However, you shouldn't necessarily write this stock off because of its high price tag.
Shopify shares have rallied over the last few months, and they could climb even higher if the company's upcoming earnings report goes well.
The company saw strong revenue and user growth in the first quarter of this year despite relaxed pandemic restrictions in the U.S.
Many analysts expect this growth to continue.
e-Commerce Payment Stocks

Paypal Holdings Inc. (NASDAQ: PYPL)
Paypal is an online payment processing service that allows users to send and receive money.
Paypal has become a popular payment option for online businesses of all sizes. Many consumers like it because it allows you to pay online without giving individual businesses your credit card information.
In addition to their own namesake services, PayPal also owns Venmo, a popular peer-to-peer payment app.
They've also recently launched Zettle, which is a point-of-sale system for small businesses.
This stock has been on a steady upward trajectory this year, but that's not much of a surprise given the company's finances.
They've seen steady revenue and earnings growth over the past five years.
PayPal is currently the world's leading online payment processing system. Given their recent successes, this seems unlikely to change anytime soon.
Square, Inc. (NYSE: SQ)
Square is a financial service and mobile payment platform. It is run by the founders of Twitter and is based in San Francisco.
Paypal and Square are often considered to be direct competitors, but they actually offer different services.
Square offers a full suite of business management tools, including a very popular POS system for brick-and-mortar businesses. However, they do offer some e-Commerce tools as well.
Square owns the Cash App, a popular peer-to-peer payment system with some e-Commerce features.
Square's transaction revenue was up in the first quarter of 2021, and is expected to continue to do well for the rest of the year.
So far this year, Square has delivered huge returns. They are one of the top e-Commerce and fintech stocks to keep an eye on this year.
Best Chinese eCommerce Stocks
Alibaba Group Holding Limited (NYSE: BABA)
Often coined the "Amazon of the East," Alibaba is an e-Commerce company based out of China.
BABA stock has been discussed heavily in the media this year. After peaking in October, the company's stock has been on a downward trajectory.
Much of this is due to Chinese regulatory boards investigating the business, as well as co-founder Jack Ma's disappearance from the public eye in late 2020.
However, Alibaba's businesses continue to generate huge revenue numbers and are a very important part of the Chinese economy.
This is definitely one of the riskier e-Commerce stocks on the market right now, so it's not going to be the right choice for every investor.
However, Alibaba has a huge Chinese market share, and it's very possible they could bounce back from these setbacks.
JD.Com, Inc. (NASDAQ:JD)
As another e-Commerce company, JD.com is based out of Beijing, China. JD.com is Alibaba's biggest competitor.
That being said, JD controls just 17% of the market share in China, while Alibaba controls as much as 59% of the market.
12% of the company is currently owned by Walmart, who is evidently placing bets on the Chinese e-Commerce market.
This stock peaked in February but has dropped off since then.
Many American investors are wary of buying Chinese stocks right now due to tensions between the U.S. and China.
However, JD.com's financials have been strong, and their price-to-earnings ratio is low, meaning it's likely undervalued.
Now could be a good time to buy the dip, but investors should be aware of the risks of investing in Chinese companies.
Should You Invest In e-Commerce Stocks?
Now is a great time to buy into e-Commerce stocks. Consumers have gotten used to the convenience of being able to buy their favorite products online.
This is something that's unlikely to change, even as the pandemic comes to an end.
In the future, delivery services may be considered an essential, as opposed to a helpful convenience.
For many small businesses, it's easier and more affordable to sell their products online, as opposed to having to build a brick-and mortar store.
Investing in the companies that are offering e-Commerce services now is a great way to get in on this trend.
Best e-Commerce Stocks: Final Thoughts
Some of the world's largest companies right now are e-Commerce companies. These stocks have been incredibly successful this year as a result of high demand for their services.
These stocks aren't slowing down anytime soon. Now is a great time to invest in e-Commerce stocks and take advantage of these changing consumer behaviors.