Looking to pick up some Chick-fil-A stock? Read on to find out what you need to know about investing in this company!
Due to its signature chicken sandwich, Chick-fil-A is one of the most popular fast-food restaurants in the US.
Thanks to its unique flavored chicken, strong customer service, and famous misspelled cow ads, it has cultivated a loyal customer base.
The company also has an estimated annual revenue of over $1 billion and is ranked the number one restaurant brand by consumers.
With the recent increase in Chick-fil-A's sales, many fast-food investors want to grab some shares.
Today, we'll tell you everything you need to know about Chick-fil-A stock, whether you can buy it, how to profit from Chick-fil-A's performance as well as competitors to invest in.

What Is Chick-fil-A?
Chick-fil-A was first opened in 1946 in Atlanta, Georgia, by its founder Samuel Truett Cathy.
The company originally was run under the brand name Dwarf House and was known for its hamburgers and steaks.
There are still 12 named Dwarf House locations in the country where you can grab a burger or strip steak.
Chick-fil-A is a remarkably successful fast-food company, but it has not been without controversy.
The casual restaurant company has come under public scrutiny due to its history of donating to charities that critics say contribute to anti-LGBT causes.
Cathy had also made several public statements declaring his beliefs that same-sex marriage is immoral.
Chick-fil-A has since said that they no longer donate to such organizations, but some people question the integrity of their claim.
Despite the controversies, the company has generated an enormous amount of goodwill.
Chick-fil-A is known for donating leftover food to local charity programs, and the company has provided free food to the public during crises or emergencies.
Many people also greatly appreciate the publicly professed Christian family values of the owners.
Who Owns Chik-fil-A?
Chick-fil-A is a private company owned by the two sons of S. Truett Cathy, the initial founder.
Dan Cathy was the company's CEO until 2021, when he handed the reigns to his son, Andrew.
Dan Cathy still fills a chairman role with the company, and other family members are in active management roles as well.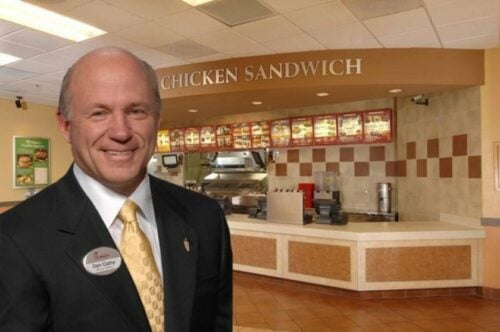 How Much Is Chick-fil-A Worth?
Chick-fil-A's estimated net worth is about $15 billion.
The average Chick-fil-A unit (store) pulls in around $4 million in revenue each year, much higher than most other fast-food restaurants.
The company CEO Dan Cathy has an estimated net worth of $6.06 billion.
Overall, there are many fewer Chick-fil-A locations than other major chains like McDonald's or Wendy's, but each individual Chick-fil-A location pulls in a tremendous amount of money.
Chick-fil-A Revenue
Chick-fil-A's 2020 revenue was estimated to be $4.3 billion.
This is up by 13% compared to its 2019 revenue of $3.8 billion.
We'll keep you posted as revenue numbers are released for 2022 and beyond.
With a half-million customers craving its high-quality food each day, there were likely few negative impacts from the COVID-19 pandemic.
How Chick-fil-A Outperforms Its Competition
Chick-fil-A manages to pull in huge profits while still treating its workers fairly.
Average hourly wages for positions are much higher than the industry average, and full-time employees are eligible for health, vision, and dental insurance.
Full-time workers are also eligible for short and long-term disability insurance.
Employees also get employer-provided pension plans for retirement.
According to many sources, Chick-fil-A spends a lot of time training workers and invests a lot in them — more than many companies in the fast-food industry.
Ready to build your portfolio? With Public.com you can follow other investors, discover companies that are inline with your beliefs, and invest into stocks and crypto with very little money! What are you waiting for? Check out Public Now!
Can You Buy Chick-fil-A Stock?
The short answer is, no, you cannot buy Chick-fil-A stock.
Chick-fil-A is a privately owned company, so the owners do not sell equity in the form of shares.
In fact, before the original owner and founder passed away in 2014, he made his children and heirs to the company sign a contract that they would never go public with the company.
This means that the current owners cannot sell shares of the company to the public on the stock market — even if they wanted to.
As such, you likely won't be able to buy stock in Chick-fil-A anytime soon.
Chick-fil-A IPO Date
There's no news on a scheduled IPO date for Chick-fil-A.
Its owners have no plans of moving forward with an IPO — and for good reason.
When companies go public, the owner might lose a lot of control over what happens in business operations.
If publicly owned, Chick-fil-A may be pressured by shareholders to take specific business actions — like remaining open on Sunday, which is against the original owner's closely held religious beliefs.
This is chiefly why its owners want it to remain a privately held company and why we won't see a Chick-fil-A IPO.
Chick-fil-A Stock Symbol
Since Chick-fil-A stocks are unavailable, there is no public stock symbol or market ticker for the company.
An excellent option would be FILA or CHICK, but unless the owners change inheritance contracts in the future, we are not likely to get a stock symbol for the company soon.
Chick-fil-A Stock Price
Without a stock symbol, there is also no official stock price to report.
The company currently intends to remain private and solely family-owned.
Additional Chick-fil-A Investment Opportunities
You can still make money through the business by opening a Chick-fil-A franchise location.
For $10,000, you can open a franchise and profit from the company's activities.
$10,000 sounds like a lot at first, but that is very cheap compared to some other companies.
For example, franchising costs for McDonald's are around $1 million.
Chick-fil-A does limit franchising licenses, though.
Franchise owners can only operate one location, and they must abide by strict company policies and inspections.
There is an excellent reason why Chick-fil-A has received praise for its friendly staff and smooth operation.
The company takes these values incredibly seriously, which is largely why people flock to their restaurants.
This is why Chick-fil-A limits franchising to one location.
The company wants owners to focus on one store to ensure it is running as efficiently as possible.
Chick-fil-A franchises are very profitable as well.
According to data from Franchise City, the average Chick-fil-A franchise owner can pull in around $200,000 a year.
That is a pretty sweet ROI if you ask us.
The only tricky part is that Chick-fil-A is highly selective about franchise owners.
So while you can't buy stock in Chick-fil-A, being a franchisee can help you join in on Chick-fil-A's success.
About 20,000 people inquire about becoming franchise owners each year, but Chick-fil-A approves a mere 80.
That's less than half a percent of inquiries.
Either way, the super cheap costs are an excellent reason to check out franchising opportunities for Chick-fil-A.
Given that the average fast-food franchise cost is about $30,000, the $10,000 bill for Chick-fil-A is way more tolerable (and probably more profitable as well!).
Chick-fil-A Competitors You Can Invest In
If you are looking for a lucrative fast-food stock, Chick-fil-A has many competitors worth investing in.
McDonald's Corp (NYSE: MCD)
Almost everyone in the world has heard of McDonald's, and probably no other fast-food chain has as much name brand recognition as this burger behemoth.
McDonald's stock is almost always a great choice for investors — especially in the past year, thanks to several successful product launches.
McDonald's stock has been trending recently because the company recently unveiled its online MyMcDonald's loyalty program in late 2021.
However, like all restaurants, McDonald's stock took a hit due to COVID-19, but the company managed to recover thanks to its online and delivery sales.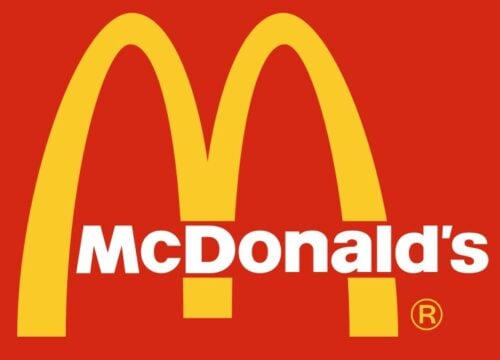 Yum! Brands, Inc. (NYSE: YUM)
Yum! Brands is the conglomerate owner behind national fast-food chains KFC, Pizza Hut, and Taco Bell. Collectively.
Yum! operates over 50,000 locations in over 150 countries.
Unlike many fast-food brands, Yum! has managed to completely recover its pandemic losses and has recently hit an all-time high at over ~$130 a share.
Yum! has seen revenue losses the past two years due to re-franchising efforts, but the company's P/E multiple has been steadily rising in tandem.
Q3 2020 saw a great recovery for Yum! stock after switching to a delivery model.
It could be a great alternative to owning stock in Chick-fil-A.
Restaurant Brands International Inc (NYSE: QSR)
QSR is the conglomerate behind Burger King, Tim Hortons, and Popeyes, among other chains.
The company operates over 27,000 locations in 100 countries.
QSR stock has been showing great short-term signals lately, with strong revenue generation from their major brands and good dividend payouts.
Shake Shack Inc (NYSE: SHAK)
Shake Shack is another retail investor favorite for a while and still is a good buy, despite a handful of recent problems.
Shake Shack saw revenue drop due to shortfalls from switching over to a digital model.
Online and digital sales have been growing rapidly, so the company could present much better revenue figures for 2022.
Wait for a Chick-fil-A IPO or No?
Chick-fil-A is a fast-food restaurant powerhouse and could have plenty of potential as an investment.
Despite some controversies in the past, the company is still holding strong and competes with some of the biggest names in the business.
So if Chick-fil-A is ever publicly traded, you might want to consider picking up a few shares.
Make sure to do your own due diligence before picking up any stock, however.
Chick-fil-A Stock: Final Thoughts
Ultimately, no, you cannot buy Chick-fil-A stock, and it's unlikely you will be able to anytime soon.
The company will remain in private hands for the foreseeable future.
However, there are exceptional alternatives to owning stock in Chick-fil-A that we recommend you check out.
So if you want to invest in the fast-food industry, you still have a lot of options, like Shake Shack or Chipotle.
Fortunately, you can also profit from Chick-fil-A by opening a franchise location.
Chick-fil-A Stock FAQs
If you're on this page looking for help buying Chick-fil-A stock, you likely have lots of questions.
These are answers to some of the most commonly asked.
Is Chick-fil-A a Publicly Traded Stock?
Chick-fil-A isn't a publicly traded company, so you cannot buy Chick-fil-A stock on a public market.
This also means investors won't find a Chick-fil-A ticker or stock symbol on any brokerages because it is privately held and will remain so in the near future.
Can You Invest in Chick-fil-A?
Chick-fil-A is not an investment suited for traditional stock traders.
If you want to invest in Chick-fil-A, you'll need to join its franchise program, which has many strict qualifications.
You cannot be a part of any other business ventures.
What Is the Chick-fil-A Stock Symbol?
Stock symbols are only assigned to publicly traded companies.
Unfortunately, for anyone who wants to trade Chick-fil-A shares on the stock market, there is no Chick-fil-A stock symbol or stock ticker.
This is because Chick-fil-A is a privately held company and has not reserved a stock symbol.
What Is Chick-fil-A's Stock Price?
Chick-fil-A's stock price could be priced around $100 to $200 based on competitor stocks on our list.
We have also seen some estimates that Chick-fil-A stock could cost $60 to $90 per share.
What Are the Benefits of Owning a Chick-fil-A Franchise?
Owning and operating a Chick-fil-A franchise has many benefits, including that Chick-fil-A takes on the majority of startup costs.
There are some disadvantages to franchising a Chick-fil-A, however, such as not being able to select the location.
Will Chick-fil-A Ever Become a Publicly Traded Company?
The company's founder made his heirs sign a contract forbidding them from doing so, and the current owners have repeatedly expressed their wishes to keep the company entirely in the hands of the family.
One of the major reasons the company will not go public is that the owners do not want the interest of shareholders to impinge on the company's Christian values.