Hayneedle is an e-commerce store focused on interior décor and home furnishing, and it's popular for unique offerings and reasonably priced large furniture items. But does Hayneedle have a credit card that can offer financing on those pieces? We checked it out for you.
Does Hayneedle Have a Credit Card?
No, Hayneedle does not have a credit card. If you find a website offering you Hayneedle credit cards, be careful and double-check with the company's website first.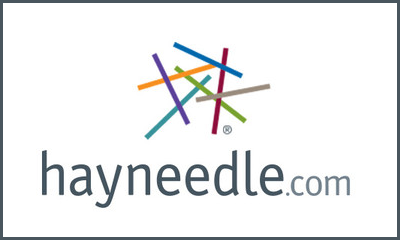 Surprisingly, even though Hayneedle is a part of the Walmart family of companies, even the Walmart credit card does not work at Hayneedle.
However, Hayneedle does offer you flexibility in payments through Affirm and Zip, as well as PayPal credit (more about that later).
If you are simply looking for deals and discounts, Hayneedle offers a lot of promo codes, discount coupons, and sales.
Hayneedle also has a rewards program for its customers: My Hayneedle Rewards. You can become a loyal customer and get reward points on every purchase.
Ready to build your portfolio? With Public.com you can follow other investors, discover companies that are inline with your beliefs, and invest into stocks and crypto with very little money! What are you waiting for? Check out Public Now!
Does Hayneedle Take Affirm?
Yes, Hayneedle takes Affirm. Affirm is a buy now pay later financing platform that lets consumers pay for purchases over 3, 6, or 12 months.
It could keep you away from accruing unhealthy debt, and getting an Affirm check does not impact your credit health either.
Affirm does not charge any late fee or hidden fees, and its payment structure is quite transparent.
On Hayneedle, you can only use Affirm for purchases that are of more than $250 value.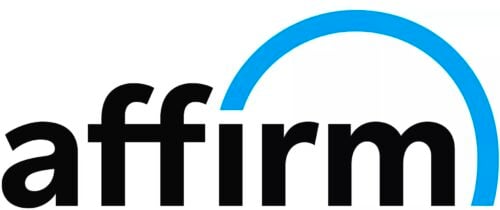 Is Affirm Cheaper Than Credit Card?
Interest rates on Affirm vary from 0% to 30%. While 30% is more than most credit cards, Affirm maintains that most loans remain on the 0% APR.
So, whether or not Affirm is cheaper than a credit card actually depends on your credit history, your payment history with Affirm, and your relationship with it.
If you have a good credit history and have paid back all your past purchases through Affirm on time, you will likely get 0% APR, which is much cheaper than a credit card.
Moreover, Affirm charges simple interest (not compound interest), so your interest payments are more transparent and fixed at the start of the payment term.
Lastly, there are no late fees with Affirm, unlike credit cards. And you can always choose your payment term and plan with Affirm, unlike with credit cards.
Can I use my Affirm card Anywhere?
Yes, you can use the Affirm card. Most merchants who accept Visa cards accept payment through an Affirm card as well.
An Affirm card is issued on affirm.com when you are approved for a loan amount. You can use the card to pay at any merchant, both online and in-store.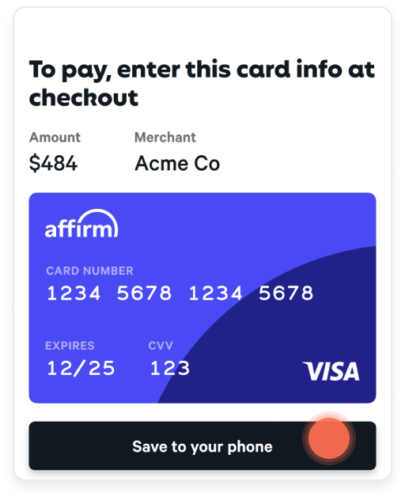 A virtual Affirm card expires within 24 hours of being used; it is not like a credit card or a prepaid debit card.
Can I Borrow Cash From Affirm?
Not directly, but you can transfer a personal loan from Affirm to your linked bank account and then withdraw cash from your bank account directly.
Affirm personal loans can be anywhere between $50 to $17,500, with an APR of 0 to 30% and a payment duration of up to 36 months.
Does Affirm Hurt Your Credit?
No, Affirm does not hurt your credit score at the time of eligibility check. When Affirm determines your eligibility for a loan, it only does a soft check.
However, after taking a loan from Affirm, your credit history with Affirm may get reported.
If you have not paid your loan or defaulted on payments with Affirm, it might impact your credit score.
Does Hayneedle Have Financing?
Yes, Hayneedle has financing in conjunction with Affirm and Zip. Both Affirm and Zip are buy now, pay later financing options, and both work in a similar way.
You can choose your payment schedule and duration and pay the purchase amount in small blocks instead of paying the entire amount upfront.
With Zip, there is no interest if you pay within six weeks in four-part payments. Zip charges only a $1 fee for every payment ($4 in total).
You can also use PayPal credit for financing on Hayneedle. PayPal Credit lets you pay the full amount over up to 6 months for orders more than 99 dollars.
Does Hayneedle Take PayPal?
Yes, Hayneedle takes PayPal. Using PayPal is a safe and secure way to pay online since all your credit card or debit card information is encrypted at its end.
You can also use PayPal Credit at checkout to pay your total amount by spreading it out over a six-month period (subject to credit approval).
Many merchants accept PayPal for online payments.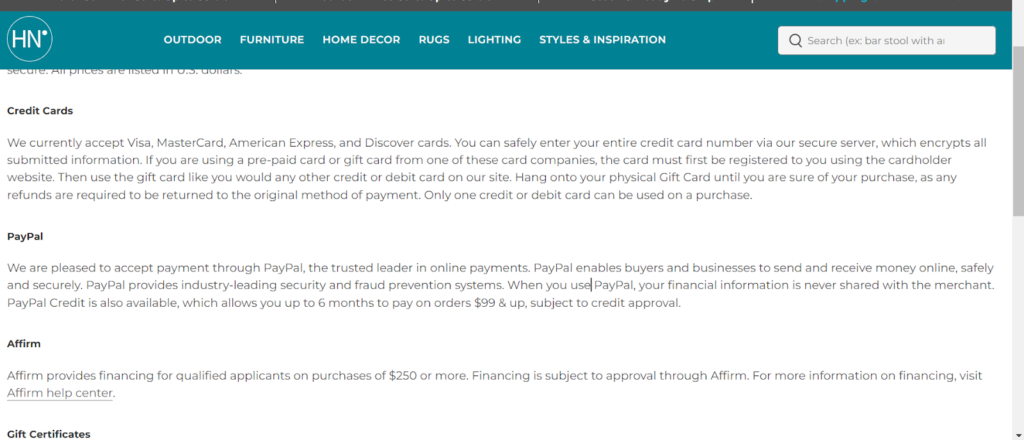 Unfortunately, Hayneedle does not take Apple Pay.
Hayneedle Payment Methods
Hayneedle accepts credit cards, debit cards, PayPal, Affirm, and Zip.
Among credit cards, Hayneedle currently takes Visa, Mastercard, Discover cards, and American Express.
Hayneedle encrypts your entire credit card number and all submitted information on its secure server, so you can safely enter these details.
You can also use prepaid gift cards from these companies at Hayneedle.
If you pay using a gift card, please keep it safe since any refunds will come back to the original payment method only.
Final Thoughts: Does Hayneedle Have a Credit Card
Hayneedle is one of the largest online home furnishing stores in the US, but it competes in a market which contains many heavyweight brands.
Wayfair, IKEA, Overstock, and Amazon all compete in this space, so having a brand differentiator like a store credit card might be a good idea for Hayneedle.
Even though Hayneedle is part of the Walmart family, it does not take Walmart's credit card. It could be an easy option to start taking the Walmart credit card itself.