HEB is one of the biggest grocers in Texas and is known for its fast and convenient service. But does it take Apple Pay to make checkout even quicker? We did some digging and here's what we found.
Does HEB Accept Apple Pay?
HEB does not take Apple Pay in 2022. Fortunately for Apple Pay users, HEB has publicly stated that it is considering accepting this form of payment down the road.
The company posted a tweet in March 2022, implying that it may support Apple Pay.
Here's HEB's position on this payment method in its own words: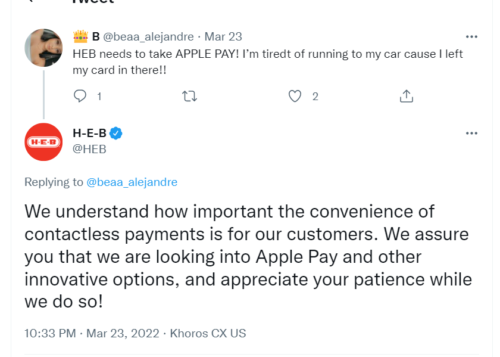 This isn't a guarantee, but it's better than a hard no. We'll see how this shakes out in the future.
We're going to take a deeper look into HEB's payment options, so keep reading for more info. Before we dive into it, we'll offer our speculation on why HEB may not want to accept Apple Pay.
Why Does HEB Not Take Apple Pay?
While HEB has not given any reason why it does not accept payment options such as Apple Pay and Google Pay, there are many speculations.
HEB already offers home delivery and curbside pickup, which means you can go contactless if you want to. HEB might not see the need to add more options.
But most importantly, HEB is invested in its own contactless payment method: HEB Go.
Why would it want to encourage competition for its own app? Getting users to use HEB Go helps the company gather a lot of invaluable user data, which it can't do with Apple Pay.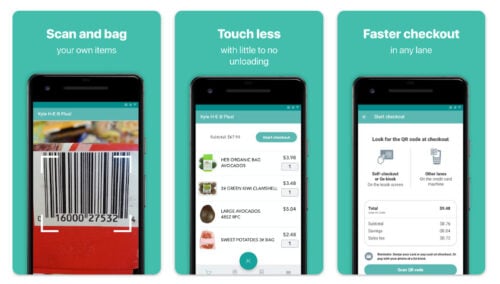 So, What's HEB Go?
It's a payment option built into HEB's mobile app that lets you scan and pay for items at all HEB grocery stores. You become your own cashier with HEB Go.
What's more, is that it lets you redeem your coupons and save your shopping lists at HEB.
With HEB Go, you can simply scan everything you want to buy, bag it, and then pay at the dedicated HEB Go checkout kiosks.
Neat, isn't it? Let's see how it works.
How Can You Use HEB Go?
HEB Go is available for both iOS devices and Android phones and tablets. You can download HEB Go at the Google Play Store for Android or the Apple App Store for iPhone users.
Here's what to do with it:
Scan barcodes at each product that you are buying.

For fresh produce, you will need to weigh, print the barcode and then scan.

Go to a dedicated H‑E‑B Go self-checkout machine at the checkout.

Look for the QR code on the machine and scan it.

Before payment, you can apply your promos and coupons.

Authenticate to pay, and you're done!
Why Do People Still Want to Use Apple Pay at HEB if HEB Go Is Good?
Apple Pay is one of the most popular digital payment options today because of its 2FA (2-Factor Authentication) technology, which makes it safer than others.
In fact, Apple Pay is the largest payment app (by transactions) outside of China. Here's why Apple Pay is so good:
It's free and faster than credit or debit cards.

The app is super user-friendly.

It's accepted almost everywhere (90% of retailers have it).

Apple devices and applications are known for being super safe and secure.

Apple Pay is good for both retail and online payment options.
But Is Apple Pay All That It's Cracked Up To Be?
The fact is that Apple Pay is still not as popular as many may think.
Only 6% of iPhone users actually use it for their shopping. There's a reason — people still don't feel that Apple Pay solves a major problem that a contactless card doesn't
And that's one more reason why big retailers, such as HEB, still don't take Apple Pay — because it might not be profitable to make changes for such a small chunk of customers.
Where Is Apple Pay Accepted?
Plenty of grocers accept Apple Pay. Here's a quick list of seven, but there are plenty more.
Save Mart

Walgreens

Whole Foods

Albertsons

Aldi
As you can see, many grocery stores have happily jumped on the Apple Pay bus. Even better, many stores equipped with Apple Pay also offer Google Pay or Samsung Pay as an option.
How Do I Know If the Grocery Store I'm Standing In Accepts Apple Pay?
The list above is not a complete list, so you can't always be sure. You can figure out if the store you're in takes Apple Pay by checking its website or calling up customer care.
But that's a real hassle, isn't it?
As always, the folks at Apple have made it easy for us. Just whip open Apple Maps on your phone and find the store you are standing in.
Go down to the info section, and you will find either the Apple Pay logo or a tick next to "Accepts Apple Pay". If you see neither of these, you are in Apple Pay unfriendly territory.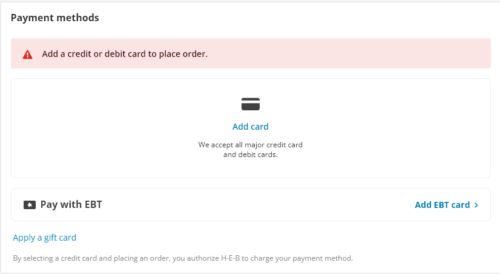 HEB Payment Methods
If you're feeling down about HEB not accepting Apple Pay, there's a silver lining. The grocery chain has other payment methods you can choose from.
Here's what HEB does accept.
Visa & Mastercard cards

American Express cards

Discover cards

Any debit card

EBT Cards

HEB Gift Cards

WIC (in some places)

Cash
You may have noticed, but the usual suspects, Google Pay, Samsung Pay, and PayPal, are not payment options. HEB could be hesitant to add them for the same reasons that we mentioned above.
Does HEB Accept Any Other Contactless Shopping Options?
Funnily enough, HEB can accept cashless payments from credit cards. HEB's card swipe machines are NFC (near-field communication) enabled.
But isn't that the same tech that powers Apple Pay?
Yup, you are right! HEB has all that it needs to accept Apple Pay, Google Play, and all other contactless payments apps — it just doesn't want to use it.
Can You Shop Online At HEB?
Yes, you can shop online at HEB. HEB offers home delivery and Curbside Pickup options. You can log in to its website or download HEB's mobile app and order your groceries.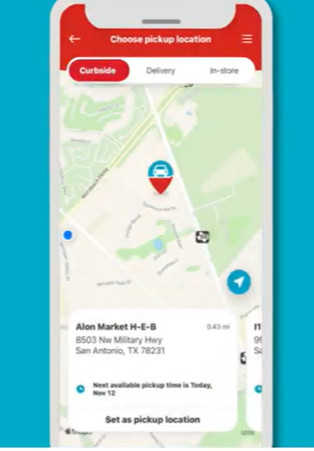 How Does HEB's Curbside Pickup Work?
Curbside pickup is one of HEB's innovations for contactless delivery. To use Curbside Pickup, follow the steps below.
Download HEB's mobile app, and sign in using your HEB account (it's free).

Select "Curbside" from the menu on top.

Go to the "choose pickup location" and enter your zip code.

The app will show you nearby HEB stores, select one of them.

Next, enter a time and date when you want HEB to deliver your order.

Start adding products to your shopping cart.

Once you are done, enter your details and press "Place order".

On the selected date & time, reach your store's designated curbside parking area.

Text the spot number where you are parked to 99147.

An HEB employee will deliver your groceries on the spot.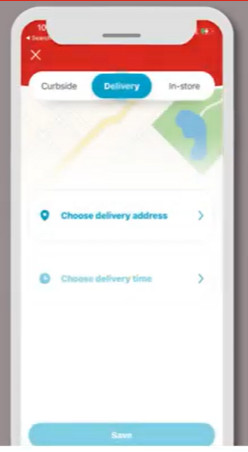 How Does HEB Delivery Work?
If you don't want to go to the store at all, you can order online to receive your groceries at home. Here's how it works.
Download and sign in to HEB's mobile app.

Select "Delivery" from the menu on top.

Enter your address, date, and time for the delivery from the options provided.

Next, add the items that you need to your cart.

Once you are done, go to check out, enter your details, and place the order.

Your order will be delivered at the time and date that you chose. The delivery guy will leave it outside your door.
Does HEB Take Apple Pay For Curbside Pickup or Delivery?
Sadly, no. HEB does not take Apple Pay, even in its online ordering options.
In fact, for curbside pickup and home delivery, you can only pay using your credit or debit cards, you cannot even use HEB Go.
Final Thoughts
Hopefully sooner than later, we'll see the day when HEB will start accepting Apple Pay. But for now, it's not in the cards.
The good news is that HEB's mobile payment app, HEB Pay, is a pretty good backup. Plus, it accepts other alternative payment options. A credit or debit card is always welcome.
It remains to be seen if HEB will ever introduce Apple Pay in the future, but there are several reasons why this might not happen. Mainly, HEB Pay already covers a lot of the same functionalities. It also gives the company data-rich insights into its user base.
If you're really set on a grocery-buying experience that includes Apple Pay, you might want to check out Whole Foods, Aldi, or Albertsons.
FAQs About HEB and Apple Pay
Does HEB Accept Google Pay?
HEB does not accept Google Pay, and it never has. Like Apple Pay, there's little incentive for HEB to take Google Pay. This grocery chain has its own contactless payment method tailored to its customers.
Can I Pay with PayPal at HEB?
No, HEB does not take any digital payment option like PayPal, Apple Pay, or Google Pay. HEB has started using Google Pay in select stores, but many stores still do not accept other contactless payment options, except for HEB Go. Any HEB customer has limited options outside the app.
Does HEB Take PayPal
HEB does not take PayPal in its grocery stores. There's no news of the company accepting PayPal in the near future. We'll keep you in the loop if this changes.
See also: Does Ulta Take Apple Pay?