Trader Joe's goes a long way to provide a unique, homey experience to its customers. But customers are always looking for more, and that's why many of them are asking: does Trader Joes take Apple Pay. We explored the topic, and here's what we found out.
Does Trader Joe's Take Apple Pay?
Yes, Trader Joe's does take Apple Pay. It started to support Apple Pay in some stores in 2015 itself, however, at the time it did not have Apple Pay at all stores.
A recent check on its website reveals that they now take Apple Pay at all stores.

Trader Joe's also takes the following payment methods, apart from Apple Pay:
All mobile payment apps (this includes Google Pay and Samsung Pay)

Credit and debit cards

Personal Checks

EBT Cards (for specific items covered under SNAP)

Cash

Trader Joe's gift cards
How to Use Apple Pay at Trader Joe's
Before you use Apple Pay at Trader Joe's, you must ensure that it is configured properly on your iOS device.
To do that, you need to first locate your Apple Wallet app. If you are using an iPhone, it should be easy to spot on the main screen.
If you want to use another device like an Apple Watch, you must go to the Watch app and search for "Wallets and Apple Pay" under it. Once you have found the Apple Wallet app, you need to add a credit or debit card to it.
Just click on the "+" button at the top and enter the details about the card on the next screen. Press continue when you are done.
Once you have added your card, you can now go to Trader Joe's and make a purchase at Apple Pay. Just shop normally for your products. When you reach the payment counter, the employee will show their contactless reader to you.
Your Apple device will show a side button when it's near the payment reader. This button, when clicked, will open Apple Wallet.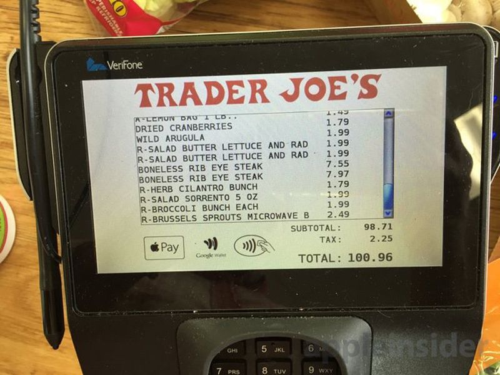 How to Use Apple Pay at Trader Joe's with Touch ID
If you use touch ID on your iPhone, then you can authenticate your Apple Wallet by placing your thumb on the Touch ID button.
Next, choose the card that you want to pay with, and keep your phone near the payment terminal. You will get a green checkmark on your phone in a few seconds confirming that your payment went through.
How to Use Apple Pay at Trader Joe's with Face ID
If you prefer to use Face ID for authentication, then you will need to look at your phone for a few seconds to open the Wallet app.
From there on, simply choose the card you want to pay with and then show your phone to the payment reader. After a few seconds, your payment will be processed automatically.
How to Use Apple Pay at Trader Joe's with Apple Watch
Using an Apple Watch is even simpler. Pressing the side button will open up the wallet app, where you can select your card to pay.
Next, place your watch close to the contactless reader. In a few seconds, you will feel a buzz on your hand and also hear a beep. This will confirm that your payment is complete.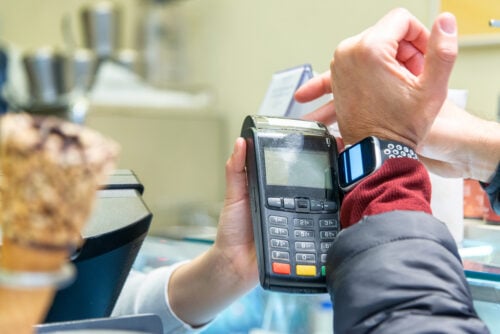 What Stores Can I Use Apple Pay At?
Several grocery stores today take Apple Pay. Apple Pay offers customers convenience, ease of use, and security, so it is only logical for companies to include it a payment method.
Here is a list of some grocery store chains that accept Apple Pay:
Bashas

Farm Fresh

Hannaford

Harvey's Supermarket

Publix

Randalls

Shaw's

SuperValu

United Supermarkets

Whole Foods

FreshFarm

H-Mart
This list is not exhaustive, but it covers many major grocery store chains and should be enough to get you going.
What Stores Do Not Accept Apple Pay?
Despite its many benefits, some Apple Pay naysayers are still in the grocery store business, the biggest name being Walmart. Here are some more:
Kroger

Hungry Harvest

King Soopers

Kwik Shop

Minit Mart

Quik Stop

Turkey Hill
Costco and HEB are other fairly large grocery retail chains that do not accept Apple Pay.
How to Find a Trader Joe's Near Me That Takes Apple Pay?
Almost all Trader Joe's stores take Apple Pay today, so one way to search for a store is to use the store locator feature.
However, it is always good to be prepared, and you might find one or two odd stores that still do not accept Apple Pay at Trader Joe's.
The best way to weed out those stores that don't take Apple Pay is to use a facility in Apple Maps. All you need to do is open Apple Maps and search for a "Trader Joe's near me." You can also get Siri to do it for you.
When the map shows you all the nearby stores, click on the one where you would prefer to go.
Next, scroll down to read information about the store. At the bottom, you might see the Apple Pay logo or "accepts Apple Pay" written somewhere. If the store does not have either of these, you should probably bring your wallet.
Final Thoughts: Does Trader Joes Take Apple Pay?
Trader Joe's has a cult-like following among its customers. People come from far away to shop at one of its stores. Adding Apple Pay to their mix of payment options would have made more fans among grocery shoppers.
Trader Joe's was one of the early ones to jump on the Apple Pay bandwagon. Over time, it has rolled out Apple Pay across all its stores.
We hope that some of the large grocery store chains such as Walmart and Costco will take a leaf out of Trader Joe's book and start to accept mobile payment options.
Trader Joe's Payment FAQs
Does Trader Joe's Take Google Pay?
Yes, Trader Joe's takes Google Pay too. It takes Google Pay and Samsung Pay as well as Apple Pay for mobile payments. Trader Joe's started to support contactless payments a lot earlier than many other grocery store chains in the US. Today, having this payment option gives Trader Joe's an edge over its competitors.
Does Trader Joe's Accept EBT Online?
The online payment program for EBT cards is being piloted in select companies and grocery delivery apps across the US. As of now, Trader Joe's is not part of this program. It takes EBT cards for in-store purchases only, not through its website or app. You can see the list of retail chains that are part of EBT online on the Food and Nutrition website of the USDA.
Does Trader Joe's Have Gift Cards?
Yes, Trader Joe's has its own brand of gift cards too. You can purchase them at any of its grocery store outlets. One peculiarity about Trader Joe's gift cards is that it does not issue e-gift cards. It only accepts physical gift cards. As per Trader Joe's, this is done to protect the original purchaser of the gift card.