Aldi was the fifth-largest supermarket in the US in 2020, renowned for its everyday low prices and convenience. But with customers wanting more convenience today, many are asking: Does Aldi take Apple Pay? We are here to tell you everything about the payment methods that Aldi takes.
Does Aldi Take Apple Pay?
Yes, Aldi takes Apple Pay in all its stores across the US. In fact, Aldi has accepted Apple Pay since 2018. That year, it announced it would start taking all contactless payment methods.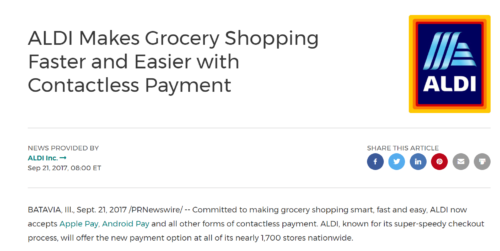 With smaller stores and a limited product selection, shopping at Aldi is quick. And with Apple Pay, the experience just gets that much quicker.
Moreover, you can also order home delivery from Aldi using Apple Pay on the Instacart app.
How to Use Apple Pay at Aldi
You can use Apple Pay at Aldi by showing your Apple device at the mobile payments counter.
But before you get around to doing that, you will need to make sure that your Apple device is configured to use Apple Pay.
To do that, you first need to set up your Apple Wallet. You can find your Apple Wallet on the main screen of your iPhone. If you are using Apple Watch, you can reach your wallet by going to the Watch app and selecting "Wallet and Apple Pay."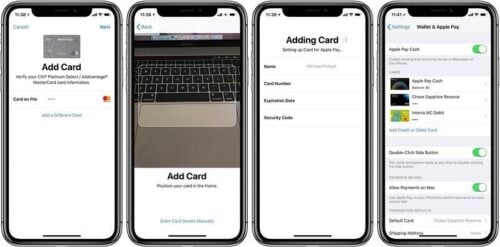 For iPads, the process is to go to Settings and then "Wallet and Apple Pay". Lastly, on a Mac, you can go to system settings and then the Wallet app.
Next, you need to add a credit card to your Apple Wallet. To do that, just click on the + button at the top and enter your credit card information.
It may include name, card number, CVV number, and expiry date details. Once you are done, press on and continue to complete the process.
Now you are all set to pay with Apple Pay.
When you go to Aldi, shop for your items as usual. Then go to the contactless payment counter and tell the cashier you want to pay with Apple Pay.
Next, take out your iOS device like iPhone or Apple Watch. You will see a side button.
Double-click the side button to open Apple Pay.
What happens next depends on how you authenticate your phone.
Face ID
With Face ID, all you have to do is:
Look at your phone for a few seconds.

Once the face ID is complete, show your iPhone at the payment counter.

After a few seconds, a green checkmark will show that your transaction is approved.
Touch ID
If you use touch ID on your phone, follow these steps:
Unlock the phone using your thumbprint.

Hold your phone near the counter.

In a few seconds, you will get confirmation that your transaction is completed.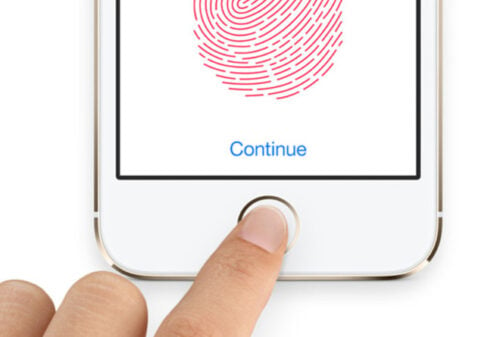 Apple Watch
For using Apple Watch, you don't need to use Touch ID or Face ID.
Just open the Wallet app and show your watch at the contactless payments counter.
In a few seconds, you will feel a slight buzz that confirms that you paid for your order.
Is There a Limit for Using Apple Pay at Aldi?
Aldi takes Apple Pay without any limits. You can make transactions of any amount your credit card or bank allows.
Thankfully, there is no transaction fee to use Apple Pay at Aldi, either. So you can pay for your groceries without fear of extra charges.
Lastly, Aldi offers cashback on eligible cards at the time of checkout. You can get this cashback when you use Apple Pay as well.
Can I Use Apple Pay at Aldi for Instacart?
Yes, Aldi takes Apple Pay through Instacart for mobile orders.
Aldi and Instacart have an arrangement that allows users to pay online for groceries from Aldi and get same-day deliveries.
Since Instacart accepts all major payment methods, including Apple Pay, you can enjoy home delivery of Aldi products using this method.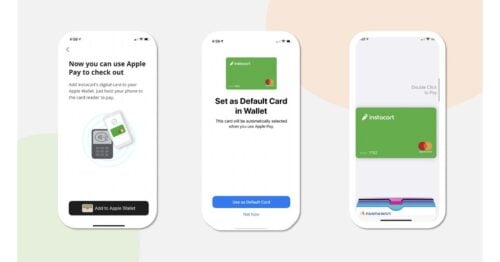 Can I Pay at Aldi with My Phone?
Yes, all Aldi locations accept contactless pay options in-store.
You can use your phone with tap to pay with Apple Pay and other payment methods.
You can also get some cashback and offers when using contactless payment methods through promotions that Aldi runs from time to time.
What Other Payment Methods Does Aldi Accept?
Here is a list of the payment methods accepted at Aldi:
Cash

Credit cards (Visa, AmEx, Mastercard)

Link Cards

Most debit cards

Electronic Benefits Transfer cards

SNAP

Contactless apps such as Apple Pay
Aldi has a very friendly payments policy, including rewards and cashback on various payment methods from time to time.
Note that Electronic Benefits Transfer cards are only accepted in states and at locations that are approved under the SNAP program.
Moreover, you can only buy certain items using the EBT Cards.
Lastly, Aldi does not accept WIC benefits cards.
How to Find an Aldi Near Me That Accepts Apple Pay?
All Aldi stores accept Apple Pay, so you don't have to worry that much when going to Aldi. However, it is still good to always double-check.
One simple and easy method is to use Apple Maps.
In fact, you can check for all stores that accept Apple Pay using this method.
You just need to open Apple Maps and search for the store you want to go to. For example, you can search for "nearby Aldi stores."
You can even ask Siri to do it for you, and it will show you all the nearby locations of Aldi stores. Next, click on the store you would like to go to and scroll down to the information section of that store.
If you see an Apple Pay logo under the payments section, the store will take Apple Pay. If you don't, then it might not.
It would be best if you carry your cards with you before going to stores where it does not show the Apple Pay logo.
Which Grocery Stores Take Apple Pay?
Fortunately, almost all grocery stores take Apple Pay these days. However, you can never be sure.
Here is a list of some top grocery store chains that accept Apple Pay (apart from Aldi):
Acme Markets

Bashas'

Cub Foods

Farm Fresh

Hannaford

Lucky Supermarkets

Meijer

Rite Aid

Save Mart

United Supermarkets

Wegmans

Whole Foods
This is, of course, not a complete list. If you are in doubt, the method that we showed above with Apple Maps is the best way to check.
What Are the Benefits of Using Apple Pay?
Apple Pay is secure, convenient, and fast. It is also hygienic to use payment methods like Apple Pay. There's no wonder why Apple Pay is the most popular mobile wallet in the US, with nearly 44mn subscribers.
Moreover, Apple Pay is universally accepted by more than 90% of major retailers in the US.
Convenient
If you have ever forgotten your wallet at home and need to buy something, you would know why you need Apple Pay. With Apple Pay, you will never have to carry your wallet with you again.
Moreover, you don't have to fumble with your credit and debit cards at the checkout counter all the time.
Fast
All you need to do is to show your iPhone, Apple Watch, or other iOS devices at the checkout counter.
In a matter of a few seconds, Apple Pay and the contactless payments reader will talk to each other using NFC technology.
Once you authenticate the transaction, it takes less than a few seconds to make the payment.
Secure
In 2020, credit card fraud hit more than 86% of Americans. Credit cards are no longer the reliable and safe way of making payments.
With Apple Pay, your credit card details are never revealed to anyone. All data is kept encrypted, and actual card numbers are never transmitted.
Secondly, Apple Pay works using NFC instead of Wi-Fi. There is no threat of hacking over the internet when using Apple Pay at the store.
Lastly, every transaction you make with Apple Pay is authenticated with Face ID or Touch ID.
Do you know what the chances are of someone faking a Face ID? 1 in a million! For Touch ID, it is 1 in 50,000.
Guess the number of tries it might take for someone to break your credit card pin? 1 in 10,000.
Apple Pay is much more secure because each transaction gets authenticated with Touch ID or Face ID.
Hygienic
Did you know that the Covid-19 virus can survive on a plastic credit card for more than 48 hours?
Credit card machines being handled by multiple people using them for transactions are not hygienic.
Leave aside COVID-19. There are many other diseases that may also spread through contact with surfaces that contain those germs.
As a contactless payment option, Apple Pay does not need you to touch anything while making payments.
Final Thoughts: Does Aldi Take Apple Pay?
Aldi was at the forefront of accepting Apple Pay and other payment alternatives.
This has served the company well, as it is growing revenue and market share even during the pandemic and rising inflation.
We think this is a lesson for other retail stores that are still not accepting Apple Pay and other such mobile payments.
Consumers are loving the benefits of these payment options, and major grocery stores and other establishments should heed the call.
We hope to see more such supermarkets and stores taking Apple Pay in the near future.
Aldi Payment FAQs
Does Aldi Take Google Pay?
Yes, Aldi takes Google Pay as well. It accepts a wide variety of payment method options, including Apple Pay and Google Pay. It has been accepting Google Pay since 2017. You can make payments in the same way by keeping your device near the contactless reader machine.
Does Aldi Take Samsung Pay?
Yes, Aldi does take Samsung Pay as well. Samsung Pay is accepted at all stores and locations which have contactless payment readers. As all Aldi stores already have contactless payment readers, you can easily pay with Samsung Pay at these stores. You can also use Samsung Pay while ordering with Instacart, from which you can get Aldi products home-delivered.