There are more than 63,000 retail and grocery stores in the US, and nearly 30 million people visit one even on a weekday! Where you buy your groceries is all about choice and convenience. So, what are some grocery stores that take Apple Pay? Read on to find out.
Do Grocery Stores Take Apple Pay?
Yes, in the US, most grocery stores take Apple Pay. Most grocery stores accept it in-store and even when you order groceries online for grocery delivery to your home.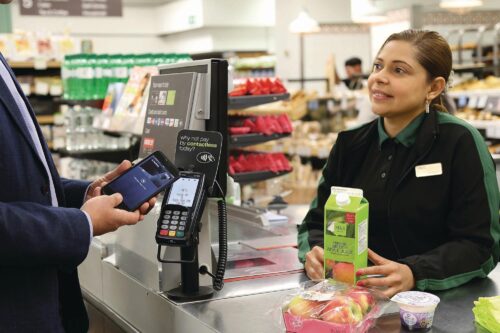 Some popular grocery stores that accept Apple Pay include Target, Trader Joe's, Aldi, Carr's, Harvey's, Randall's, Shop 'n Save and more! Apart from grocery stores, several wholesale stores, gas stations, and dollar stores also accept Apple Pay.
Lastly, many drug stores double up as grocery stores (like CVS or Walgreens). Most of these also accept Apple Pay.
What Grocery Stores Take Apple Pay?
Some of the biggest grocery store chains in the US accept Apple Pay and have been doing so for quite some time.
Grocery stores aligned themselves early to Apple Pay; by now, Apple Pay has excellent coverage. The convenience of paying without fumbling for your credit card or wallet always attracted them to become Apple Pay stores.
This is just the tip of the iceberg. Keep reading for more stores that accept Apple Pay.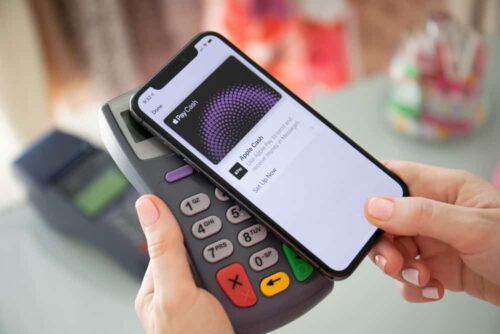 Supermarkets that take Apple Pay:
Acme Markets

Albertsons

Bashas

Carr's

Cub Foods

Farm Fresh

Food Lion

FoodMaxx

Giant Eagle

Hannaford

Harvey's Supermarket

Hornbacher's

Hy-Vee

Jewel-Osco

Lucky Supermarkets

Market Street

Meijer

Pavilions

Publix

Raley's

Randalls

Rite Aid

Safeway

Save Mart

Schnucks

Shaw's

Shop 'n Save

Shoppers Food

ShopRite

Star Market

Stater Bros.

Stop and Shop

SuperValu

United Supermarkets

Vons

Wegmans

Whole Foods

Winn-Dixie

Amazon

FreshFarm

Harris Teeter

H-Mart
Except for H-E-B in Texas and maybe a few more here and there, almost every major grocery chain in the US accepts Apple Pay.
Wholesale stores that accept Apple Pay:
Alibaba

SaleHoo

Mighty Wireless

Bloom Wholesale

BJ's
Wholesalers like Alibaba and Costco are not far behind in using Apple Pay. However, one area where Apple Pay could improve is wholesalers because many of them are still not on the bandwagon.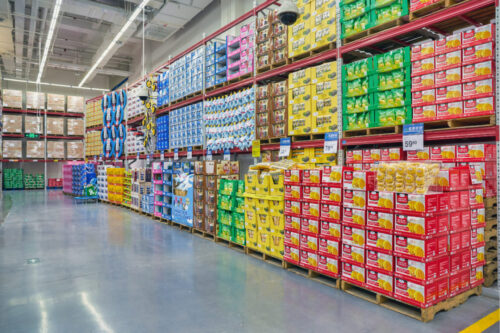 Dollar stores that accept Apple Pay:
Family Dollar
Dollar stores are more about money than convenience. Still, Dollar Tree and Family Dollar have taken this step to keep their customers happy.
Pharmacy + Grocery Stores that accept Apple Pay:
Cigna

OptumRx

Humana Pharmacy

Walgreens

CVS

Duane Reade
Almost every pharmacy that also acts as a grocery store accepts Apple Pay, and for a good reason. Contactless is the best way to maintain hygiene, and these pharmacies probably want to lead the way.
What Grocery Stores Don't Accept Apple Pay?
Apple Pay is still unavailable at 100% of the stores despite its near-universal coverage. The key names missing in the list include H-E-B, Kroger's, and of course, the big one — Walmart.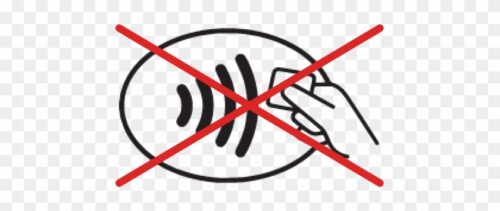 Supermarkets that don't accept Apple Pay:
Costco

Fred Meyer

Loaf 'N Jug

Harris Teeter

Kroger

Hungryroot

Sam's Club

Walmart

Brandless

Hungry Harvest

Imperfect Foods

King Soopers

Kwik Shop

Minit Mart

Quik Stop

Turkey Hill

WinCo Foods
Wholesale stores that don't accept Apple Pay:
DollarDays

Kole Imports

WorldwideBrands

Sunsky

GS-JJ

Wholesale Fashion Square

Bags in Bulk

Tasha Apparel

Dollar Item Direct
Dollar stores that don't accept Apple Pay:
Dollar General

99 Cent Only Store
Grocery Delivery Apps That Take Apple Pay
If you are in a rush or just don't have the time to go out and do your grocery shopping, then grocery delivery apps will do the trick for you. And what's even better is that many of them also accept Apple Pay.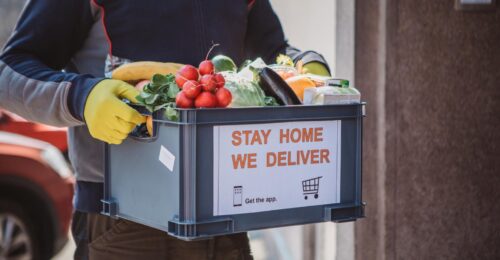 Here's a small list that will help you buy groceries faster and without having to reach for your cards.
Grocery Delivery Apps that take Apple Pay:
DoorDash

Grubhub

Postmates

Instacart

Chownow

Delivery.com

Caviar
What Is Apple Pay?
Apple Pay is a safe, secure, and easy-to-use contactless payments platform from Apple. It works on Apple devices such as Apple Watch, iPhones, and iPads.
Apple Pay was launched in 2014 in the US, and today more than 90% of retail stores in the US are accepting Apple Pay.
Apple Pay has many benefits for its users. With a contactless payment method, you don't have to carry your cards and wallet every time you shop.
Moreover, Apple Pay is secure. It uses near fields communication (NFC) technology for transmitting payment data, which is not Wi-Fi-based. The data is kept encrypted and is stored neither on your Apple device nor on Apple's servers. Every transaction is approved with either your fingerprint or Face ID.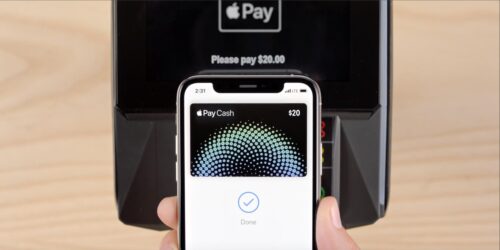 Another reason Apple Wallet is becoming so popular is the hygiene factor — since this tech is contactless, it keeps germs away!
Apple Pay also keeps your transactions off the marketer's list. If you don't want your email and messages to be bombarded with promotions, it might be best not to use the store's payment methods.
Lastly, using Apple Pay means you keep track of all your purchases on your phone. So the next time you forget your receipt while returning an item, you don't have to fish around in your purse.
Moreover, and this is important — you can let go of paper receipts entirely and help save the environment.
How Do You Set Up Apple Pay?
If you've got an Apple device, then setting up Apple Pay is a cinch.
But before you go about it, here are some things you need to ensure:
Your iPhone/iPad must have a Touch ID or Face ID.

Your credit or debit card must be from a participating card issuer

You must be signed in to your Apple iCloud account
Tick marked all of these? Let's get to the next step. Setting up Apple Pay requires first adding your card details to Apple Wallet.
Open the side button on your phone

Authenticate transaction using Face ID or Touch ID

In Apple Wallet, click on the "+" sign to add card details

Enter details like name, card number, CVV, and expiry

Press on Continue
That should complete the process. Card companies may sometimes need some additional authentication, like an OTP for confirmation or going to their website.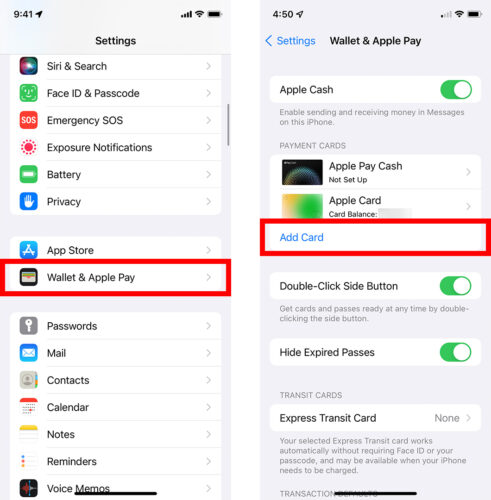 How Do you Use Apple Pay?
Now that you have Apple Pay set up on your Apple device, you can confidently head on down to stores that accept Apple Pay.
First, collect things that you want to buy like you usually do. Next, look for a cash counter that accepts Apple Pay and other NFC-enabled contactless payment methods.
The device might have an Apple Pay Logo or Apple Pay Symbol. If you see either of these signs, it means that the machine takes Apple Pay.
Inform the cashier that you intend to pay using Apple Pay, and let them generate the bill. Now, click on the side button for Apple Wallet on your device. What happens next depends on what authentication method you have on your device.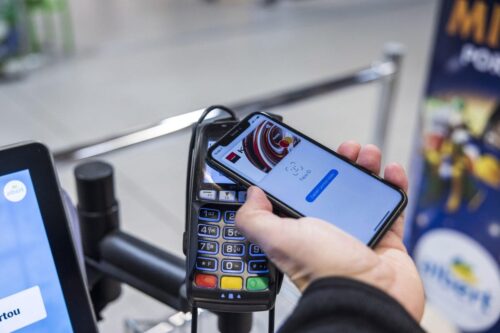 Apple Pay Face ID
The iPhone will ask you to authenticate the payment by looking at the phone.

Next, keep your phone close to the counter.

In a few seconds, you will see a green checkmark that signifies the transaction is complete.
Apple Pay Touch
The iPhone will ask you to place your fingerprint to authenticate the payment.

Next, keep your phone close to the counter.

In a few seconds, you will see a green checkmark that signifies the transaction is complete.
Apple Watch
Click on the side button on your watch to open Apple Wallet.

Authenticate your transaction.

Keep your Apple Watch next to the counter and wait.

In a few seconds, you will feel a slight buzz confirming the transaction.
How Do You Find Stores That Take Apple Pay?
Wondering whether your local grocery store accepts Apple Pay?
Despite our best efforts to make our list exhaustive, there are hundreds of grocery retailers in the country, and we couldn't possibly have covered them all.
But thankfully, the way to check whether a store is part of the family of Apple Pay grocery stores lies in the palm of your hand.
Yes, all you need to know is your iPhone!
How do I do that, you ask? Through the magic of Apple Maps. Here is what you need to do.
Bring out your Apple Maps app.

Search for the store you want to visit.

Look at their information under the map.

If you find something like "we use Apple Pay" or see the Apple Pay symbol under the information section, then the store accepts Apple Pay.
If you do not find the Apple Pay sign, then the grocery store does not accept Apple Pay. Don't forget to take your cards and wallet if you are heading over there!
Bonus tip: If you are not sure of what grocery stores are around you, you can find out easily using Apple Maps. Just ask Siri: "Grocery stores near me," and you will see a map open up with nearby grocery stores marked out.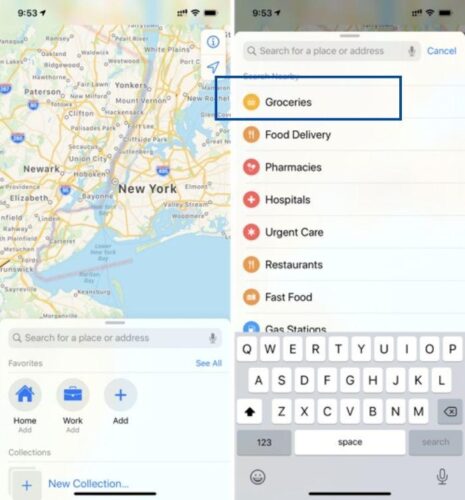 Another way is to go into Apple Maps and search by Category. You can find "Grocery Stores" as a separate category in Maps.
Once you have located a grocery store you want to go to, you can use the method above to check if they accept Apple Pay online without having to go there physically.
Final Thoughts: Grocery Stores That Take Apple Pay
Apple Pay is available at almost every major grocery store in the country today, except for two major chains: Walmart and H-E-B. However, both Walmart and HEB have their own payments app, so it is still possible to pay without carrying your card to these places.
While Apple Pay is extremely convenient for Apple device users, other contactless payment methods like Google Pay and Samsung Pay are also available.
All of these work on the same technology, so if you have an Android device or a Samsung phone, you can pay at any store that accepts Apple Pay using these apps.
Grocery Stores and Apple Pay FAQs
Does Walmart Take Apple Pay
Sadly, no, Walmart does not take Apple Pay. However, that doesn't mean that you cannot pay with your phone at Walmart. Walmart has its own Walmart app, which uses a QR code-based technology for payments and lets you pay with your mobile.
Does Costco Take Apple Pay
Yes, Costco does take Apple Pay in stores and even on their mobile app and website. However, Costco has a tie-up with Visa, so you can only use Visa cards in your Apple Wallet if you want to pay at Costco.