Walmart is the biggest retail chain in the world, and its stores serve more than 200 million customers per week. So it's only natural that customers want to know: does Walmart take Apple Pay? Read on to know the answer, and what payment method Walmart prefers.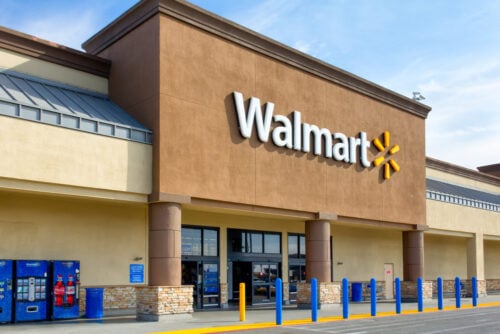 Does Walmart Take Apple Pay?
No, sadly, Walmart doesn't accept Apple Inc.'s payment app Apple Pay. Walmart stores do not have payment counters that support NFC technology. Despite Apple Pay being around for nearly a decade now and being accepted at more than 90% of retail outlets, Walmart has never allowed Apple Pay in their stores.
We found several instances of Walmart customers asking for this payment method, but it seems Walmart is dead set on not accepting Apple Pay.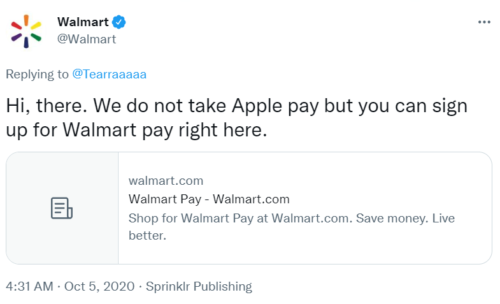 Why Doesn't Walmart Allow Apps Like Apple Pay?
While Walmart has never given an official response to this question, we have pieced together some possible reasons through our research.
One reason could be that when customers use Apple Pay (or even a credit or debit card), Walmart has to pay a 1 to 3% interchange fee to the card issuer like Visa or AmEx.
Walmart might be wanting to avoid this interchange fee by using their own digital Wallet — Walmart Pay. Walmart Pay uses a QR code-based system that does not directly interface with a credit card company (we will share more details about this later).
Another possible reason is that when customers use Apple Pay, the customer data about the purchase and payments does not come to Walmart.
Walmart might want to use this customer data to manage inventory, decide on new product lines, and run customer loyalty programs. One more speculation is that Walmart wants to use its own digital wallet for promotions and branding exercises
If the customer uses Apple Pay, Walmart loses out on this branding opportunity.
Lastly, in a conversation with Business Insider, Walmart execs said: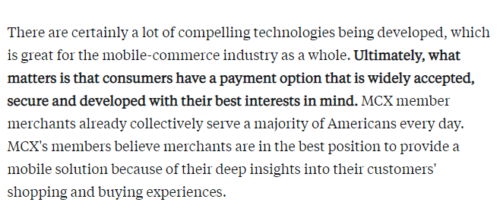 So one possible reason why Walmart doesn't accept Apple is that the company believes it can create a better payment option
In fact, Walmart does have its own payment solution in Walmart Pay, so this checks out.
Can You at Least Shop at Walmart.com Using Apple Pay?
Sadly no, even for online purchases, Walmart does not take Apple Pay in its online store. You can use the Walmart Pay app instead.
You can also use credit and debit cards, as well as Walmart gift cards and EBT cards on Walmart online. If you are using EBT cards, it's important to know that Walmart stores in Alaska, Louisiana, and Montana will not accept them.
In The Future, Will Walmart Ever Accept Apple Pay?
Walmart has no intention of accepting Apple Pay. In an interview with MacRumors, Walmart executive Erin Hulliberger said:

It seems that Walmart is sticking to using only Apple Pay in the future as well.
Is There Any Other Way to Pay Using Apple Pay at Walmart?
Yes, you can use the Ibotta app as an iPhone user to pay at Walmart using Apple Pay. This is an app that gives you cashback on making payments through it.
You can download the Ibotta app, use it to search for items on which you can get cashback, add Apple Pay as the payment option, and then pay at Walmart through this app.
Are There Other Payment Methods That Walmart Accepts?
Walmart does not accept Apple Pay, Google Pay, and Samsung Pay. They don't take anything that works on NFC
Walmart uses a QR code-based technology for their own wallet, Walmart Pay.
Apart from digital payments, here is a list of other payment options that you can use at Walmart:
Cash

Credit cards, including Walmart's co-branded Capital One Walmart card

Debit cards

Money orders

EBT cards (some states do not accept EBT online)

Walmart gift cards

Walmart Pay app
What Is Walmart Pay?
The Walmart Pay app is a digital wallet integrated within the Walmart app.
Right off the bat, Walmart Pay is not a normal digital wallet like Apple Pay. You can only use it to pay in a Walmart store.
What also makes Walmart Pay different is that it works on an entirely different technology.
It uses QR codes for contactless payments. Other digital payment methods use NFC instead.
How to Set Up Walmart Pay
Getting your Walmart Pay ready for payments is actually not that different from setting up Apple Pay. Both let you save your credit card information/ banking information and then encrypt that info at the time of payment.
Here's how you set up Walmart Pay:
Get the Walmart App. It's available for both iOS and Android.

Add a payment method like a credit or debit card.

When you open the app, you will need to go to Walmart Pay

Next, select your credit or debit card details. You can also link your bank account to Walmart Pay.

You can also use gift cards (they will show up automatically if you already have one).

Next, you can select a secret PIN, which you will need to remember for making a purchase at Walmart stores.

If you don't want to use a pin, you can also use Touch ID instead.
And that's it! Your Walmart Pay app is ready for when you visit a Walmart store.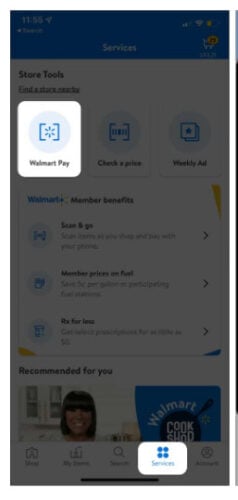 How to Use the Walmart Pay App
Using Walmart Pay is quite simple. Here are the steps that you need to follow:
Collect the items that you need and go to a checkout lane.

Scan each item separately.

Open the Walmart App, and click on Walmart Pay.

Authenticate the app with your Touch ID or PIN.

You will see a list of all credit or debit cards. Choose one of them.

The checkout terminal will have a unique QR code on it.

Scan the QR code with your Walmart Pay app.

Wait for a few seconds. You will hear a "chime" sound. This confirms that you have made the payment.

You will get an electronic receipt on your phone after some time.
There are a few things to note here. Firstly, if you have any gift cards, they will automatically be added to your payment, unless you remove them first.
So make sure to check out your gift card balances at the time of payment before you press the final ok.
Also, if you have EBT balances, you need to use them before you use Walmart Pay.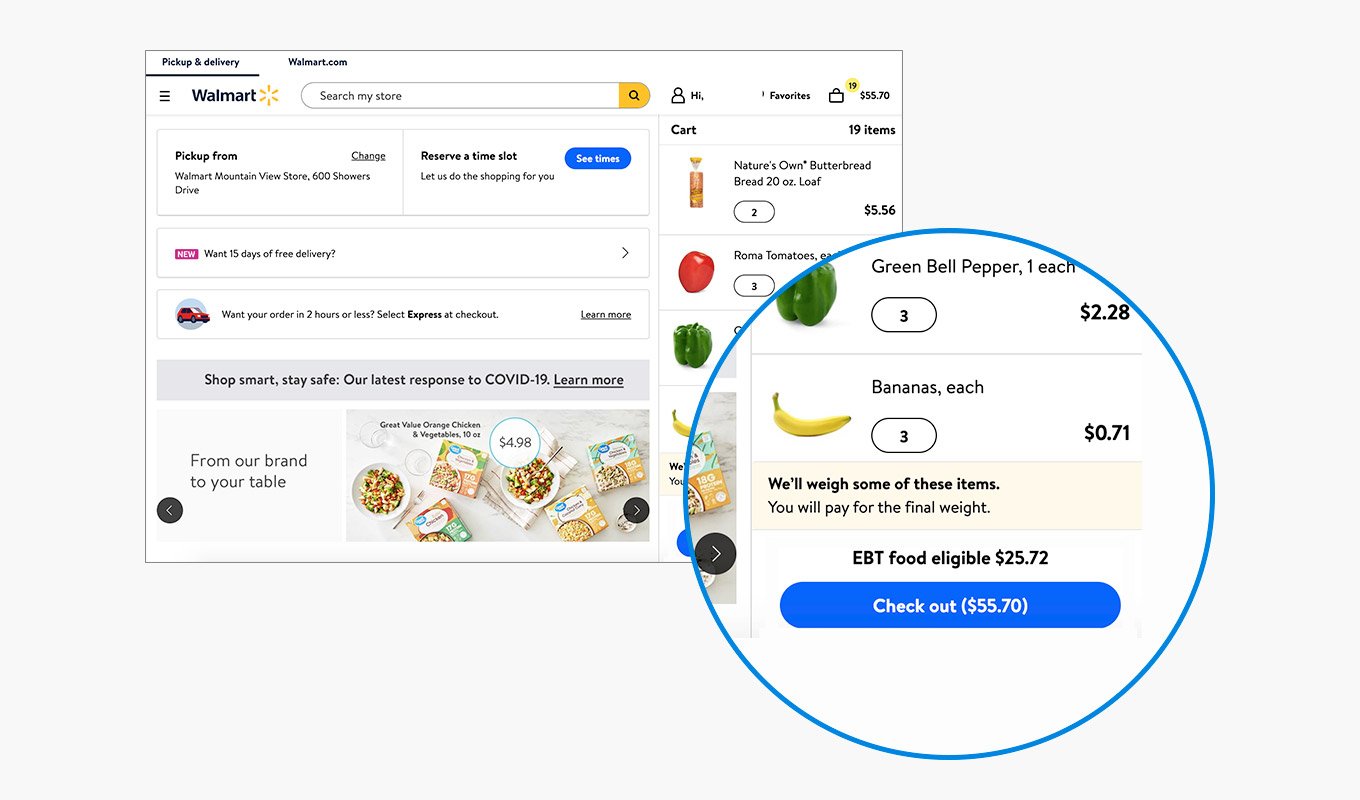 Pros of Walmart Pay
While Walmart does not take Apple Pay, Walmart customers still might want to give Walmart Pay a try because it has many benefits.
Firstly, Walmart Pay is a contactless payment app. Contactless payments are certainly more hygienic, and since Apple Pay is not available, using Walmart Pay is the smart choice.
Secondly, Walmart Pay integrates well with the Walmart app. It lets you keep all your Walmart e-receipts in one place.
This will help you if you want to return your purchase at a future date. Having the e-receipt also means that you no longer need a paper receipt at Walmart, so it helps you go green.
Thirdly, QR code technology is arguably more secure than NFC.
Why? Well, the QR code generated is essentially just Walmart machines talking to each other. It doesn't transmit your information to a card company or a bank.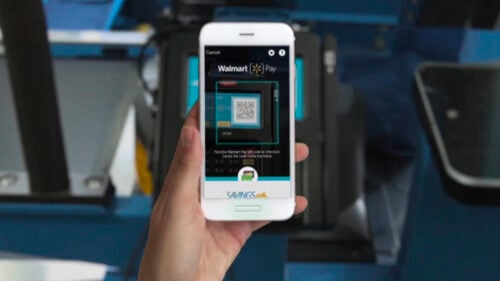 This is different from how Apple Pay and other NFC-based apps operate. There, the purchase information is actually being transmitted to a bank/credit card company over a network.
Another benefit of the Walmart app is that it lets you track your spending when you use Walmart Pay.
Of course, being a digital payment option, Walmart Pay could be preferable to using cards. If you hate having to carry your wallet all the time, Walmart Pay lets you avoid that.
Lastly, if you have Walmart's co-branded credit card (Capital One Walmart Rewards Card), you get discounts on your shopping when you add it to Walmart Pay and pay with it.
Cons of Walmart Pay
Walmart Pay is a good option for shoppers at Walmart, but it has its downsides too.
Firstly, it doesn't integrate properly with the paper coupons that Walmart comes out with from time to time. You might have to scan the coupons after your purchase or go to a cashier to redeem one.
Secondly, it doesn't work outside Walmart, so that means you have to keep two apps at all times, one for Walmart, and the other for different stores.
Walmart Pay does not work at Walmart associates like Sam's Club, Murphy USA gas stations, or Walmart fuel pumps.
Lastly, you cannot use Walmart Pay on Apple Watch, unlike Apple Pay. So if you want to leave your phone behind, you cannot.
What Grocery Stores Take Apple Pay?
We know that Walmart doesn't accept Apple Pay, and neither do a few others like Kroger and HEB.
So, where can you buy groceries with Apple Pay?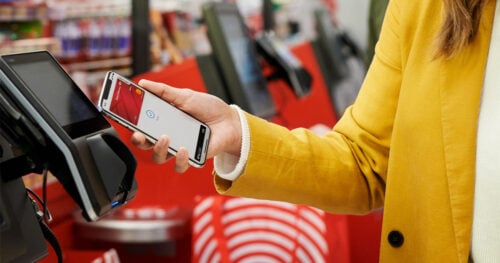 Don't worry, 85% of retailers do accept Apple Pay. Here's a small list to start you off:
Target

CVS

Aldi

United Supermarkets

Walgreens

Lucky Supermarkets

Sprouts

Family Dollar

Randalls

Albertsons

Giant Eagle

Hannaford

Harvey's
How to Use Apple Maps to Find Stores
America has different retailers in every city and state, so making a complete list of all stores that accept Apple Pay is nearly impossible.
Thankfully, there's an easier way to find out if the store you are going to accepts Apple Pay.
You just need to whip out your iPhone and open Apple Maps. Here's what you do next:
Find the stores you need to go to on Maps and click on it

When you click, you can access information about the store on the screens below it.

Scroll down to the end.

There would be a "things to know" section.

If the store does support Apple Pay, it will either have the Apple Pay symbol or a tick mark against "accepting Apple Pay".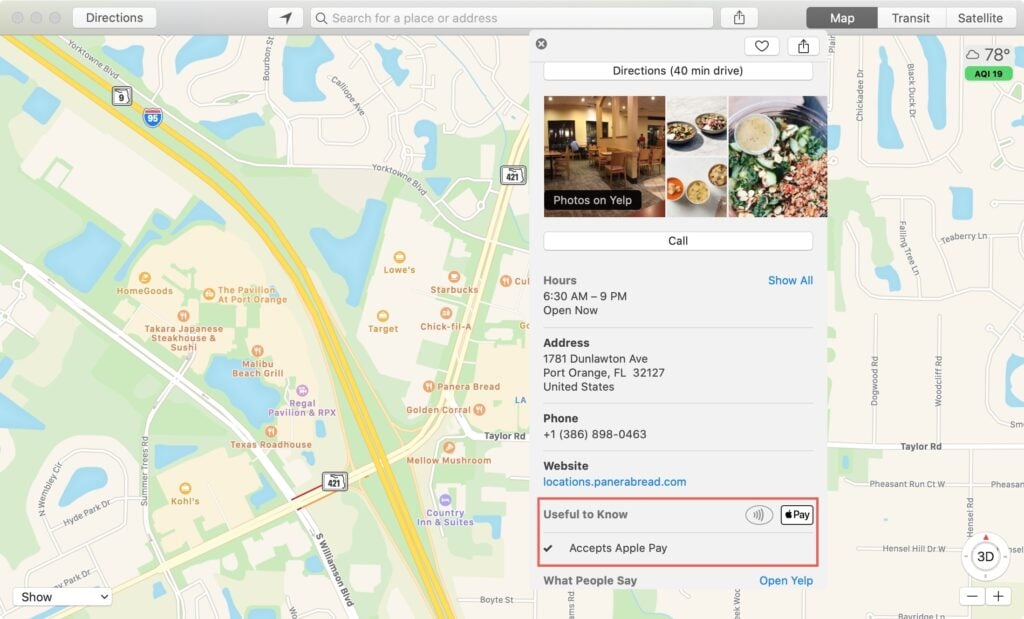 Final Thoughts
While you can't use Apple Pay at Walmart, there are some silver linings.
Walmart Pay is an excellent contactless pay alternative that adds an extra layer of convenience to shopping at its stores. Plus, you can easily track your spending habits, as it saves all of your receipts in one place. This is a great feature for buyers who are budgeting.
The Walmart App's QR code tech can feel a bit clunky at first, but you get used to it pretty quickly. This does mean, however, that you'll want to keep that camera lens clean.
Unfortunately, it doesn't look like Walmart is going to accept Apple Pay anytime soon. So if you're set on using Apple Pay at the grocery store, you'll want to fire up Apple Maps to find a suitable alternative.