SHEIN is the world's most downloaded fashion app and the largest online-only fashion retailer in the world. But does SHEIN have a credit card for its massive user base? We did some digging, so you don't have to.
Does SHEIN Have a Credit Card?
No, SHEIN does not have a credit card of its own. You cannot apply for a SHEIN credit card, nor are there any SHEIN credit card offers as of now.
SHEIN was launched in October'08, and it has grown so quickly that it probably hasn't felt the need for a special credit card of its own.
But if you want to pay less at the time of checkout on SHEIN, there are many other ways.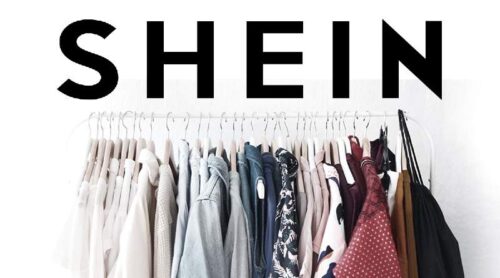 For example, you can use SHEIN buy now, pay later options such as Klarna, AfterPay, and Zip. This way, you don't have to pay the entire money upfront.
You can also look out for promo codes on joining its app or website or even afterward.
You can become part of its loyalty program and earn points for purchases. There are also many ways to get free shipping on SHEIN.

Does SHEIN Have a Store Card?
SHEIN does not have a store card, but there is a SHEIN wallet on its app where you can keep your store credits.
Sometimes there might be issues while ordering on SHEIN. Payment issues can crop up on any website or app.
In such cases, the amount debited from your card would return to SHEIN store credit, which you can use from the SHEIN wallet to make purchases.
Can You Use a Credit Card at SHEIN?
Yes, SHEIN accepts most major credit cards.
If you have a card from credit card companies listed here:
Visa

MasterCard

Maestro

Diners Club

Discover cards

American Express
Then you can pay with them at SHEIN.
Even if your credit card is not from among these options, you can still try to use it on the SHEIN app and website. Most of the time, it will work.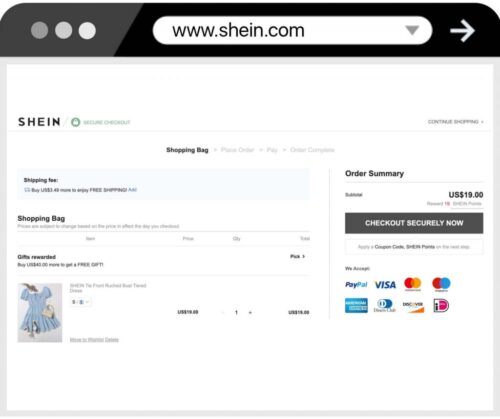 Can You Do Monthly Payments on SHEIN?
Yes, you can make monthly payments on SHEIN. SHEIN supports payment methods like Klarna, Zip, and AfterPay that let you buy now and pay later.
In all three cases, you can pay a smaller amount at the time of shipping, and then make four easy payments spread out over the next 6 weeks (fortnightly)
There are no interest charges for these services in any of the three options.

What Payment Methods Does SHEIN Have?
SHEIN lets you pay in various ways, including credit cards, debit cards, gift cards, and prepaid cards.
You can also pay using a host of buy now pay later options such as Klarna, AfterPay, and Zip.
You can even pay on SHEIN with PayPal on its app and website. SHEIN PayPal support is quite good, as noted by many customers online.
As mentioned earlier, you can also use other payment methods such as a bonus point discount or a coupon code to get a discount on your purchase amount.
How to Add a Debit Card to SHEIN?
To add a debit card to SHEIN, follow these steps:
First, register on the SHEIN website or app and log in.

First-time users get a discount promo in the mail, so don't forget to use it.

Place your order by adding products to the checkout cart

Enter your billing address and click on "Debit cards" as the payment method

Enter your card details such as card number, expiry date, and CVV

Press on checkout and make your purchase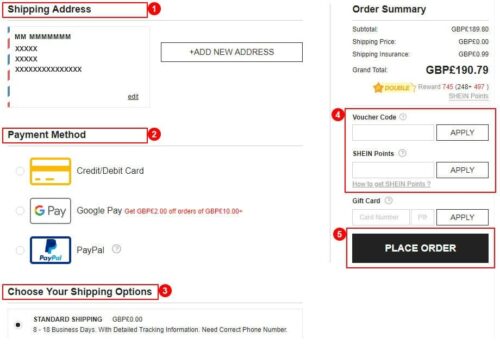 Does SHEIN Keep Card Information?
No, SHEIN does not keep your debit or credit card information when you make payments.
While this might seem a hassle for regular shoppers, it is a security feature and definitely helps keep your card information safe.
With identity theft and credit card fraud becoming a major concern these days, it is not a good idea to store such information on any website.
Unfortunately, SHEIN does not take Apple Pay, which would have been a safe and secure option for customers to pay without sharing credit or debit card details.
How Do I Make a Payment at SHEIN?
How you make your payment on SHEIN depends on what payment method you want to use:
For credit or debit cards, you simply have to choose that option at the time of checkout, enter your details and pay.
For PayPal payment, you will either be directed to the PayPal website to log in.
If you don't have a PayPal account, select "pay with debit/credit card," and then on the next screen, you can pay with PayPal without logging in.
For Klarna, AfterPay, and Zip, you will be directed to their specific websites, where you can choose what payment schedule you would prefer to take.
Remember that in buy now pay later cases, returns and refunds are also taken care of by the BNPL company, not SHEIN.
Final Thoughts?
SHEIN is one of the most popular fast fashion retailers in the world, with a completely online presence.
Having a credit card can help SHEIN stand out even more in the apparel space. While many of its competitors have credit cards, SHEIN does not.
We hope SHEIN will consider starting its own credit card in the near future.
SHEIN FAQ
Does SHEIN Take PayPal?
Yes, SHEIN takes PayPal for orders. You can pay with your PayPal balance on the SHEIN website or app when you are checking out with your purchase. You will see a PayPal button in the payment options. You just need to click on it and go to the PayPal page to log in and pay for your order.
Does SHEIN Accept Cash on Delivery?
No, SHEIN does not accept cash on delivery in the US. This is a complicated system of payment where you have to pay for the shipment at the time of delivery to the delivery person. SHEIN accepts cash on delivery in a few countries, such as India, but not in the US.
Does SHEIN accept prepaid Visa cards?
SHEIN accepts prepaid Visa cards, debit cards, and gift cards from Visa and other major card operators. You can add these as a payment method at the time of checkout by choosing the "debit card" option and using them to pay for your order.