Food is such an important part of our lives. Not only is it something that everyone needs to survive, but it also brings people together.
In this article, we'll talk about the best food stocks on the market right now.
Because food is so essential, investing in food stocks is a great option for long term portfolio stability.
Many of the world's top food brands have been around for decades and have a very loyal following.
The food industry was relatively stable during the pandemic, even as other industries have struggled.
Wondering where to buy the stocks mentioned in this article? Check out WeBull! WeBull is an amazing investment app perfect for beginners and experienced investors. They don't charge any commission fees, and they'll give you a free stock just for signing up!
Best Food Stocks To Buy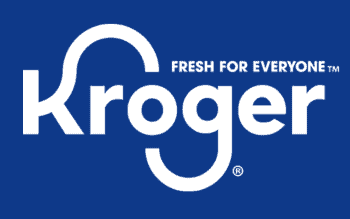 Kroger (NYSE: KR)
Kroger is the largest grocery store chain in the US, with thousands of locations and subsidiaries throughout the country.
In addition to their own brand of supermarkets, they also own popular chains like Ralph's, Fry's, Smith's, Food 4 Less, and more.
The company just released their most recent earnings report. They beat analyst estimates with strong sales growth.
One of the most exciting pieces of data from this report is their digital sales, which were up by 118 percent.
Digital sales have been particularly important during the pandemic.
Like many other grocery store chains, Kroger has been exploring online sales options to reduce in-person interactions between customers and staff.
These strong results are continuing a trend for Kroger.
The company did very well in 2020 and even managed to increase their profit margins and cash flow.
Kroger's huge market share and brand recognition makes it a great buy in the food industry.
Add in a 2.11 percent dividend, and you have a recipe for a great long-term investment.
General Mills (NYSE: GIS)
You're probably familiar with some of General Mills' most successful brands – in fact, you might even have them in your kitchen right now.
This food manufacturer has a huge portfolio of popular brands, such as Betty Crocker, Pillsbury, Hamburger Helper, and Cascadian Farms.
They also make a wide range of breakfast cereals, including Cheerios, Lucky Charms, Wheaties, Chex, Cocoa Puffs, and more.
General Mills saw huge sales growth in 2020 as a result of the pandemic.
Not only did their sales increase across most sectors, but they also saw their profit margins increase.
While their growth might slow down a bit as the world reopens restaurants, these increased profit margins will help them stay financially stable.
This stock is also an excellent option for anyone who is interested in a dividend investing strategy.
They currently have a 3.59 percent dividend yield.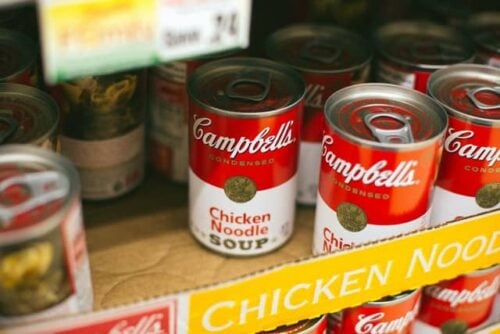 Campbell's Soup (NYSE: CPB)
Campbell's Soup is another food stock with plenty of brand recognition.
In addition to their namesake soup products, the company also owns Pepperidge Farm, Prego, Swanson, and Snyder's-Lance.
Between these brands, Campbell's has a huge portfolio of food products.
These include soups, chicken broth, baked goods, beverage products, and more.
This stock has fluctuated in price over the past year, although they didn't see the significant losses that many other companies did.
However, there are a few things about this food company that make it a good long-term investment.
First, they pay a fairly large dividend, with a 3.18 percent yield.
This makes it a good choice for income investors.
Campbell's products are also household names that you can find in grocery stores around the country.
Because of its huge market share and brand recognition, the company is able to keep their income relatively predictable.
Food Stocks: Restaurants
Chipotle (NYSE: CMG)
Many restaurant stocks struggled during the pandemic, but that wasn't the case with Chipotle.
This fast casual Mexican restaurant has a strong business model that helped keep them afloat even as more customers were staying home.
Chipotle stock has nearly tripled in price after hitting a low point in March 2020.
Their revenue increased by 7.1 percent, and they transitioned easily to a low-contact business model.
Now, customers can order their meals online for easy and quick pickup.
Chipotle also offers low-cost deliveries for those who don't want to leave the house.
The chain is planning on adding around 200 new locations in 2021.
Many of these new restaurants have improved kitchen designs, which make meal prep much more efficient.
Domino's Pizza (NYSE: DPZ)
Domino's Pizza is another restaurant chain that has done very well despite the pandemic.
They already had a strong delivery model in place and didn't rely on in-person dining, which helped them keep their sales up.
This stock went up in price consistently over the last year, peaking in October 2020.
However, their most recent earnings report missed analyst expectations in a few key areas, and their stock price went down.
This means it could be a good time to buy the dip. Although their earnings per share missed analyst expectations, the company's global sales growth actually went up year over year.
They opened hundreds of new stores and were financially stable enough to launch a share buyback program.
Although Domino's pizza might struggle in the short term, it has the good to deliver in the long run.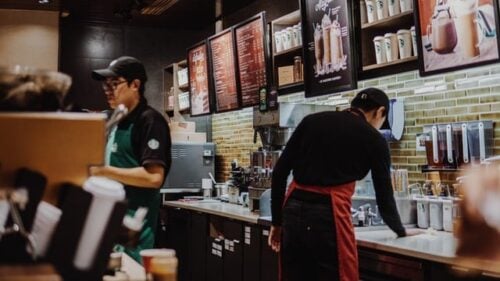 Starbucks (NASDAQ: SBUX)
Starbucks is the world's largest coffee chain, and they're another restaurant that has adapted to the pandemic environment very well.
This is reflected in their stock price, which has consistently improved over the last year.
While many other restaurants have had to close stores as a result of the pandemic, Starbucks is looking at increasing their global footprint.
They are planning on opening over 1,000 new stores, many of which will be international.
One way that Starbucks has been able to stand out from other coffee chains is through their rewards program.
This rewards program has created a very loyal customer base that has made Starbucks a part of their regular routine.
Food Stocks: Supermarkets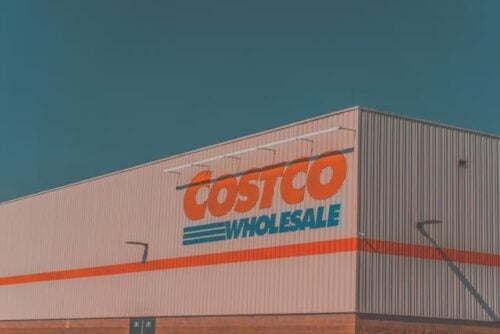 Costco (NASDAQ: COST)
Costco has a very unique business model that makes it one of the best stocks in the grocery sector.
To shop at Costco stores, customers need to pay a yearly membership fee.
They offer very popular products in bulk at large discounts.
This membership model provides Costco with a steady source of income, which is very helpful during challenging economic times.
Their customers are also very loyal, with renewal rates at over 90 percent.
Costco stock dropped off in the beginning of 2021.
Many investors seemed to think that consumers would be going out to eat more often and relying on grocery stores less. However, this doesn't seem to be the case.
The company recently reported their earnings. While earnings per share numbers missed the mark, their revenue remained stable.
Many experts now think this stock is undervalued, which means it could be the right time to add it to your portfolio.
Target (NYSE: TGT)
Target is a massive retailer that sells grocery products as well as clothing, home goods, entertainment, and more.
Their grocery sections offer many popular brands, including healthy and organic options.
Over the past year, many consumers have been relying on Target for everything from their favorite foods to popular items like loungewear and board games to enjoy at home.
This is reflected in their stock price, which has increased significantly since last March.
Target's most recent earnings report was extremely promising.
Their revenue grew 20 percent year over year.
Despite the challenges of the current economy, they were able to keep their prices stable, which drove revenue growth.
To keep this growth steady, Target is planning on investing $4 billion in store expansions and new technology.
Best Food Manufacturing Stocks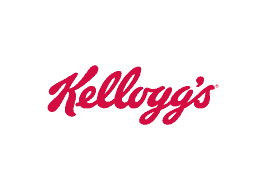 Kellogg Company (NYSE: K)
Kellogg's is one of the largest food manufacturing companies in the United States.
They are particularly well known for their cereal brands, but they also make other popular breakfast foods and snack items.
Since Kellogg's makes such a large portfolio of products, they aren't overly reliant on sales of any one product.
They've also been making an effort to expand into the global market, which helps them increase their revenue streams.
Kellogg stock didn't pop as much in 2020 as many other food stocks.
This is partially because of supply chain backups, which made it difficult for them to take full advantage of increased demand.
However, Kellogg is making smart financial moves with an eye towards long-term stability.
This includes paying down debts and increasing their dividend.
Right now, they have a solid dividend payout of 3.85 percent.
Mondelez International (NASDAQ: MDLZ)
Mondelez International is a food manufacturing company that focuses on sweets like cookies, chocolate, and candy.
Some of the company's most well-known brands include Oreo, Chips Ahoy, Sour Patch Kids, and Cadbury.
In addition to their popular candy and sweet brands, Mondelez makes popular crackers like Ritz, Triscuit, and Wheat Thins. They also own popular gum brands, like Trident and Stride.
With a large portfolio of excellent brands, Mondelez is definitely a stock to keep your eye on for the long term.
Their revenue consistently improved in 2020, and their most recent earnings report continued that trend.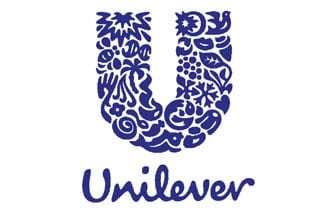 Unilever (NYSE: UL)
Unilever is a consumer goods company based in the United Kingdom.
They own over 400 brands, many of which you might have in your home right now.
Their brands make food products as well as toiletries, cleaning products, and personal care items.
This company has an extremely large portfolio of brands and products, which protects them somewhat for volatility.
Because many of the items they sell are considered essentials, they are a good defensive stock for tough economic times.
However, the company isn't resting on their laurels.
They're expanding into meat alternatives as well as healthy and organic products to cater to a broader sector of the market.
Their stock price has gone down slightly over the past few months, and some experts think it's undervalued.
This means that now could be the right time to buy this stock while it's relatively affordable.
Unilever is a strong dividend stock as well.
They currently have a dividend yield of 3.54 percent.
Tyson Foods (NYSE: TSN)
Tyson Food is one of the world's largest meat companies.
They make chicken, beef, and pork products, as well as meat alternatives.
Unlike many other food companies, Tyson struggled during the COVID-19 pandemic.
Much of this was because of supply chain shortages, as they had to shut down some of their processing plants to prevent and manage outbreaks of the virus.
To combat this, Tyson created a new position called the Chief Medical Officer.
This new executive will work to keep their employees safe at work.
Tyson's most recent earnings reports have been very positive, and this has been reflected in their stock performance.
Despite steady upward growth, many experts think that this stock is still undervalued.
Should You Buy Food Stocks?
Food stocks are a great addition to any investment portfolio.
Because food is a necessity, you'll never have to worry about demand for food products dropping off.
Even during tough economic times, consumers will still need their essential food products.
Companies in the restaurant industry tend to be a little less stable.
Many people will stop going to restaurants when they fall on hard times.
However, restaurant stocks are very cyclical. This means they can bounce back strong from tough economic times.
Adding them to your portfolio when they're low can actually be a smart strategy for strong returns down the line.
Since there are so many great food stocks out there, you'll need to know how to narrow them down.
One good way to do this is to look at each company's most recent earnings report and how that compares to analyst expectations.
You'll also want to consider their recent business decisions as well as the dividends they offer.
Looking for even more great investment opportunities? Check out Trade Ideas. Trade Ideas is an innovative software program that uses AI technology to help you find smart new stock picks without the hassle.
Food Stocks: Final Thoughts
Food stocks are a smart long-term investment for any portfolio.
Because food stocks are so essential, they can weather through tough economic climates to provide strong returns in the long run.