PayPal is an online payment processor and financial technology company. It offers personal accounts for free, so how does PayPal make money?
What is PayPal?
PayPal began as a digital wallet that consumers could use online to make purchases. Initially targeted at eBay users, the service is now available all over the web.
The company has expanded to provide card reader services, loans, online credit card payments, a PayPal debit card, and other value-added services.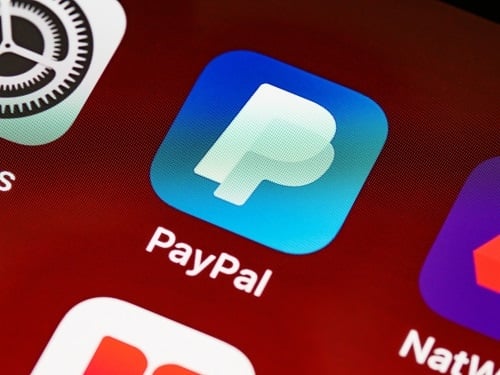 How Does PayPal Make Money?
There are multiple ways that PayPal makes money from its user base.
These include transaction fees, credit interest, eCommerce solutions, loans, and interest.
Transaction Fees
PayPal has two kinds of accounts that people can use: business accounts and personal accounts. Each type is subject to certain transaction fees on a money transfer.
Personal accounts can be charged a variable fee based on the payment transactions the person makes. To send money from PayPal to the user's own bank account or to a friend, there is no fee.
There is an international payment fee that starts at 1.50% and varies based on the type of financial transaction desired.
Personal PayPal accounts are not charged when making a purchase online.
A PayPal business account comes with a variety of other fees and allows the business to accept credit card payments online. Businesses are charged 2.9% + $0.30 per sale for online transactions and invoicing.
Business account owners can also have customizable checkout pages, buy buttons, social media sales features, and various other merchant services.
PayPal also earns money by charging fees for financial transfers to a different country. These fees can range from 0.3% and 3.9% and can include small, fixed fees.
eCommerce Solutions
PayPal offers "a business in a box" package which allows businesses to integrate PayPal with a large number of partners.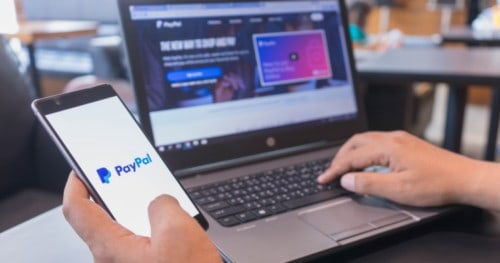 The company earns a commission based on sign-ups to other online services like GoDaddy and WooCommerce.
For brick-and-mortar stores, PayPal offers PayPal Here, its brand of credit card readers. Transactions made using this service are charged at a rate of 1.5% to 3.5% per transaction.
Interest
If you leave money in your PayPal account, PayPal will deposit it in bank accounts where it can earn interest for the company.
Of course, this is an easy source of revenue for PayPal.
Alongside interest from the money it holds, PayPal charges interest for its credit facilities.
If a person opens a PayPal credit card or gets a business loan, they will be charged interest of up to 26.24% on the balance.
How Much Money Does PayPal Make?
In 2021, PayPal reported annual revenue of $25.4 billion. It is listed on the NASDAQ under the stock ticker PYPL.
Over 70% of companies in North America and Europe accept PayPal as a payment method on their websites and/or in their physical stores.
If you are interested in buying PayPal stock (PYPL), use Webull! Webull is an investment platform with zero commissions and a bunch of research tools.
History of PayPal
In 1998, PayPal began as Confinity. Confinity is the creation of Max Levchin, Peter Thiel, and Luke Nosek.
Elon Musk launched X.com in January 1999, and the two companies merged in 2000, using the name X.com. PayPal was originally an online payment service for Confinity and became the flagship service for this new entity.
From the beginning, PayPal targeted the eBay marketplace as a place to acquire users. Since there were many buyers and sellers on this platform and it had no standardized payment method, X.com refocused its financial services in October of 2000, to become PayPal.
In 2002 the company had its initial public offering with a share price of $13. eBay then acquired PayPal in July of that year. PayPal continued to grow rapidly, becoming available in thousands of different stores.
It has had exceptional growth in the years since and has acquired multiple companies as it continues to grow. PayPal and eBay separated into individual companies again in 2015.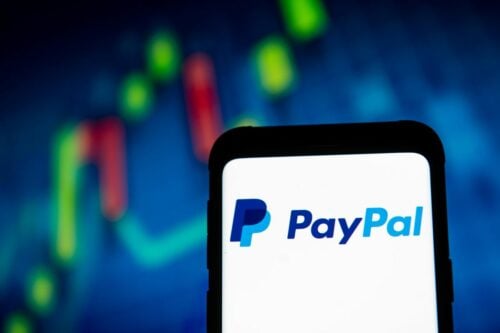 Who Owns PayPal?
PayPal is a public company traded on the NASDAQ stock market. Its stock symbol is PYPL.
Dan Schulman is the president and CEO; John Donahoe is the company chairman.
PayPal became a separate publicly-traded company again in 2015.
What Is PayPal Worth?
The company is a successful business that has surpassed its previous parent company. By 2018, PayPal had a higher net worth than eBay as its market cap hit $61.6 billion.
PayPal is now a bigger earner than eBay with the latter failing to make a profit in recent years.
In 2019, eBay recorded a net loss of $1.792 billion, in the same year PayPal made a net profit of $2.459 billion. As of 2021, PayPal had a value of $283.62 billion.
How Can PayPal Make Money In The Future?
Despite having almost 300 million active users, PayPal still has many people it can reach with its digital and mobile payments and credit account offerings.
With services available in over 200 countries, PayPal will look to introduce more of its services worldwide.
Credit is still a new arena for PayPal, so onboarding more customers to this facility should be a top priority.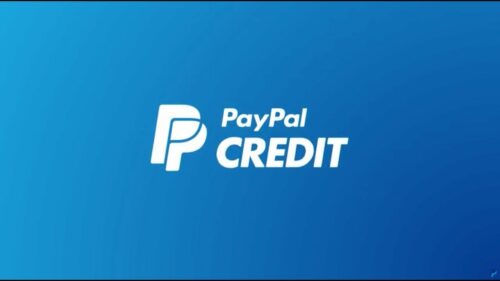 Another sector the company may look to expand into is banking. Challenger banks like Monzo and Revolut compete with PayPal as online alternative digital wallets with more features.
PayPal has immense name recognition, which could see it well-placed to launch digital bank services. There is also room to grow its current offerings of debit cards, business loans, payment gateway solutions, and mobile payments worldwide.
How Does PayPal Make Money: Final Thoughts
PayPal has grown alongside the Internet, entering the market at the perfect time like other digital services such as eBay and Amazon.
PayPal has rapidly expanded and acquired smaller businesses to boost its own position.
Recent business changes mean that the company is not an eBay subsidiary any longer, and thus able to continue its extensive growth across the world.
All in all, the company has an excellent business model, rock-solid brand recognition, and is used to receive payments by over 70% of businesses online and off.
PayPal FAQs
How Does PayPal Make Money If It's Free?
PayPal makes money from business account fees, PayPal Payments Pro, and PayPal credit interest.
The PayPal business model is to offer free services for personal account users to receive money online while charging fees for various business account services.
Is There A Fee To Use PayPal?
PayPal users who have a personal account do not pay a fee to use PayPal when sending or receiving money domestically. There are also no fees to transfer money to a personal bank account.
A personal PayPal user may encounter a fee to use the service for international payments and transfers.
Who Pays The Fee On PayPal?
When you purchase something online and pay with PayPal, the merchant you purchase from pays the fee.
Even though PayPal is not a bank, it acts in place of payment gateways to provide a payments platform for businesses. The money is added to the merchant's PayPal balance, minus net transaction fees.
Does PayPal Take Profit?
PayPal earns its profits by taking a small percentage from business transactions it processes.
It also earns profits from debit card transactions, its Mastercard branded credit card, subscription fees, and interest on PayPal working capital.