Reviews of Jeff Clark's recent 44-Day Retirement Accelerator are making the rounds, and I want to see if it lives up to the hype. Check out my Jeff Clark's Earnings Trader review for a bird's-eye view of this new package.
What Is Jeff Clark's Earnings Trader?
Jeff Clark's Earnings Trader is a weekly newsletter focused on options plays. Members gain immediate access to trade ideas, buy and sell alerts, educational resources, and much more.
What sets this service apart from other options-based newsletters is its distinct focus on opportunities leading up to or following earnings announcements.
The release of an earnings report can result in market volatility. And Clark's trade recommendations are designed to help capitalize on it.
Since Clark is dealing in options, the newsletter leans into short-term positions. He also only recommends opportunities that he believes could have the potential to produce, at least, double-digit gains.
Another draw to the Earnings Trader is its emphasis on options education.
Members can tap into exclusive trading resources, like Jeff's 8-Part Masterclass, the Earnings Trader Stating Guide, and other features.
This blend of recommendations and options education could make it an ideal fit for beginners looking to learn the ropes of options trading.
But what makes Jeff qualified to dish out investment analysis? Let's find out.
>> Sound like a good fit? Sign up for 37% off <<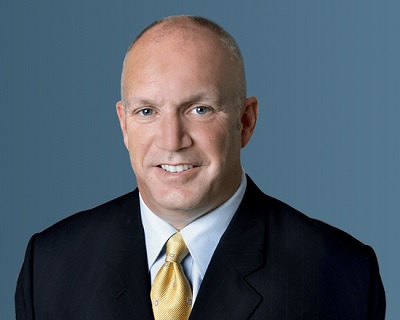 Who Is Jeff Clark?
Jeff Clark is a stock market analyst with more than 30 years of options trading experience.
Clark formerly ran an independent brokerage and private money management firm out of San Francisco.
He quickly built up his nest egg and retired from his firm at 42. Now, he pens investment insights for everyday folks.
Clark has amassed an impressive catalog of research services over the years. Some of these include:
Jeff Clark's Delta Report

Jeff Clark Alliance

Jeff Clark Trader
He also offers a free newsletter, Jeff Clark's Market Minute. It's a helpful resource. However, it does not provide trade recommendations.
The premium services are where members turn for investment ideas. They also provide special resources that teach basic and advanced options trading strategies.
Now that you have the overview, let's turn our attention to the 44-Day Retirement Accelerator.
>> Access Jeff's latest recommendations <<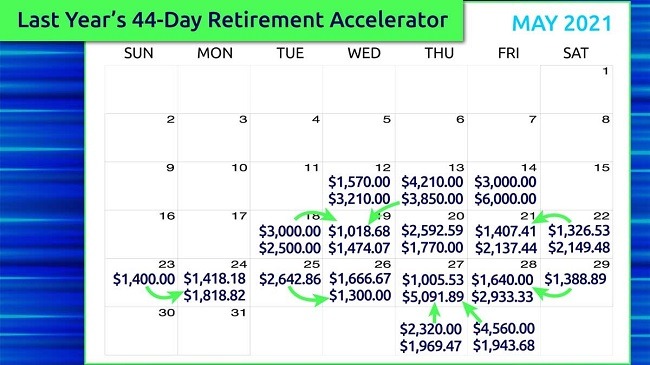 What Is the 44-Day Retirement Accelerator?
Jeff Clark's 44-Day Accelerator is an options strategy based on a "strange phenomenon" that occurs within set months across the year.
These periods last for about 44 days at a time. And Clark believes these windows provide ample opportunity to grow retirement savings.
The draw here is that Clark maps these opportunities out well in advance. He has a handy calendar that alerts members of these events.
Clark refers to these dates as "D-Days," options plays that have the potential to double an initial investment.
Here's a quick look at the calendar. The example he uses is Home Depot (HD):
I'll put a pin in this for now and revisit the Home Depot example after we dig a bit deeper into this strategy.
First, let's look at what triggers Clark's 44-day window of opportunity, section 13 of Public Law.
Section 13 of Public Law 73-291
The 44-day window in Clark's strategy revolves around section 13 of Public Law. More precisely, he's referring to the Securities and Exchange Act of 1934.
Section 13 requires publicly held companies to release earnings reports at designated deadlines. These Security and Exchange Commission (SEC) deadlines can vary, but many of these disclosures occur during earnings season (4 times a year).
So why do these disclosures matter?
During earnings season, stock prices widely fluctuate, making them prime targets for short-term option plays.
This is because these releases can reshape market sentiment, lifting up some stocks while sinking others.
The interesting part about the 44-Day Retirement Accelerator is that Clark's options plays have nothing to do with predicting which way the news will unfold.
He actually says that it's impossible:
"Nobody can predict those things. And if anyone tells [you] that they can, they're lying to you.

And that's the beauty here. There's no need to predict anything."

Clark's strategy focuses on what happens after the news drops. His next move is based on John Bogle's "Law of Gravity."
It's a pretty simple concept that Clark integrates into his 44-Day Retirement Accelerator.
John Bogle's The Law of Gravity
John Bogle was a famous American investor that founded The Vanguard Group. He also introduced the first index fund, The Vanguard 500 Fund.
Bogle's Law of Gravity is:
"Through all history, investments have been subject to a sort of Law of Gravity: What goes up must go down, and, oddly enough, what goes down must go up."
What this means is that every stock has a trend line. And when stocks suddenly move too far from their trend line (up or down), they typically revert to the mean.
This is the principle that directs Clark's strategy.
More specifically, he uses the Law of Gravity to pinpoint stocks that could see a reversal after an unfavorable report.
The 44-Day Retirement Accelerator in Action
Now that we have explored the mechanisms that drive Clark's strategy, let's take a look at Home Depot again.
In May 2021, many analysts believed that Home Depot was overvalued and that its recent earnings were underwhelming.
Market confidence took a dive, and Home Depot's stock dropped far below the trend line as a result.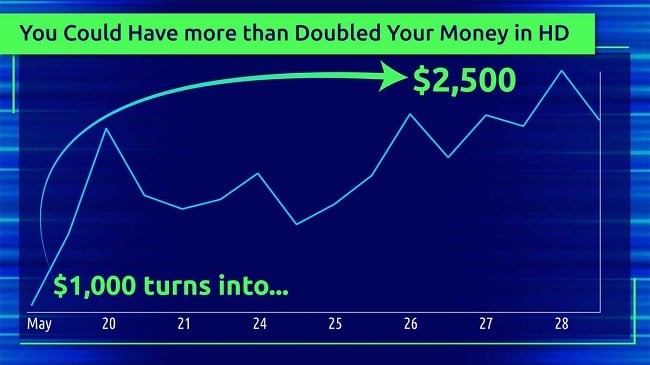 Clark's proprietary calendar marked it as an opportunity to bet on the reversal. And the stock quickly moved back up and provided the chance to double returns a week later.
This means that an investment of $1,000 could have yielded somewhere in the ballpark of $2,500.
This is impressive potential, and Clark's 44-Day Retirement Accelerator dials into even more opportunities.
The calendar is available with a membership to Earnings Trader under the new deal. That's just scratching the surface of everything on offer.
>> Tap into the 44-Day Retirement Accelerator <<
What Comes with Jeff Clark's Earnings Trader?
As mentioned, Earnings Trader is packed with a whole host of features to help take advantage of the options market.
Keep reading for a breakdown of everything included.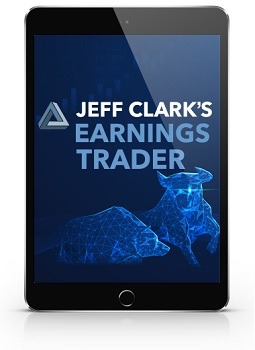 Annual Subscription to Earnings Trader
Members can access a new trade idea vetted by Clark and team every week.
As mentioned, Clark looks for opportunities with the potential to double the initial investment.
These are short-term positions. Some may only be held for hours or days, depending on when the team believes it's time to make a move.
Not all options are equal, and some are riskier than others. Part of the team's analysis also includes warnings for more speculative trades.
It's important to read through the analysis to determine whether a position meets your risk-level and investment objectives.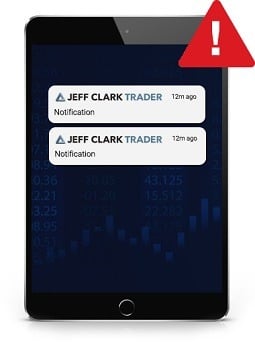 Buy and Sell Alerts
The world of options moves fast, which is why Jeff Clark issues trade alerts the moment something needs your attention.
Each alert is backed with analysis to keep everyone in the loop about the team's reasoning.
This is a handy feature for busy folks who don't have time to keep track of every bit of market-moving news.
You'll still need to execute the trades yourself, so it's not completely hands-off. But the team does all the heavy lifting on the research end.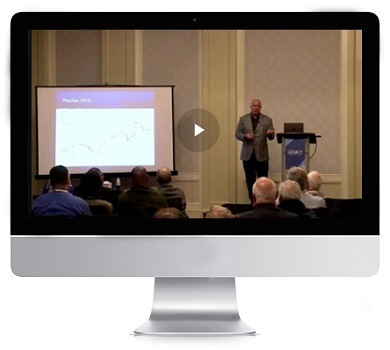 The Earnings Trader Manifesto Video
Recently, Jeff Clark gave a private presentation detailing the secrets behind his options-trading strategy.
Some attendees had to pay $1,795 just to get through the door. But now, new members can access Clark's presentation at no additional cost as soon as they sign up.
You can also revisit it as many times as you want if you need a refresher.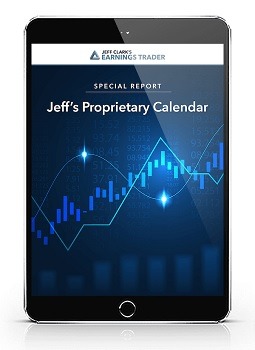 Jeff's Proprietary Calendar
Jeff's calendar ties into his 44-Day Retirement Accelerator. Members signing up to the deal are cued into opportunities based on this resource.
Clark lays out a list of stocks to watch during each 44-day window.
The calendar will be marked to alert members to what Clark describes as D-Day events (opportunities to potentially double an investment).
>> Check out Jeff's calendar today <<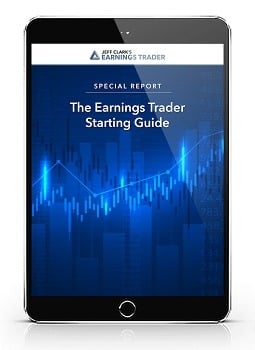 Earnings Trader Starting Guide
This bonus report explains how to get started putting the Earnings Trader's strategy to work.
It details how to open an options account, setting up a trade, and more.
Members new to options might want to check this out first before diving into all the other resources.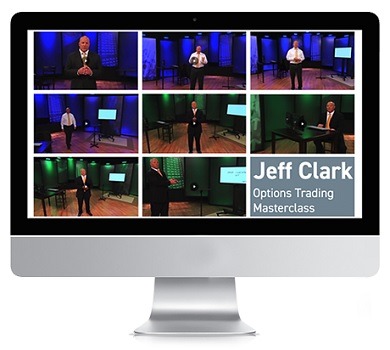 Jeff's 8-Part Options Masterclass
This eight-part video series provides a primer for anyone looking to understand the ins and outs of options trading.
In the early videos, Clark covers the basics, like understanding options, buying and selling calls, etc. As the videos progress, he digs into more advanced lessons, including spotting bearish chart setups and projecting the direction of a stock.
Like many of Clark's other resources, the videos provide a lot of value for beginners.
The only downside to the course is that it does not have a fast-forward feature.
That said, it might not be wise to try to learn how to trade complex financial instruments at 2X speed. This might be a conscious choice for the listener's benefit.
All in all, it's a worthwhile resource for beginners or intermediates who need a refresher.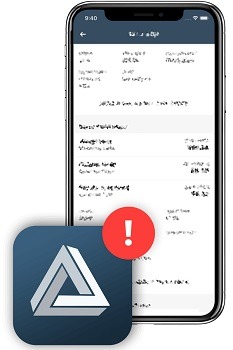 Jeff Clark Trader Mobile App
Earnings Trader members can access trade alerts straight from the Jeff Clark Trader App.
Anyone can download the app on the Google Play or Apple Store, but only members can tap into Jeff's real-time insights.
This is a fantastic resource for trading on the go. Plus, it's a nice alternative to email alerts.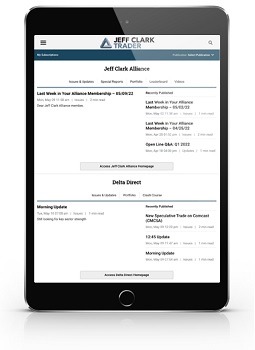 US-Based Customer Support
Memberships also include a dedicated US-customer service team.
You can reach out to a representative via phone or email if you have any questions about the service. Operating hours are 9 am to 7 pm ET.
Many services are starting to cut phone support, so I'll give Clark extra points for providing a more personalized approach.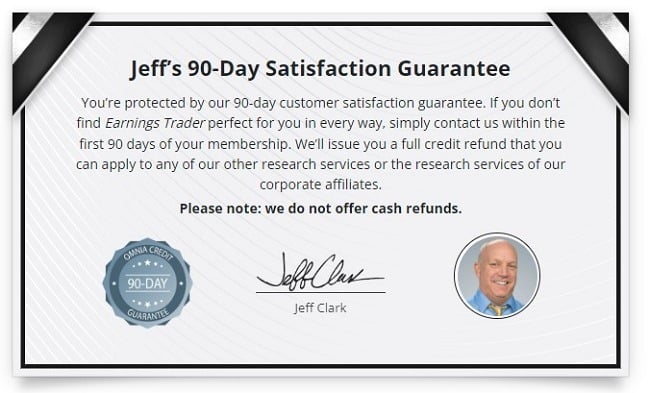 Satisfaction Guarantee
Jeff Clark's Earnings Trader offers a solid 90-day satisfaction guarantee.
There's a caveat, though. The refund is in-house credit only. This means that if you choose to cancel your subscription, you can only use the credit toward other services published by Jeff Clark.
He has an exceptional catalog, so the credit could be put to good use on the team's other newsletters.
A full cashback refund would be ideal. That said, I've seen several premium options services that don't provide a refund at all. So I will give Jeff Clark points for offering an option to move over to another subscription.
>> Access Jeff's 90-day guarantee <<
Earnings Trader Pros and Cons
Jeff Clark's Earnings Trader is a great newsletter, but there are some places I feel the service could improve.
Pros
37% discount

Includes the 44-Day Retirement Accelerator

Weekly issues

Resources on how to trade options
Cons
No community forums

Refund is in-house credit only

How Much Does Jeff Clark's Earnings Trader Cost?
Jeff Clark's Earnings Trader typically costs $4,000 for an annual subscription. However, Clark is currently running an introductory offer that knocks the price tag down to $2,500.
This shakes out to a savings of $1,500, or a ~37% discount.
While the discount is substantial, there's something even more appealing in the fine print.
After the first year is up, the next subscription retains the discount, meaning that the next year also provides the same 37% off.
This is a welcomed departure from many newsletters in the industry offering discounts on the first year only.
Is Earnings Trader Worth It?
Earnings Trader is an excellent service that is worth the money.
While the cost may cause sticker shock, its pricing is in line with many similar services.
Clark's latest deal also offers a substantial discount on the price of the package. Even better, the 37% discount carries over to the next renewal.
Plus, Clark includes a 90-day refund with in-house credit that can be put toward another service in Clark's impressive line-up.
The 44-Day Retirement Accelerator is a solid addition to the service. It's an intuitive system that could be easy for most people to pick up.
If you have any stumbles along the way, there are additional resources to help you hit the ground running.
All in all, the latest deal provides a lot of value. Keep Earnings Trader on your radar if you're on the lookout for options plays from an industry expert.
>> That's it for my Earning's Trader review. Sign up for 37% off TODAY<<