Nearly 38 million Americans visit their neighborhood Starbucks every month, and many do so daily! And with contactless payments becoming the norm in the last few years, customers are asking: does Starbucks take Apple Pay? Follow along to find out.
Does Starbucks Take Apple Pay?
Yes, Starbucks does take Apple Pay at Starbucks stores, in its drive-thru locations, and in its Starbucks app. However, that's not the full story. As any Starbucks regular knows, Starbucks has its own app with a Starbucks card that can be used for payments.
Now, Starbucks has a brilliant rewards program that Starbucks customers adore. And you can get extra reward points when you pay with the Starbucks card on the app.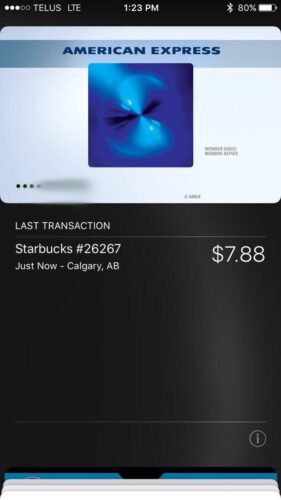 Can I Add Apple Pay to My Starbucks App?
Yes, and many Apple users use this method. They use Apple Pay to load money on the Starbucks card and then pay with the app to get extra Starbucks rewards stars!
Here's how you can do it:
Open your Starbucks app.

Go to the settings screen.

Click on add funds.

Choose Apple Pay as the option for payment.

Use either Face ID or Touch ID to authenticate the payment.
And that's it! You can pay at the cash counter and enjoy your latte.
If you press the auto-reload toggle at the bottom, it will reload the Starbucks card automatically from Apple Pay if it drops below your specified balance amount.
What Is the Starbucks App?
The Starbucks mobile app is an all-in-one solution to order your coffee at Starbucks.
You can also pay for your order through various methods, choose your pickup or delivery options, and customize your orders.
It is available on iOS and Android devices and is completely free for all users.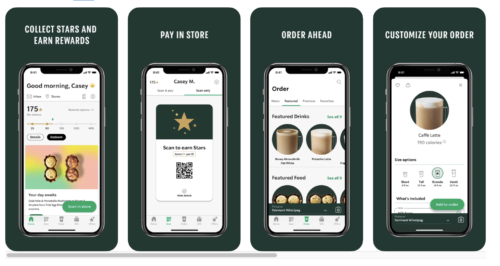 How Does the Starbucks App Work?
When you sign in to the Starbucks app, the first thing you will see is the "store" and "inbox" options. The store option lets you check out nearby stores in a map format
You can figure out neat things about each store such as whether it's open 24 hours, has curbside or pickup options, or if can you order ahead at that store.
The inbox is where Starbucks sends promotional messages and offers to you.
Apart from this, you can go to the orders tab, and choose the coffee or other items that you want to order from Starbucks.
You can also favorite the options, or select your previous order and repeat it.
You can customize the size, flavors, and several other options in your order as well, just like you can do at the store checkout.
When you are done with the order, you can place the order, make payment, and choose your delivery, curbside, or pickup options (not all options may be available at all stores).
For payment methods on Starbucks apps, there are two options:
Using a Starbucks card

Using other payment methods.
Before we discuss these, let us first understand the Starbucks rewards program.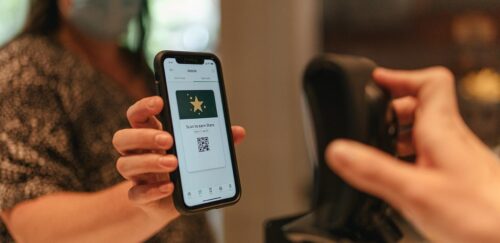 Starbucks Rewards Loyalty Program
The Starbucks app lets you collect Starbucks rewards as part of the Starbucks loyalty program.
You can earn stars for every purchase that you make.
For every dollar you spend, you get one star. If you use a Starbucks card, you get double the Stars.
This is why regular Starbucks customers sometimes use Apple Pay to load their Starbucks cards instead of paying with Apple Pay directly.
However, these Stars are valid only for six months, so it's best that you keep using them regularly.
Payment Methods With Starbucks App
When paying with the Starbucks mobile app, you can choose to pay with several methods, but there are two major differences:
You get double the reward points with your Starbucks card, and you only have to scan once to pay for your order (since the Starbucks card is already preloaded with cash)
In the case of other payment methods, you have to scan your mobile app once to get the reward points, and then you have to make payments separately.
For Apple Pay, this means scanning your phone twice.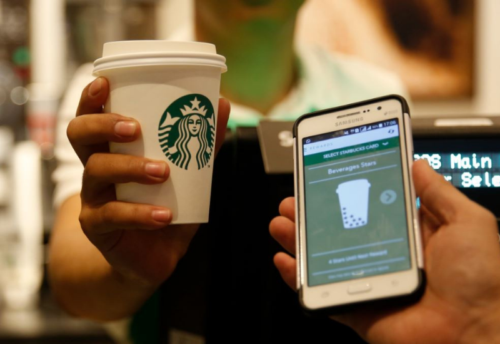 Using Apple Pay At Starbucks
Before you use Apple Pay, you need to make sure that you have it set up for payments.
To do that, you have to add credit card information to the Apple Wallet app, as follows:
Open Wallet app.

Use Touch ID or Face ID to authenticate yourself.

Click on add card.

Enter card details.

Press save.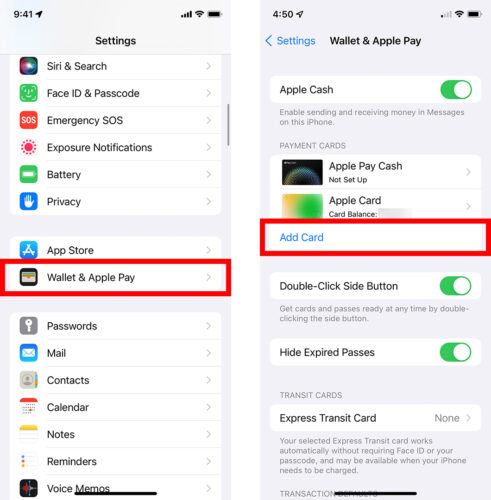 Now that your Apple Pay is set up, you can use it for payments.
Next, here's how Starbucks takes Apple Pay if you use it without their Card:
Open the side button to access the Apple Wallet app.

Authenticate it using Touch ID or Face ID.

Show the phone at the payments counter.
A green checkmark on your phone will confirm that the transaction is complete.
If you want to use an Apple Watch instead of an iPhone, here's what you need to do:
Open the side button on the Apple Watch.

Authenticate your payment using your Face ID.

Show the Watch at the payment counter.
The watch will buzz lightly when the payment is complete.
What Payment Methods Does Starbucks Accept
Starbucks offers a variety of payment methods for patrons, including:
Starbucks Cards (which can be loaded using any of the remaining methods)

Apple Pay and Google Pay (used directly)

PayPal

Cash

Visa, American Express, MasterCard, and Discover credit cards and debit cards

Bakkt app
You can also use most of these payment methods in-store as well as through the Starbucks app.
Among these, the most popular method remains the Starbucks card because of the extra rewards points that we talked about earlier.
What Fast-Food Stores Accept Apple Pay
Most fast food stores by and large accept Apple Pay these days, but just to be sure, we curated a list of the most popular ones for you:
In-N-Out Burger

Dunkin' Donuts

Krispy Kreme

Church's Chicken

El Pollo Loco

KFC

Domino's

Papa John's

Pizza Hut

Baskin-Robbins

Ben & Jerry's
How to Find Companies that Accept Apple Pay
Finding stores, restaurants and other establishments that accept Apple Pay can seem difficult at first, as no single list covers everything.
However, there is an easy way to do it, which Apple has provided their users themselves.
Simply open the Apple Maps app.

Locate the store that you want to visit.

Scroll down to the information section.
If you see "Apple Pay accepted" or the Apple Pay logo in this section, then it means that the store does use Apple Pay.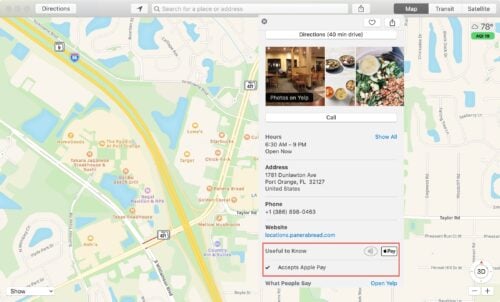 Benefits of Apple Pay
Apple Pay has become the biggest mobile wallet in the US today, and there are several good reasons why.
Consumers love the convenience, speed, and security of Apple Pay.
Today, more than 90% of retailers and 45 million customers use Apple Pay on their iPhones, iPads, and Apple Watches. Here is why:
Convenience
When you use Apple Pay, you do not have to worry about carrying your credit or debit cards with you all the time.
In fact, you can easily leave your wallet behind on most days.
Security
Apple Pay uses secure near field communication (NFC) technology. All your credit card information is hidden from the store, and even Apple itself.
Moreover, each transaction is authorized with Face ID or Touch ID before processing to make sure that it is you who is making the payment.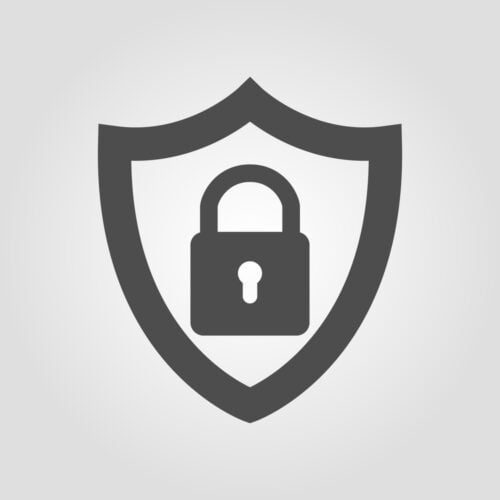 Ease of Use
How many times have you faced a problem with your credit card not swiping properly?
What if your credit or debit card got lost somehow, and you need to buy something urgently?
In each of these cases, Apple Pay can be a lifesaver.
With Apple Pay, you neither need a physical card nor a physical receipt for purchasing a product. All of these things are available on your phone.
Hygiene
The world has undergone a big change in the last few years.
Maintaining hygiene has become a bigger priority for people than ever before.
With Apple Pay, you will not have to touch a single thing at the counter, nor will you have to swipe your card at a machine that has been touched by hundreds of people.
All-in-all, most people who have switched to Apple Pay have become ardent fans, and there is a good reason too — it's a completely user-friendly way of experiencing payments.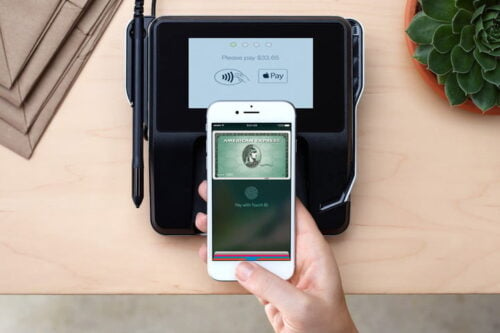 Privacy
When you make purchases at major fast food or retail stores, they will track your payment information and ordering habits.
This data is useful for designing consumer promotions and sending you offers. However, some people also see this as an intrusion of privacy.
Apple Pay does not track any such information, so if you want to be left alone without promotional messages and emails, Apple Pay is your best bet.
Final Thoughts: Does Starbucks Take Apple Pay?
Starbucks accepts most forms of payment, including Apple Pay. But they have designed its loyalty program in a way that strongly promotes using its Starbucks card for payments.
Many people use Apple Pay in the Starbucks wallet to load Starbucks cards, instead of making a direct payment using Apple Pay.
However, if you'd like to, you can always use Apple Pay at Starbucks directly through the normal method of scanning the app at their payment counters.
Starbucks Payment FAQs
Does Starbucks Only Take Card?
No, Starbucks accepts mobile wallets such as Apple Pay and Google Pay, credit and debit cards, Bakkt card, cash, and PayPal as well. You can use all of these payment methods at Starbucks stores, drive-thru, and on their app to get your favorite cup of coffee.
Can You Pay with Your Phone at a Starbucks Drive-Thru?
Yes, you can pay with your phone in the same way you can pay at the counter — just scan the NFC-enabled cash register and authenticate payment on your iPhone. You can also buy your coffee using the Starbucks App.