Tune in to learn everything you need to know about Home Depot competitors.
Home Depot is a retail chain of nationwide home improvement stores.
The company was founded by Arthur Blank and Bernie Marcus in 1978.
The pair envisioned a store that could offer a one-stop shop for people interested in home improvement and DIY.
Home Depot has around 2,300 stores in North America and Mexico.
Most of its retail outlets have indoor areas for paint, decorative items, and home improvement tools.
There is also an outdoor area full of gardening equipment, plants, and outside furniture.
Part of its offerings to the public are installation and machinery rental.
The company is known as the largest hardware retailer in the world.
As of 2019, there are over 400,000 employees working for Home Depot.
It is listed on the New York Stock Exchange under the ticker symbol HD.
The company has reported revenue of $151.16 billion and net income of $16.43 billion this year.
Home Depot has developed its online presence to compete with eCommerce stores.
More than one million products are listed to help consumers find the right thing for them.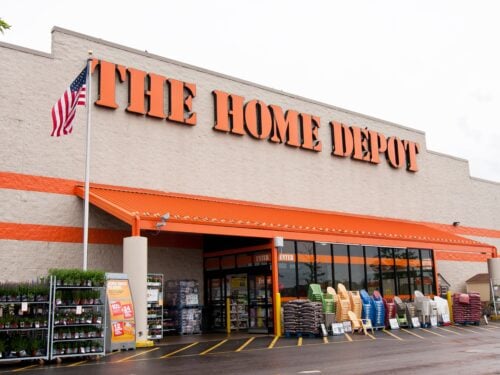 Home Depot's SWOT Analysis
Strengths
Home Depot has exceptional brand recognition in the home improvement industry.
The company has strategic locations in cities across all regions of the US and Canadian markets.
It also provides power tools, garden supplies, and construction products to the Midwestern United States and rural areas.
This diversified footprint allows the company to provide high-quality products for do-it-yourself home services even when the economy is in flux.
Weaknesses
Home Depot does not diversify from its core product categories of home improvement products.
This may make it difficult for the company to stay ahead of downturns when sales of gardening products and building products slow.
The company also has a weak international presence.
Opportunities
While physical stores exist primarily in North America, the new online shopping focus should help improve market share.
The current lack of presence in other countries provides opportunities for international expansion.
As a home improvement store, the company has extensive opportunities to expand into renewable energy and smart home product categories.
Threats
A variety of other competitors exist in the retail industry.
Competitors specializing in garden items, bathroom products, sanitary equipment, and electronic products may appeal to consumers who value specialization.
Likewise, customers who prefer low prices and a broad range of options may migrate to discount department stores, hardware stores, or just new companies.
Home Depot's Biggest Competitors
Home Depot drives most of its revenue through the sale of building materials, tools, machinery, and other home improvement products.
It offers products that can help people with home renovation, decorating, gardening, and construction.
The business primarily targets consumers interested in DIY, but professionals use Home Depot too.
Professional contractors such as plumbers, electricians, painters, decorators, and remodelers can find everything they need at Home Depot.
The brand sells its products through physical stores located across North America as well as through its online storefront.
This makes Home Depot a versatile business, able to other a wide choice for its patrons.
Here is a look into some of the top Home Depot competitors and alternatives in the home improvement sector:
Lowe's – The second-largest home hardware retailer in the world.

Menards – The third-largest retailer in the world.

True Value – A wholesaler that operates worldwide.
Lowe's
Lowe's is an American retailer that offers a similar product range and service as Home Depot.
The company was founded in 1921 by Lucius Smith Lowe.
Lowe's was once the largest hardware retailer in America until it was overtaken by Home Depot in 1989.
It retains its place as the second-largest hardware store.
The company welcomes as many as 18 million customers each week.
It has around 2,200 stores throughout the United States, Mexico, and Canada.
The company is listed on the New York Stock Exchange under the ticker symbol LOW.
It is part of the S&P 100 component which is a stock market index.
The company has around 300,000 employees working for it.
Lowe's reported total revenue of $72.148 billion in 2020 with an operating income of $6.314 billion.
It stocks around 34,000 products in its stores that can help with home improvement, construction, repair, and decoration.
Like Home Depot, the company offers installation services and has an online store too.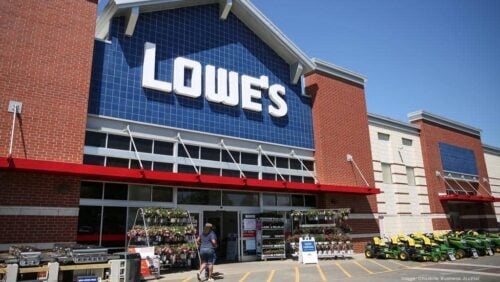 Menards
Menards is the third-largest home improvement company in America.
The company was officially founded by John Mernard Jr. in 1960 after he spent 1959 building post-frame buildings.
The company remains with the Menard family and is based out of Eau Claire, Wisconsin.
There are over 330 retail stores and each sells a range of products including home appliances, ceiling fans, doors, windows, building materials, garden supplies, and tools.
Over 45,000 people are employed by Menards across 15 states.
Menards is a privately held company so it does not need to make its finances publicly available.
In 2020, the company reported revenue of $10.7 billion.
Despite being significantly smaller in size than Home Depot and Lowe's, Menards has become the third-largest home improvement retailer in the country.
This is thanks in part to its focus on providing customers with real value and saving them money.

True Value
True Value is a wholesaler that supplies products such as home appliances, home improvement, and building materials.
The True Value company began in 1948 in the United States and used to be a cooperative until its acquisition by ACON Investments.
The company provides support to a range of businesses such as Taylor Rental, Induserve Supply, and Grand Rental Station.
This is in addition to its own True Value stores.
There are over 4,500 stores throughout the world and the company operates in around 60 markets.
True Value differs from its competitors by offering locally relevant goods and services.
It offers its products at a competitive price and focuses on generating leads through marketing.
The company is privately held so its financials are not released every year.
In 2017, the company reported total revenue of $1.48 billion and an operating income of $40.16 million.
Unlike Home Depot and Lowe's, True Value has international interest and thanks to expansion worldwide it is the fourth-largest hardware retailer in terms of revenue.

Home Depot's Advantage
Home Depot has worked to develop a great online store that competes with other e-commerce platforms.
This has played a significant role in Home Depot's strategy which has allowed it to race ahead of its competition.
It actively tries to drive its in-store customers to its online store.
Colleagues working in-store have handheld devices that can be used to order products directly online for customers.
The benefit of this is that delivery can be arranged then and there — customers don't need to take bulky items home themselves.
Home Depot Competitors FAQ
Who Is Home Depot's Biggest Competitor?
Lowe's is generally considered Home Depot's biggest competitor.
It was the largest home improvement supply store until Home Depot surpassed it in 1989.
What Is Comparable to Home Depot?
Comparable companies to Home Depot include Lowes, True Value, and Menards.
Others include Ace Hardware and in a limited fashion various home furnishings stores and retailers who offer office supplies.
Is Walmart a Competitor of Home Depot?
Walmart is loosely a competitor of Home Depot because it sells many similar items.
Customers can buy home hardware, small DIY tools, and various home furnishings on a limited scale at Walmart, and these items are also sold at Home Depot.
Home Depot's Competitors In Summary
Quick to adapt to online trends, Home Depot has secured itself the number one position among home improvement retailers.
The company has leaned into the changes in public sentiment and now prioritizes its online business.
Thanks to its large footprint across many states in America, Home Depot is readily accessible.
It works to offer great products for both consumers and professionals.
Through its installation services, the company can offer an end-to-end solution for its customers for an unsurpassed customer experience.