If you're interested in buying LEGO stock, you may have gotten excited at seeing a LEGO stock ticker.
Everyone knows LEGO, the children's toy that inspires creativity and design.
It's one of the most popular toy brands, which includes sets of interlocking bricks and helpful instructions to build fascinating creations.
Given the company's long-standing success, many investors would jump at the opportunity to buy LEGO stock.
Unfortunately, though LEGO is one of the most popular toy brands, the stock symbol LEGO belongs to a completely different entity.
So can you invest in the toy company LEGO?
Here's what you need to know about LEGO stock, investing with the company as well as competitor stocks worth considering.
What Is The LEGO Group?
Founded in 1949, LEGO A/S, a.k.a. The LEGO Group actually started over a decade earlier with their original designer, the Danish carpenter Ole Kirk Christiansen.
In 1932, Christiansen began making wooden toys in his town of Billund, Denmark.
As he saw success, he officially named his company LEGO.
The name came from the Danish phrase "leg godt", which translates to "play well."
In 1947, the brand began producing plastic toys in addition to their traditional wooden products.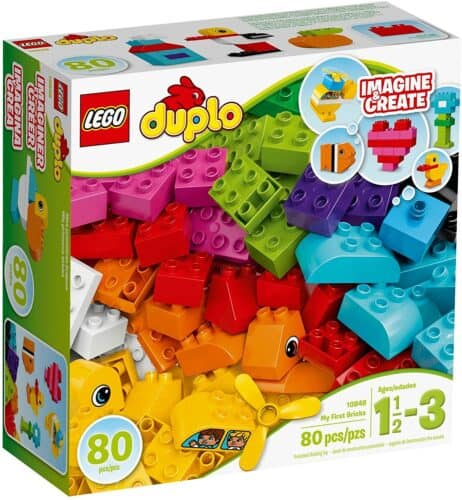 During its second year, these toys quickly grew in popularity.
And in 1949, the first modern LEGOs were released.
These were the first version of the plastic bricks we are familiar with today, originally dubbed "Automatic Binding Bricks".
It didn't take long for this new design to see success.
And under the direction of Christiansen's son, Godtfred, marketing for the plastic toys changed.
Godtfred saw the potential to present the toy as one that inspired creativity and fostered learning, appealing to both parents and kids alike.
Before the toy could move forward, a few things had to be taken into consideration.
At the time, the toy didn't interlock diversely enough, and the company decided to improve upon the design.
Over half a decade of research and development later, the first modern LEGO brick set was made available in 1958.
The company improved the overall brick design and material used, making them reliable and strong.
And these original designs are still the ones being used in today's sets.
The company's motto is "learning through play."
Who Owns LEGO?
KIRKBI A/S (a private holding and investment company) owns The LEGO Group.
And the Kirk Kristiansen family, who holds about 75% of the company, owns KIRKBI A/S.
The LEGO Foundation owns the remaining 25%.
The company was family-run until 2004 when the founder's grandson, Kjeld Kirk Kristiansen, stepped down as chairman and CEO.
The current CEO is Niels B. Christiansen.
How Much Is LEGO Worth?
Analysts estimate that The LEGO Group is worth nearly $40 billion.
This isn't surprising given how profitable the business has been over the last decade.
Its yearly sales tower over even some of its closest competitors, especially in 2021.
What Is LEGO's Revenue?
While LEGO has always been an exceptionally profitable business, it has been growing exponentially.
The company reported that its revenues in the first half of 2021 increased by more than 40% to about $3.6 billion.
LEGO's profits also shot up an astounding 140% to $1.75 billion.
Clearly, it's been a great year for LEGO.
However, no one knows if they can keep up the momentum, as it's likely that the pandemic played a role in the jump in sales.
The privately owned company generates revenue with product sales, branded merchandise, and LEGOLAND amusement parks.
Can You Buy Lego Stock?
Unfortunately, you cannot buy or sell Lego stock at this time.
It is a private company that is not listed on a public stock market exchange.
While there is a ticker on the NASDAQ labeled LEGO, it isn't for The LEGO Group — it's for the Legato Merger Corp.
Unlike many successful toy companies, LEGO Group is not publicly traded, as it remains a privately held company.
Sadly, this means that you cannot buy LEGO stock, and you won't see a ticker symbol if you check the stock market.
Maybe one day, you will be able to grab some shares of the toy company for your portfolio.
When Is LEGO's IPO Date?
There is no news on a Lego IPO date at this time.
This is a shame because if the company ever decided to go public, the price of its shares could have exceptional value.
What Is LEGO's Stock Symbol?
Since Lego shares are not available for sale to the general public, there is no stock symbol.
While LEGO would be an ideal symbol for the toy company, that is already taken by a different company.
What Is LEGO's Stock Price?
Lego is still privately held by the family of the company's founder.
Private companies do not get assigned a stock price or ticker.
If Lego were to go public, its stock price would be on par with, or better than, its closest competitors.
Other Ways to Invest in LEGO
While you can't directly invest in LEGO stock, you can collect its sets and hold on to them as they increase in value.
Some of the most sought-after sets that initially retailed for less than $100 have doubled, tripled, or even quadrupled in value since their release.
There are also online marketplaces that allow you to sell complete LEGO models or individual LEGO bricks for a hefty markup.
LEGO Star Wars sets could be a good place to start building an inventory.
Because they were only offered for a limited run, the demand went up when they were discontinued.
As an example of this, we can look at the Millennium Falcon kit produced in 2017 for the Star Wars franchise.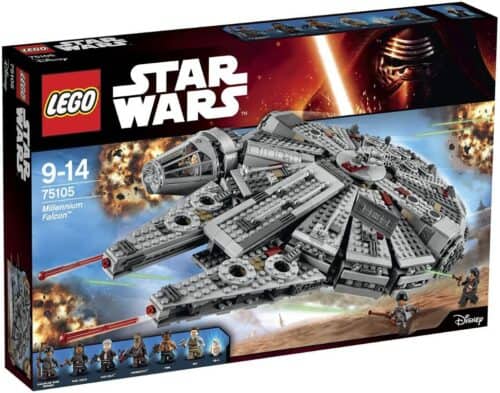 When an updated version of this set is released, the previous version's price can temporarily drop.
If you're looking to snag a 2017 Millennium Falcon, keep your eyes peeled for an updated kit, and the 2017 price should fall.
Then after you pick it up, you can wait for the price to go up again to potentially flip it.
LEGO Competitors You Can Invest In
In the toy-making industry, there are several competitors of LEGO that you can invest in while the company remains privately owned.
These other stocks are also excellent businesses with popular toy brands.
Bandai Namco Holdings (OTCMKTS: NCBDY)
Bandai Namco is a Japanese video game development company that has branched out into the plastic model world in more recent years.
In addition to games, the company makes premium model sets.
While it does not produce model kits like the LEGO brand does, the company does share a similar approach in terms of its partnerships.
Bandai Namco owns the rights to the Mobile Suit Gundam franchise, a wildly popular animated series centered around advanced robotics.
As part of this franchise, Bandai Namco produces plastic model kits that are accurate to the characters found in the Gundam series.
In addition to the Gundam franchise, Bandai Namco has paired with Star Wars to create movie-accurate model kits.
With the resurgence of Star Wars media, kits based on new and old IPs are highly sought after and are rather expensive, as most Star Wars memorabilia can be.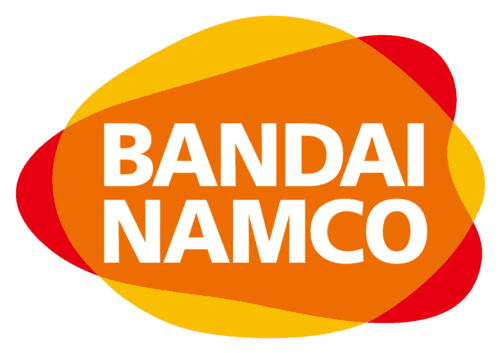 Mattel Inc. (NASDAQ: MAT)
One of the longest-running toy-making companies in the U.S., Mattel is one of LEGO's top competitors.
In fact, the Mattel brand is the second-largest toymaker in the world — only second to LEGO.
The company currently comprises three different business segments: Mattel North America, Mattel International, and American Girl.
Mattel is home to some of the most iconic brands in history, including Barbie, Hot Wheels, and Masters of the Universe.
Barbie and Hot Wheels are highly collectible, just like LEGO sets and pieces are, and create a market of their own in collectors' circles.
Hasbro, Inc. (NASDAQ: HAS)
Hasbro operates within many industries, including entertainment, media, and board games.
The company has also acquired board game makers, such as Parker Brothers and Milton Bradley.
Some of the more popular brands under the Hasbro umbrella include Transformers, Power Rangers, Nerf, Monopoly, My Little Pony, and Furby.
Notably, Hasbro also owns Wizards of the Coast, the company responsible for the popular trading card game Magic: The Gathering, and Dungeons and Dragons.
Funko (NASDAQ: FNKO)
Another plastic toy company, the Funko brand is one of LEGO's competitors in the collectibles market.
Funko was founded in 1998 and quickly generated waves in the toy-making industry.
Funko touches on all generations of popular culture, producing vinyl figures with likenesses to thousands of characters in hundreds of franchises.
Franchises range from properties that include Betty Boop and The Cat in the Hat all the way up to current pop culture icons such as the heroes of the Marvel Cinematic Universe.
Rarity comes to play in the desirability of Funko figures, with some being harder to find than others.
This rarity lends itself to higher aftermarket prices once the run of figures has ended, much like the price of LEGO sets that have been discontinued tend to skyrocket.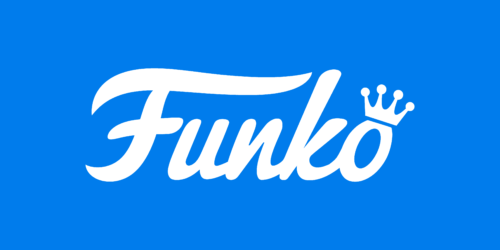 LEGO Stock: Final Thoughts
The LEGO Company brand is dedicated to helping others find their creativity while they learn.
While you cannot buy LEGO stock today, there are plenty of competitor stocks available.
As the company has produced more and more sets and discontinued older sets, the highly sought-after kits have made a small market for themselves.
As the world's largest toymaker, and certainly the most popular one, if the company goes public one day, you could expect the price of shares to be remarkably high.
LEGO Stock FAQ
Want to add Lego stock to your finance portfolio?
Check out our answers to the most commonly asked questions about whether you can buy LEGO stock.
Can You Buy Stocks in LEGO?
Unfortunately for investors, LEGO the toy company is not a publicly traded company.
It is privately owned by the Kristiansen family's private investing group.
Who Owns LEGO Stock?
The Kirk Kristiansen family's holding company owns the majority share in LEGO — about 75%.
The other 25% belongs to the LEGO Foundation.
What Is LEGO's Stock Price?
At this time, there is no available stock price for The LEGO Group, due to the company being privately owned.
However, we can take a look at the stock prices of its closest competitors to get an idea.
Based on the competitors on our list, LEGO stock could trade for $40-$100.
Does LEGO Have a Stock?
LEGO does not have a stock symbol or stock ticker because the company is not publicly traded.
If it did trade on the stock market, LEGO would be an appropriate ticker symbol, but it's already taken by Legato Merger Corp.
Is LEGO a Good Stock to Buy?
Holding on to LEGO blocks and toys for resale purposes could net you a pretty penny in the long run.
That being said, it's hard to imagine anyone would use LEGO toys or kits as their primary investment vehicle — unless it's a third-party company that sells them.
What is the Stock Symbol for LEGO Toys?
The LEGO toy company does not have a public stock symbol.
It goes by the tradename The LEGO Group and is privately owned by the original founder's family investment group.