MyPillow is a popular company whose owner has garnered consistent news coverage over the past few years.
Investors from all over are wondering if they can capitalize on the company's name recognition and recent news spotlight by buying shares of MyPillow stock.
After MyPillow's first appearance on QVC, the company sold tons of pillows, eventually breaking away from the television shopping network and appearing in some of the most famous department stores.
But can you buy stocks in MyPillow?
Read on to learn more information about the company, whether you can buy My Pillow stock, and competitors worth investing in.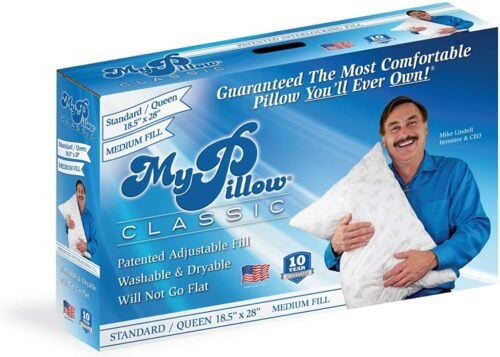 What Is My Pillow?
My Pillow Inc. is a pillow manufacturing company founded by Michael J Lindell in 2009.
The patented pillow design has generated over 40 million sales.
The company's products have been sold through major retailers including QVC and Costco.
Though MyPillow is all over the media, it's not exactly in the most favorable light.
MyPillow has been through many ups and downs since its first appearance in the market.
It was thought to revolutionize pillows as we know them.
The patented design adjusts to each individual, ensuring they have the best cushion and position for their head and neck while sleeping.
While initial coverage of My Pillow focused on the product, that changed.
Media coverage now focuses on the founder's political relationships and beliefs.
He is a friend to former president Donald Trump and publicly voiced opinions about election fraud.
With the current political climate in the US, many companies have distanced themselves from the product despite increased interest in a stock offering.
Who Owns My Pillow?
MyPillow was created and is owned by Mike Lindell.
While most founders are known for their products, Mike Lindell is known for many other things, including his political affiliations.
When Donald Trump was elected as the 45th president of the U.S., Mike Lindell served as an advisor and political activist for the administration.
His current political views have gotten him and his company a lot of attention, though it's not in the most positive manner.
Lindell developed MyPillow back in 2004, coming out with a bang due to his fun commercials.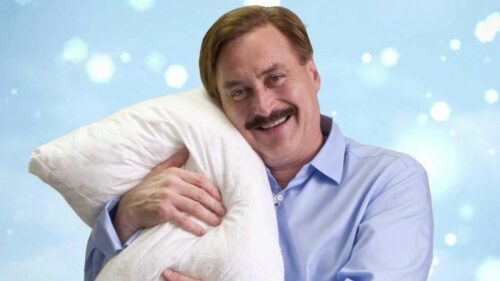 The product exploded in Minnesota, reaching global popularity shortly after.
MyPillow is facing a lot of criticism due to Lindell's social media comments about the 2020 elections and election fraud.
Founder and CEO Mike Lindell claimed that he believed the election was manipulated, speaking out on Fox News and other outlets.
He spoke out in support of former president Trump as they fought to repeal the 2020 presidential election results.
This has sparked rumors on social media and other platforms about what this controversy means for MyPillow in the long run.
The My Pillow CEO has been swarmed by controversy over the last year, especially for what Lindell said on social media as well as various news outlets.
In 2021, Lindell announced that he would start his own form of social media to compete with companies like Twitter and YouTube so everyone could have a voice online.
How Much Is MyPillow Worth?
MyPillow's worth and the reputation of the pillow brand is not deterred by the media controversy.
Mike Lindell is estimated to be worth $50 million this year.
What Is MyPillow's Revenue?
MyPillow's revenue is also not deterred, generating in excess of over $280 million this year.
The company's products range from pillows to pet beds and mattress toppers.
Why Is My Pillow So Successful?
MyPillow has been around since 2004 but wasn't always the popular pillow company it is today.
Although there were advertisements, commercials, and campaigns, it wasn't until a 2011 infomercial that the pillow company really took off.
The increased visibility of the MyPillow product is one of the many reasons why the company shot to success, becoming one of the most sought-after pillows in the US.
MyPillow produces all products in the US.
It also has extensive philanthropic activities.
A percentage of all sales go to the Lindell Foundation, which assists a variety of people in need.
The company also donates pillows to cancer patients and hurricane victims.
During the height of the Covid-19 pandemic, it converted 75% of manufacturing to creating masks to donate to healthcare workers.
Can I Buy MyPillow Stock?
MyPillow is a private company, so My pillow stock cannot be publicly traded on the stock market.
There is no news on whether the company will go public, so no one knows when investors will be able to start buying and selling stock in MyPillow.
There are rumors that the company may be planning to go public soon, but this is mostly speculation.
While there's a chance that the company will one day become public, it's not on the menu right now.
Controversy aside, CEO Mike Lindell has proven to be a successful businessman, so the Minnesota-made company might want to keep things as they are for now.
MyPillow IPO Date
There is no data on a pending Initial Public Offering (IPO) date.
Interested investors watch the news closely for changes, but none have been announced yet.
MyPillow Stock Symbol
MyPillow is not a publicly-traded company, so it does not have a stock symbol.
Most of their investments have been through private individuals and investment groups, which are closed to the public.
Lindell recently named his son as the chief of operations, stirring rumors that the current status of the company may change.
MyPillow Stock Price
As a private company, there is no stock price to report.
If MyPillow begins selling shares in the future, the stock price is likely to be on part with close competitors.
My Pillow Competitors to Invest in
MyPillow is not publicly traded and cannot be bought, sold, or traded at the moment.
Still, if you're looking for some companies like them to invest in, you can take a look at their competitors.
Here are our top picks for MyPillow competitors.
Tempur Sealy International Inc. (NYSE: TPX)
Tempur Sealy is a reputable mattress and pillow company that has been around for years.
Its stocks pay out dividends and have a yield of 0.81%.
Back in 2020, the stock dipped to its lowest point, but it has been back on the incline since.
Those who invested at the lowest point have made a substantial amount; though, the stock is sure to even back out eventually.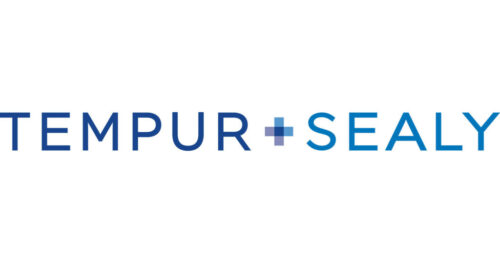 Sleep Number Corporation (NASDAQ: SNBR)
Sleep Number also hit an all-time low early on in 2020.
Over the last five years, its stocks have been steadily increasing in value, giving those who invested in the company the opportunity to profit over time.
Now that the economy is on the rise, Sleep Number is starting to climb back up and looks promising for the long run.
It is a great alternative to MyPillow and is backed by years of success.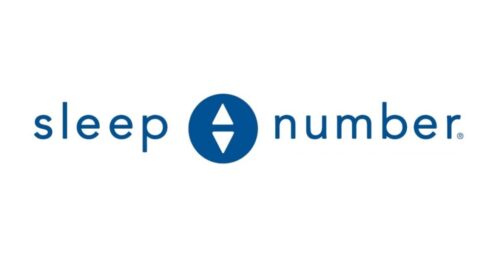 Should I Buy MyPillow Stock if the Company Goes Public?
Due to its success throughout the years, MyPillow has always been a company that many have looked to for investing.
After a popular advertising infomercial, the company exploded in growth overnight.
Despite the political controversy, investors are very interested in adding this ticker to their stock portfolio.
While you can't buy My Pillow stock right now, some competitors are publicly traded so you can buy into their stocks today.
If you believe that the company's success can outpace its controversial history, MyPillow stock may be a solid investment in the future.
Can You Buy My Pillow Stock: Final Words
MyPillow is in the news and across social media outlets along with founder and CEO Mike Lindell.
While exposure gets the company noticed, much of the negative exposure has made major retailers hesitant to associate themselves with the company
At the moment, MyPillow is not publicly traded, so it's not available for trade on the stock market.
While there are rumors and speculation about a future MyPillow IPO, the offering date is not yet announced.
Several alternatives to MyPillow stock exist, including Tempur Sealy and Sleep Number.
MyPillow Stock FAQs
Are you looking for quick information about buying MyPillow stock?
Read below for quick answers to your most pressing questions.
Is MyPillow a Public Company?
MyPillow is not a public company.
It is solely owned and operated by Mike Lindell.
Can You Buy Stock in MyPillow?
You cannot buy stock in MyPillow at this time.
Investors are waiting for news about a potential IPO in 2023.
How Much Is MyPillow Company Worth?
The MyPillow products generate over $280 million in sales each year.
The company's owner is estimated to be worth more than $50 million.
Did QVC Quit Selling MyPillow?
QVC quit selling MyPillow in June of 2020.
The home-shopping network said they stopped selling it as part of their normal product rotation strategy.