Twitter is a well-recognized platform for being "the website where breaking news happens."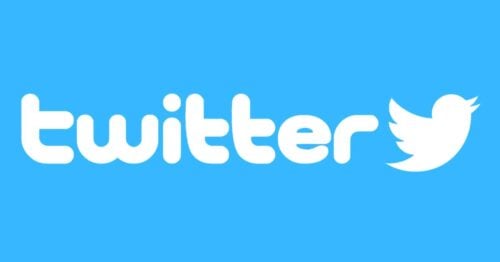 Everything that happens in the world is first reported on Twitter. On Twitter, numerous analysts and stock market Twitter accounts discuss free financial advice and breaking financial news.
On the other hand, Twitter is a terrific way to follow stock market professionals whose market analysis can help you with wealth management and making a lot of money.
Day traders purchase and sell stocks quickly, so keeping up with market analysis news is critical to their success.
Even if each active trader has his own preferences and research methods on how to retrieve the freshest market news, a growing number of traders are taking advantage of Twitter's fast and reliable feeds.
Of course, it is impossible to draw up an objective list of the best day traders globally because everyone has their own skills and performs better in a certain asset.
There are traders interested only in stocks, and therefore would like to build a feed with the best stock traders, but even in this case, the possibilities are endless!
To help you out, we have compiled a list of some of the best stock market Twitter accounts to follow right now!
Best Stock Market Twitter Accounts: Why Should You Use Twitter for Stock Trading?
For today's traders and investors, Twitter is one of the most intriguing sites.
Economists are researching the link between tweets and markets price around the world (this tool is also widely used by various institutions and by U.S. presidents too).
Hedge funds use this data to make better decisions, while active traders, as previously said, value the speed with which information can be found.
We've chosen to make two lists: one for the greatest day traders and another for the top businesses or agencies that you may observe on Twitter.
Depending on your trading style and preferences, you can choose which people to follow. In fact, adopting everyone's advice would be counterproductive and cause more confusion.
The Best Stock Market Twitter Accounts – Day Traders
A well-known and active investor who is an American stockbroker, author, and financial pundit (he also has his own podcast, The Peter Schiff show).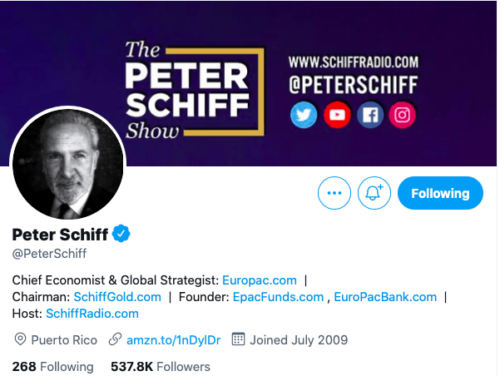 His Instagram account now has over 300,000 followers (and more than 16K tweets).
A technical analyst founder is Scott Redler. The more you observe him, the better you will become at creating a stock chart.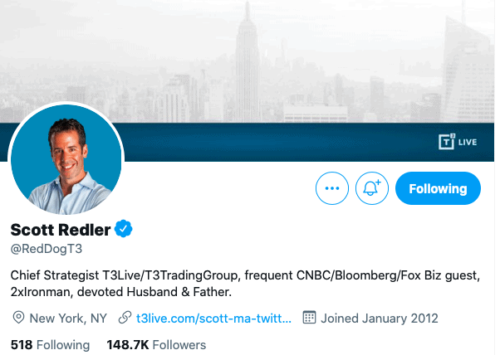 He offers unparalleled stock-charting experience and instructional materials, with over 20,000 tweets and regular updates.
Craig Heath is a momentum trader. His Twitter account used to be full of helpful hints about his investment picks.
With the launch of 'The Street Mentor,' he has transitioned to a coach and trade mentor solely for instructional purposes. He currently sits at around 150 000 followers.
Nathan Michaud is a founder. Nathan has already made $10,000 in a single day. He is the epitome of a day trader.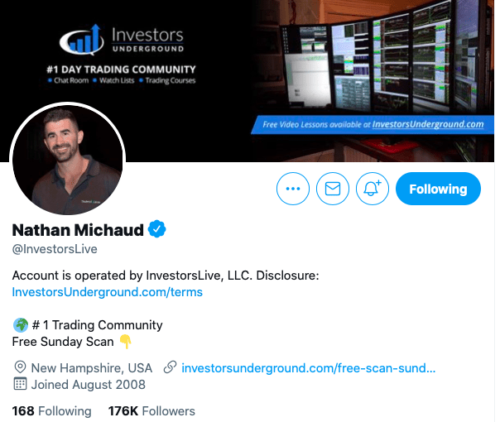 Crypto Alert
Bigger Than Bitcoin and Better Than Gold
Even gold misses the mark.
Cryptocurrencies (like Bitcoin) are the ONLY assets that have all four of these features.
Features that can truly protect investors from today's unprecedented money printing and interference from governments.
But Bitcoin is NOT the primary cryptocurrency at the forefront of this new money revolution.
These three supercryptos are the ones taking the lead and helping investors make the most money.
Click Here For All Of The Details
We earn a commission if you click this link and make a purchase at no additional cost to you.
Observe his tens of thousands of followers (over 100,000) and over 50,000 tweets, many of which are recent. A very busy trader who is entertaining to watch.
Mark Lehman has more than 23 years of market expertise and is well-known for breaking stock news ahead of the media.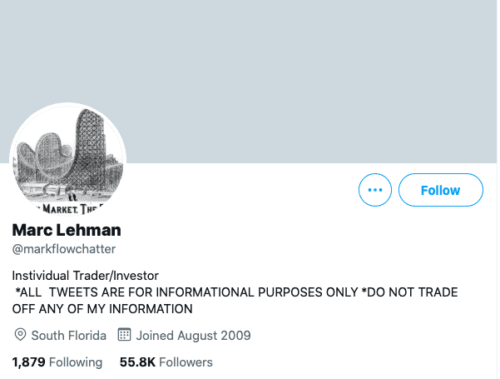 He has an uncanny ability to post events for businesses before they occur. Advice is frequently given in little tablets with few but effective words. With 175 000 followers, this is a must-read!
Joe Kunkle is a specialist in the field of options. He's continuously examining and trading stocks, calculating out which ones will move based on rises in the underlying equities' options trades.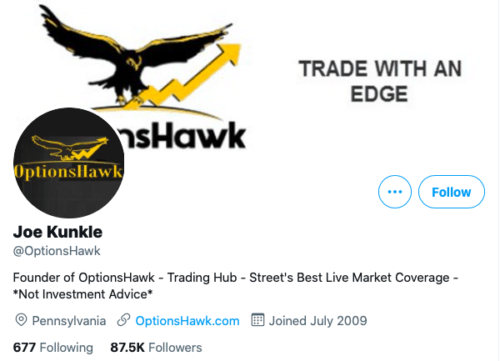 His directional trading ability allows him to nail many of the profitable movements, making him a must-view.
Best Stock Market Twitter Accounts: The Best Trading Accounts to Follow on Twitter
TradetTv.Live: Thanks to their live broadcast on YouTube, our partners have carved themselves into a significant position in a short period of time.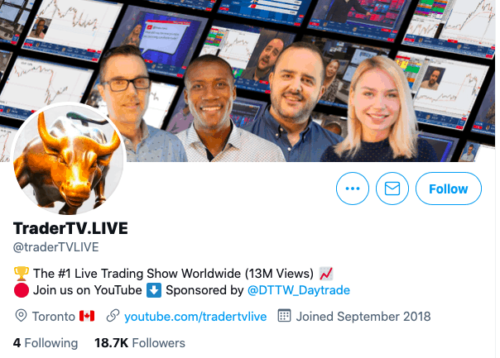 In addition to various post/video capsules, you can find advice on the market to watch on their Twitter page.
CNBC: If you're new to following stocks on Twitter, CNBC is a terrific place to start.
This prominent news network publishes a variety of chart patterns and stories related to financial markets.
Company profiles, key economic trends, mergers, and breaking news are among the topics covered in tweets.
When CNBC mentions a firm, it moves, therefore this is a terrific location to look for little businesses on the verge of becoming big.
NewsQuawk: Newsquawk is a premium service that gives real-time notifications and technical analysis.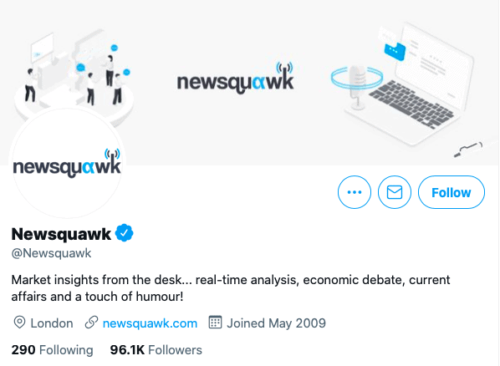 Follow @Newsquawk to keep up with the latest financial news, stock market updates, and worldwide economic developments.
News on Newsquawk affects the world financial index and markets in the United States and abroad, therefore it's a worthwhile feed to track.
Harmongreg: Greg Harmon is one of the most prominent stock traders on Twitter and StockTwits, with over 50,000 followers.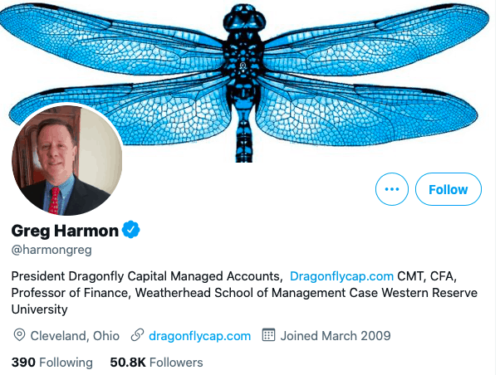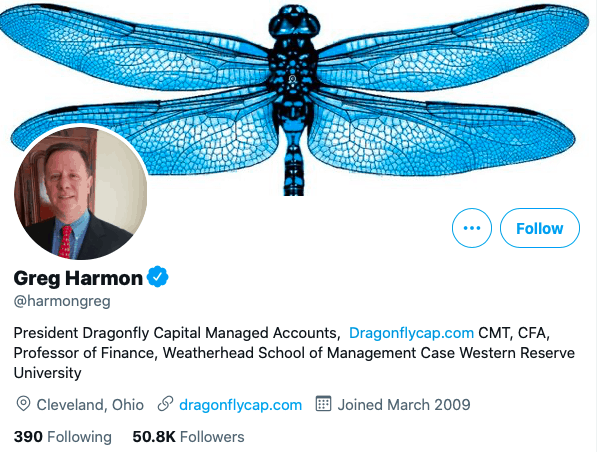 He works as a trader for Presidium Capital and provides trading tips on Twitter and in StockTwits group conversations.
His stream offers real-time trade recommendations as well as views on the global financial index and market developments.
The_real_fly: This is one of the most popular feeds on StockTwits, an interactive community that aggregates financial data from Twitter and other social media sites.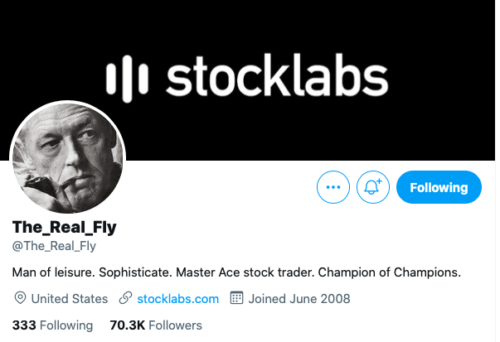 Stay up to date on market trends, trading ideas, and articles that shed light on critical financial concerns by following @the real fly.
Wsjmarkets: You presumably get your trading advice from The Wall Street Journal, but you can get even more by following @wsjmarkets.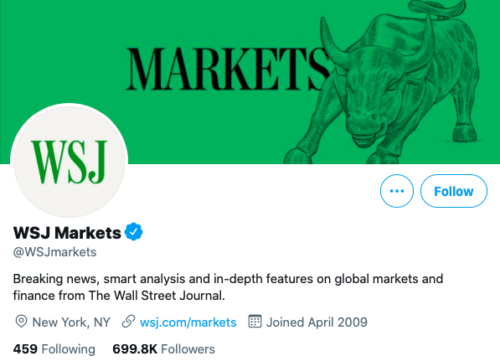 The Wall Street Journal publishes analyses on financial markets, news, company profiles, and in-depth economic appraisals.
Best Stock Market Twitter Accounts: Final Thoughts
With lockdowns and limitations pushing us to turn to socials as a source of research, market insight, or even just human interaction in the face of a volatile and unpredictable backdrop, Twitter is becoming an increasingly important tool for traders in 2020.
These are some fantastic beginning locations if you haven't explored using a social website to obtain stock information and learn more about day trading (or long-term investment).
They are ideal for both investors and traders.
People who wish to get into the stock market should learn from them, and experienced investors can use them to confirm their decisions.
Simply choose the stock market Twitter account that best suits your requirements so you can start making more informed decisions when it comes to trading.
For even further insight about the stock market and investing, check out our picks for the Best Stock Market and Investing Books for 2021!