Looking for the best real estate penny stocks to buy now? Keep reading for our top picks!
You've likely heard that real estate is a good investment — but what if you don't have the budget to invest in property of your own?
This is where real estate penny stocks come in.
These are stocks in the real estate sector that trade for less than $5 per share.
These low stock prices make it easier to buy in, even if you have a limited budget.
By adding real estate stocks to your portfolio, you can reap the benefits of investing in this asset class without actually having to buy property.
Check out some of the top real estate penny stocks on the market right now.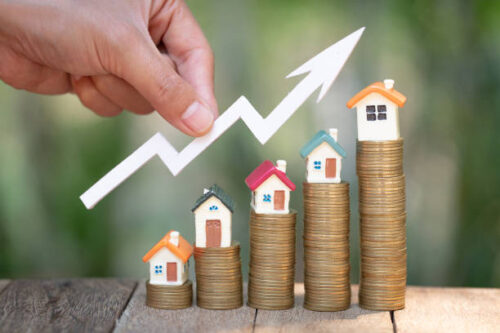 Hot Real Estate Penny Stocks to Buy Now
New York Mortgage Trust (NASDAQ: NYMT)
The New York Mortgage Trust is a Real estate investment trust (REIT) with a balanced portfolio of real estate investments.
This REIT has a focus on residential mortgage loans.
However, they also invest in both non-agency and agency RMBS, as well as structured multi-family investments.
By keeping a steady and balanced portfolio, the New York Mortgage Trust could potentially deliver financial value back to its investors.
As with many REITs, NYMT offers a very high dividend yield.
The stock's price-to-earnings ratio is currently very low — despite EPS and revenue misses in the third quarter of this year.
This indicates that the stock could be well-valued considering its current financials.
The stock also dipped in price recently, allowing investors to pick it up while it is even more affordable.

Corenergy Infrastructure Trust (NYSE: CORR)
Corenergy Infrastructure Trust is a unique REIT that focuses on energy infrastructure.
If you're interested in real estate but don't want to invest in traditional residential or commercial properties, this stock could be a good option for you.
Its holdings currently include two natural gas pipelines as well as a midstream pipeline network in California.
Energy distribution is an essential part of our infrastructure, and Corenergy is investing in these important distribution components for long-term success.
Keep this real estate penny stock on your radar if you want a play in green energy.

Best Real Estate Penny Stocks to Buy Now
MDJM Ltd. (NASDAQ: MDJM)
MDJM is a Chinese company that offers real estate marketing and planning for developers.
It is currently based in Tianjin but offers services throughout China.
What makes this real estate company so appealing is its clientele, which includes government agencies and infrastructure developers as well as more traditional residential and commercial developers.
A diverse portfolio of operations is essential for any real estate company.
This ensures that even if it loses one source of revenue, the company will still have other income available.
Chinese stocks saw a lot of interest earlier in the year, as their economy is booming, and there's plenty of growth potential.
However, the Chinese real estate market has slowed down significantly in recent months, which has caused MDJM and other Chinese real estate stocks to drop sharply.
While this slowdown is certainly a cause of concern for investors, the Chinese market is highly regulated in a way that will likely prevent a serious economic crash.
Ultimately, the Chinese economy still has plenty of potential, and MDJM has a diverse portfolio that could insulate it somewhat from these challenges.
If you have a high risk tolerance and are interested in the Chinese market, this is an interesting real estate stock to keep your eye on.
China Hgs Real Estate Inc. (NASDAQ: HGSH)
China Hgs Real Estate is another Chinese real estate company.
This company focuses mainly on residential developments in China's emerging cities.
It also has a focus on sustainability and green developments — something that's going to be increasingly important as the world combats climate change.
Many other Chinese real estate stocks have struggled as of late due to slumping real estate values, but this hasn't been the case with HGSH stock.
In fact, this stock has increased by over 30% in the past month.
While this company has yet to announce its third-quarter earnings, it posted significant growth in the second quarter and maintains a low price-to-earnings ratio.

Best REIT Penny Stocks
Presidio Property Trust (NASDAQ: SQFT)
Presidio Property Trust is a REIT based in California.
It currently has commercial real estate properties in California, Colorado, and North Dakota, as well as residential properties in Texas, Wisconsin, Illinois, and Florida.
Presidio's business model focuses on identifying secondary real estate markets that may have been overlooked by other investment groups.
This business model has been very effective thus far, as it results in slow and steady growth without the challenges and high expenses of in-demand markets.
This REIT has a lot to gain as companies around the country move back into the office.
It has been able to keep dividends over 11%, generating consistent income for its investors.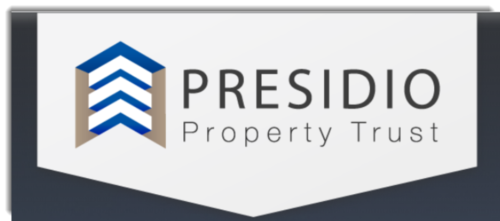 Lument Finance Trust (NYSE: LFT)
Lument Finance Trust is a REIT that focuses on commercial debt investments.
Specifically, it invests in a variety of commercial rate mortgage loans targeting multi-family assets.
These loans are typically in markets with high demand and have short three-year terms.
LFT stock has seen consistent growth over the past year.
This could be due in part to a dividend increase that the company announced at the end of 2020.
LFT has yet to announce its third-quarter earnings, but many analysts expect them to beat expectations.
If this does happen, we would likely see its stock price go up.
Regardless, Lument Finance Trust is a real estate stock that is committed to paying substantial dividends back to its investors.

Best Mortgage Real Estate Penny Stocks
Invesco Mortgage Capital (NYSE: IVR)
Invesco Mortgage Capital (NYSE: IVR)
Invesco Mortgage Capital is a real estate investment trust that has a large portfolio of residential mortgage-backed securities, as well as some commercial securities and mortgage loans.
This makes it different from REITs that invest in physical properties.
Instead, it invests in commercial and residential loans backed by the U.S. government.
Because Invesco Mortgage Capital is a REIT, it has a dividend yield that is over 11% right now.
This is incredibly rare for a penny stock at this price point.
This stock recently dropped in price as a result of a lackluster third-quarter earnings report.
However, its price-to-earnings ratio is currently less than 10, which is very low.
This means that the stock could be undervalued in comparison to its earnings.
Back in the summer, Reddit investors took note of IVR stock, and many were even discussing it for a potential short squeeze.
The possibility of a short squeeze seems out of reach now, and Invesco Mortgage Capital has a way to go to recover from the challenges of 2020.
However, the stock's high dividend yield and low P/E ratio could bode well for the future.

Real Estate Penny Stocks Under $1
MetroSpaces Inc. (OTC: MSPC)
MetroSpaces is a Florida-based real estate technology company.
This company is developing tools using AI and blockchain that will help to secure property transactions and support real estate management and administration.
One of its goals is also to make property ownership more accessible to smaller investors.
The company currently has two services — MetroHouse and MetroCrowd.
MetroHouse develops co-living spaces for digital nomads.
These spaces provide a turnkey rental experience for tenants and make it easier for them to meet other young professionals like them.
MetroCrowd is still in development but will use blockchain technology to tokenize real properties, making it easier for individuals to invest in real estate.
This will use technology similar to the Ethereum crypto.
This penny stock is currently trading for under $1 but has recently spiked.
It's important to note that you're likely to see increased volatility at this price point.

Why Buy Real Estate Stocks?
The real estate market has been on a wild ride over the past few years.
During the COVID-19 pandemic, the real estate market took a significant downturn.
This was especially true for commercial mortgage-backed securities, as lockdown measures prevented workers from going into their offices.
However, vaccination rates around the world are slowly increasing, which means that people are going back to the office.
This means that both commercial and residential real estate prices are bouncing back, making this a great time to invest in real estate.
What You Should Know About REITs
One specific type of real estate stock to consider investing in is REITs.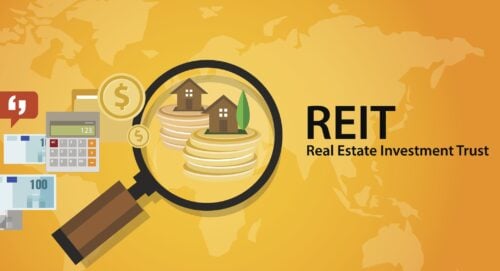 REITs have to abide by different regulatory rules than traditional stocks, which means they have to pay a significant portion of their income back to their shareholders.
This means that investors receive consistently high dividend payments, which can serve as an ongoing form of income in addition to the returns that the stock generates.
It's important to keep in mind that penny stocks do come with their own unique risks — most notably low volume and increased volatility.
So they might not be the right choice for new traders.
However, if you have investment experience and can time your investments well, you could potentially benefit from the ups and downs of these stocks.
Where to Buy Real Estate Penny Stocks?
If you want to buy real estate penny stocks we recommend you take a look at Robinhood and Webull first.
Both of these are solid platforms that have a lot to offer investors looking to dive into the world of REITs.
However, if you want to trade over-the-counter (OTC) penny stocks, you'll need to find a broker that allows for that type of investment.
Robinhood and Webull only let you trade stocks found on major exchanges.
Real Estate Penny Stocks: Final Words
Real estate penny stocks are a great way to add some diversity to your portfolio.
This industry is truly on the rebound right now and there is plenty of potential for growth here.
Add in strong dividend returns for many of these stocks and you have plenty of opportunities for ongoing growth.