Proprietary trading firms can be a great place to build on your trading skills and make money. But which ones are actually worth your time? Read our picks for the top proprietary firms to find out.
Best Prop Firms of 2023
The rise in popularity of proprietary trading (prop trading) has led to new prop trading firms opening left, right, and center.
This means traders have more options to join a firm than ever, but unfortunately, not every prop firm is a winner.
In truth, the market is saturated with plenty of middle-of-the-road options. Even if you hit your profit target and get in, they might not give you the support you need to grow.
That's why we're putting together a list of our picks for the top prop trading firms on the market.
If you're an aspiring proprietary trader searching for a quality firm, check out our picks for the best prop trading firms in 2022.
Let's kick things off with one of the top names in the game, FTMO.

FTMO
Leverage

– 1:100

Financial Instruments

– Forex, indices, commodities, stocks, crypto, and more

Profit Split

– Up to 90%
FTMO is a forex trading company that operates out of the Czech Republic.
It has a near-flawless reputation and is perhaps the most well-regarded prop trading firm.
You can trade an enormous assortment of financial instruments, which appeals to many trading strategies.
It even has a Swing Trading Account.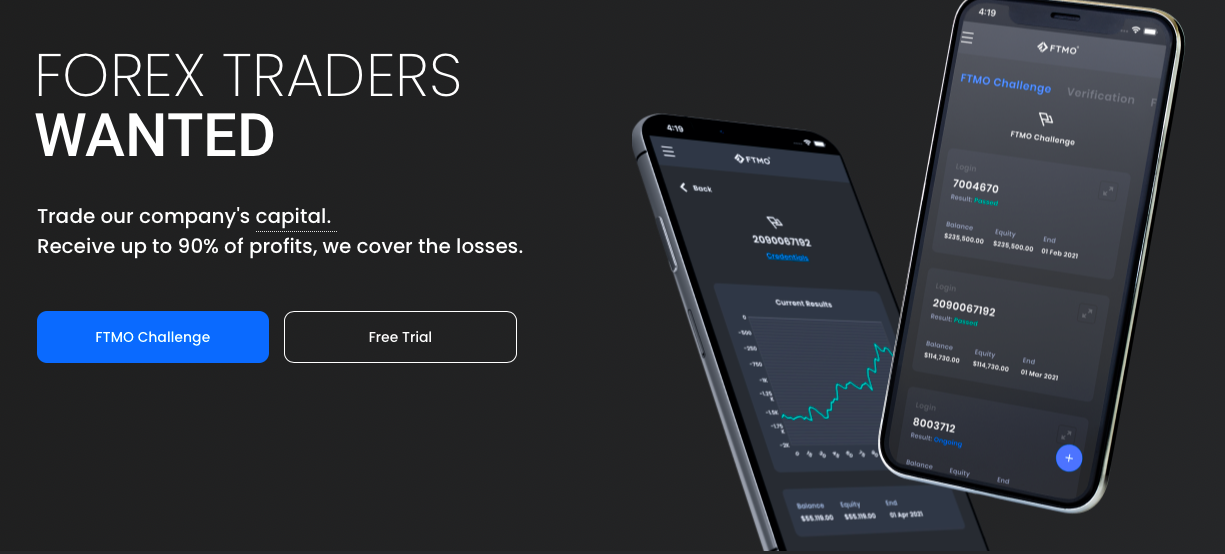 It provides up to $200,000 trading capital to anyone who can demonstrate that they are consistently profitable traders through its FTMO Challenge.
The FTMO Challenge is a two-step process.
The first part of the challenge demonstrates your skills at trading, and the second half tests whether you can replicate your results.
While the traditional FTMO challenge requires an upfront fee, there's a free version as well.
Also, to increase your chances of success, there is a trial challenge you can take to learn the ropes before you commit your hard-earned cash.
The leverage offered by FTMO is 1:100, which can be lowered upon request.
The Swing Trading Account's leverage is set to 1:30.
With FTMO, you keep up to 90% of the profit you generate and can have up to two $200,000 accounts, making your maximum trading limit $400,000.
One drawback to FTMO is that you can't keep your positions over the weekend.
This is a departure from the FTMO Challenge, where traders are allowed to hold positions overnight as well as over the weekend.
With such a high-profit split, however, it's still a solid contender for top prop trading company.
Pros and Cons of FTMO
Pros
One of the most competitive profit spreads

Can trade a range of financial instruments

Fair profit targets

High leverage
Cons
Limitations for holding positions over the weekend

FTMO challenge is… challenging

FTMO Reviews
FTMO is one of the best proprietary trading firms out there, and it's earned glowing reviews online.
If you head over to Trustpilot, you'll see tons of praise.
This is more than just a few positive reviews, FTMO has 2,300+ ratings and has locked in an impressive 4.8 score.
So while we think highly of this prop trading firm, you don't need to take our word for it: these reviews speak for themselves.
Let's switch gears and take a look at another shining star in the world of prop trading.
>> Learn more about FTMO in our FTMO Review HERE <<

TopstepTrader
Leverage

– 1:100

Financial Instruments

– Forex and futures

Profit Split

– Up to 80%
TopstepTrader is a Chicago-based proprietary trading company founded in 2010 that deals in forex and futures trading.
The proprietary firm evaluates and assesses a day trader's performance in real-time simulated accounts.
Many forex and futures traders have reported that the firm has a very difficult path toward getting funded.
So if you're an inexperienced trader, you might want to check out the other prop trading firms on our list.
TopstepTrader does boast a slew of excellent educational materials, so this may balance out the difficult evaluation process.
When a trader passes their evaluation phase, they are awarded a funded trading account to trade on the financial markets.
Funded traders get to keep their first $5,000 in profits but are subject to the firm's 80/20 split after that.
TopstepTrader stands out with an exceptionally extensive educational support system that includes:
Courses

Live classes

Watching professionals trade live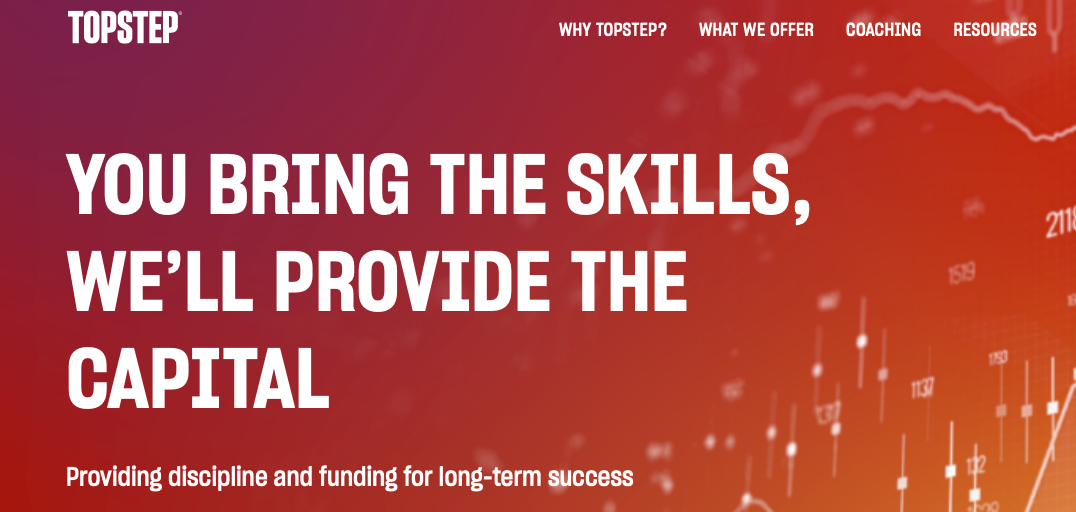 With a minimum monthly fee of $165 and its wide range of educational materials, this firm is very accessible for new proprietary traders looking to develop their skills.
Another feature unique to TopstepTrader is the sheer number of platforms you can use to trade with.
Its website lists 14 platforms that you can trade on, including TradingView, NinjaTrader, Trade Navigator, and much more.
There is also a 14-day free trial if you want to test out the waters before you commit.
The firm offers up to $500,000 trading capital for professional and experienced traders.
Its funded account's leverage is set to 1:100, which is par for the course with most prop firms.
Another great feature of TopstepTrader is that you can hold positions over the weekend, which many prop firms do not allow.
TopstepTrader also offers traders a very competitive 80/20 profit split; however, this is not as high as FTMO.
That being said, it's still much higher than what many other prop trading firms provide.
Pros and Cons of TopstepTrader
Pros
Respectable 80/20 profit spread

Some of the best educational resources in the business

Trial account available
Cons
1-on-1 coaching isn't cheap

Only for futures and forex trading

Like FTMO, TopstepTrader has garnered some impressive praise during its run.
Currently, the service has a solid 4.3 rating on Trustpilot — not too shabby.
It's not as high as FTMO's stellar 4.8 rating, but it's nothing to scoff at.
As we mentioned above, this firm has a forex prop trading service that is hard to pass up. So keep an eye on this one if you want to trade exclusively on the forex market.
Time to turn our attention to one of the top proprietary firms known for trading a variety of financial instruments.
Have you heard of Fidelcrest?
>> Check out our TopstepTrader Review for more information on this firm! <<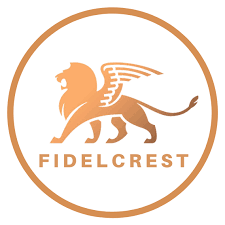 Fidelcrest
Leverage

– 1:100

Financial Instruments

– Stocks, bonds, commodities, cryptocurrencies, metals, and more

Profit Split

– Up to 80%
Fidelcrest is a well-regarded proprietary trading firm that was established in 2018.
The firm has more than 6,000 successful traders operating from more than 170 different countries.
In fact, there are no country restrictions to joining Fidelcrest.
It offers funded trading accounts of about $400,000, with a scaling plan that maximizes at $800,000.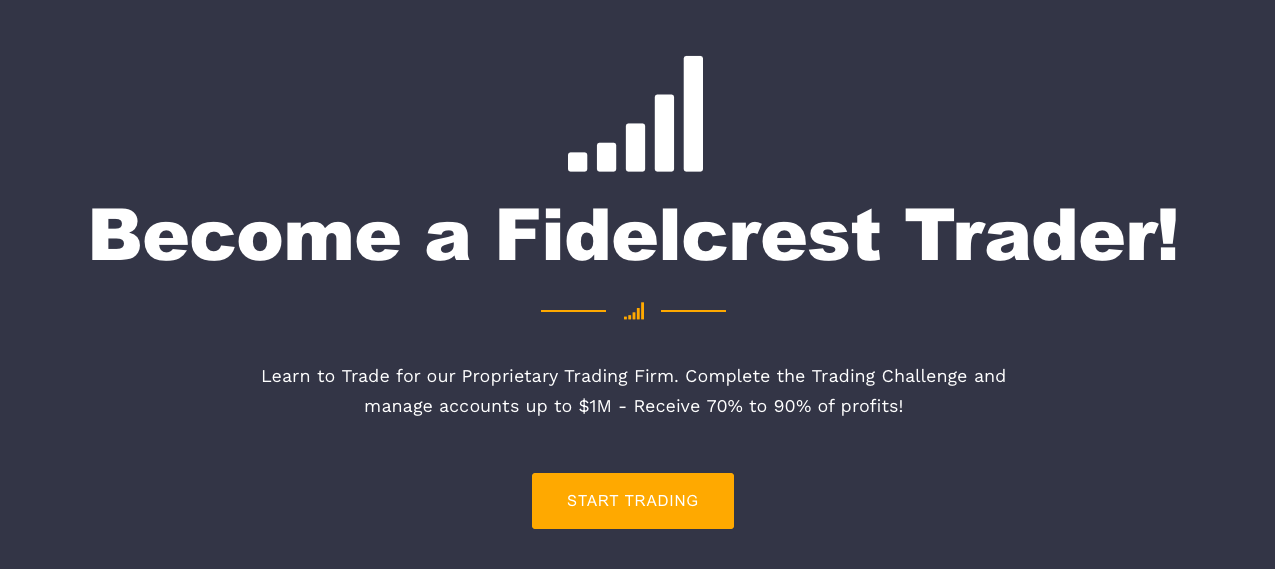 Fidelcrest pulls in top talent by providing one of the trading industry's most competitive profit splits — though, not as good as FTMO.
Prop traders keep 80% of all profits generated.
You also have access to an impressive amount of trading instruments at your disposal.
Fidelcrest allows you to trade:
Stocks

Bonds

Commodities

Cryptocurrencies

Metals and much more
While it values and rewards experienced proprietary traders, the firm also offers lower-funded account options for newer, less experienced traders to play around with.
Fidelcrest's lowest-funded account option is $5,000, which is perfect for proprietary traders who are not yet ready to manage larger accounts and risk.
The firm also offers four different account types and gives starters a second chance on the entry challenge free of charge.
After completing the Trading Challenge, you can opt for the Scaling Plan that allows you to double your account's initial balance in 12 months.
One downside, though, is that many traders find Fidelcrest's trading conditions rather strict.
Still, with so many financial instruments to trade with, this prop trading firm appeals to a wide variety of folks.
Pros and Cons of Fidelcrest
Pros
80% profit split

Up to $400,000 in funding

Stellar support

Trading challenge is difficult but fair
Cons
Strict trading rules

Not ideal for investors looking to hold long positions

Fidelcrest Reviews
Like other entries on this top proprietary trading firms list, Fidelcrest is a well-respected name in the space.
Trustpilot reviews have given the firm a fantastic 4.5 rating. It's not the highest rating on our list, but it's commendable, nonetheless.
It also opens the door to crypto trading, which few firms in the business allow. Many of them exclusively trade forex, so we'll give this firm extra points for variety.
Now that you know more about Fidelcrest, we're going to check out The 5%ers.
>> For more info on Fidelcrest read our review by clicking HERE! <<

The 5%ers
Leverage

– Up to 1:30

Financial Instruments

– Forex

Profit Split

– Up to 50%
One of the most well-respected proprietary trading firms around the world, The 5%ers offer funded accounts of up to $1,280,000.
This firm focuses on forex trading and is committed to helping traders reach their full potential.
The prop trading firm gets its name from the idea that its traders represent the top 5% of talent.
Even better, the firm has realistic, fair trading requirements and milestones.
For each milestone you reach, the forex prop firm doubles the funding on your account.
Many traders find this progression structure a lot more natural and rewarding than jumping from one massive funding tier to the next.
The firm allows up to 180 days to pass the initial trading challenge.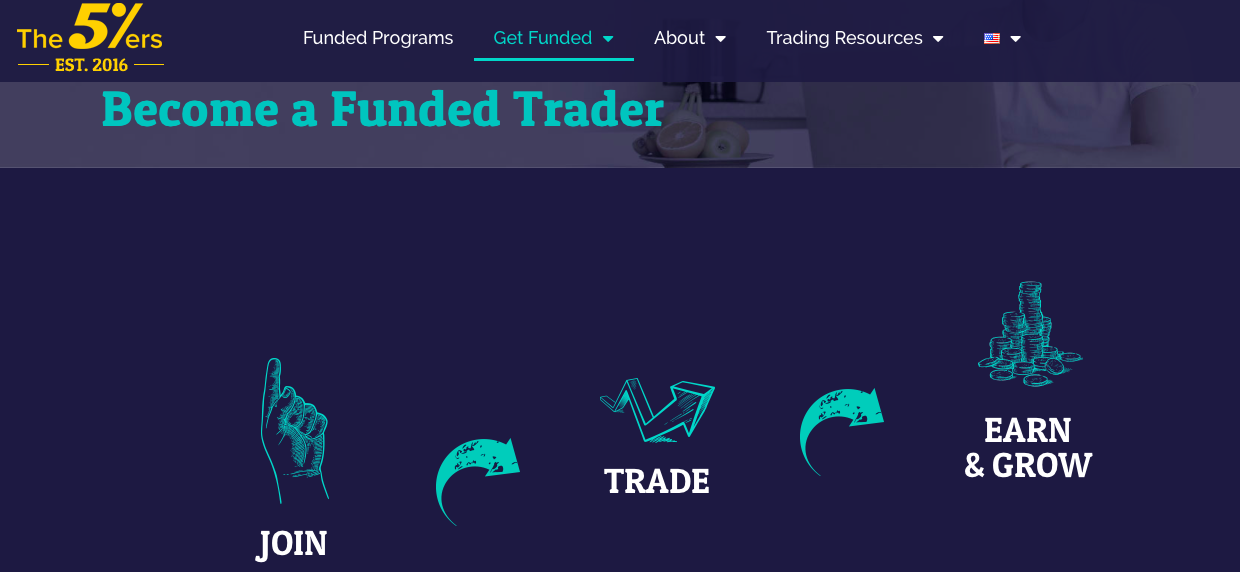 5%ers also has a training program known as the $100,000 Bootcamp Challenge that only costs £50 (about $56) to join.
It's a three-step challenge in which you only pay the remaining fee (£250) if you pass it.
This is huge for newcomers who don't want to potentially blow thousands of dollars to find out months down the road that they can't make the cut.
The 5%ers also allows traders to hold trades over the weekend.
Many firms restrict trading to weekdays or have very strict rules about holding positions over the weekend, so it's a nice change of pace.
5%ers also offers a 50% profit split to traders, which could turn some away.
If you're looking for a higher profit split, you might want to check out FTMO first.
That being said, 5%ers really goes out of its way to help new traders.
So if you're inexperienced, you might want to start your search for a prop firm here.
Pros and Cons of The 5%ers
Pros
4.8 out of 5 rating on Trustpilot

One of the best remote prop trading firms out there

Instant funding accounts

Scaling plans available

Good education materials to improve your trading strategy
Cons
50/50 profit split

Only for forex traders

5%ers Reviews
The 5%ers have earned a fantastic reputation online, and for good reason: it's one of the top forex prop firms on the market.
Right now, the firm has an exceptional 4.8 rating out of 5 on Trustpilot. So it's tied with FTMO, the gold standard.
That being said, the 5%ers does not have as many reviews as FTMO, so we'll have to give it to FTMO for best rep so far.
If you're looking to trade forex with a popular prop firm, you won't want to sleep on the 5%ers.
Now that you have the full rundown, let's take a look at another firm that's known to help folks boost their forex trading skills.
Enter, City Traders Imperium…

City Traders Imperium
Leverage

– 1:10

Financial Instruments

– Forex

Profit Split

– 50/50 starting (up to 70%)
City Traders Imperium (CTI) is a leading prop trading firm based in London.
The firm started as a forex trade training company, selling forex education to ambitious traders.
When you look at its commitment to helping new traders build their skills, it's no surprise that the firm had its roots in training investors.
One of the standout features of this mentorship program is that it offers extensive psychological training to prepare you to make dispassionate and calculated trades.
Many other prop firms tend to overlook or skim over this as part of their training regimen, so it's a welcomed addition.
Besides offering a platform for professional day traders, the firm also provides forex education to those looking to break into the financial trading world.

Also, if you prefer to trade with algorithms, CTI does allow traders to use an expert advisor (EA).
This is a welcomed departure from most prop firms, which explicitly ban the use of algorithms when trading.
Your access to capital ranges from 20,000 to $3,000,000, and the profit split can go as high as 70/30 — though, it does start at 50/50.
While this isn't the best split out there, it's still competitive.
Also, if you want to trade with an EA, your firm options are rather limited, so CTI might be your best bet.
All in all, City Traders Imperium offers a lot of flexibility, and it's one of the best prop trading firms for beginners.
Pros and Cons of City Traders Imperium
Pros
CTI challenge gives prop traders a full year to pass

Scaling accounts

Allows news trading

Leading proprietary trading firm

Free education resources

Respectable 70/30 profit split
Cons
Customer service doesn't run 24/7

Crypto trading is not supported

City Traders Imperium Reviews
City Traders Imperium is in a three-way tie for top-rated prop firm.
The Trustpilot score is a rock-solid 4.8, and it has 440+ reviews under its belt. Few firms have the notoriety of FTMO, so we don't really expect it to have the same number of ratings.
Still, 4.8 is a very impressive number.
>> Check out our review of City Traders Imperium HERE! <<
Should You Join a Prop Trading Firm?
Let's have a look at some key reasons you might want to join a proprietary trading firm.
Lower Risk
Proprietary trading firms provide successful traders with funded accounts.
This means you can trade with more capital than you would have access to as an independent trader.
Also, you have access to comparatively high proportions of the profit, but take on much less risk, if any at all.
This is a much more appealing starting position for new prop traders.
Higher Purchasing Power
Being funded for trading activities in financial markets means having more purchasing power behind you.
This could result in higher profit margins for successful traders.
Access to Better Tools
Many prop trading firms have their own sophisticated electronic trading platforms that feature great technical analysis tools.
Using these tools can make your work much more streamlined than it would otherwise be.
This saves time and energy and could result in a more profitable workflow.
Mentoring and Trading Education
Prop trading firms, especially those with rigorous entrance programs, house some of the best traders out there.
Mentorship from traders with proven success in the financial markets can fast track your development and propel your strategies to new heights.
Best Prop Trading Firms: Final Words
Prop trading is an ever-growing industry that shows no signs of slowing down.
More and more traders are flocking to join prop firms, as they provide a great way to hone your craft and make sizable profits at the same time.
These firms are also a great place to learn the ins and outs of the stock market if you are a relatively new trader and need solid mentorship.
Generally, proprietary trading firms also provide successful prop traders higher compensation (up to 90/10 profit splits) than other investment vehicles, such as hedge funds (2%).
If you already have a trading niche, we recommend searching for a proprietary trading firm specializing in a financial instrument you're familiar with.
Best Prop Trading Firms FAQ
Take a look at our answers to the most commonly asked questions about the best proprietary trading firms.
What Is a Proprietary Trading Firm?
A prop trading firm is a bank or firm that uses its own money to trade financial instruments for a profit — unlike a hedge fund; these firms usually source third-party traders who can demonstrate consistent profitability and provide them with funded accounts.
Which Prop Firm Is the Best?
There's no easy answer, but the prop firm with the best profit split on our list is FTMO; a profit split of 90/10 for select accounts is much higher than the industry average of around 50/50.
Do Proprietary Trading Firms Make Money?
Proprietary firms have a few ways of making money, which can include membership fees as well as profit splits, in which they keep a percentage of the money made on a prop trader's investments.
Is Prop Trading a Good Career?
Prop trading could be a good career if you pick the right firm and can demonstrate the ability to consistently make profitable trades; while many novice traders succeed in this field, it's often better suited to experienced traders.
How Do Prop Traders Get Paid?
Prop traders get paid through the firm's profit split; a portion of the profits (between 50% and 90%) are paid out to the trader by the proprietary firm.
Is There a Prop Firm for Stocks?
FTMO allows you to trade stocks in addition to other financial instruments. If your trading strategy mostly involves stocks, you might want to check out this proprietary trading firm first.