The semiconductor industry is in the midst of a major upswing, and penny stocks are always worth watching. But can these volatile, low-priced stocks really make you money? Read on for the best semiconductor penny stocks to buy now.
Best Semiconductor Penny Stocks
Summit Wireless Technologies, Inc. (NASDAQ: WISA)
Summit Wireless Technologies, Inc. (Nasdaq: WISA) is a leading provider of advanced semiconductor solutions for the wireless audio and automotive markets.
The company's products are based on its proprietary RF CMOS and mixed-signal technologies, which enable it to offer highly integrated cost-effective solutions. Summit's product portfolio includes power amplifiers, transceivers, receivers, and digital baseband ICs.
Summit has a strong track record of innovation. The company's products are used in a wide range of applications, including wireless speakers, soundbars, automotive infotainment systems, and aftermarket car stereos.

Summit's products are designed to provide superior performance and reliability in the most demanding environments.
Fiscally, the company recently reported a whopping 67% revenue increase compared to last year. This was fueled by an increase in customer demand and product shipments. In terms of guidance, Summit expects continued revenue growth in the year's second half.
From a technical standpoint, WiSA DS, which uses an Espressif 2.4 GHz IoT Wi-Fi module, is doing well in testing and review cycles with its target clients. As a result, 15 WiSA DS projects are being considered by 12 companies.
Overall, Summit Wireless Technologies is a company to watch. It has strong fundamentals, a solid product portfolio, and is experiencing robust growth. The stock is worth considering for any investor looking for exposure to the semiconductor sector.
Pixelworks (NASDAQ: PXLW)
One of the participants in this market that many people might not be familiar with is Pixelworks, a semiconductor business with headquarters in the United States.
This is due to the company's emphasis on offering premium, energy-efficient visual processing products. Pixelworks create software and semiconductors to provide a consistent, high-quality viewing experience.
Pixelworks' current focus is on increasing performance and functionality while reducing battery consumption.

Its most recent earnings report reveals a staggering 36% increase in revenue to $19.08 million. This was better by about $0.4 million than the analyst consensus.
Both the projector and the mobile markets for the company experienced double-digit growth.
In short, Pixelworks is doing extremely well for a company that many people are not familiar with. It has strong growth prospects moving forward, and its most recent earnings report blew away expectations.
EMCORE Corporation (NASDAQ: EMKR)
EMCORE Corporation is a leading provider of advanced Mixed-Signal Optics products that enable the next generation of extremely high-speed Internet communications.
Its unique solutions for fiber optic access, enterprise and data center networks combine the highest levels of energy efficiency with the lowest system cost. EMCORE was founded in 1984 and today has an international workforce of over 500 employees.
In addition, EMCORE provides a complete suite of optical components, including transceivers, optical engines, wavelength-selective switches, and fiber optic cable assemblies.
The company has a strong track record of growth and profitability, with revenues posting $23.7 million, composed of $13.4 million from the Aerospace and Defense (A&D) segment and $10.3 million from the Broadband segment.
EMCORE's A&D revenues were driven by higher sales of fiber optic gyroscopes (FOGs) used in guidance and navigation systems for missiles, fighter jets, and other military applications.

The company's FOG products are the smallest, lightest, and most power-efficient in the world and have been selected by leading defense contractors for use in a wide range of critical military programs.
Broadband revenues increased due to higher sales of EMCORE's CATV equipment, which is used in cable television systems around the world.
The company's CATV components are the most energy-efficient and cost-effective in the industry and provide superior picture quality and reliability.
EMCORE's strong financial position enables it to continue investing in research and development (R&D) to support the launch of new technologies and drive future growth.
The company has a long history of success in bringing innovative new optical components to the market, and its pipeline of new Optics is expected to generate significant revenue growth in the coming years.
GSI Technology, Inc. (Nasdaq: GSIT)
In the networking, communications, storage, and consumer markets, GSI Technology, Inc. provides high-performance semiconductor solutions.
Among the company's semiconductor equipment are DRAMs, SRAMs, and flash memory drives; mixed-signal and analog integrated circuits (ICs); and radio frequency integrated circuits (RFICs).
As one of the top SRAM suppliers in the world, GSIT's SRAM project is consistently profitable.

GSIT's DRAM line is used in a wide range of consumer electronics devices, such as digital cameras, camcorders, MP3 players, and mobile phones.
In addition to its core semiconductor product line, the company is about to launch its SaaS product, searchium.ai, this year.
Customers will be able to search through billions of data points in real time with this fast vector search engine.
In the coming years, GSIT is well-positioned for growth with its strong product line and new SaaS product. For penny stock investors looking to gain exposure to the semiconductor industry, GSIT is an attractive penny stock at around $3/share.
Top Semiconductor Penny Stocks
Canaan Inc. (NASDAQ: CAN)
China-based Canaan Inc. is a leading provider of high-performance computing solutions. It designs, manufactures, and sells high-quality bitcoin mining machines under the AvalonMiner brand.
Canaan has a mission to make cryptocurrency accessible to everyone by providing the most efficient and user-friendly products available. With its cutting-edge technology, the company has become a global leader in blockchain hardware development and manufacturing.
The company's products are distributed and resold worldwide through a network of distributors and resellers. It operates a state-of-the-art manufacturing facility in China and has a strong presence there.
The company plans to open a U.S. headquarters in the near future as part of its international expansion.
In the second quarter, the company sold 5.5 million HASH/s of total computing power, a key performance indicator for the business, for a little over $243 million, a 53% increase year-over-year.

During that period, net income calculated using GAAP increased by about 150%, reaching just under $90 million, or $3.47 per share. BTC's performance on the market is not the only factor determining its success.
For the company's top and bottom-line growth, the management credited the increase in processing power sold and the relatively high price it maintained despite the decrease in Bitcoin's value.
As Bitcoin's value declines and energy prices rise, Canaan anticipates a more difficult market.
Canaan provided earnings estimates of $133 million to $162 million in overall sales for the current (third) quarter, which would imply a year-over-year fall ranging from 17% to 32%. It did not offer any projections for profitability.
Overall, Canaan is a great company that has weathered the storm of the cryptocurrency crash better than most. While it may not be immune to the volatility of the market, its strong fundamentals and solid management team can potentially make it a good long-term bet on the future of cryptocurrencies.
Kopin Corporation (NASDAQ: KOPN)
The company is a leading developer and one of the best semiconductor manufacturers of wearable display and processing solutions. Its products are used in a variety of applications, including military, industrial, medical, and consumer.
Kopin has a market cap of over $119 million and trades at around $1.20 per share. The company has strong fundamentals, with a return on equity of 25% and a net margin of 10%.
In its defense business, the company's Brilliant display systems are used in F-35 helmets, and its processing products are used in the Army's Integrated Visual Augmentation System (IVAS).

Kopin has a long-standing relationship with the military, resulting in an 87% year-on-year revenue growth in the latest quarter. The company reported a total of $3.8 million of product orders from the military in the quarter.
Kopin Corporation is a small market cap company with strong fundamentals. It has a long history of serving the military, which has resulted in a large and growing order book.
The company's display line is also used in a variety of other industries, including medical and consumer. Kopin is trading at around $1.20 per share, making it one of the best semiconductor stocks to buy now.
LightPath Technologies, Inc. (NASDAQ: LPTH)
LightPath Technologies, Inc. is a leading global photonic solution provider that enables high-performance applications for the industrial, commercial, medical, and defense markets.
The company's innovative optical components and assemblies are part of its broad portfolio of products that address customers' evolving needs in a wide range of industries.
LightPath designs, develops, manufactures, and distributes proprietary optical and infrared components, including molded glass aspheric lenses and lens arrays, GRADIUM® glass light pipes, metal-coated plastic optical fibers, and hybrid optics.
These products are used in a variety of high-growth applications, including advanced micro devices, scientific instrumentation, semiconductor equipment, aerospace and defense systems, industrial automation, and fiber-optic telecommunications networks.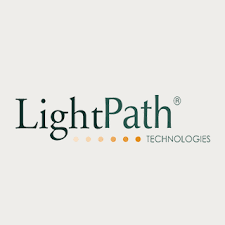 LightPath has a history of profitable growth and is committed to providing shareholders value through innovative products that improve its customers' productivity and lower their costs of ownership.
The major reason why we added this semiconductor penny stock to this list was because of its recent backlog reports. The company recorded a backlog of $24.0 million this August. This is the highest backlog in the company's history, and it represents a year-over-year increase of 48%.
The order backlog is a key indicator of future sales growth. When customers place orders with LightPath, they are essentially placing an order for future sales.
So, the higher the backlog, the more visibility the company has into its future sales growth. And based on LightPath's recent backlog report, demand for its products appears to be strong and growing.
Should You Buy Semiconductor Penny Stocks?
The rise of electric vehicles and the increasing demand for 5G technology is good news for the semiconductor industry. The industry provides the chips and other components that power these new technologies.
However, as with any other investments, a certain amount of risk is associated with investing in semiconductor penny stocks.
However, these stocks can also offer the potential for huge rewards. If you're thinking about buying semiconductor penny stocks, here are a few things you should keep in mind.
One of the biggest considerations to keep in mind is the company's financial situation. Make sure you research the company thoroughly and understand its financial health before investing any money. You don't want to end up buying a stock that's about to go bankrupt.
Another important thing to look at is the company's portfolio. What semiconductors does it make? Are they in demand? Do they have any new products in development that could be game-changers?
When considering a company's pipeline, it's also important to look at the competition. Is the company's product lineup strong enough to compete against its rivals?
Finally, you'll need to think about the company's management team. Do they have a good track record? Are they making smart decisions that are in the best interest of shareholders?
Where to Buy the Best Semiconductor Penny Stocks
Robinhood and Webull are two popular online brokerages that offer commission-free stock trading. This means you can buy and sell stocks without having to pay any fees. Both Robinhood and Webull offer mobile apps that make it easy to trade on the go.
Although these are small to mid-size market cap companies, all of these are listed on NASDAQ and NYSE. Thus, many investors feel more comfortable buying these established companies.
Final Thoughts: Best Semiconductor Penny Stocks
With technology becoming increasingly advanced, it's no surprise that semiconductor stocks are on the rise. Semi-conductors are an industry that's needed by almost every other sector in the market, making it a crucial part of our economy. While the industry may be volatile, there are still plenty of opportunities for investors to get involved.
Moreover, make sure you do your homework before investing in any stock, especially penny stocks. These stocks are riskier than blue-chip stocks, but they can also offer the potential for much higher rewards.
If you're careful and pick the right company, investing in semiconductor penny stocks could make you a fortune.
Semiconductor Penny Stocks: FAQs
What is the best semiconductor stock?
Intel is one of the best-known semiconductor companies in the world. The stock is a component of the Dow Jones Industrial Average and has a market capitalization of over $200 billion. Although this is not a penny stock, it is a good example of a large and successful semiconductor company.
What is a good tech penny stock?
Summit Wireless Technologies is a good tech penny stock. The company provides semiconductor solutions for the wireless communications industry. It has strong fundamentals and outstanding financial growth this year. Its potential goes beyond just the smartphone market and into new areas such as the Internet of Things and connected cars.
Which penny stocks will grow in 2022?
There is no sure way to predict which penny stocks will grow in the future. However, you may want to consider factors including a company's financial stability, products, management team, and competition. Doing your own research is the best way to find good penny stocks to invest in.
Which penny stock will multi-bagger in 2022?
A multibagger penny stock is a stock that has the potential to increase in value by 100% or more. To identify which penny stocks will multi-bagger, some factors you may want to consider include the company's ability to provide innovative products or services, strong financials, and good management.
How can I invest in semiconductor penny stocks?
You can invest in semiconductor penny stocks by opening an account with a brokerage firm that offers commission-free stock trading. Two popular online brokerages that offer this are Robinhood and Webull. Invest only what you can afford to lose, as penny stocks are high-risk investments.