U-Haul is a highly recognizable American brand in storage, van rentals, and moving equipment.
Due to its branding and livery on the side of its vehicles U-Haul has become a genericized trademark.
That means some consumers will use the name U-Haul to refer to the service of van rental rather than for the specific brand.
So, what are some of the biggest U-Haul Competitors? Read on to learn more.

What Is U-Haul?
The company began in 1945 when Leonard Shoen founded it out of his garage in Pheonix, Arizona.
U-Haul is owned by the holding company AMERCO. The Shoen family owns 55% of its stock and remains the owners of U-Haul as well.
The company is publicly traded on the Nasdaq under the ticker symbol UHAL.
In 2020 it reported total revenue of $3.979 billion with an operating income of $530.128 million for the same period.
U-Haul has around 19,500 employees worldwide and has expanded from van rentals to include storage units, tow hitches, and moving supplies.
It owned the subsidiary U-Haul Car Share, which was shut down in February 2019.
U-Haul SWOT Analysis
U-Haul has an incredible brand image thanks to the recognizable design on the side of all of its trucks.
This has enabled the company's name to become part of the nation's lexicon.
Although it may be advantageous in some regards, it could also decrease the value of the brand's image.
U-Haul has become a term for renting a van through any company, rather than just U-Haul's services.
The company focuses on the do-it-yourself market of people moving homes.
Rather than the costly prices of hiring a moving company, people are choosing to rent with U-Haul and save money.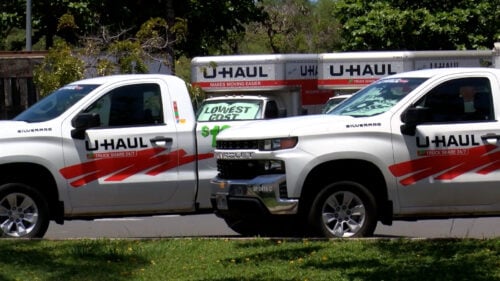 Strengths
U-Haul has strong name recognition and brand recognition, helping them to be known across the country.
Its nationwide coverage gives it competitive advantage in the moving trucks industry.
U-Haul's wide inventory of vehicles includes cargo vans, box trucks, and pickup trucks making it a favorite choice for customers doing a local move or long-distance moves.
Offering various moving truck sizes and one-way rentals is a strong selling point for customers who move across the continental United States.
Weaknesses
The rental trucks business has seen increases in competition in recent years.
Offering unlimited mileage may create additional wear and tear on the company's equipment.
The company offers add on services such as moving and storage services, packing supplies, and storage solutions, but these services have a reputation of being too expensive.
U-Haul must sometimes hire drivers and pay high gas costs to relocate inventory to more ideal areas.
Opportunities
The company's online reservation system helps automate many tasks and can mitigate employee turnover.
Using modern technology, U-Haul can improve supply chain management with online tools as well.
The company could appeal to younger generations by offering rideshare-style partnership opportunities and moving services.
Using more fuel-efficient vehicles may appeal to customers, particularly if they are not moving large loads.
Threats
The U-Haul brand has become someone generic in recent years, and is often used in reference to any rental truck company, even if it's a competitor.
High prices of gas and housing may deter people from moving as often.
Maintenance and repair costs for fleet upkeep may become difficult due to supply chain disruptions and increases in material cost.
U-Haul Competitors and Alternatives
Alongside its consumer business, U-Haul offers its services to businesses that require fleet services.
UPS, FedEx, and the United States Postal Services all contract U-Haul.
They rent U-Haul's trucks and vans to bolster their own fleet during temporary busy seasons such as Christmas.
U-Haul also offers people the opportunity to franchise with them.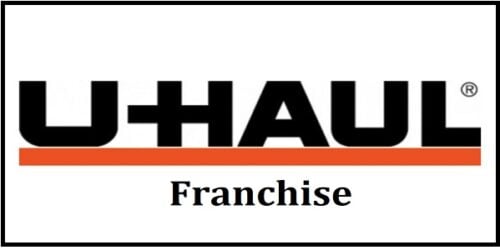 Business people can partner with U-Haul to provide van rentals and storage solutions in their local area.
Now let's take a closer look at some of the companies that are U-Haul competitors and alternatives:
Penske – A diversified transportation company.

Rush Enterprises – Retailer for commercial vehicles new and used.

Hertz – A car and van rental business.
Penske
Penske is a transportation company that deals in a range of different industries. They compete with U-Haul for a share of the van rental industry.
The company was founded in 1969 by Roger Penske who remains the company's chairman.
Penske has its headquarters in Bloomfield Township, Michigan. There are approximately 65,000 people that work for Penske worldwide.
The Penske Corporation has many subsidiaries including DAVCO Technology, Penske Automotive Group, Penske Entertainment Corporation, Penske Truck Leasing, and its NASCAR racing organization, Team Penske.
The company is very diversified but most of its business interests remain transportation-based.
Penske Truck Rental is the one that competes most directly with U-Haul.
Penske is smaller in the van rental industry but eclipses U-Haul in terms of business divisions and employees.
The company is privately held so its financial data is not available for comparison.

Rush Enterprises
Rush Enterprises is an international company that deals in new and used trucks through its stores called Rush Truck Center.
The company has over 200 locations throughout America and 14 stores in Canada.
The company began in 1965 when it was founded by W. Marvin Rush. The company has its headquarters in New Braunfels, Texas.
It was originally a dealership that sold Peterbilt trucks but through the years has acquired new dealerships, greatly expanding its operation.
The company is listed on the Nasdaq under the class A ticker RUSHA and class B ticker RUSHB.
During the fiscal year 2020, the company reported its total revenue to be $4.735 billion and an operating income of $152.753 million.
The company has around 7,000 employees through its North American network.
It has partnerships with many leading truck manufacturers including Ford, Blue Bird, Isuzu, and Peterbilt.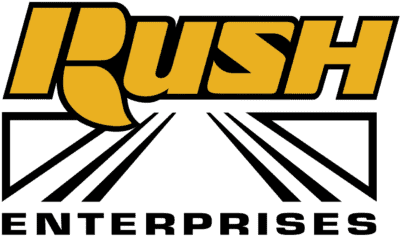 Hertz
Hertz is the car and van rental subsidiary of Hertz Global Holdings Inc. The company was founded in Chicago, Illinois in 1918 by Walter L. Jacobs.
There are over 12,000 locations worldwide which include corporate locations as well as franchises.
The company also operates other car rental companies called Thrifty and Dollar Rent A Car.
Hertz was included on the 2020 Fortune 500 list ranked at 326th. There are over 24,000 people working for Hertz throughout its worldwide locations.
The company is listed on the OTC Pink market under the ticker symbol HTZGQ.
Revenue for the company was in steep decline during the Covid-19 pandemic as car rentals became less popular.
In 2020 the company posted revenue of $5.258 billion and had an operating income of $-1.065 billion.
The company competes with U-Haul for a share of the cargo van rental market.
However, the companies main focus is on car rentals so U-Haul outpaces it for the market share of van rentals.

U-Haul Competitors and Alternatives: Final Thoughts
As far as the van rental industry goes U-Haul is the most dominant player.
Apart from local independent businesses, the closest direct U-Haul competitors are Budget Truck Rental and Penske Trucks.
Penske has a national van rental service but it is only a fraction of what they offer.
Hertz focuses on car rentals with vans as a secondary offer. There is also a Home Depot Truck rental, but that is not the company's core business.
U-Haul can continue in its position as the market leader so long as it keeps providing a competitively priced and valuable service.