Food trends in 2020 and beyond are showing a colossal shift toward veganism.
The industry as a whole is still in its early growth stage, with plenty of room for development. Investors know this, so they keep a close eye on these budding businesses and vegan stocks.
While the COVID-19 pandemic enters the rearview, new studies are beginning to show that during the height of the pandemic, there was a 90 percent increase in plant-based food sales.
Veganism will likely continue to gain mainstream popularity as more people see the benefits of an exclusively plant-based diet or at least a semi-vegan one.
Social media is the driving force behind the surge in vegan options and the vegan diet as a whole, especially during a time when everyone is online.
Social media influencers have noticed and are promoting the vegan lifestyle in their brand.
In fact, many influencers start fast-growing social media accounts to promote the vegan lifestyle, throwing their weight behind companies that provide vegan alternatives, like pea protein, vegan meat, and other plant-based foods.
There are many reasons veganism, and plant-based companies are seeing a healthy spike in interest.
This includes popularized health benefits, weight management, animal care, and environmental responsibility.
The push for more ethical and sustainable plant-based foods and products has given rise to vegan investors who exclusively support companies with similar goals.
With the vegan industry on the rise, companies will continue to adapt to this plant-based paradigm, implementing new business strategies around vegan meat.
It is even predicted that plant-based food markets will see growth at a CAGR of 11.3 percent between 2020 and 2027, with a reach of $74.2 billion
Now is the time to invest in vegan stocks. So let's discuss what the top vegan stocks to buy are.
Best Vegan Stocks To Buy
There's no question that the vegan community has gained serious traction over the last year.
And at the moment, it is not seeing any signs of slowing, as consumers are drifting away from eating meat.
Right now, companies are already fighting for their spot on the ground floor, adapting their lines to include plant-based products. Some food manufacturers only offer plant-based products.
While you may be tempted to buy stock from companies who exclusively buy vegan options, you shouldn't discount those that at least offer plant-based meat alternatives.
When embarking on your vegan investment journey, be sure to decide whether you prefer publicly traded companies or private companies.
With so many plant-based and vegan companies to invest in, choosing between public or private is a solid starting point for narrowing down your options.
Luckily for you, we've already done the research. If you want to know the top 5 best vegan stocks to grab before they boom, keep reading.
Best Vegan Stocks: Vegan Food Stocks
Tattooed Chef, Inc. (TTCF)
Tattooed Chef has seen a surge in business in recent years.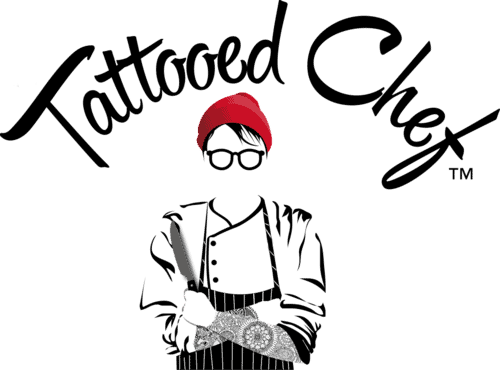 With a farm-to-table promise, their two family-owned facilities in Los Angeles and Italy manufacture a range of appetizing options, including gluten-free, plant protein, vegan, and even vegetarian.
In Tattooed Chef's fourth quarter and full-year 2020 financial results report, it announced that its revenue for the year was $148.5 million, compared to $84.9 million the year prior (a 75 percent increase).
Tattooed Chef is expected to continue its growth trajectory throughout 2021 while the company continues to expand its business and services.
Its product revenue totaled a 363 percent increase, with a record $84.6 million in 2020, compared to $18.3 million in 2019.
This increase in branded products alone demonstrates that consumers are enjoying meat alternatives and will continue to as the company pursues its path of success. Really, who doesn't love a true farm-to-table, family-owned business?
TTCF stock currently trades at $20.08 per share.
Beyond Meat (BYND)
A Los Angeles-based producer of plant-based meat products, Beyond Meat is a behemoth in the vegan food manufacturing world.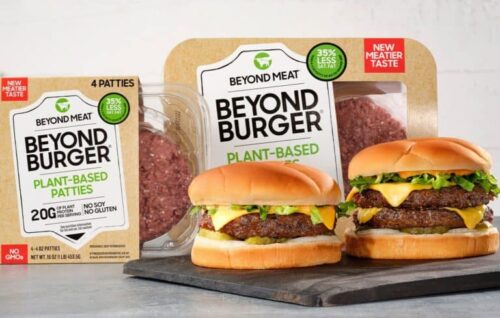 The company has certainly earned its keep, as its seen steady growth since its first products were launched in the United States in 2012 — way before the vegan trend took off.
With its offerings of plant-based food products, Beyond Meat remains at the top of the vegan food chain.
And as veganism continues to grow in popularity, so will the company.
Beyond Meat currently distributes products to approximately 28,000 retail stores in the United States and approximately 52,000 international outlets as of December 2020.
Fast-food chains, like Burger King, Carl's Jr and Del Taco, have captured media attention within the past few years by offering vegan meat supplied by Beyond Meat.
As Beyond Meat continues to gain partnerships around the world, it is poised to see temporary boosts in shares.
After announcing a new partnership with DoorDash on June 28 (an online food ordering and delivering service), shares jumped more than 5 percent.
After Beyond Meat's partnership with PepsiCo, its shares jumped about 20 percent. Its full-year financial results highlighted a 36.6 percent increase at $406.8 million.
The company's fourth-quarter financial results highlighted that its net revenues were $101.9 million, a 3.5 percent year-over-year increase.
As the vegan industry continues to bring in fresh faces from all walks of life, newcomers will first seek out valued and reputable companies with a history of producing plant-based meat and plant-based proteins worldwide.
So if you're looking to invest in a company that is expected to see occasional jumps and boosts in shares, Beyond Meat might be right for you.
BYND stock currently trades at $140.32 per share.
Nomad Foods Limited (NOMD)
Founded in 2014 and headquartered in the United Kingdom, Nomad Foods is Europe's leading frozen foods producer with a suite of savory vegan options.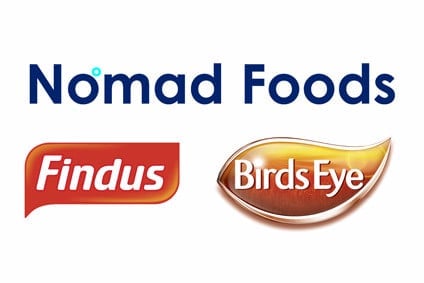 Since the mass closing of restaurants worldwide, consumers have leaned into eating more, and Nomad helped make that easier.
Companies either succeeded or stumbled when the pandemic was in full swing. And Nomad Foods looks to be emerging unscathed.
The frozen food industry at large has benefited since the COVID-19 pandemic began, as people continued stuffing freezers full of frozen foods so they wouldn't go bad. Consumers also liked that they wouldn't need to frequently visit the public grocery store as often.
Shares of Nomad Foods have risen 41.5 percent over the past year, and the company's revenue has seen an 8.2 percent increase at $3 billion in 2020, compared to $2.7 billion in 2019.
And In 2020, Nomad Foods reported a full-year revenue increase of 8.2 percent to €2,516 million, with a gross profit increase of 9 percent to €763 million.
NOMD stock currently trades at $28.51 per share.
Maple Leaf Foods, Inc. (MLFNF)
Maple Leaf Foods is a vegan-friendly, sustainable protein food manufacturing company that is based in Canada.

It offers both vegan and meat products. The company's strong vision and goal to be the most sustainable company in the world is undoubtedly the key to its success.
In addition to effectively weathering the fallout of the COVID-19 pandemic, there are many reasons why Maple Lead Foods is a promising investment opportunity.
Maple Lead Foods' sustainability report (released on July 6) confirms its commitment to "Better Food, Better Care, Better Communities, and a Better Planet."
The company acts on a message that speaks to its consumer base, which is why it is so popular with the vegan community.
Maple Leaf Food's 2020 financial full-year report states its plant-based protein groups sales for the year saw a growth of 19.5 percent for a total of $210.8 million, compared to $176.4 million in 2019.
Due to a sharp increase in demand, Maple Leaf Foods has begun building three new facilities in 2018, 2019 and 2021, further solidifying why now might be the best time to invest.
MLFNF stock currently trades at $19.89 per share.
Vegan Penny Stocks
Let's talk penny stocks. A penny stock refers to a smaller company that trades for less than $5 a share.
They are usually traded less often and can have a lower number of "ready buyers" in the marketplace.
However, as we see more vegan companies hit the market, vegan penny stocks are sure to follow.
Penny stocks fit well with investors who are willing to take a higher risk, as they have their own advantages.
Because penny stocks are priced lower than those in major stock exchanges, you don't need a lot of money to purchase a penny stock, which offers an accessible path to stock trading.
When considering an investment into a penny stock, it's important to find a somewhat undervalued stock with high potential as well as a worthwhile outlook and strong financials.
The next two stocks on our list are the most promising vegan penny stocks in the current market.
PlantX (PLTXF)
Founded in 2019, PlantX continues to see steady growth and expansion within its products and services.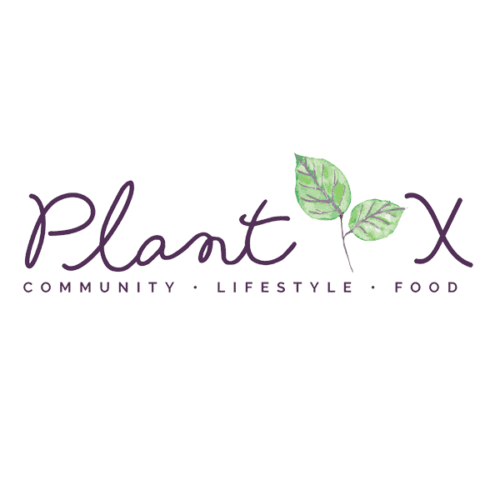 They provide various offerings that include plant-based groceries, plant-based gifts, indoor plants, and even local meal delivery.
An important feature to search for when investing is whether or not the company is making major moves toward what is considered the "right direction."
And this is exactly the direction that Plant X's recent actions are heading in.
With its plans to continue to expand its product line, you can expect to see significant growth in its business and consumer base.
In January 2021, PlantX had a record-breaking monthly gross revenue of $1,089,502.
This comes during a time that was expected to see low sales, as it followed a high-volume holiday season. 
PLTXF stock currently trades at $0.35 per share.
The Very Good Food Company (VRYYF)
Plant-based meat and vegan cheese manufacturer, The Very Good Food Company, is a financial force to be reckoned with, as it is considered by many to be the next Beyond Meat.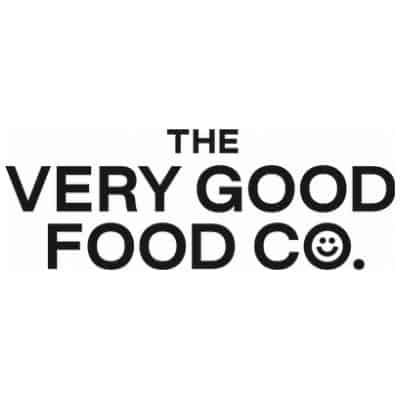 If you are looking to invest in a company that is small enough to see a large rise in the future, The Very Good Food Company is a good choice.
The company is experiencing a large growth opportunity to increase its production capacity by 2,690 percent, with 37 million pounds of annualized product throughout 2021.
Originally operating out of a 4,000-square-foot production facility in British Columbia, The Very Good Food Company's presence in North America is rapidly growing as demand increases and production facilities improve.
The company's revenue has seen an increase of 680 percent in Q1 2021 to $2,643,083, compared to its $338,552 revenue in Q1 2020.
Also, its 2020 revenue increased 364 percent to $4.6 million.
If The Very Good Food Company's North American expansion goes as well as predicted, this stock could see an extremely high upward trend in the near future.
VRYYF stock currently trades at $2.86 per share.
Should You Buy Vegan Stocks?
The simple answer is yes. It is time to invest in vegan stocks.
Plant-based foods, vegan foods, and plant-based alternatives are set to explode in value, making them a good investment in the long term.
Plant-based sales have steadily increased — especially in the most recent years — and the vegan industry continues to see a significant upward trend.
So if you're looking to get in on an investment with a steady trajectory in the right direction, vegan stocks are the perfect pick.
The limited accessibility of quality vegan products is quickly reversing course.
As the vegan lifestyle continues to gain attention, more influencers are setting out to further advance its culture.
On another note, there is a fair number of popular companies that are not currently publicly traded, such as Impossible Foods.
These may become available on the stock exchange down the line. Make sure to look out for these in the future!
We highly recommend hopping on the vegan stock investment train when the right opportunity arises.
Vegan Stocks: Final Thoughts
With the promotion of health benefits, animal well-being, and overall environmental awareness via social media, the veganism diet trend will continue to connect with consumers in search of an alternative to animal products.
The COVID-19 pandemic has brought about a world of change, and this is apparent in the massive interest gained by plant-based products over the last year.
There is no better time to start investing in vegan stocks.
We're living in a moment where people are more motivated than ever to try new things.
Additionally, social media and internet surfing have given rise to a group of like-minded individuals, vegan investors.
As veganism's popularity swells, businesses will continue to adapt. Companies will grow, and others will emerge to follow in their footsteps.
This is clear through the various companies we discussed and can be found even more so through many others as we watch the vegan stock market flourish.
Get on it. Invest in vegan stocks while they are in their early stage of growth.
There are also other ways to invest in public stocks through the stock exchange.
For one, you could put your money into vegan mutual funds or a vegan climate ETF that includes companies that produce or support everything from plant-based milk to lab-grown meat, or as some call it, "modern meat."
Many of these funds include vegan commodities like oats, wheat, soy protein, and raw materials.
Invest in vegan companies that work hard, give back to their consumer base and stay true to their message while providing a quality product.
Ultimately, the vegan lifestyle is marking a cultural shift, and more businesses will adapt to meet its needs head-on.
When someone is new to veganism, their research will point to the biggest companies in the industry.
It is very likely that the companies discussed here will end up on their shortlist for new vegan products to try.