Read on to learn everything you need to know about Beyond Meat's competitors.
Beyond Meat is a purveyor of plant-based meat alternatives that creates products imitating chicken, pork, and beef.
This food technology company was founded in 2009 by Ethan Brown and is headquartered in El Segundo, California.
Beyond Meat sells its products to customers through grocery stores and has partnerships with restaurant chains.
The company is one of the most popular, and growing, vegan companies.
Beyond Meat has over 450 employees and its products are sold in many territories worldwide.
The company is listed on Nasdaq under the ticker symbol BYND and is included in the Russell 1000 stock market index.
It reported net revenue of $464.7 million in 2021.
Beyond Meat's first product was chicken-free strips, released in 2012.
The company signed a contract with Whole Foods which saw its plant-based meats products stocked across America.
Walmart has begun to stock Beyond Meat, and the company has expanded internationally through partnerships with Tesco in the UK and Tim Hortons in Canada.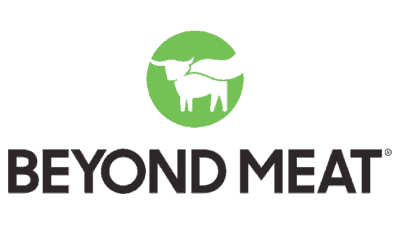 Beyond Meat SWOT Analysis
Strengths
Beyond Meat has strong brand recognition in the plant-based meat industry.
The company's plant-based foods are offered at popular fast-food restaurants including McDonald's, Taco Bell, and Pizza Hut.
Beyond Meat's plant-based alternatives are nutritious, healthy, and contain no genetically engineered ingredients.
Weaknesses
Many other food manufacturing company brands have entered the plant-based meats market.
The increasingly competitive market degrades Beyond Meat's market share.
Beyond Meat's product selection is limited, offering primarily plant-based burger patties, chicken, and pork alternatives.
It has not yet developed plant-based dairy products, plant-based eggs, plant-based tuna, and other staples in the food industry.
Opportunities
Animal meat is considered unhealthy and unsustainable.
This is spurring a growth in the vegetarian market that the company can capitalize on.
Beyond Meat has the opportunity to present itself as the leading producer of sustainable green foods.
Its plant-based substitutes are marketable as healthy options to help reduce obesity and the chances of epidemic diseases such as diabetes and heart failure.
The currently limited product selection leaves an opportunity for the company to enter related food markets with complementary product offerings such as seafood, lamb, and animal-free dairy proteins.
Threats
Beyond Meat's largest threat is the extremely competitive market.
Traditional meat industry-leading companies have begun offering plant-based alternatives.
New brands such as Impossible Foods are gaining market share.
Vegetarian food is associated with physical weakness in some cultures.
The company must convince consumers that plant protein is just as healthy and beneficial as meat protein.
Beyond Meat's Biggest Competitors
Beyond Meat is a fast-growing food company that stands out in the vegan foods industry.
It has developed a range of well-received products that offer an alternative to meat.
The company has two main divisions that bring in the bulk of its income.
The first is its retail sales through partnerships with Whole Foods, Walmart, Tesco, Kroger, and Albertsons.
Beyond Meat is a recognizable brand and is popular internationally thanks to these partnerships.
Alongside its retail offering, the company provides wholesale solutions to restaurants and food service outlets.
This part of the business is growing rapidly as more companies look to offer vegan options on their menu.
The vegan lifestyle is on the rise so Beyond Meat can secure contracts to deliver their meat alternative.
Its beef-free patties and sausages are particularly popular.
Some fast-food brands that sell Beyond Meat include A&W Canada, Del Taco, Bareburger, and Dunkin' Donuts.
Beyond Meat's top competitors and alternatives include:
Impossible Foods – A plant-based company known for its bleeding burger.

Cargill – A food corporation that has recently entered the plant-based market.

Incogmeato – The plant-based business developed by Kellogg's
In the future, we'll likely see cell-based meat products (animal cell culture technology) go toe to toe with Beyond Meats.
Impossible Foods
Impossible Foods was founded in 2011 by Stanford University Professor Doctor Patrick O. Brown.
It is located in Redwood City, California.
The company is focused on providing plant-based meat substitutes and is most known for its signature Impossible Burger.
The plant-based burger garnered massive media attention due to its bleeding which is similar to a beef patty.
The company has also developed plant-based pork products.
Impossible Foods is a privately held company but reported revenue of $130.1 million in 2019.
The company has 550 employees and has partnered with some top restaurants.
Burger King teamed up with Impossible Foods to create the Impossible Whopper and Little Caesars carries Impossible Foods products as well.
Beyond Meat is slightly more successful than Impossible Foods but both companies are making a name for themselves worldwide.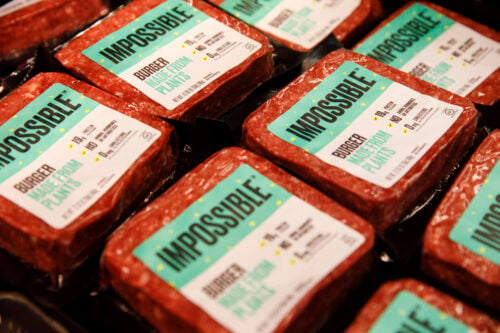 Cargill
Cargill is a food corporation that has been supplying meats and other foodstuffs since 1865.
It is the largest privately held corporation in the United States with over 160,000 employees.
Beyond Meat's aim is to draw people away from meat products produced by companies such as Cargill.
Cargill is well known for its meat products, particularly its animal proteins and ground beef.
The company has recently entered the plant-based market and is now in direct competition with Beyond Meat.
Cargill's decision to start developing and selling plant-based products demonstrates how public sentiment is changing.
The vegan lifestyle is becoming increasingly popular and is a lucrative business.
Cargill reported total revenue of $114.7 billion in 2018 with an operating income of $3.2 billion.
The company is one of the largest food companies in the world.
Its entry into the plant-based meat business is going to help the market grow.
Incogmeato by Kellogg's
Kellogg's is well known for its breakfast cereals, which have been sold since 1906.
Over the years the company has developed many beloved brands including Corn Flakes, Pringles, Krave, and Cheez-Its.
The company operates in 180 countries and its headquarters are located in Battle Creek, Michigan.
Through its MorningStar Farms subsidiary, the company has started to produce meat-free products under the Incogmeato brand.
The products it produces include chicken-free tenders, nuggets, and plant-based patties which are made from soy.
Kellogg's is publicly traded and listed on the New York Stock Exchange under the ticker symbol K.
It is included in the S&P 500.
Kellogg's reported revenue of $13.7 billion with an operating income of $1.7 billion last year.
The company has begun marketing itself as 'the Original Plant-Based Well Being Company' in an effort to capitalize on current trends.
Its foray into plant-based meat substitutes directly competes with Beyond Meat and offers consumers a wider range of choices.
Beyond Meat's Advantage
Beyond Meat tastes better than most other plant-based meat substitutes.
This is because its product has been in development longer.
Companies like Cargill's and Kellog's will need to invest heavily in research and development to create a product that matches Beyond Meat's quality.
This is an investment they may not be ready to make as veganism is still a small (although growing) market.
Beyond Meat also enjoys brand loyalty as vegans appreciate the efforts it takes to introduce a genuine meat substitute to market.
Since there are not too many competitors in the industry, Beyond Meat holds a comfortable lead.
Beyond Meat Competitors and Alternatives: Final Thoughts
Vegan and vegetarian lifestyles are on the rise around the globe.
Genuine meat substitutes are highly sought after at both the retail level and in restaurants.
Beyond Meat is well-positioned to capture this growing market. The brand is easily recognizable and is trusted by consumers.
Therefore, it is an attractive partner for restaurants that want to offer quality plant-based products.
Beyond Meat will need to keep creating new products and ensuring their products taste as good as the real thing.
Beyond Meat Competitors FAQ
Is Beyond Meat the Market Leader?
Yes, Beyond Meat holds a competitive advantage in the vegetable burgers market.
Beyond Meat's biggest competitor may be Impossible Foods for now, but traditional meat companies are close behind.
Who Is Bigger Beyond Meat or Impossible?
Beyond Meat has nearly 500 employees while Impossible Foods has approximately 150.
Both companies have major distribution partnerships with nationwide grocery chains and restaurants.
Who Competes With Beyond Meat?
Several new plant-based meats companies compete with Beyond Meat, including Impossible Foods.
Traditional food manufacturing companies also compete, including Kellogs, the Good Food Company, and Hormel Foods.