Have you ever dreamed of having your own personal stylist to help freshen up your wardrobe?
With Stitch Fix, you can now have clothing specifically matched to your style sent straight to your doorstep.
But what are the biggest Stitch Fix competitors? Read on to learn more.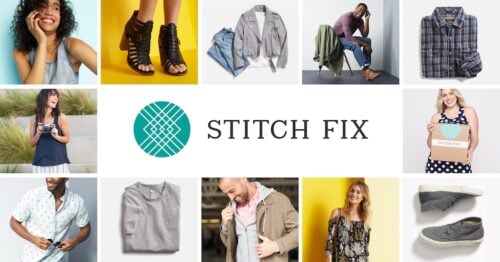 What is Stitch Fix?
Stitch Fix is a clothing styling company founded in 2011 in San Francisco.
Using algorithms, Stitch Fix delivers stylish personalized outfits to their customers to try on at home.
And customers only have to keep the items they like.
Stitch Fix prioritizes quality and an individualized experience for their customers instead of the quantity and mass-produced approach found in the department store experience.
It has a tried and true model that keeps many of its customers happy, bringing in $1.7 billion in revenue each year with over 8,000 employees.
Stitch Fix developed a loyal following with its no-risk, free shipping both ways clothing delivery model.
Customers complete a survey profile, and Stitch Fix delivers five pieces for try-on at home.
Clients only have to pay for the items they keep and pay a simple $20 stylist fee. Everything else can be shipped back for free.
There is low risk but very high reward for Stitch Fix customers.
There is no subscription or contract. Customers simply keep the pieces they like, and the $20 stylist fee is applied as a credit towards their purchase.
With so many happy customers and thoughtful, listening stylists, it has staked its claim in the try-on-at-home clothing delivery sector.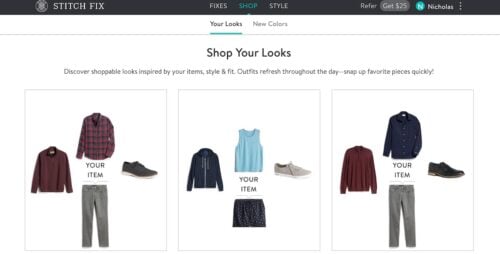 Stitch Fix SWOT Analysis
Stitch Fix is a public company listed on the Nasdaq stock exchange under the stock symbol SFIX.
It has multiple competitive advantages that are critical elements of its corporate strategy.
Strengths
Stitch Fix has a competitive advantage with loyal customers and different customer segments.
These customers enjoy the competitive prices offered alongside styling services.
The company uses data science as an effective tool in its style quiz to help better meet customer preferences.
Stitch Fix also has strong brand recognition and presence on social media platforms.
It has 3.5 million customers and is continually growing.
Weaknesses
The clothing sales industry is a highly competitive environment.
Stitch Fix offers some brands at a much higher cost than its competitors.
The company is somewhat limited to the US market.
It has had little growth in its own brand of offerings, which means Stitch Fix relies heavily on outside manufacturers.
Opportunities
Stitch Fix has a significant opportunity with international expansion.
By selling clothes to additional markets, it stands to attract new potential customers.
International expansion also opens the company's ability to expand its supply chain and potentially increase its profit margin by using local raw materials.
Threats
Stitch Fix faces direct competitors, some with much more bargaining power.
The lack of international sales is limiting, but the cost advantage associated with international expansion may not be worth it.
Without the company's own product portfolio, it relies heavily on the success and continuation of third-party brands.
As consumers feel the pinch from inflation, they may reduce costs by spending less on clothing and personalized services.
Stitch Fix Competitors and Alternatives
Clothing delivery services vary in pricing models. Some require a subscription while some offer an affordable stylist fee that can be applied as a credit to your purchase for only the clothes you want to keep.
Each service is slightly different and unique in its business model and products offered.
Let's take a look at the top Stitch Fix competitors and alternatives.
Trunk Club
Trunk Club was founded in 2009 in Chicago.
Trunk Club is affiliated with Nordstrom, a high-end department store known for its impeccable customer service.
To prove its reputation, upon completing the typical style survey, clients are connected to a live Nordstrom representative to chat more in-depth about their personal styles and preferences.
It is not uncommon for clients to share their Pinterest boards so the personal stylist can truly get a sense of the client.
This personalized experience, however, comes with a heftier price range, but these clothing boxes promise quality and deliver.
Trunk Club is so confident in its styling that they do not require a subscription for its service.
Clients only pay for the items they want and a styling fee per box delivered. Nordstrom cardmembers get the styling fee waived.
Because there isn't a subscription, clients only keep clothes they want and like, challenging personal stylists to curate the best box they can for their customers.
Trunk Club is Stitch Fix's biggest competitor because it employs over 900 employees to deliver the best, personalized customer service the way only Nordstrom knows and produces revenue averages of $87 million annually.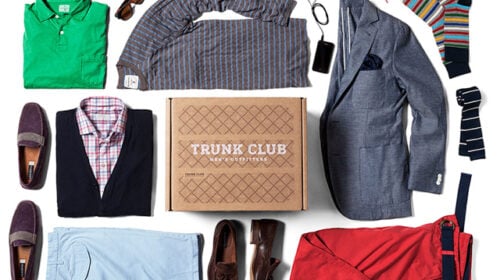 Daily Look
Daily Look is a clothing styling service founded in 2011. Daily Look gives its customers stylish options for everyday life.
Comparatively, it is pricey but also includes top-tier brands that easily make it worth the price.
It is also a smaller company with 60 employees and an annual revenue average of over $13 million.
Daily Look charges a $40 styling fee and delivers high-quality, name-brand clothing with a five-day try-on period.
However, customers can edit the box prior to shipping, and quality is guaranteed.
It is pricier, but its target audience is those used to wearing higher quality, but can also appreciate a good deal.

Le Tote
Le Tote is a subscription-based clothing styling service founded in 2011 in San Francisco.
Its position in the market was to create stylish everyday clothes for women.
Le Tote ensures a boutique experience for its customers by keeping its company intimate and private at 88 employees, estimating a market value of about $180 million.
Le Tote charges monthly subscription fees starting at $59 month for its customers to receive a tote of clothing to wear and keep as long as they like.
When they return anything they do not like, another tote is delivered quickly.
Le Tote then charges the payment type on file for any items that the customers kept.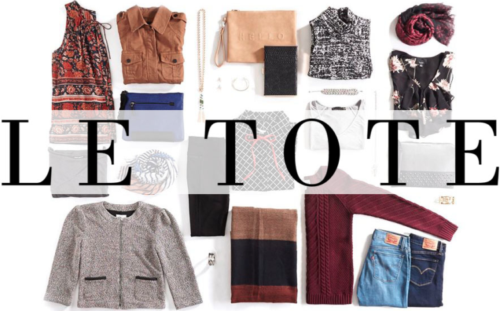 Stitch Fix's Biggest Competitors: Final Thoughts
Stitch Fix's biggest competitors and alternatives are Trunk Club, Daily Look, and Le Tote.
Trunk Club is second to Stitch Fix, offering a personal stylist to talk to in-depth after completing a styling profile.
Trunk Club's fans laud the uniquely personal and special, luxury experience of being part of the Trunk Club. Also, there is no subscription cost, just a $25 stylist fee.
Daily Look is a smaller company and customers pay a $40 stylist fee per box.
Comparatively, it can be pricier than similar services, but it does deliver special high-end pieces, perfect for those with a more formal or elegant sense of style.
Le Tote is another small company with a subscription pricing model, but it is a private company with only 88 employees. Le Tote is a boutique experience.
However, with its accessible $20 stylist fee (that they then apply as a credit towards your purchase of any clothes you keep), Stitch Fix has a significant portion of the market share.
Stitch Fix allows personal styling to be accessible, giving more people the opportunity to maintain a fresh wardrobe.
Personal styling used to be a luxury reserved for only the rich and famous, but Stitch Fix changed all of it.