Virtual reality (VR) is one of the major tech shifts changing how consumers view their world.
With stay-home orders put in place due to the novel coronavirus pandemic, consumers have time to kill.
Advanced entertainment tech has filled much of this time.
Augmented reality technology has changed how we interact with smart devices and cameras.
Virtual reality technology itself has physically placed consumers into new spaces and environments.
Thus, we've compiled a list of the top virtual reality stocks to buy and take a look at today!
If you're looking for even more great stock picks, check out Trade Ideas Software. This AI-based platform helps you find successful stocks with minimal effort so you can jumpstart your portfolio.
Best Virtual Reality Stocks To Buy
Alphabet Inc. (NYSE:GOOGL)
The world knows Google as one of the top providers of internet technologies, including the world's most popular search engine.
Google made large waves in the virtual reality market with its virtual reality headset technologies.
Google began producing its virtual reality set technology in 2014 with Google Cardboard.
Literally made out of cardboard, Google Cardboard is a low-cost headset.
To encourage interest and development in the VR market technology, Google introduced this product.
In 2016, Google introduced a more high-end headset under the name of Google Daydream.
Similar to Google Cardboard, it allowed users to access the world of VR by attaching their smart mobile devices.
Google has stopped the sale of VR headsets (due to a lack of user enthusiasm).
The company continues to develop the augmented reality (AR) capabilities of their phones including increased use in apps.
Google's most recent project in this sector is an augmented reality concept called WebXR.
This includes a batch of new smartphone apps that you can use to interact with the world around you.
One of the first apps is called Sodar, and would help you social distance effectively by visualizing a 6-foot distance in any environment.
After a slight downturn with Covid-19, Google's stock is performing the best it ever has.
Additionally, continued performance is predicted at an average rate of growth.
Headsets and other hardware have been the main focus of the virtual reality market.
Consumers continue to demand easy-to-use technologies. Google will likely continue to be a key player in the AR and VR space.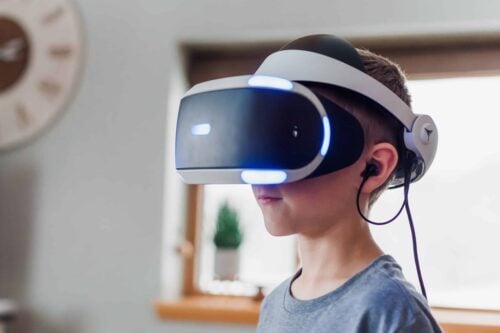 Nvidia Corporation (NYSE:NVDA)
Based in Santa Clara, California, Nvidia technology company specializes in making graphics units for personal and professional use.
They also produce chip units for mobile computing and the automotive market.
Some of the most cutting edge graphics processing units in the gaming market have been created by Nvidia.
Quality VR gaming experiences require as much as 7 times the processing power of traditional 3-D games.
Thus, processing power is just as important as the VR sets themselves.
Nvidia offers the fastest GPU for virtual reality currently on the market.
VR content is relatively new to many audiences.
Nvidia prides themself on their ability to easily integrate their solutions with the user experience.
They've worked with over 100 partners around the globe.
This has helped to make sure users have the best possible experience with VR solutions.
In terms of stock performance, Nvidia took off after COVID-19 took the national stage in 2020, but has since flattened.
This means now could be a good time to buy, before the stock pops again.
Nvidia has worked to ensure their technologies are in line with the performance capabilities of the most popular tech companies.
This includes technologies such as mobile VR, 360-degree video, resulting in performance gains for VR devices by up to 50%.
Virtual Reality Stocks: Pure Plays
Immersion Corporation (NASDAQ:IMMR)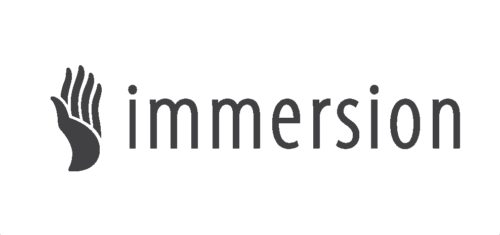 For those looking for virtual reality stocks that are solely involved in the development of VR technologies, Immersion is a great place to start as a pure play.
Immersion doesn't just focus on the headsets and software needed to bring VR in front of the consumer.
Immersion makes the touch-feedback tech for systems such as touchscreens.
As one of the leaders in their specific market, Immersion has over 3,200 issued or pending patents.
This makes them a wonderful (and cheap) buy with a large number of proprietary assets.
These assets ensure an individualized approach to the AR and VR space.
Many of the other stocks focused on in this article are more closely related to the software and hardware associated with VR.
Immersion could be a great point of diversification and growth as AR and VR experiences continue to seek opportunities to make their products as lifelike as possible.
Immersion stock popped in February 2021 during a period of market volatility.
While shares have gone down in price since then, this company still comes with huge potential.
The market for touch screen products is only going to get larger, which could come with an increase in revenue and in share prices.
Virtual Reality Stocks: Hardware
Facebook, Inc. (NASDAQ:FB)
Headed by chief executive Mark Zuckerberg, in 2014 the social platform mega-conglomerate Facebook purchased Oculus VR in 2014.
They then released their own virtual reality headset in 2016.
The Facebook team, in partnership with Qualcomm and Xiaomi, launched the Oculus Go in 2018.
This tech had accumulated sales of over 2 million units by the middle of 2019.
The Oculus Go was soon after discontinued in 2020.
Today, the Oculus Quest 2 is Facebook's main VR headset.
This tech has let go of the need for use of smart devices when engaging with the technology.
Facebook also offers the Oculus Rift as alternative VR headsets for individuals seeking a strictly PC VR gaming experience.
The Oculus Quest 2 and Oculus Rift allow users to primarily game.
Additionally, it enhances the user's social media experience and allows them to interact with fantasy worlds within the comfort of their own home.
Mark Zuckerberg has also been a large advocate for the extended capabilities that Facebook and VR have helped establish in enhancing remote work relationships as a result of Covid-19.
Facebook stock is currently trading at an all-time high.
Some analysts think this stock could push even higher, as their revenue numbers have looked very strong.
The current price-to-earnings ratio also indicates that Facebook might be undervalued.
In addition to other acquisitions such as Instagram and WhatsApp, the addition of Oculus to the Facebook portfolio of companies is a welcome addition to its shareholders.
The acquisition ensured many years of growth as technologies such as VR and AR find their ways into our lives and social media engagements.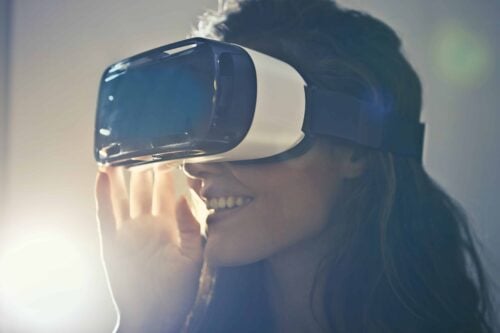 Sony Corporation (NYSE:SNE)
Based in Japan, Sony is the world's largest manufacturer of both consumer and professional electronic goods.
Sony is also the world's largest seller of video gaming consoles, and one of the most overall comprehensive media companies.
In 2016, Sony released Playstation VR: the company's first virtual reality headset compatible with both Playstation 4 and Playstation 5.
Released by Sony in November of 2020, Playstation 5 is expected to sell 4 million systems this year.
By 2024 this is expected to jump to 66 million system sales. On its first 2 launch days, Playstation 5 saw sales of at least 2.5 million systems.
By comparison, this is just under half of what its competitor Xbox saw in the same two days with the sale of Xbox Series X and Xbox Series S.
Most other headsets only allow the individual using the headset to experience the visual splendor.
Sony added the capability for Playstation VR to allow game players to view the game in their headset, while also on a TV screen.
Sony stock has performed very well over the past several months.
Much of this is due to the success of the Playstation 5, which was released in late 2020.
As the general population becomes more and more comfortable with the idea of virtual reality, the divide between our gaming consoles and virtual reality will continue to blur.
Sony will likely be a large player in bringing this reality to life.
Virtual Reality Penny Stocks
NexTech AR Solutions (OTC: NEXCF)
NexTech AR Solutions is a Canadian company that offers a broad range of augmented reality products.
Much of their focus is on eCommerce and marketing, with services like 3D product listings, immersive advertisements, and more.
They also host virtual events, such as conferences, trade shows, and career fairs.
This has been a particularly helpful service over the last year, as the pandemic has prohibited gatherings like this from happening in person.
This stock had a breakout moment in July 2020 as their revenue growth went up during the pandemic.
While their share price has come down from this high point, there's still plenty to be excited about with this company.
Even as the pandemic comes to an end, demand for e-commerce and virtual events are likely to remain high.
NexTech is quickly growing their customer base, and their technology has potential applications in many different industries.
Virtual Reality Stocks: Smartphones
Apple Inc. (NASDAQ:AAPL)
Apple is one of the leading designers and developers of consumer electronics, computer software, and online services for Americans.
Apple has participated in the augmented reality space much more than they have in virtual reality.
Mixed reality capabilities have really taken off in recent years as Apple's smartphones and cameras have packed a bigger punch.
Apple has not only taken advantage of AR technologies.
They've also provided augmented reality creation tools that are easy to use with no prior knowledge of 3D modeling.
Apple is expected to release its first headset, similar in design to the Oculus Quest 2, perhaps by 2022.
They're also planning to release a pair of AR glasses.
The company hopes to harness the idea of allowing the headset to operate without connection to an external device.
Apple also has a vision for an internal app store and integrated Siri that could put an interesting spin on virtual reality headsets.
Apple's stock price hit an all-time high in early January, but has since come down from this point.
This means that now could be a good time to buy, before the stock pushes back up again.
Their current valuation is relatively low when compared to their most recent earnings.
As Apple continues to develop its AR and VR integrated headsets and glasses in the next few years, the introduction of a completely new technology could be a new and exciting change for the company.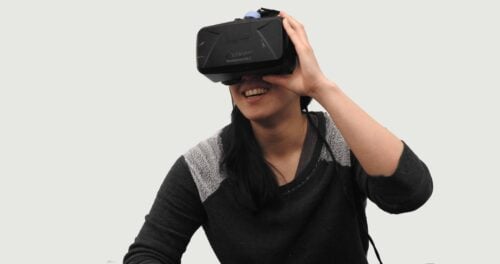 Lumentum Holdings (NASDAQ: LITE)
Lumentum Holdings is company that develops telecommunication parts and equipment.
They sell both optical chips and 3D sensing chips to a number of companies, including Apple.
Apple currently uses 3D sensing chips in their smartphones to provide interactive VR features.
More electronics companies are integrating virtual reality features into their products, which means there will be more demand for these 3D sensing chips.
With Apple as one of their biggest customers, Lumentum sees steady demand for both optical and 3D sensing chips.
This has helped them balance out lower demand in some other parts of their business.
Despite the ups and downs of 2020, Lumentum's revenue and adjusted earnings both went up last year.
Many expert analysts feel optimistic about Lumentum's prospects and are predicting further revenue increases in the years to come.
Lumentum stock has been somewhat volatile over the last few months.
Much of this was due to a potential deal with a laser company called Coherent.
This deal eventually fell through, which meant that Coherent had to pay a sizeable termination fee.
Lumentum stock went up after the deal fell through.
It appears that investors weren't keen on the idea of the acquisition.
Moving forward, Lumentum can focus on expanding sales for parts in high-end smartphones and VR devices.
Best Virtual Reality Chip Stocks
Qualcomm (NASDAQ:QCOM)

Headquartered in San Diego, Qualcomm produces intellectual property, semiconductors, and software.
Qualcomm powers, what they call, access to an extended reality ecosystem.
This is a combination of augmented reality, virtual reality, and artificial intelligence.
As a software product manufacturer, Qualcomm has worked closely with companies such as Facebook to bring products to market.
The Snapdragon processing chips that Qualcomm produces aim to bring the extended reality ecosystems to all operating systems.
Leveraging new 5G platforms, the chip enhances video, audio, and immersion.
Qualcomm stock is down slightly from a peak in January, but their price-to-earnings ratio indicates that they are relatively affordable right now.
Additionally, they have a strong dividend yield of 1.86 percent.
As one of the top chip developers in the VR sets market, Qualcomm will impact many markets.
As a best-selling chip provider, more companies like Facebook, Sony, and Microsoft will continue to drive value for chip technologies that Qualcomm produces.
Should You Invest In Virtual Reality Stocks?
As you can see, many companies have dabbled in the VR market.
Similarly, AR technologies have become a more regular part of our experience with our smart devices.
Virtual reality and augmented reality products were in high demand during the pandemic.
Consumers were looking for safe ways to replicate in-person experiences and interact with the world around them.
The fact of the matter is, consumers have only seen the tip of the iceberg.
It won't be uncommon to see the presence of virtual reality in many places.
Information and entertainment continually put together has created this result.
This will include education, professional work environments, training facilities, and more.
If any or all of these virtual reality stocks pique your interest, you can check them out on Webull. Webull is an investment platform that gives you some free stocks just for signing up! Check out their platform here!
Best Virtual Reality Stocks To Buy: Final Thoughts
The new age of virtual reality is just on the cusp of becoming something great.
Big companies like Facebook and Sony(and small companies alike) are realizing it.
As more information can be understood about consumers who are using VR products, market data powered systems will continue to improve to offer more realistic experiences. Is your portfolio ready?