For more than two decades, The Motley Fool has been at the forefront of premium market analysis and investment research. But who owns Motley Fool? Tune in to find out.

About Motley Fool
The Motley Fool is an elite research firm that provides investing insights for folks looking to get more out of the market.
The firm is headquartered in Alexandria, VA.
It has branch offices throughout the world to serve international communities.
The firm delivers its insights through comprehensive research suites and newsletters.
Some topics the firm covers are:
Long-term investments (their specialty)

Blue-chip stocks as well as small-, mid-, and large-cap stocks

Mutual funds

Personal finance product reviews

Financial news

Crypto

And much more
The firm also has fantastic real estate resources through its Millionacres site.
It's packed with free blog posts with exceptional insights on everything you need to know about property investments.
On the premium end of its offerings, the firm is known for quality research services, such as:
The Fool produces a ton of content and even has its own book named Motley Fool Investment Guide.
What most have come to appreciate is the Fool's brutal honesty and humorous approach to investing.
The firm proves time and time again that it's possible to get a premium investment education with a punchline.
In fact, Motley Fool is infamous for an April fool's joke designed to teach their readers the importance of vetting penny stocks.
The firm helped hype a non-existent sewage company to show its readers how easy it is to be misled and fall for deceptive practices.
It's comical and insightful stunts like this that has drawn in such a large user base over the years.
Now that you know more about Motley, let's look at who owns the firm.
Who Owns Motley Fool?
The Motley Fool was co-founded in 1993 by brothers David and Tom Gardner and long-time friend Erik Rydholm.
However, Erik Rydholm left the company long ago, and Tom Gardner has recently stepped back from his role.
So now you know who owns the Motley Fool, but we're not stopping there.
Keep reading to learn more about the Gardner brothers, the firm's history, and other fascinating facts about The Fool.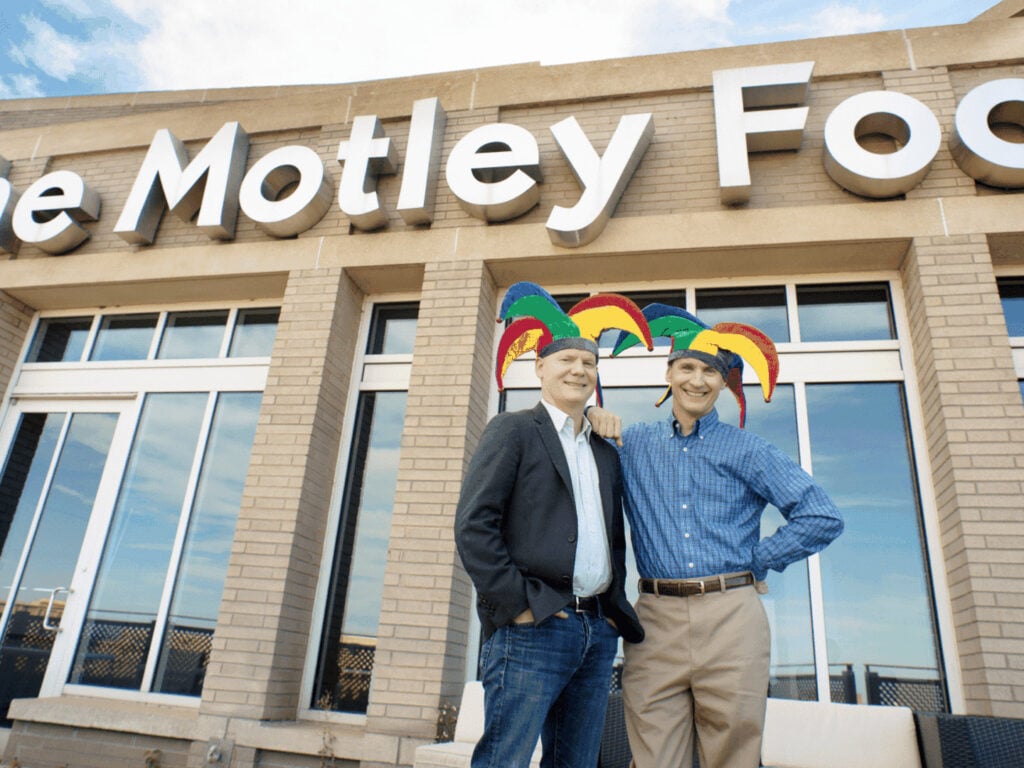 Who Are Tom and David Gardner?
As we said above, the Gardner brothers are co-founders of The Motley Fool.
David is the older brother and has a more aggressive style when it comes to investing, as he favors growth stocks.
He searches for companies that are innovating and disrupting their respective industries.
Tom, on the other hand, has a more reserved approach, focusing on value stocks and dividend-paying stocks.
While Tom doesn't actively participate in Rule Breakers, he does run several services for the Motley Fool, including the Everlasting Stocks portfolio.
If you're looking for stock recommendations from either of the Gardner brothers, Motley Fool Stock Advisor is a great place to start.

History of The Motley Fool
The Motley Fool found success early on after its founding in 1993, but the company fell on trying times a few years later.
In the aftermath of the stock market collapse and dot-com bubble, The Motley Fool was forced to lay off 80% of its staff.
But the organization looked hard at what was missing in the world of finance and came back in 2002 with a redesigned goal and website.
At the same time, the organization retained enough employees to continue to build on its original premise of multimedia information via regular posts.
The Fool used the internet as a platform to try to build the world's greatest investment community.
And in many respects, the firm succeeded.
The focus this time around was to compile data and provide monthly investment ideas to premium subscribers.
With The Fool's revamped website, you can search for specific investor topics and stay up to date on investment news and data curated by the company.
The Fool's Hard Work Pays Off
The shift turned out to be an excellent decision by the co-founder, as the company could re-hire many employees and now has several physical locations and a web presence in the UK, Canada, Japan, Germany, the US, and Australia.
Over the last few years, the company has been able to launch several sub-brands and companies including Motley Fool's The Ascent, Millionacres, and Investor Island.
Who Are The Motley Fool's Readers?
Motley Fool's readership is estimated to be in the millions at this date.
This includes 700,000 premium subscribers as well as readers of its newspaper column, books, and much more.
This number of readers is impressive, but it's not surprising considering all the free educational resources on offer.
Who Are The Motley Fool Board Members?
The Motley Fool's board of directors is made up of the two brothers and several other notable investing geniuses from New York and DC.
Some of these members include:
Tom Gardner

David Gardner

Marthe LaRosiliere

Suzanne Frey

Teresa Kersten

John Mackey

Randi Zuckerberg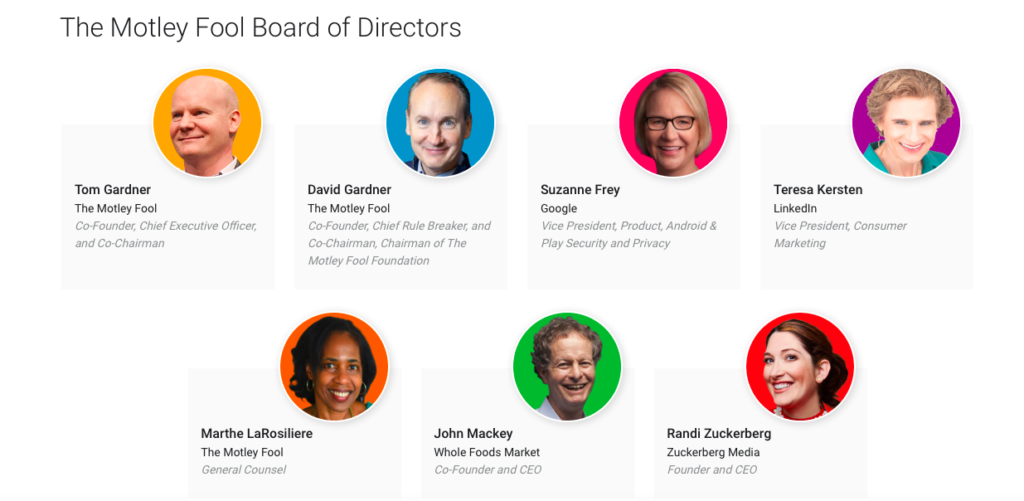 In truth, they are behind much of the growth that the organization has seen.
They have guided The Fool to become a reliable, high-performing option within the world of investment research.
Some board members have been with The Motley Crew since its early days, while others have joined in the last few years.
Is The Motley Fool Legitimate?
Yes, the Motley Fool is legit.
It is a multimedia financial services company that provides genuine market insights for folks looking to even the playing field.
We've reviewed many of The Fool's offerings and can say that its subscription newsletter services provide a level of research quality that few firms can match.
Its extensive two-decade run has given it ample time to produce a catalog of exceptional newsletters, products, and monthly stock picks.
The company employs top-tier talent and lets them loose to helm their own services.
Who Owns Motley Fool: Final Thoughts
What started as a small investment website in a sea of financial firms has grown into a research powerhouse that everyday folks and institutional investors look to for cutting-edge stock market insights.
Maintaining its original goal of leveling the playing field, The Motley Fool has succeeded in becoming a go-to investment research firm that provides newsletter services, products, and educational content to over 700,000 premium subscribers worldwide.
This is a top-tier research firm that should be on your radar if you're in search of quality insights backed by an impressive track record.
Motley Fool FAQ and Recap
Follow along for our answers to the most frequently asked questions about Motley Fool.
Who Created the Motley Fool?
The Motley Fool was created by brothers David and Tom Gardner, as well as Erik Rydholm, in 1993. According to its founders, "The Motley Fool's name comes from William Shakespeare's play As You Like It. The court jester, known as the Fool, could speak the truth to the king and queen without having his head lopped off."
Is Motley Fool a Private Company?
Yes, Motley Fool is a private financial and investment research company. This means that it does not answer to shareholders, and it does not have stock trading on public markets. It will likely remain this way for the foreseeable future.
Who Is Motley Fool Owned by Now?
The Motley Fool remains privately owned by its co-founders, Tom and David Gardner. The company does not have any outside investors, which means that the Gardners have full control over the business.
Is Motley Fool a Hedge Fund?
No, Motley Fool is not a hedge fund. Hedge funds are investment vehicles for high-net-worth individuals and institutions. They are typically only accessible to investors with a large amount of capital to invest. Motley Fool is open to anyone who wants to sign up for its services.
Is Motley Fool Owned by a Hedge Fund?
No, Motley Fool Holdings Inc. is not owned by a hedge fund. Hedge funds typically only invest in other companies, they do not own them outright. Motley Fool is privately owned by its co-founders, Tom and David Gardner. From our research, we could not find any connection between the Fool and hedge funds, like Citadel.