For almost 30 years, The Motley Fool has existed as an online financial platform that offers a variety of paid and free financial services.
But who owns The Motley Fool? Read on to find out.
Overview: What Is The Motley Fool?
Headquartered in Alexandria, VA, The Motley Fool helps novice and professional investors navigate stocks, retirement, and personal finance.
The Motley Fool is a financial and investment advice platform that offers free and premium services to website visitors.
From personal finance advice to podcasts and articles, The Motley Fool is a staple in the world of online finance.
The Motley Fool is most known for its most popular offerings, Stock Advisor and Rule Breakers, both monthly subscriptions which offer stock picks and investment advice.

Ready to build your portfolio? With Public.com you can follow other investors, discover companies that are inline with your beliefs, and invest into stocks and crypto with very little money! What are you waiting for? Check out Public Now!
Motley Fool's Founders: Brothers David and Tom Gardner
The Fool was founded by David and Tom Gardner.
For the last three decades, David and Tom Gardner survived and thrived during the stock market crash and the dot.com crash and remained on top of the world of personal finance.
Today, the company is made up of several sub-brands and is still owned by brothers David and Tom.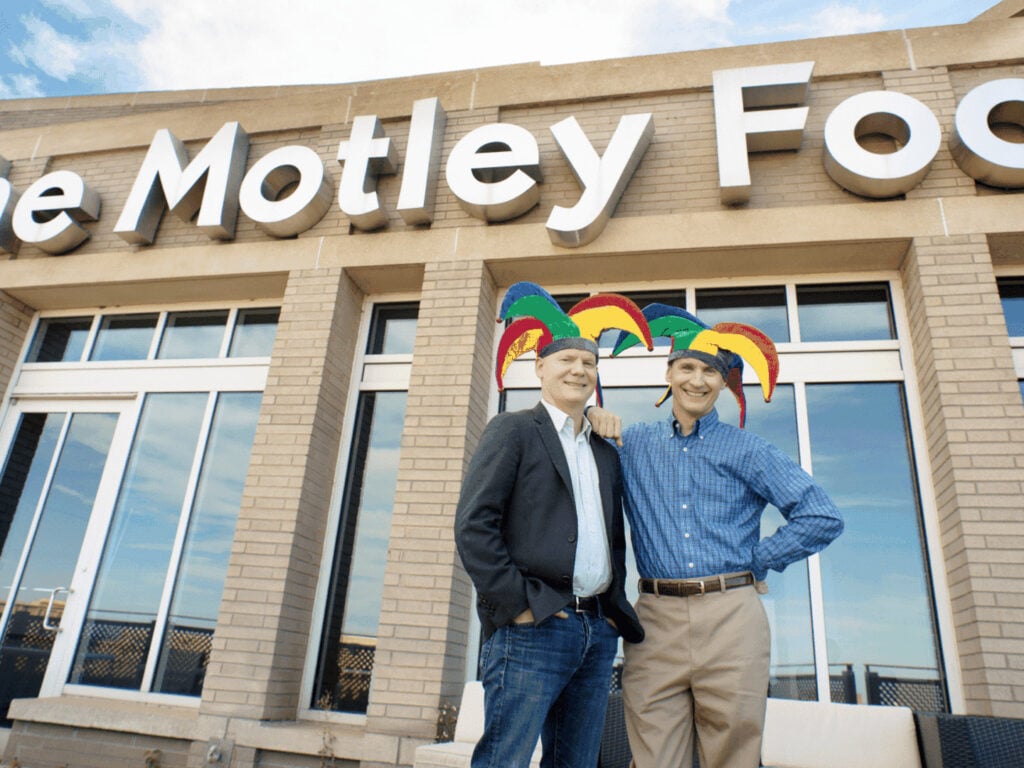 More on Motley Fool
The Fool offers casual information about industries, investment strategies, and other beginner topics for investors trying to understand how to navigate the stock market.
This information is made available through free podcasts, news, articles, and blogs, while premium material such as stock advice, hot stocks, and actual investor advice is available to members.
The company has been around for 28 years to date and has weathered several large storms.
Motley has steadily evolved from an online investment website that raised revenue via advertisements to a full-fledged financial advisor platform with subscription services and in-depth breakdowns on any industry you can think of.
History of The Motley Fool
The Motley Fool began as the brainchild of Tom Gardner, David Gardner, and co-founder Erik Rydholm who later left the company.
Run out of office space on 2000 Duke Street in Alexandria, VA, the company is known for its amazing work culture and regularly wins awards and mentions as a "top employer."
Employees speak highly of the company and it retains a 5-star rating on many popular employee feedback sites.
This is likely due to the attitude of its co-founders who started The Motley Fool with the intent of showing the world that finance could be fun in 1993.
In fact, The Motley Fool's own slogan is "smarter, happier, richer".

The company works to deliver all three in that order through subscriptions, podcasts, articles, apps, news, various media, its own newspaper, and premium services.
Motley Fool: The Rise of a New Class of Investor
Named after a court jester from a Shakespeare play, the company to date has shown remarkable growth — even after the wake of several significant events that forced the founders and chief executives to regroup and search for new revenue streams.
The result is an organization that is known for being unshakeable.
At its start, The Motley Fool was founded as an informational platform where casual investors and those interested in investing could learn the basics.
However, the content and media organization had to evolve when the dot.com bubble popped, and the company reinvented itself as a source for private financial services as well as an informational site.
The Motley Fool Reinvents Itself
In the aftermath of the stock market collapse and dot.com bubble, The Motley Fool was forced to lay off 80% of its staff.
But the organization looked hard at what was missing in the world of finance and came back in 2002 with a redesigned goal and website.
At the same time, the organization retained enough employees to continue to build on its original premise of multimedia information via regular posts.
The Fool used the internet as a platform to streamline its advice and reach more would-be investors than ever before.
The focus this time around was to compile data and provide monthly stock picks and financial services to premium subscribers.
With The Fool's revamped website you can search specific investor topics and stay up to date on investment news and data curated by the company.
The Fool's Hard Work Pays Off
The shift turned out to be an excellent decision by the co-founder, as the company could re-hire many employees and now has several physical locations and a web presence in the UK, Canada, Japan, Germany, the US, and Australia.
While many thought the company would move its headquarters to New York, it has remained where it was founded in Alexandria, VA.
To date, the company has over 700,000 subscribers.
New Branches of The Fool
Over the last few years, the company has been able to launch several sub-brands and companies including Motley Fool's The Ascent, Millionacres, and Investor Island.
The organization made the news heavily throughout the end of the 90s for its role in regulating the stock industry.
David and Tom Gardner heavily advocated for fair financial disclosure within mutual fund industries, which to date was passed by the SEC and is now regulated within private companies.
Who Owns The Motley Fool?
Motley Fool's current owners are still the original two brothers, David and Tom, who founded The Motley Fool originally at its headquarters.
They are both heavy investors who stay up to date on the latest news and data points to craft investment strategies so their clients can boost their private finances.
Tom Gardner serves as the current CEO, while David Gardner is responsible for handling the Rule Breakers investor arm of the company.
Who Are The Motley Fool Board Members?
The Motley Fool's board of directors is made up of the two brothers and several other notable investing geniuses from New York and DC.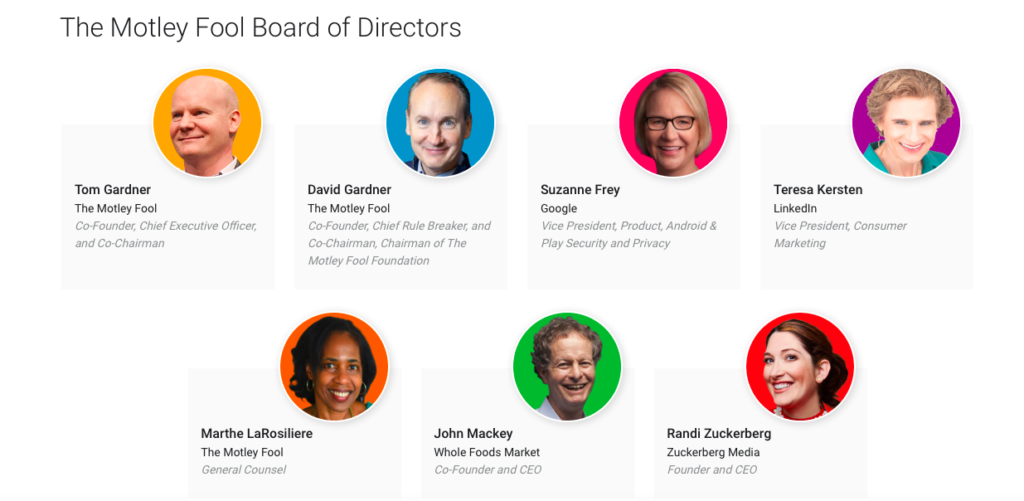 In truth, they are behind much of the growth that the organization has made over the last several years.
They have guided The Fool to become a reliable high-performing option within the world of online private financial companies.
Some board members have been with The Motley Crew since its early days, while others have joined in the last few years.
An Organization Helmed by Exceptional Talent
All members of The Fool are prolific investors of their own right, and some have even founded their own investing companies.
Some of the board members include:
John B. McKinnon, who is in charge of hiring and growth, Putnam Coes the chief operating officer of Paulson & Co.

Stever Kerr a Goldman Sachs senior advisor

Lloyd Sams, who has been with the Motley Fool since 1999, and Kerra McDonough the Motley Fool's chief performance officer
Now that you know who The Fool is, let's explore the company's user base.
Who Are The Motley Fool's Readers?
Motley Fool's investors are estimated to be in the millions at this date.
The company's site receives massive traffic on a daily basis.
Its traffic ranges from investors who simply want advice and those who are willing to pay for access to premium investment strategies.
Motley Fool Serves a Wide Range of Investors
With a variety of sites and sub-brands to serve all investor levels, The Motley Fool has extended its reach far beyond its original target audience.
Each post on The Fool's site is tailored to reach a specific audience, though many articles do have broad-range appeal.
Some users are serious investors with large portfolios who could speak to its worth, and others just want help with retirement portfolios.
The success of the Motley Fool has been based on the idea that the company can provide value to all types of consumers and web browsers.
Where Is Motley Fool's Headquarters?
Despite what is sometimes published, The Motley Fool is still headquartered on 2000 Duke Street in Alexandria, VA.
The company does have branch offices that are open throughout the world to serve international communities.
Final Thoughts: Who Owns The Motley Fool?
What started as a small investment website among many financial sites has grown into a trusted trading platform for those who want to know the details behind financial advice.
Motley Fool Inc. is owned by two extremely savvy investors who have worked alongside a board to create a new way to invest.
Infusing fun into the finance world is not an easy task but via multimedia tools, professional advisers, and an array of innovation, Tom and David Gardner have found a way to open up the stock market to beginners.
For more details about The Motley Fool check out its newspaper and revenue reports which speak for themselves.