Technology companies developed 5G as the successor to 4G technology, and after a decade of development, it finally became available in 2018.
Even then, it was only offered in very select cities throughout the US in 2019.
5G became widespread in 2020, and we can expect that growth to continue in the future.
The biggest advantage of 5G technology is much greater bandwidth and higher download speeds.
We're just beginning to discover the potential that 5G technology could have.
Some of its capabilities could include self-driving cars, smart integrated cities, improved military technology, and more.
In total, the global 5G market may be worth $11 trillion by 2026.
This means there's huge potential for investors who buy into the 5G market now.
Why ETFs?
ETFs, or exchange-traded funds, are a cheaper alternative to mutual funds.
ETFs are maintained automatically using technology instead of managers.
They have lower annual taxable distributions and have higher returns on average than mutual funds.
This is because they use mathematic algorithms to select the stocks in the fund.
ETFs carry lower risk than individual stocks because they are more diversified.
They are a great way for investors to benefit from growth in specific sectors.
By investing in 5G ETFs, you can benefit from the overall growth of this stock, while insulating yourself from the risk of individual stocks.
Do 5G ETFs interest you? Check out Trade Ideas to find great ETFs and more. Trade Ideas uses AI-based software for hassle-free trading. Get a jump start on your portfolio with this intuitive software today!
Ready to build your portfolio? With Public.com you can follow other investors, discover companies that are inline with your beliefs, and invest into stocks and crypto with very little money! What are you waiting for? Check out Public Now!
Best 5G ETFs
Defiance Next Gen Connectivity ETF (NYSEARCA:FIVG)
Defiance Next Gen Connectivity ETF is a 5G ETF that follows the Bluestar 5G Communications Index.
This index follows companies involved in the development and production of 5G technology.
This includes companies that make network equipment cellular antennas and routers, cloud computing equipment, new radio technology, fiber optic cables, cell towers, and mobile network operators.
This ETF has a total of 77 holdings. 82.5 percent of these are located within the US.
The ETF's top 3 holdings are Analog Devices Inc. (ADI), Qualcomm Inc. (QCOM), and NXP Semiconductors.
These companies make up 5.14%, 4.94%, and 4.87% of the ETF, respectively.
Since its inception in March of 2019, Defiance has seen an average annual return of 37.08%.
This ETF currently trades at its highest price ever, around $35.
There's still plenty of potential for this ETF to grow, so now is a great time to invest.
Vanguard Communication Services ETF (NYSEARCA:VOX)
The Vanguard Communication Services ETF is a selection of 112 stocks from the broader communications industry.
Most of the stocks in this ETF will directly benefit from the development of 5G technology.
Their top 10 holdings account for 68.4 percent of the ETF and include companies like Alphabet Inc. (GOOG), Comcast Corp. (CMCSA), AT&T Inc. (T), Verizon Communications (VZ), and more.
Not all of the companies in this ETF are directly involved in 5G technology.
45.8 percent of their holdings are in interactive media, and they also have stocks in the movie and entertainment industries.
Social media and entertainment are crucial parts of our society.
They've been especially important during the pandemic, as people have not been able to interact in person.
Furthermore, this ETF has average 3-year and 1-year returns of 11.29% and 29.95%, respectively.
This ETF has recovered well from the stock market crash of March 2020.
They currently trade at $123.54 per share.
VanEck Vectors Semiconductor ETF (NASDAQ:SMH)
The VanEck Vectors Semiconductor ETF is an ETF that tracks the MVIS US Listed Semiconductor 25 Index.
This index follows the performance of companies that make semiconductors and related equipment.
Semiconductor companies make microchips that are an essential part of consumer electronics like laptops and smartphones.
Crypto Alert
I'm A One Percenter
It doesn't matter if you have $500 or $5 million.
Here's what I recommend you do with your money right now.
ATTENTION: The following video is a serious financial warning from one of America's richest men. He believes this event will make the rich even richer while financially affecting countless others and fan the flames of social protest.
It's free to watch and by doing so I believe you'll be ahead of everyone else struggling to understand what is really going on. I hope you take advantage of this opportunity!
Click Here For All Of The Details
We earn a commission if you click this link and make a purchase at no additional cost to you.
As 5g becomes more prevalent, these companies will play an integral role in semiconductor production.
The VanEck fund has 25 holdings. The top 3 holdings are Taiwan Semiconductor Manufacturing (TSM), Nvidia Corp (NVDA), and ASML Holding NV (ASMLF).
These 3 stocks account for 13.33%, 6.75%, and 5.24% of their holdings, respectively.
Just like most of the other ETFs you'll find on this list, VanEck has been performing very well.
They are currently trading at an all-time high trading at $290.43 per share.
Most notably, the fund has an average annual total return of 55.54%.
Top 5G ETFs
First Trust Indxx NextG ETF (NASDAQ:NXTG)
The First Trust Indxx NextG ETF tracks companies involved in the research and development of 5G technology.
Every company in this ETF has a minimum market capitalization of $500 million.
First Trust Indxx NextG ETF's top two industry exposures include semiconductors and integrated telecommunication services.
These sub-sectors account for 25.14% and 13.7% of their total holdings respectively.
Altogether, the First Trust fund has a total of 100 holdings.
First Trust features a global portfolio, with holdings from the US, Indian, Japan, and more.
The ETF currently trades for $73.44 a share.
This ETF is well diversified, with everything from communication equipment to specialized REITs.
Investors should be aware of a relatively high expense ratio of 0.7%, but the huge earnings potential of the 5G market balances it out.
SPDR S&P Telecom ETF (NYSEARCA:XTL)
The SPDR S&P Telecom ETF is an ETF that tracks the performance of the S&P Telecom Select Industry Index.
This index focuses on companies involved with communication equipment, integrated telecom services, alternative carriers, and wireless telecom services.
The fund has 43 holdings, none of which account for more than 4% of the fund.
The fund's top three holdings are Iridium Communications Inc. (IRDM), Inseego Corp (INSG), and Viavi Solutions Inc. (VIAV). These account for 3.68%, 3.49%, and 3.48% of the fund, respectively.
This telecom fund has an average expense ratio of 0.35%. Their 1-year annualized total return comes in at 22.59%.
However, this underperforms the benchmark by just a few tenths of a percentage point.
Currently trading at $93.58, this ETF has seen the fastest growth in recent months of the selections on our list.
This is reflective of market growth of nearly 50% since September alone. Investors should keep their eyes peeled for the perfect moment to buy.
5G Technology ETFs
Pacer Benchmark Data & Infrastructure Real Estate SCTR ETF (NYSEARCA: SRVR)
The Pacer Benchmark Data & Infrastructure Real Estate SCTR ETF consists of real estate companies that focus on the data and infrastructure sectors.
This ETF includes some of the largest cell tower REITs and data center REITs on the market.
The fund's largest holdings include Equinix Inc. (EQIX) at 15.11%, American Tower Corp. (AMT) at 14.33%, and Crown Castle International Corp (CCI) at 14.02%.
The top 10 holdings in the fund account for 74.92% of the diversification.
Since its inception in May of 2018, the Pacer Benchmark Data & Infrastructure Real Estate SCTR ETF has had an average annual return of 17.67%.
The fund has an expense ratio of 0.6%, making it a little more expensive than some of the other selections on our list.
Their shares currently trade for $36.20 each.
Their overall market performance has stagnated somewhat, but these real estate properties have the potential to be hugely lucrative in the future.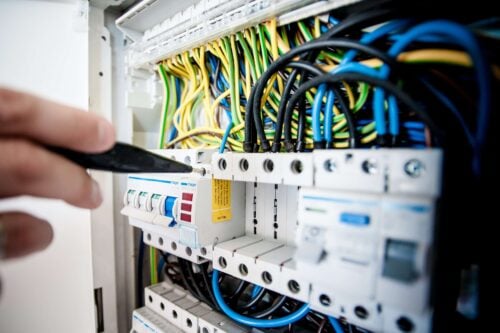 Cheap 5G ETFs
Global X Internet of Things ETF (NASDAQ:SNSR)
The Global X Internet of Things ETF tracks the Indxx Global Internet of Things Thematic Index.
This index consists of companies that make products or services relating to the Internet of Things, or IoT.
IoT is a broad concept where physical objects contain the technology to connect with one another using the internet.
Comprised of 47 holdings, the fund is well diversified, both in terms of industry and location.
The top 3 industries of focus in this ETF are semiconductors (35.21%), electrical components and equipment (14.79%), and technology hardware (10.76%).
The Global X Internet of Things ETF contains a range of different companies involved in IoT, which could all benefit from the expansion of 5G technology.
The top 3 holdings are STMicroelectronics NV (STM), Skyworks Solutions Inc. (SWKS), and Advantech Co Ltd. (TPE). These account for 6.45%, 6.36%, and 5.87% of the total portfolio, respectively.
Additionally, the ETF has a relatively high expense ratio, at 0.68%. This ETF is currently performing the best it ever has, trading for $33.89 a share.
Global X MSCI China Communication Services ETF (NYSEARCA: CHIC)
The Global X MSCI China Communication Services ETF tracks the MSCI China Communication Services 10/50 index.
This index follows the performance of small and mid-cap securities in the MSCI China Index from the communication service sector.
The fund has 37 holdings, including reputable companies like Tencent Holdings Ltd. (9.58%), Netease Inc. (9.09%), and Baidu Inc. (8.55%).
The industry breakdown is quite diverse and focuses heavily on entertainment (41.14%), and interactive media & services (30.52%).
The fund has an expense ratio of 0.66%. They have been relatively volatile over the past several years, especially when compared with other ETFs on this list.
This is likely a result of strained political relationships with China in recent years as a result of the Trump presidency.
China is quickly becoming an international economic superpower, and this fund is a great way for investors to benefit from that.
Stock Advice That Beats The Market!
Stock Advisor's recommendations
have beaten the market over the past 19 years. Tired of picking losers?
Stock Dork readers can join for only $99 a year!
Check out Stock Advisor today!
Should You Buy 5G ETFs?
There will be trillions of dollars flowing into the 5G industry in the coming years.
Investors who buy in now could see massive growth in their portfolios.
Many companies will be relying on 5G technology to increase their bandwidth and download speeds.
Those who do so could see improved performance as well.
Which of the 5G ETFs in this article piqued your interest? Check out these ETFs and more on WeBull. When you join the WeBull platform today, you'll get a few free stocks just for joining!
5G ETFs: Final Thoughts
We're just starting to see the true capabilities of 5G technology and how it can integrate into our lives.
We have yet to see the full potential of the 5G network and how it could improve our lives.
Now is a great time to invest in 5G technology while it is still in its early stages.