Trading Journals are one of the most important tools in any self-directed investor's arsenal. Today, we're reviewing the top trading journals to see who's number one! Stay tuned for our best trading journal review to find out which journal is on top.
What Is a Trading Journal?
If you're serious about mastering the market, you should keep a trading journal.
A trading journal is like a diary for your life as an investor, and it's essential for keeping a clear focus on your results on trading platforms.
Many people keep detailed records of their trade history and trade data in journals.
These commonly used resources are invaluable for traders of all skill and experience levels.
Trading journals are a very personal resource, so they differ greatly in detail.
Some traders simply record their entry/exit positions and trade outcome.
Others take more detailed accounts and build a spreadsheet trading journal that includes detailed information on their perceptions leading up to the trade, post-trade emotions, and more
However, few traders keep their journals in a notebook these days.
It's clunky, and something as simple as spilling your morning cup of coffee can wipe out years of trade history.
More on Trading Journal Software
There's a litany of powerful trading journal software available online, and they offer vastly superior capabilities to an old-school notebook.
Modern trading journal software includes sophisticated features to track trades efficiently and painlessly.
They make it so easy to keep a trading journal that there's no good excuse not to have one.
Some are run through browsers while others are downloadable trading journal software.
We'll look at some of the best trading journals in this review, so stay tuned.
But first, why should you keep a trading journal?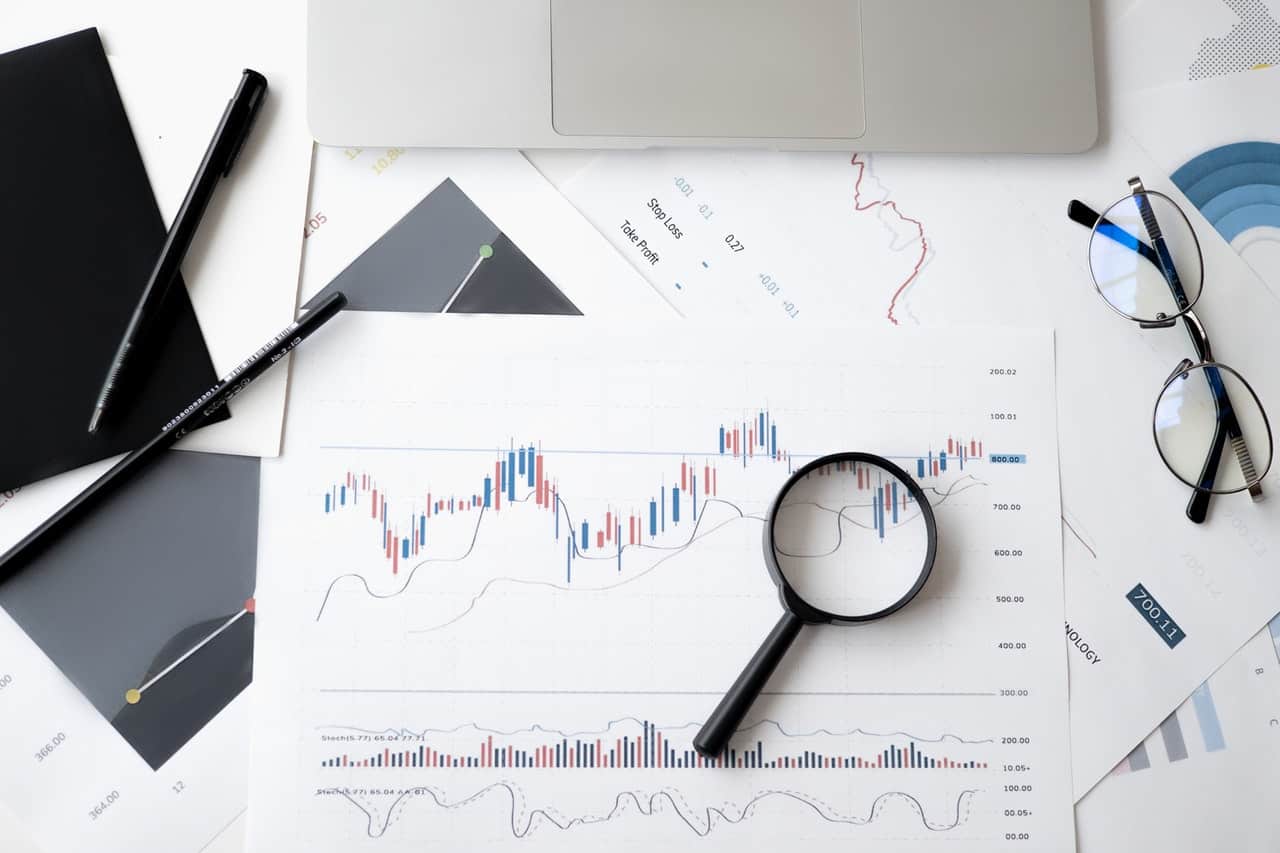 Why Keep a Trading Journal?
Trading is not a skill that can ever be completely mastered.
It's a constant learning experience, and the market is always ready to throw you a curveball as soon as you think you have figured it out.
Your best friend in your quest to conquer the markets is data, and trade journals help you keep track of it.
The more data you have, the greater likelihood you can draw valuable insights from the information.
Why It's Important to Track Performance Data
One of the most valuable sources of data you have is your own first-hand trading experiences.
Unfortunately, it's hard to keep track of your thoughts and insights without keeping a detailed record.
Trading journals automatically organize and store your trading data in a centralized location so you can thoroughly analyze your results and improve your performance at a much quicker pace.
This is also exceptionally useful for performing risk analysis.
But what features should you look for to know you've spotted a good trading journal?
Here are some journal features to keep an eye out for:
Can track multiple asset classes and trade types (stocks, options, futures, forex, and cryptocurrency trades, etc.)
Easy-to-interpret user interface
Effortlessly tracks trading activity and trade history
Detailed reports
Build Better Trading Strategies with Valuable Insights
Modern trading journals make it even easier to draw insights from your trading data.
Most platforms can even automatically analyze your results so you can improve even faster.
But which online trading journal is top of its class?
Here are our top three picks for the best trading journal software.
The Best Trading Journal: Overview
Today we're going to look at some of the top trade journals from across the internet.
Each of these trading journals has a lot to offer, but which ones give you a competitive advantage?
We're here to find out.
Keep reading for a full breakdown of our top-3 trading journals, so you can decide which has the potential to sharpen your trading edge and help you dominate the financial markets.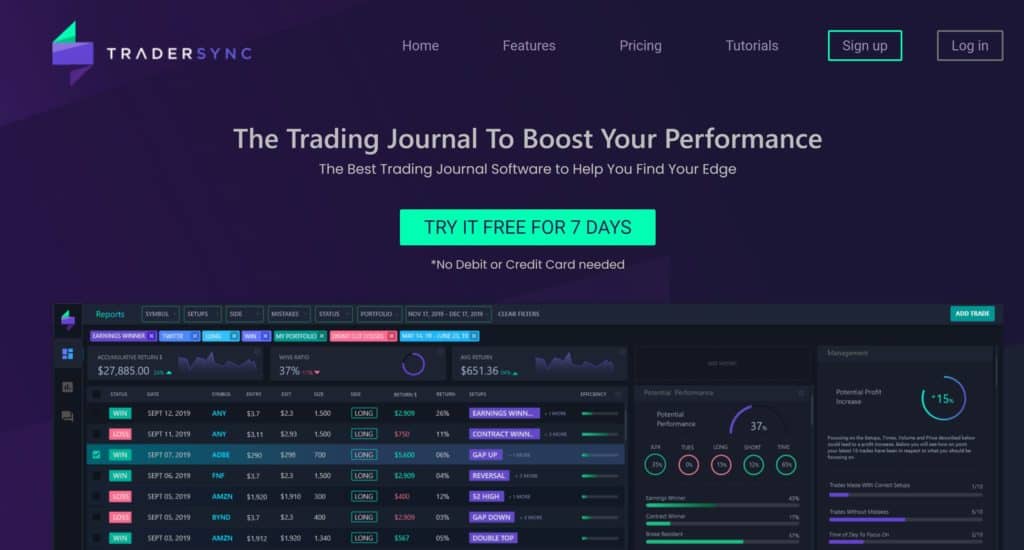 Best Trading Journal: TraderSync Review
TraderSync is a top-tier trader journal with a slew of fantastic applications for traders on the go.
It has a host of sophisticated features to help you track your trading activities and trading performance, including charts, analysis reports, a trade simulator, and more.
Also, the software has an artificial intelligence engine that automatically analyzes your trade data and trade history to find hidden patterns and other insights you might not be aware of otherwise.
TraderSync also has social features that allow you to engage with a wider trading community.
The sharing settings are totally customizable so you can choose what you want to share and who you want to share it with.
>> Read Our Full TraderSync Review Here <<
TraderSync Pros
Built-in interactive charts with customizable exit targets and stop-loss settings
Daily journal summary report
Easy to import trades
Minute-by-minute intraday charts
Customizable social sharing
Specific analytics for every trade
Can keep track of unlimited trades with Silver Plan
Built-in notebook for journaling
Tracks commissions and fees for more accurate profit-loss records
10 powerful reporting tools plus drill-down and calendar reports
AI-powered feedback and patterns
Trade simulator
Worldwide market support for stocks, options, futures, and forex
Mobile app available
Customizable dashboard
7-Day free trial period
Offers a free version with limited functionality
Enter your trades manually or import them from your broker
TraderSync Cons
Some features require upgraded memberships
No refunds
User interface can be intimidating for beginners (should be fine for the average trader though)
Why We Like TraderSync
TraderSync's robust selection of features could significantly improve your trading outcomes.
The platform analyzes your trades and produces insightful reports so you can get even more out of your trade journal.
Plus, the built-in trade simulator allows you to test new trading strategies without risking any of your hard-earned dollars.
This feature alone could save you untold amounts of money over time.
All and all, we think TraderSync is a great all-around option for just about anyone who wants to closely monitor trading activities.
However, the free version has limited functionality, so you will have to pay for a monthly subscription to use the software to its full potential.
Regardless, TraderSync makes it easy to refine your trading strategy thanks to its arsenal of technical analysis features.
Plus, the AI feedback makes it easy to find useful patterns in your trades.
Access our complete TraderSync review here and learn more about this powerful platform.

Best Trading Journal: Tradervue Review
Tradervue is another excellent piece of trading journal software and was one of the very first trading journals to hit the market.
This platform gives you the power to journal, analyze, and share your trades with minimal difficulty.
This journal has a straightforward, utilitarian interface that's user-friendly and easy to navigate.
However, its simplicity doesn't come at the cost of functionality.
Tradervue has all the features you expect from a high-quality investing journal, including a social component that lets you link up with friends and publish your trades.
Tradervue has everything you need to effectively track and improve your trading performance.
So it's a good trading journal for traders of all skill levels.
>> Read Our Full Tradervue Review Here <<
Tradervue Pros
Auto-import your trades from your broker
Clean & simple user interface and possibly the best broker importing support
Price charts and trade notes
Adds tags to your trades and generate custom reports
Filter trades by symbol, tag, duration, or date range
Special features for working with mentors and coaches
Integrated chart studies
Running P&L charts
Multi-currency trade tracking
Adjustments for commissions and fees
Automatic reports on liquidity, risk analysis, and more
Share your trades with adjustable privacy settings
Connect with friends and other traders
Affordably priced
Free accounts available with limited functionality
7-Day free trial for Gold & Silver accounts
Tradervue Cons
Advanced features require a paid subscription
No AI-powered insights
Why We Like Tradervue
Tradervue is an easy-to-use trading journal with many tracking capabilities.
It has a user-friendly dashboard that makes it easy for beginners and active traders to get started quickly.
Tradervue's subscription rates are on the lower end of the spectrum, so it's a good option if you want a trading journal that doesn't break the bank.
The platform's sharing features are also compelling.
Tradervue makes it easy to collaborate with a coach or mentor directly through the platform, and you have total control over your sharing settings.
Tradervue offers a unique balance of value, affordability, and functionality.
It's an excellent option for anyone who's in the market for a well-balanced trading journal.

Best Trading Journal: Trademetria Review
Trademetria is an excellent all-around trading journal that also functions as a portfolio tracker and trade analyzer.
This trading journal allows you to monitor multiple metrics on multiple accounts, and it even has a built-in trade simulator so you can test your strategies without risking a dime.
With more than 140 supported brokers, Trademetria easily integrates with most brokers so you can import your trades quickly and efficiently.
Trademetria works on any type of device, and it's loaded with handy features.
This is a great trading journal for investors of all skill and experience levels.
>> Read Our Full Trademetria Review Here <<
Trademetria Pros
Supports integration with 140+ brokers or import manually via CSV
Monitors multiple accounts to easily track trade history and more
Available data for equities, options, futures, forex, CFDs, and cryptos
More than 30 built-in trading metrics
Extensive filter options for trade tracking
Intuitive charting futures
Keep organized notes with individual trade and daily journaling
Search, filter, and share your trading stats
Automatically display entry and exit points on daily, 1 minute, and 5-minute charts
Supports charts for 2500 US equities, most foreign equities, FOREX, and most futures
Auto plots stops and price targets
Trade simulator with savable settings
Includes data from 20+ world exchanges
Customizable account features
Export your trades for additional analysis
Affordable monthly rate
Basic features available for no cost
Trademetria Cons
No support for OTC stocks
No refunds once you subscribe
Delayed quotes
Order import caps for Free and Basic accounts
Why We Like Trademetria
Trademetria offers a robust selection of features for a very reasonable monthly rate.
It's a particularly attractive option if you trade with more than one broker because it supports multiple broker integrations.
It might not be the best option for day trading because of its delayed quotes, but Trademetria has everything most traders need to succeed.
If you're looking for an affordable trading journal with a robust feature set, Trademetria checks many of the most important boxes.
You can use Trademetria's tools to refine your trading strategy, conduct better trade analysis, and keep more organized notes for your trades.
Plus, the free version of Trademetria also has a strong feature set, so you can get a lot out of this trading tool without signing up for a premium account.
Trademetria has some limits, but it's a great all-around option for many traders.
Best Day Trading Journal
TraderSync (Read Our Full Review)
Tradersync has a fast-paced trading interface with support for intraday charting and real-time quotes.
It also allows you to run your positions through a number of AI-powered screens and metrics so you can make fast trading decisions on the go.
The real-time price data makes TraderSync a natural choice for day traders.
It also makes it easy to monitor your positions and track investor sentiment on the fly.
TraderSync has all the features you need for effective intraday trading, and it easily takes the title for best day trading journal on our list.
>> Signup for a free 7-day trial of TraderSync now <<
Best Trading Journal for Beginners
Tradervue (Read Our Full Review)
Tradervue is an excellent option for entry-level traders.
It has a very user-friendly dashboard that makes it easy to connect with friends and share your trading status.
Beginner traders will also appreciate Tradervue's affordable price tag.
You can get used to the platform using the free version, and the fully loaded gold tier costs just $49 per month.
If you're looking to get into a trading journal for the first time, Tradervue should be your first stop.
It's extremely affordable and easy to use, and it has all the features you would expect out of a premium trading journal.
>> Signup for a free 7-day trial of Tradervue now <<
Trading Journal with the Most Features
TraderSync (Read Our Full Review)
TraderCync takes the cake for the most feature-rich trading journal on our list.
This platform has a veritable arsenal of high-powered features that can help you perfect your trading strategies.
It's the only option on our top-3 list that allows users to analyze their strategies with a powerful artificial intelligence engine.
This feature allows you to spot trends and make insights you might miss with a regular trading journal.
In addition to its AI superpowers, TraderSync also has extensive social sharing features, a built-in trading simulator, and tick-by-tick intraday charts.
It's an excellent option for traders who want the most out of their trading journal.
>> Signup for a free 7-day trial of TraderSync now <<
Best Trading Journal on a Budget
Trademetria (Read Our Full Review)
If you're looking for an affordable entrance into the trading journal market, you can't go wrong with Trademetria.
This platform has a solid set of features and the fully loaded premium subscription costs just $29.95 per month.
Trademetria also offers a free version, but it has limited functionality.
You can also go for the mid-tier basic plan that costs $19.95 per month, although you will have to deal with caps on order imports and broker integrations.
With costs that low, Trademetria is a great option for newer traders who want to try out a trading journal for the first time.
Despite its affordability, Trademetria has extensive capabilities, and it can significantly benefit your trading outcome.
Its capabilities are more than sufficient for most types of traders.
>> Signup for Trademetria for free now <<
Conclusion: What Is the Best Trading Journal?
Trading journals can help traders take a much more analytical approach to the market.
You can garner valuable insights by tracking and analyzing your trades in an orderly, organized fashion, and trading journals are the perfect tool for the task.
Many of the best trading journals also have other trading tools built directly into their platforms, including stock screeners, trade simulators, and chart analysis.
With such vast capabilities, these trading journals could quickly become the go-to trading tool in your arsenal.
These tools can help you refine your trading strategies to a finely honed edge and significantly improve your trade outcomes.
Improve Trade Analysis Today
If you're ready to get serious about trading, getting a quality trading journal should be the first item on your to-do list.
They're essential resources for tackling the market in an organized, strategic fashion.
Our picks for the best trading journals are great places to start, but they represent just a small part of a vast market niche.
Check out our reviews on these trading journals to learn more about these high-quality options.