Caterpillar is a well-known American company that manufactures mining and construction equipment.
Its branded merchandise is easily recognizable, and the company has grown to be the largest construction equipment provider in the world.
In this article we will look at the company closer and explore some of the biggest Caterpillar competitors.

What Is Caterpillar?
Caterpillar was formed in 1925 due to a merger between Holt Manufacturing Company and C.L Best Tractor Company.
It manufactures construction machinery and industrial machinery for the mining industry.
Alongside their construction business, they also deal in gas turbines, engines, diesel, and electric locomotives.
The company has its headquarters in Deerfield, Illinois, and is publicly traded under the ticker symbol CAT.
Caterpillar employs over 100,000 people worldwide and had revenues of $51 billion last year.
The company has been able to drive significant recurring revenue through its sale of parts.
Caterpillar derives most of its profits from its international business which equates to 54% of its revenue, while North American sales account for 46%.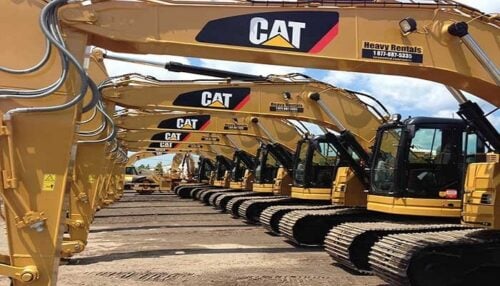 Caterpillar SWOT Analysis
Despite the competitive nature of the industries it operates in, Caterpillar is likely to stay the industry leader.
Strengths
Caterpillar is the global leader for construction equipment with a strong brand identity that works in their favor.
They have the advantage of a good reputation and innovative, good quality products.
The company is comfortably in the lead against its competitors but its competitors all show strong growth which means Caterpillar can't afford to be complacent.
One of its biggest strengths is the sheer size of its dealer network.
The company has good coverage that spans every continent.
Outlook for the company remains positive as they invest in product design and brand development.
Weaknesses
Caterpillar's Days of Sales Inventory (DSI) is longer than industry average, tying up capital that could be used elsewhere.
The company is somewhat weighted towards reliance on the US and Canadian markets, having less market share internationally.
Some analysts feel Caterpillar's business growth is slowing, and will eventually be replaced by new technology.
Opportunities
Caterpillar has opportunities in emerging markets in the heavy equipment sector. Automated mining solutions and alternative fueled equipment are two proposed strategies.
Moving to natural gas engines may create a competitive advantage.
Investing in Research and Development for renewable energy options at job sites, and within the company's construction and mining equipment.
Threats
Threats to the company include economic and political tensions, such as trade sanctions between China and the US, and the Russian invasion of Ukraine.
Caterpillar faces competition from other large companies attempting to gain market share, and small locally owned companies who serve their immediate communities.
As laws change and unions become more common, workforce costs will increase. Likewise, a tight labor market may make it difficult to fill empty positions as needed.
Government regulations and taxes may erode at profits, or delay advances in growth or technological innovation.
Caterpillar's Biggest Competitors
The Caterpillar brand is easily recognized by its CAT logo as well as the yellow livery all its machines have.
Caterpillar has business interests in multiple industries, but the bulk of its revenue is driven by its construction manufacturing division.
It sells products such as tractors, excavators, motor graders, and loaders.
It also has a strong footprint in the quarry and mining equipment space which the company categorizes as 'resource industries.'
Alongside its manufacturing business, Caterpillar also offers financial products to partners and dealers.
The financing solutions allow for the leasing or purchase of Caterpillar equipment.
The company offers wholesale finance options, capital loans, and installment contracts, among other plans.
Let's take a look at some of Caterpillar's biggest competitors.
John Deere – A U.S. manufacturer specializing in agriculture machinery

JCB – A smaller company operating out of the U.K.

Volvo – The Swedish car manufacture which as a construction equipment division
John Deere
John Deere is a company that was founded in 1836 and is also based in Illinois.
It was founded by John Deere and has become one of the largest manufacturers for industries like agriculture, construction, and forestry.
The company operates under the name Deere and Company with John Deere remaining the brand name.
Together with Caterpillar, they make up the top two largest manufacturers of heavy equipment.
Of the two, John Deere is a slightly smaller company but still has impressive financials.
As of 2020, the company's revenue was $39.540 billion and it had an operating income of $3.883 billion.
The company is publicly traded on the New York Stock Exchange (NYSE) under the ticker symbol DE.
John Deere employs over 70,000 people and services countries around the world.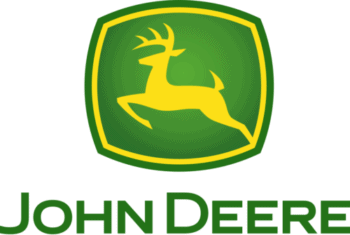 JCB
JCB is a privately owned company that is the industry leader in the UK.
It produces equipment for industries such as agriculture, demolition, waste management, and construction.
The company is headquartered in Rochester, United Kingdom, and operates in North American, South American, African, Asian, and European markets.
JCB owns and operates 22 factories around the world.
The company is still owned by the Bamford family and due to its status as a private company, it is able to be incredibly ambitious without investors to answer to.
When compared to Caterpillar the company is much smaller in scale and employs around 11,000 people around the world.
The revenue for JCB was reported to be $5.18 billion in 2019 and JCB is experiencing good growth.

Volvo Construction Equipment
Volvo CE is part of the Volvo group and competes with Caterpillar in many areas.
The company is one of the industry leaders for equipment such as agricultural haulers and wheel loaders.
It has helped to pioneer compact construction equipment as well as road development and excavation equipment.
This Swedish company has its headquarters in Gothenburg, Sweden.
Despite Caterpillar's substantial revenue and brand recognition, Volvo CE is aggressively expanding to compete with Caterpillar.
The company has a plan that will see them develop up to five locations in Illinois, bringing the fight to Caterpillar's and John Deere's front door.
It has partnered with Alta Equipment Company as its exclusive dealer in Illinois.
Volvo CE has a revenue of $9.2 billion with an employee count of over 14,000.
Caterpillar Competitors: Final Thoughts
Caterpillar's growth has largely been organic and it displays strong customer loyalty thanks to its exceptional products.
The company has also made various acquisitions that have helped to cement its leading position in the construction equipment market and others.
In 2011 the company acquired Bucyrus International, known for the mining equipment it produces.
Caterpillar also expanded into the rail industry when it acquired Progress Rail Services in 2006 and Electro-Motive Diesel in 2010.
Caterpillar's industries can be quite volatile especially in the resource industries.
One of the biggest markets is China which is undergoing rapid urbanization but eventually, this will start to level off as targets are met.
When this happens the demand for construction equipment is likely to diminish which could affect Caterpillar and its competitors.
The company remains in a strong position and is comfortably ahead of its biggest competitor John Deere.
Smaller, locally-focused companies like JCB provide strong competition in some markets, but Caterpillar's name recognition and brand identity allow it to remain competitive.