Even when the market is high, it will inevitably turn bearish at some point in the future.
Fortunately, gold stocks can provide a solid safety net in the event of a slowdown.
Investing in gold before such a downturn could be a prudent move and protect finances from the dip.
Gold prices have taken a hit in 2021.
The price dropped from $2,000 per ounce at the beginning of the year to approximately $1,700, where it currently stands.
Investors consider this drop a good opportunity to invest in gold stocks.
With the gold market so unique, there are a few things to consider before buying gold stocks.
How to Invest in Gold Stocks
When it comes to buying gold, investors have a lot of options.
Making direct investments in physical gold is the most straightforward way to go by purchasing actual gold bars or bullion.
You can also invest indirectly with various other financial instruments, including gold miner stocks and gold-focused funds.
It's even possible to use an investment account such as Goldco IRA.
As an advanced trader, you can also use gold price futures or options to gain exposure to the yellow metal.
Why Buy Gold?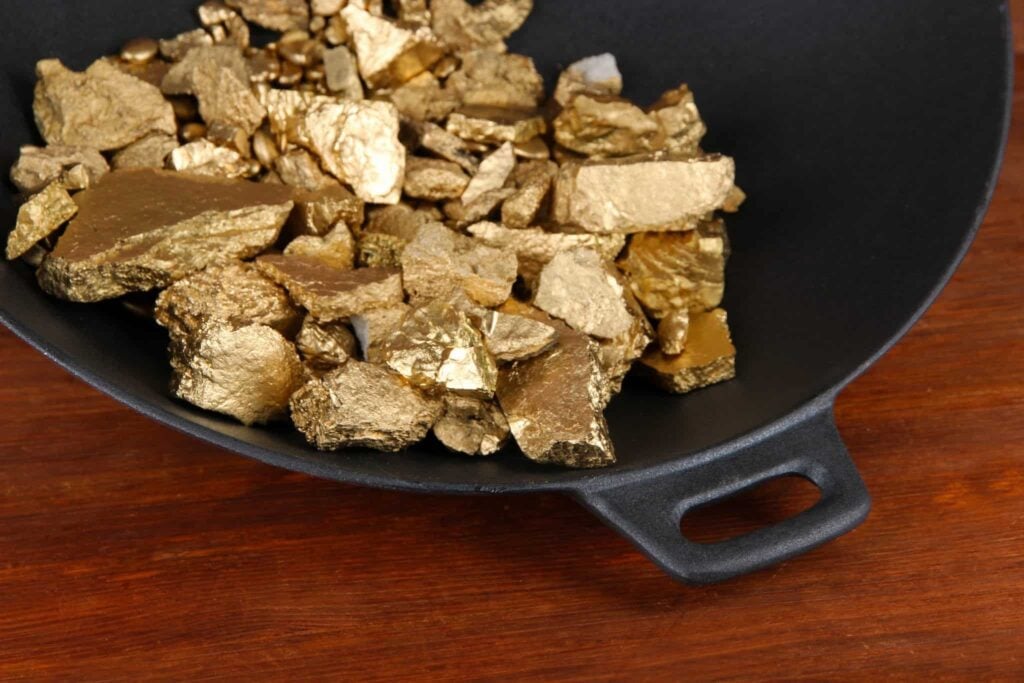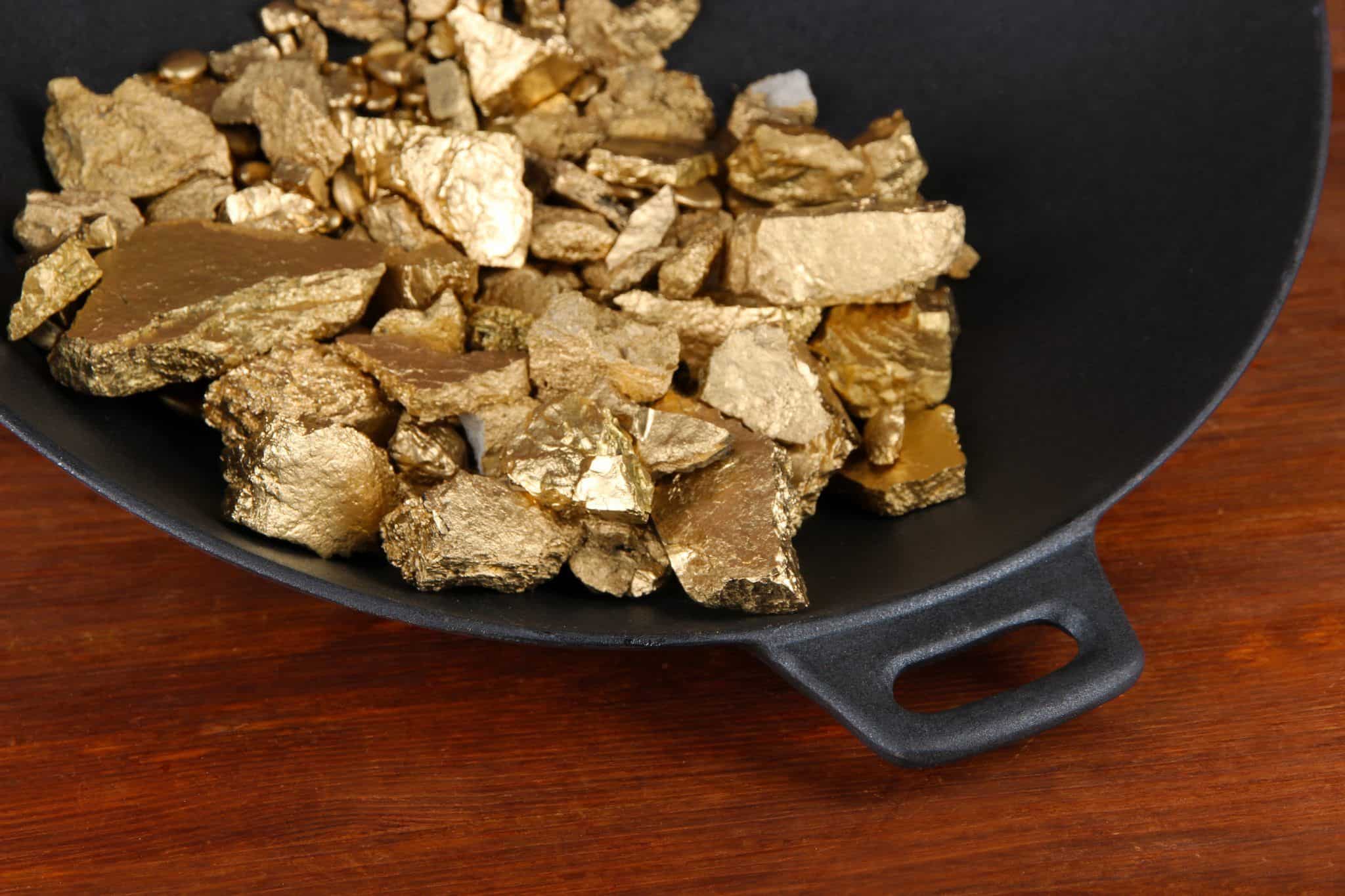 Many investors view gold as a hedge that can provide valuable protection against an economic downturn, stock market decline, or inflation.
Other benefits of investing in gold include portfolio diversification and risk reduction.
On the downside, the asset class may significantly underperform during periods of sustained economic growth.
Gold futures and options can be volatile, so investing in gold stocks or funds is a more conservative approach for the average investor.
Best Gold Stocks
Royal Gold (NASDAQ: RGLD)
Royal Gold works to acquire and manage precious metals while also dealing with royalties.
In its last fiscal year, ending just this summer, almost 75% of the company's revenue came from gold alone.
The other 25% came from other metals such as silver, adding some diversity to its portfolio.
Royal Gold saw record revenue growth over that same period of time.
The company does not do any mining of its own but instead pays miners up front for gold mined in the future.
This process, known as streaming, allows Royal Gold to buy the commodity at a reduced rate.
With contracts in place, this puts Royal Gold in a good position to profit even when gold prices are down.
One of the ways to invest in gold is through a gold ETF.
The iShares Gold Trust is one of the best mechanisms to get gold into your portfolio.
It tracks the price of gold bullion, offering the same returns as holding physical gold.
The IAU offers protection against inflation and allows you to invest in physical gold without stashing gold bars in your basement.
The fund launched in 2005, and it generated a 10-year annualized return of around 3%, which outpaced inflation during that period.
It is perhaps the most cost-effective way to invest in gold.
Wheaton Precious Metals Corp. (NYSE: WPM)
Wheaton Precious Metals is a Vancouver-based precious metal streaming company.
It is known for buying gold (and other precious metals) from mining companies and distributing them to customers worldwide.
Gold is by far their most sought-after commodity.
The company has several deals in place that have helped keep its stock price where it is.
However, since they rely heavily on the price of gold, the stock can see some volatility.
Gold Mining Stocks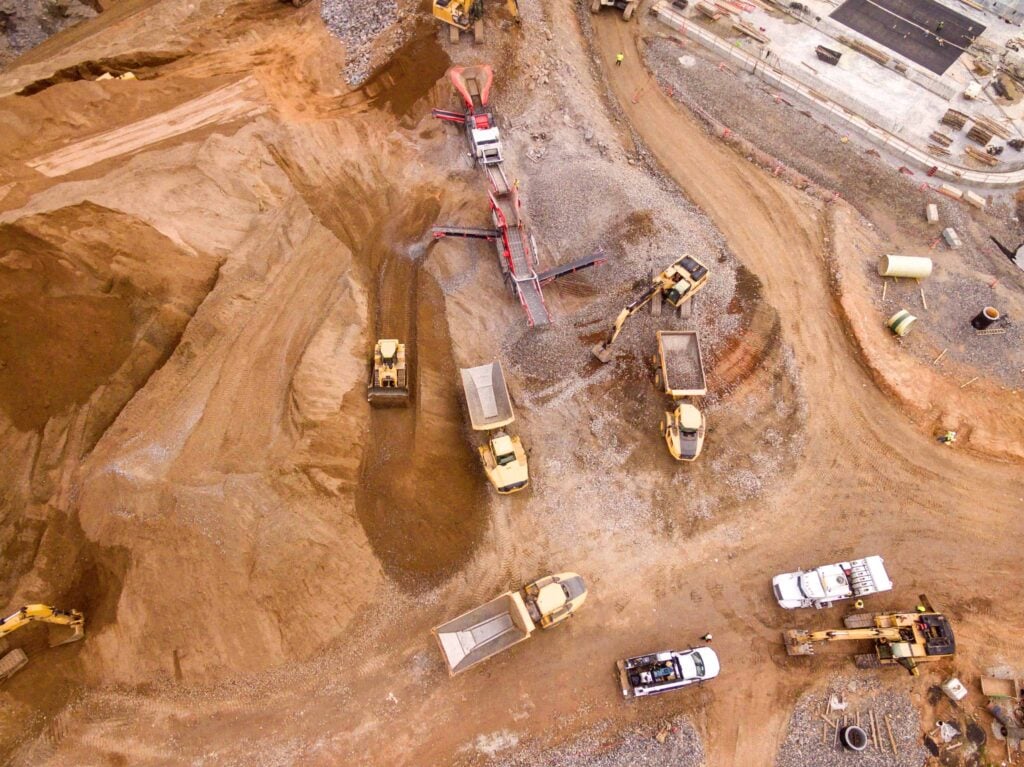 Gold miners typically have more upside than gold trusts but also more inherent risks.
These businesses tend to perform well when gold prices go up, but there is always the chance to encounter other operational issues that impact share prices.
Barrick Gold (NYSE: GOLD)
The world's largest gold mining company, Barrick Gold, has several exciting growth projects spread across five continents.
The company is currently focusing its attention on parts of Nevada and along the Andes mountains in South America.
The exciting new Turquoise Ridge, Goldrush, and Pascua-Lama projects are actively underway, among many others.
Its interests lie in Tier One mining operations which have at least ten years of life remaining and the ability to produce at least 500,000 ounces of gold each year.
Barrick Gold has ownership of four of the top ten gold mines in the world, and the company has the lowest cash-cost position in its peer group.
It has hopes to uncover five million ounces of gold annually from its mining operations by the year 2030.
The company's increased output, coupled with a push to lower operating costs, means Barrick Gold should see profits even when the price of gold declines.
Franco-Nevada Corporation (NYSE: FNV)
Franco Nevada is a Canadian gold mining stock.
It makes money from a series of agreements, including net smelter royalties and output pacts with gold mining properties.
The firm primarily focuses on generating revenues from gold, other precious metals, oil, and gas.
In 2020, over 70% of the company's revenue came from gold alone.
With such a broad focus, it's one of the most diversified gold miners.
The company benefits from royalties and streaming while also working to complete mining exploration projects.
Furthermore, the company had a debt-free balance sheet at the beginning of 2021.
Franco-Nevada's roughly half-million gold equivalent ounces (GEOs), royalty agreements, and business diversification make it a unique gold mining stock.
Newmont Corporation (NYSE: NEM)
Newmont is a large gold mining company headquartered in Colorado.
Newmont has mines in several countries around the world, covering the United States, Canada, Australia, Mexico, Ghana, the Dominican Republic, and countries in South America.
In addition to mining lead, copper, silver, and zinc, the company has a gold reserve with approximately 100 million ounces of gold.
The majority of its business is centered around the yellow metal.
In 2020, Newmont brought in nearly $11.5 billion from gold alone.
As 2021 presses on, the company hopes to bring in even more revenue from gold this year.
It is the only gold company currently on the S&P 500.
Investing in Gold
Gold can protect your portfolio from market volatility because it's a relatively stable asset.
Positions in gold typically perform well when investors aren't confident in traditional currencies.
Geopolitical tension, war, and poorly performing markets can all create uncertainties that may cause gold prices to rise.
Ultimately, gold stocks can protect investors from economic uncertainty and volatility.
Gold prices rose 18% in 2019, marking the highest annual increase since 2010.
Although gold has dropped some in 2021, this is a good time to buy the dip.
Gold typically performs well during periods characterized by low interest rates and uncertainty.
Like Treasury bonds, gold is a safe haven asset, so traders often buy gold when they are worried about the global economy.
Industrial Use of Gold
Beyond cash value, gold is an integral component of many sophisticated electronics, computing equipment, and high-end audio/video equipment.
Gold also has a variety of industrial uses.
As a result, spot prices can be affected by the supply and demand for industrial-use gold.
The vast majority of gold is held for value, but fluctuations in industrial demand for the element can affect prices.
How To Get Exposure To Gold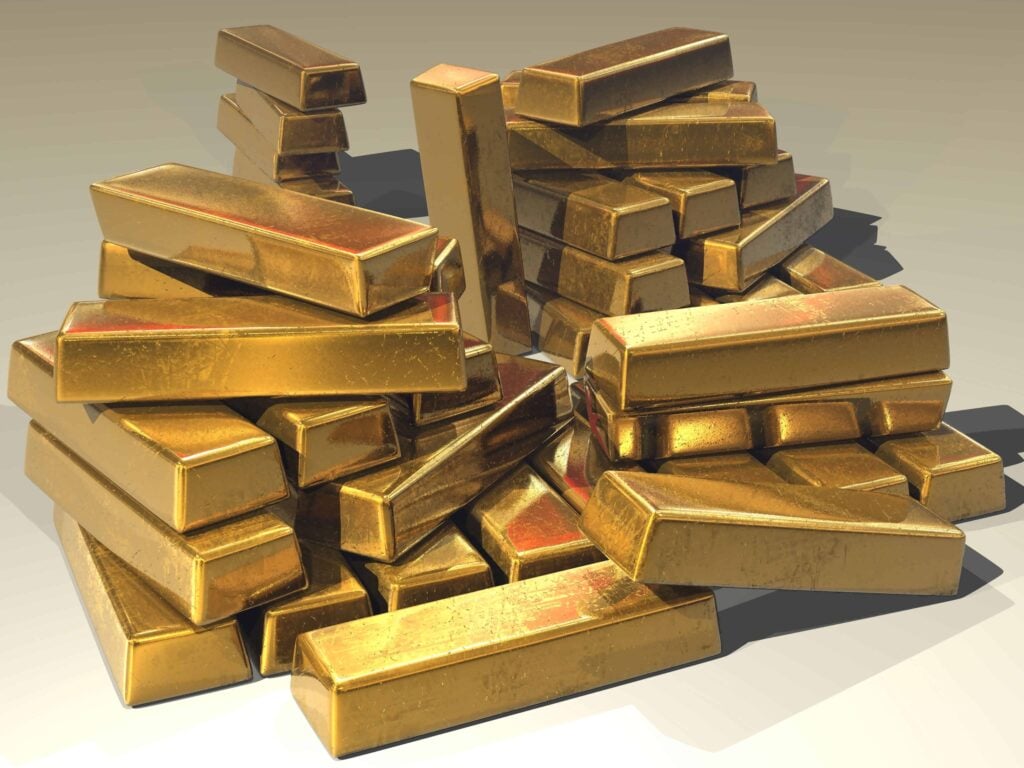 Now, there are many ways you can gain exposure to the gold market.
The first is buying physical bullion.
However, most investors don't want to store and secure physical gold, which is more complicated to buy and trade than stocks.
It's also possible to trade gold futures through a broker, but margins are relatively high.
It's not suitable for smaller trading accounts.
The easiest way to buy gold is through the stock market.
The SPDR Gold Shares ETF (GLD) tracks the spot price of gold bullion.
It's the most popular investment vehicle for most traders.
But if you're looking for better returns, your best bet is in individual gold-related stocks.
Gold stocks come in a variety of flavors, including miners, junior miners, and developmental-stage gold miners.
There are even a few gold miner penny stocks, but these smaller companies tend to be uncertain investments.
Finding and extracting gold is not cheap, so you need to do your homework when screening for gold stocks.
It takes time and money, so you want to look for well-capitalized firms with little to no debt.
Also, avoid companies that do the majority of their business in politically unstable countries.
Gold Stocks: Closing Thoughts
Market downturns are unpredictable, and the market can turn bearish at any point.
Buying gold stocks before such a swoon begins is a prudent move for risk-minded investors.
Gold stocks lower portfolio risk, protect against rising inflation, and are a vital part of any well-balanced portfolio.
Miners offer a higher risk-reward ratio, but ETFs are a slower and steadier bet.
Either approach can help you bunker down and protect your wealth.
Gold stocks can even outperform the market during difficult times.