Hydrogen stocks are poised to take off as hydrogen becomes an increasingly popular power source. With so much potential for growth, now is the perfect time to jump on the hydrogen bandwagon. So if you want to invest in a bright future, read and learn about the best hydrogen fuel stocks on the market today!
Hydrogen fuel cells (HFCs) are a (not so recent) discovery that has the power to dramatically change the energy industry.
In particular, they are used to power eco-friendly automobiles.
These fuel hydrogen cells use electrochemical technology to combine hydrogen and oxygen in a chemical process that creates electricity and heat.
What's the most incredible part of this? The only byproduct of this entire process is water, so it doesn't harm the environment.
While the actual process is a bit more technical than we've described, there are a few important takeaways.
Hydrogen fuel cell stocks are a great investment moving forward, and we've rounded up some of our favorites.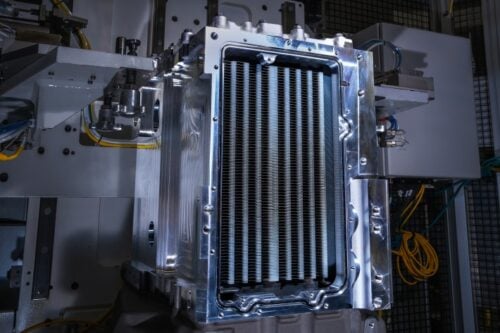 Fuel Cell History and Capability
Unlike normal batteries, fuel cells don't store power for a limited amount of time.
They generate energy anytime hydrogen is present. Luckily, hydrogen is the simplest and most common element in the universe.
While there are other renewable energy sources like solar and wind, they only work if the weather is sunny or windy.
Because hydrogen is much more accessible, it's become groundbreaking green technology.
It also has the added benefit of no harmful byproducts.
Hydrogen energy has a wide variety of applications, most notably in transportation.
They are also used to provide backup power to cell towers, factories, and more.
Fuel cells were invented in 1839 but developed much further in the 1950s.
NASA and the Russian Space Program used hydrogen fuel cells to power spacecraft starting in the 1960s.
Today, some of the world's largest companies use fuel cells to create green power.
As the world scrambles to slow the size of our growing eco-footprint, hydrogen-powered technology could be a game-changing solution.
This article covers some of the best hydrogen fuel cell stocks on the market today to harness this incredible technology.
Do you want to buy some of these green energy stocks? Check out hydrogen economy stocks and more on WeBull. With no commission fees, users will get a few free stocks just for signing up! It's perfect for new investors and veterans alike.
Best Hydrogen Fuel Cell Stocks
Bloom Energy Corp (NYSE: BE)
Bloom Energy is a California-based company manufacturing solid oxide fuel cells that produce hydrogen electricity on site.
Founded in 2001, Bloom Energy came to prominence in 2010 and raised more than $1 billion in venture capital before its IPO in 2018.
The company focuses on converting conventional energy plants to zero-carbon emissions plants for its clients.
Since the government finds its services very valuable, Bloom Energy is subsidized by federal green incentives programs.
With a market cap of nearly $2.95 billion, Bloom Energy has installed over 300 megawatts worth of hydrogen fuel cells.
A recent expansion of Bloom Energy made the headlines lately announcing a collaboration with several high-end cruise ships.
Chantiers de l'Atlantique and the MSC Europa will now be powered by BE's SOFC technology.
This is one of several initiatives the company is working on, and it stated that it'll keep looking for the finest solutions to help BE achieve this crucial goal.
Bloom has huge potential for growth as the world moves to eco-friendly energy solutions catering to various industries.

Plug Power Inc (NASDAQ: PLUG)
Plug Power is an HFC development company based in New York.
Its cells replace conventional batteries in electric-powered vehicles and other equipment.
Plug Power developed an incorporated hydrogen technology storage system that allows fuel cells to recharge in a matter of minutes, rather than the several hours that traditional batteries need.
The company's system also integrates fuel cells produced by both Plug Power and Ballard Power Systems.
By 2024, the PLUG wants to generate more than half of its hydrogen energy from renewable sources, according to its CEO.
It also wants to expand beyond forklifts to heavy-duty vehicles for ports in the United States and Europe, as well as stationary fuel cells to power data centers and distribution hubs.
Before 2021 ended, Plug Power and Edison Motors of South Korea signed a partnership to develop and commercialize a hydrogen fuel cell-powered electric city bus in 2022.
PLUG's ProGen technology will be used on these electric buses.
By the first half of 2023, the buses will be mass-produced and distributed across South Korea.
The company has seen several hundred percent increases in its market trade value.
As a $12.09 billion market cap company, Plug Power will probably continue to see great growth as one of the best renewable energy stocks.

Ballard Power Systems Inc (NASDAQ: BDLP)
Ballard Power Systems creates proton exchange of membrane fuel cell products.
Some of Ballard Power Systems' products include bus & tram applications, material handling, portable power, and engineered services.
Ballard Power Systems also makes clean hydrogen fuel cells for automobiles.
The company continues to score new deals with international companies looking to benefit from its innovative technology.
Some of these partnerships include companies like Audi, which has a deal running through at least 2022.
Ballard has a market capitalization of $3.11 billion.
The company has been very active since the start of 2022, from expansion to multi-million dollar orders.
It reported an operation expansion with Canadian Pacific's Hydrogen Locomotive Program, in line with the Ballard Power System's plan on transitioning diesel-electric power trains to hydrogen-electric power trains.
Also, a multinational electric power and construction company has placed orders for 31 modules totaling 3 MW of hydrogen fuel cell power from Ballard Power Systems Inc (NASDAQ: BLDP).
They kept the financial details under wraps.
To align with planned integration, testing, and deployment timetables, the company plans to deliver the modules in 2022 and 2023.
Overall, Ballard is putting itself in a dominant position as it starts the year with these profit earning movements.

Nikola Corporation (NASDAQ: NKLA)
Nikola has produced a number of zero-emission vehicles since 2016.
The company became most famous for its introduction of the Nikola-One hydrogen-powered electric vehicles.
Based in Arizona, Nikola recently entered an agreement with Arizona Public Service Company for the development of hydrogen-based fuel solutions in the transportation sector.
The company has struggled with a few controversies in recent months, which has been reflected in its market performance.
That said, the company is off to a great start on the market in 2022 by actively supplying Nikola Tre BEV and FCEV through a dual-source strategy with its customers.
Only after making modifications to its production facilities and meeting specific validation and testing milestones will Nikola be able to begin producing electric vehicles for sale.
NKLA is on the verge of a comeback this year.
Its technology will no doubt become mainstream in the near future.

Top Hydrogen Fuel Cell Stocks
Linde PLC (NYSE: LIN)
Linde has a unique involvement in the HFC space. The Ireland-based company manufactures and sells atmospheric gases.
It is also the world's largest industrial gas company by market share and revenue.
Its gasses include hydrogen, oxygen, nitrogen, helium, specialty gases, and more.
Hydrogen is one of the main market drivers for the company.
It has over 160 hydrogen stations for fueling, spread throughout the globe.
The company also has plans to create the very first hydrogen refueling station for passenger trains in Germany.
Linde is part of a special group called the Hydrogen Council.
This council is a devoted group of companies investing in hydrogen vehicles.
These vehicles are expected to compete with the existing electric car market.
The company has also invested in wind powered-plants that convert water into clean hydrogen.
Linde saw its peak share price in early November 2021 at $326 per share before taking a slight downturn.
But investors should not fret, everything looks good with Linde
On Linde's third-quarter financial call, for example, Sanjiv Lamba, the company's current chief operating officer, stated that the business has 260 hydrogen-related projects in the pipeline, totaling nearly $4 billion in prospective investments.
Unlike many of the other companies on this list, Linde's contributions to the hydrogen economy are much more diverse.
Not only is it involved in the supply of essential natural gas, but it also has its foot in the engineering, construction, and procurement markets.

Air Products and Chemicals Inc (NYSE: APD)
Similar to Linde, Air Products and Chemicals Inc sells gases and chemicals for industrial use.
It was one of the first companies to build hydrogen-producing and fueling stations in 1993.
Headquartered in Pennsylvania, APD serves a wide variety of customer bases.
These include customers in the energy, healthcare, industrial, food, and technology markets.
APD's hydrogen sales will be integral to fuel cell technology in the months and years to come.
Recently, the company inked a $12 billion air separation and power joint venture with Aramco, ACWA Power, and Air Products Qudra in Jazan, Saudi Arabia.
The company has completed asset purchase and project finance transactions, according to Air Products.
Also, Air Products will invest $4.5 billion to develop, own, and manage the world's largest blue hydrogen production plant in Louisiana, which will produce over 750 MMSCFD of blue hydrogen.
Its market value of $60.63 billion also means that it'll likely continue to do well, especially since it is one of the largest natural gas and chemical suppliers on the market.

Cummins Inc. (NYSE: CMI)
Cummins is an American multinational design and manufacturing company for multiple automobile parts.
These parts include hydrogen fuel cell systems, filtration, engines, air handling, controls, and more.
Headquartered in Indiana, Cummins sells its products in a network of over 190 countries and territories with approximately 6,000 dealers.
Earlier this year, Cummins entered an ongoing acquisition deal with Rush Enterprises to purchase its momentum fuel technology.
Additionally, the company partnered with Enbridge Gas on a project which aims to reduce its carbon footprint and greenhouse gas emissions in Ontario.
This $5.2 million pilot sustainability project is now up and running, serving the Markham community well.
Investors should watch for a price dip and swoop in for the buy for potential bigger returns.
Hydrogen Penny Stocks
SunHydrogen Inc (OTCMKTS:HYSR)
SunHydrogen is a penny stock in the renewable energy space.
The company focuses on producing solar-powered nanoparticle systems to mimic photosynthesis, which separates hydrogen from water.
The purpose of this hydrogen production is for fuel cells.
A first-generation product is under manufacturing processes.
The company continues to work on a lower-cost second-generation product for more widespread use.
This technology could revolutionize the way that we see and interact with renewable energy sources like the sun.
With solar-powered sources of hydrogen, our cars could run not only on solar power but also on the fuel cells that get hydrogen from the solar panels.
Although a small market cap company, HYSR can be one of the most promising plays within this segment.

FuelCell Energy Inc (NASDAQ: FCEL)
Fuelcell Energy is a company that manufactures and operates fuel cell power plants.
Specifically, FuelCell Energy makes SureSource HFC power plants.
These plants create hydrogen that's suitable for transportation and industrial applications.
Notably, the SureSource power green hydrogen plants are compliant with the State of California Low Carbon Fuel Standard and are also considered carbon-negative by the California Air Resources Board.
It started the year by opening its Yaphank Fuel Cell Park that will deliver clean energy in Central Long Island.
2021 Q4 reported $432.2 million in unrestricted cash and cash equivalents, compared with $149.9 million as of last year.
With a stunning sales backlog of $1.29 billion for that same quarter.
It's trading for less than $5 per share today.
Its $7.41 billion market cap and impressive market growth in 2021 could mean good news for investors.

Should You Buy Hydrogen Fuel Cell Stocks?
Some investors are skeptical of fuel cells, worrying that they are just another passing trend.
Many speculate that since they were part of the last tech bubble, they will be once again.
There's just one difference: the world urgently needs eco-friendly energy sources.
The earth is now in a race against time as our population is exponentially increasing.
Technology like hydrogen fuel cells can help us protect the planet before it is too late.
As a result, regulatory bodies are providing subsidies for eco-friendly technology.
Which of these HFC stocks caught your eye? Check out these stocks and more with Trade Ideas. The Trade Ideas platform uses AI-based technology for an accessible and easy-to-use interface for hassle-free trading!
Hydrogen Fuel Cell Stocks: Final Thoughts
Why not invest in a technology that will create a brighter future for your children and the many generations to come?
Many people had the same skeptical nature of Tesla at first, and look at where it is now.
The time for large-scale renewable energy is long overdue, and these listed companies can be a great investment for those that understand the true impact of green energy.