There's a rapid shift toward cleaner, more sustainable energy to lower carbon emissions and move away from finite fossil fuels. Savvy investors are taking note and searching for the top nuclear power stocks to get in on the ground floor of sustainable energy investment.
What Is Nuclear Energy?
Nuclear energy is a great way to generate electricity while reducing air pollution.
It's also clean and relatively cheap to run after nuclear plant construction.
Unlike solar energy and other forms of alternative energy, the electricity generated from nuclear technologies is massive and more sustainable.
This isn't to disparage other green energy sources; nuclear energy simply has an unparalleled output at the moment.
Nuclear Power Plants
Nuclear power plants produce nuclear energy by splitting atoms in a process known as nuclear fission.
With nuclear fission, the resulting heat from splitting atoms boils water into steam, and the steam turns the blades of steam turbines to power generators.
Organizations such as the World Nuclear Association advocate for nuclear energy as a safe, clean, and sustainable form of energy as well as one of the best ways to combat climate change.
Are There Downsides to Nuclear Technologies?
The downside to nuclear energy production is that it leaves behind radioactive waste material that poses environmental hazards — both during disposal and long after the plant itself has been decommissioned or abandoned.
While this is a great way to produce electricity, there are some hurdles this technology will need to overcome if we want to see it fully embraced by environmentally centered organizations.
Ready to build your portfolio? With Public.com you can follow other investors, discover companies that are inline with your beliefs, and invest into stocks and crypto with very little money! What are you waiting for? Check out Public Now!
Best Nuclear Power Stocks
Nuclear energy is not only one of the most reliable sources of power; it's also one of the cleanest.
Despite these benefits, nuclear power has never been popular with investors because its high upfront cost means low profits for years after construction begins.
This is why many start investing in cleaner energy through natural gas or biofuels.
However, what many investors don't realize is that they can skip these steep upfront costs by investing in already existing and well-established nuclear power companies.
Here are some nuclear energy companies you should consider investing in.
Exelon Corporation (NASDAQ: EXC)
Exelon Corporation is an American nuclear energy provider headquartered in Chicago, Illinois.
The company is known for being the largest nuclear power plant operator in the country.
This nuclear giant supplies 10 million customers with power and electricity through 23 nuclear reactors and 14 nuclear power plants.
Its services extend beyond nuclear, with interest in wind, solar, and hydroelectric power also.
These combined sources of energy output over 31,000 megawatts of power.
This ticker has a lot of power on the share side of things, with an increase of 35% over the last year.
Such an uptrend follows along with positive financial numbers across the board for the third quarter.
All signs point to Exelon continuing to see growth in the near future.
Centrus Energy Corporation (NYSEAMERICAN: LEU)
Centrus Energy is an American venture headquartered in Bethesda, Maryland, that supplies and offers nuclear fuel and services for different clients in the U.S. and other countries.
The company's primary goal and vision is to provide highly enriched uranium that is both reliable and diverse.
In doing so, Centrus can pursue its long-term vision of a carbon-free, renewable, and affordable power generation future.
Centrus is also behind one of the world's most advanced gas centrifuge processing systems that promise the full capability of uranium enrichment.
This can help meet long-term energy security requirements set by the United States government.
Although Centrus stock has leveled off some of late, it's still up 125% from last year at this time.
Revenue and net income numbers look very strong from September, possibly contributing to November's spike.
With share prices falling off that all-time high, investing now may be a way to sneak a few extra shares for your dollar.
Best Nuclear Power Company Stocks
BWX Technologies, Inc. (NYSE: BWXT)
BWX Technologies is an American supplier of nuclear components, technologies, and fuel to different nuclear plants operated within the United States.
The company also supports governments and private entities that operate nuclear facilities through its services.
Outlets for nuclear services include naval nuclear propulsion, nuclear medicine, and research test reactors.
In December, BWX was one of three companies called upon to support the deployment of small modular reactors in Poland.
The crew also provides fuel to NASA for nuclear thermal propulsion.
BWX share prices have been down of late, but all this recent positive publicity only paints the company in a positive light.
Investors are eagerly awaiting Q4 financials to see the impact these new services have.
While not the lowest it's been in the last five years, share prices are below average right now, making them that much more appealing.
Energy Fuels (NYSE: UUUU)
With a ticker you won't soon forget, Energy Fuels is the leading U.S. producer of uranium and vanadium.
The company owns the only operating conventional uranium mill in the United States, located in southeast Utah.
The White Mesa Mill has the capability to mill over eight million pounds of uranium per year.
Energy Fuels also operates out of a series of mines near White Mesa Mill to collect uranium and vanadium.
It also has its sights set on a location in Arizona that boasts the highest-grade uranium in the country.
With a firm foundation, Energy Fuels signed an alliance with RadTran to look into recovering radium and thorium for cancer research.
The company is already doing well for itself, with shares rising over 100% in the last year.
A new mine on the horizon and an interest in other rare-earth metals should only add to the interest in Energy Fuels.
Uranium Energy Corporation (NYSE: UEC)
Uranium Energy is an American uranium mining and exploration venture based in Corpus Christi, Texas.
It aims to satisfy the world's ever-increasing demand for cheaper and cleaner energy production through its products.
The company currently has control of one of the country's most prominent historical uranium deposits alongside projects in New Mexico, Arizona, and Paraguay.
With most of the United States' uranium located in the southwest, Uranium Energy is focusing its attention there.
In December, Uranium Energy acquired Uranium One Americas to become the largest uranium mining company in the U.S.
These changes have allowed Uranium Energy to increase shares by 90% over the last year.
The new merger and subsequent increase in revenue should only help to grow shares that much more.
Cameco Corporation (NYSE: CCJ)
Cameco Corporation is a Canadian uranium mining corporation headquartered in Saskatoon, Saskatchewan.
It is currently the world's biggest publicly traded uranium company and is the third-largest producer of uranium in the world.
Cameco is capable of producing more than 53 million pounds of uranium concentrates every year, thanks to its global network of uranium mines, reserves, and refineries.
The company has created a long-term customer relationship with Chinese nuclear energy companies.
In 2010, it signed a contract to supply China Guangdong Nuclear Power Holding Co Ltd., with 29 million pounds of uranium concentrate until 2025.
Cameco has accomplished similar uranium deals with multiple companies to supply China's move to incorporate clean energy into its power grids.
These efforts have pushed Cameco shares up 60% over the last year as the company looks to the future.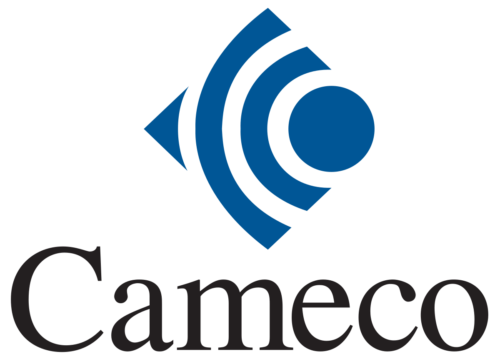 Nuclear Power Penny Stocks
Uranium Royalty Corp. (NASDAQ: UROY)
By acquiring, managing, and developing different uranium-related assets, Uranium Royalty Corp. works as a pure-play uranium firm.
The company invests in different uranium interests like royalties, streams, debts, equities, and actual resources across different companies in the same industry.
It manages a portfolio of some 15 different locations across the United States, Canada, and Namibia, while claiming royalties on most of them.
Physical uranium holdings at present are over one million pounds, with the average cost of uranium over $37 per pound.
Royalties are percentage-based but prove to be a constant source of income thanks to the demand for uranium.
Share prices rose 260% over 2021, likely as a result of this stable source of income.
Uranium Royalty Corp. has more options for royalties in the works, making this a viable long-term opportunity.
Denison Mines Corp. (NYSEAMERICAN: DNN)
Denison explores for and develops uranium from the Saskatchewan region of Canada.
The company holds onto 95% of the Wheeler River uranium project while maintaining several interests in other mines around the area.
It also has 50% ownership in an exploration company that operates in several joint ventures across Canada.
Denison has already done well for itself, but estimates uranium reserves in the range of 110 million pounds still under the soil.
With a lot of work still ahead, Denison's shares have climbed over 80% during 2021.
As long as the company continues to have success, there's no indication of this trend ending.
Ur-Energy Inc. (NYSE: URG)
Ur-Energy engages itself in the exploration, mining, recovery, and processing of uranium.
The company's facility in Wyoming was recently granted an expansion to produce up to 2.2 million pounds of uranium per year.
Several of Ur-Energy's operations around the facility supply the raw uranium for processing.
With more uranium coming in, the Lost Creek facility will ramp up quickly to meet the need.
This positive momentum has helped share prices, increasing 60% over the last year.
As Ur-Energy produces even more U3O8, it stands to reason share prices will follow.
Should You Buy Nuclear Power Stocks?
As the global demand for clean and renewable energy resources skyrockets, nuclear power and nuclear technology are becoming increasingly lucrative industries.
Countries around the world are putting mandates and bans on dirty energy that will keep nuclear in the limelight.
Most of these top companies are already doing well, and boosts in production, sales, and pricing will only help that much more.
While there are many nuclear stocks to choose from, the best nuclear stock depends on your investment goals and what kind of returns you're looking for.
Make sure to be wary of your investments by researching and reading a lot about the companies you plan to invest in before making any market moves.
Where to Buy Nuclear Power Stocks
Uranium may be a volatile substance, but that doesn't mean your stock picks have to be.
The best nuclear power stocks have enough volume to get listed on the major exchanges, such as NASDAQ and the NYSE.
We recommend using Robinhood or Webull to shop these markets.
Robinhood offers easy-to-use tools and a simple interface that make it easy to get straight to the heart of what you need.
Webull allows traders the ability to dive deeper into exchanges with more complex search tools.
No matter which you choose, both of these platforms are entirely commission-free.
Nuclear Power Stocks: Final Thoughts
Investing in nuclear power stocks provides you with an excellent opportunity to profit from one of the world's fastest-growing energy resource industries.
Many utility companies already rely on nuclear energy, so it's a staple technology that is likely here to stay for the foreseeable future.
The nuclear power industry will only continue to grow as the world transitions toward clean, safe, and renewable energy for electricity generation.
While some may have reservations about nuclear energy, many experts believe it will set us on the quicker path to reducing carbon emissions, reducing our dependence on fossil fuels.