Pennystocking Silver is a premium newsletter subscription service created by Timothy Sykes that focuses on penny stocks and penny stock trading.
Our Penny Stocking Silver review will break down everything you need to know about the platform so you can decide if it is right for you.
Tim Sykes' Pennystocking Silver is a popular newsletter service that provides thousands of video tutorials, trading courses, and tips to optimize trading strategies for experienced traders and new traders alike.
It also offers a real-time look into the stock market so traders can make more educated decisions and trade penny stocks just like Tim Sykes.
But who is Timothy Sykes, are Pennystocking Silver's videos lessons informative, and is this penny stock hub the real deal?
Our Timothy Sykes review and Pennystocking Silver review should give you a better idea of whether you should invest heavily in Tim's learning platform and trading courses.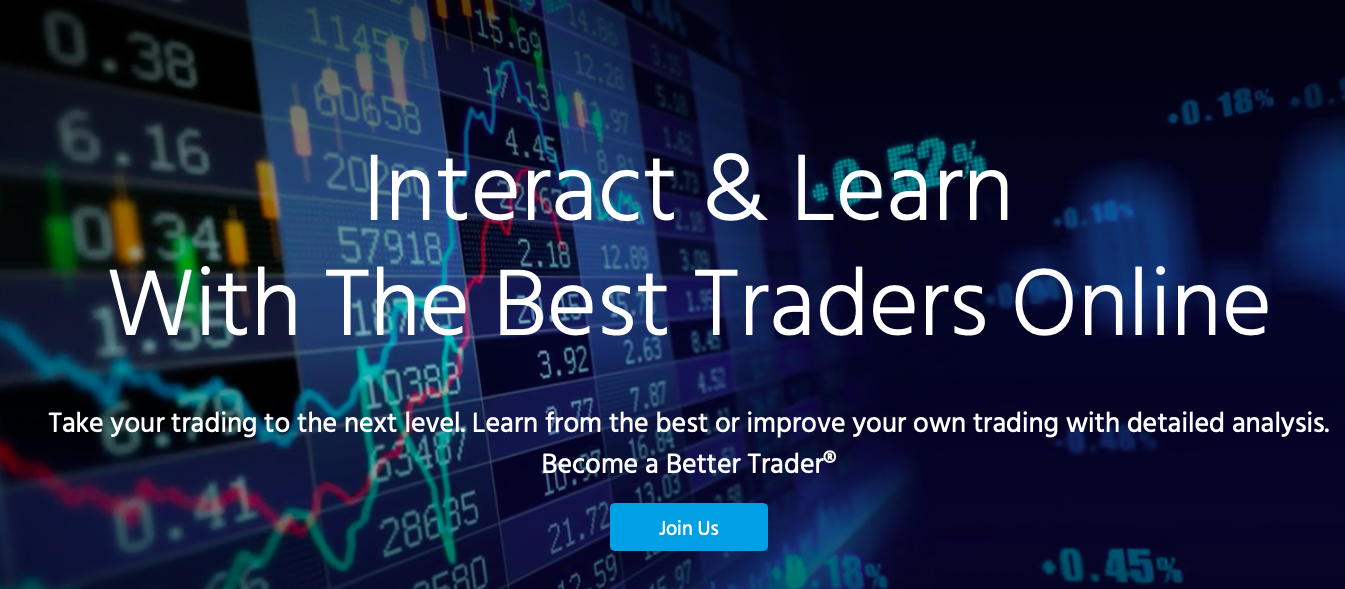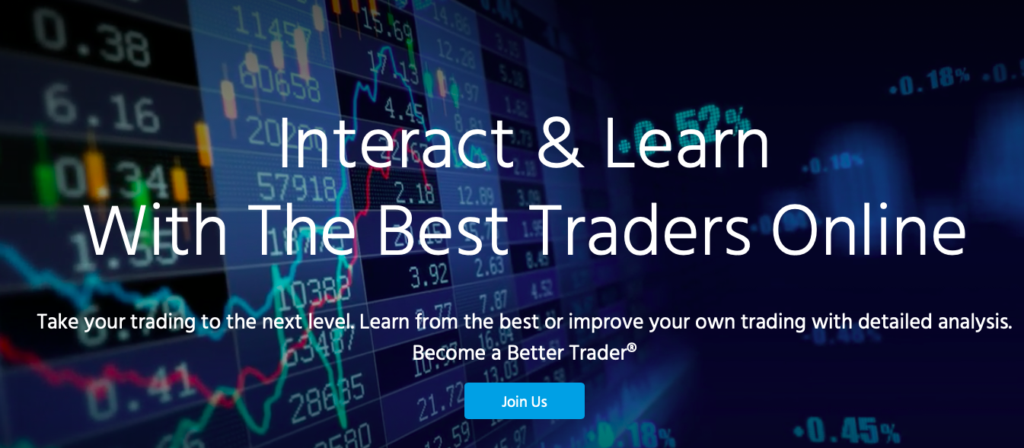 Pennystocking Silver Review: Overview
Pennystocking Silver is a subscription service founded by Timothy Sykes, a well-known member of the penny stock world and financial services industry as a whole.
The service provides users with real-time trade alerts and ideas throughout each trading day.
It also includes stock watchlists that detail the best trading strategy for each day.
The watchlists include video lessons and accompanying trading education to help experienced and new traders to understand why certain trade opportunities are being recommended.
Based in Miami, the Tim Sykes service was started in 2011, offering everything included in the Tim's Alerts membership, a chat room, and a massive video library that is helpful for day trading and learning about volatile stocks.
This all sounds good, but who is Tim Sykes, and does he have the credentials to back up his program?
Read our Timothy Sykes review to find out.
>>Already sold? Sign up for Pennystocking Silver NOW! <<
Tim Sykes Review
When it comes to penny stocks, Timothy Sykes is considered one of the best traders around.
Tim Sykes turned $12,000 worth of Bar Mitzvah gift money he received from his parents while enrolled at Tulane University into well over 1.65 million dollars as a day trader.
According to his testimony, his parents hoped he used the experience to try and understand the finite nature of resources.
However, he found that it could be a good investment into something much more valuable.
At first, Tim Sykes tried to trade on Wall Street but quickly realized that this wasn't financially beneficial, especially as his portfolio was small at that time.
It was in trading penny stocks that Tim Sykes found success.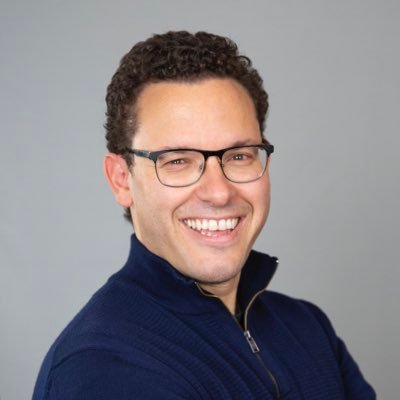 Timothy Sykes discovered that, with penny stocks, he achieved a considerably better performance by jumping on the momentum of trending stocks in the stock market.
While devoting his time to trading penny stocks, he maximized his earning potential by the time he was a freshman at Tulane.
Today, Tim Sykes has amassed a lifetime trading profit of more than 5 million dollars according to his profit and loss chart.
Timothy Sykes Review: Trading Penny Stocks and More
Tim Sykes is an entrepreneur with a variety of businesses that focus on penny stocks and trading strategy, among other stock-related matters.
He is the co-founder of Profit.ly, a stock trading platform that attempts to take the guesswork out of trading by introducing measurables, transparency, and trading strategy optimization through data-driven initiatives.
Tim Sykes is also the founder and CEO of Investimonials, a financial product hub that he created in 2009 to provide various investment opportunities.
Additionally, Timothy Sykes has worked as a hedge fund manager while also starting various non-profit and charitable initiatives like the Timothy Sykes Foundation.
The foundation has partnered with the likes of the Boys & Girls Club as well as the Make-a-Wish Foundation, raising hundreds of thousands of dollars to help various communities.
>> Ready to get started with Pennystocking Silver? Click here to sign up! <<
Timothy Sykes Is Known for Mentoring Profitable Protégés
Over the years, Tim Sykes's trading strategy has inspired many people, and he has his fair share of millionaire students who have benefited from his tutelage.
Thanks to the Millionaire Challenge, the high-cost VIP mentoring program that Tim Sykes provides, Tim Grittani and Michael Goode became his first two millionaire students, with several others to follow.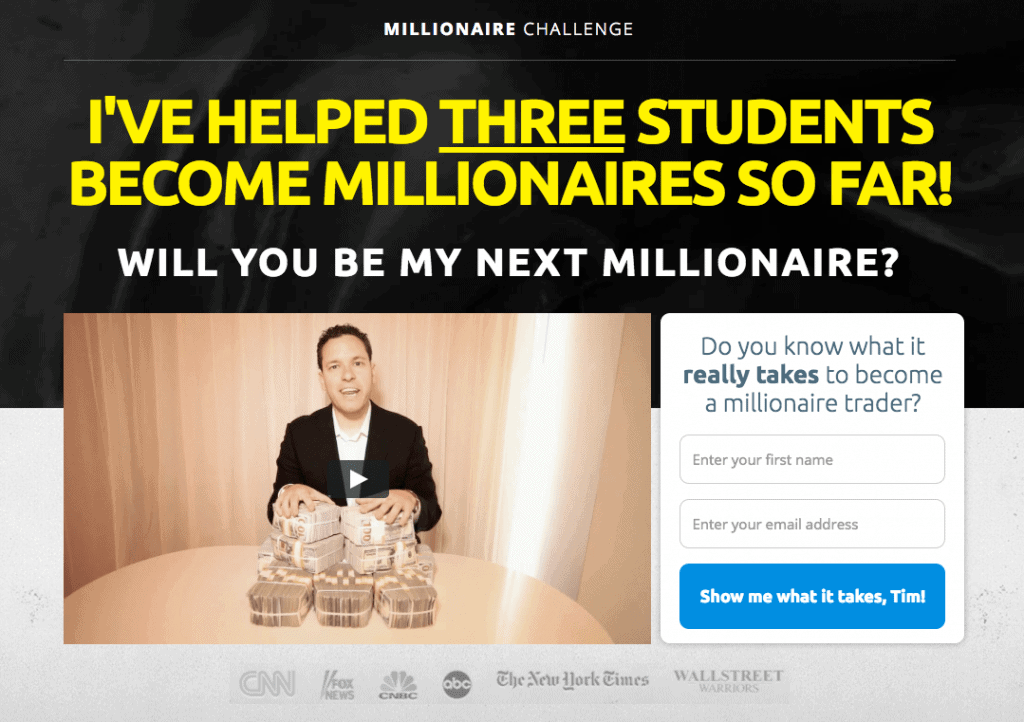 Timothy Sykes' work has been featured across mainstream television, including Larry King Live, the Steve Harvey Show, CNN, Fox Business, CNBC, and others.
Pennystocking Silver gives you an inside look into Tim Sykes' trading strategies as a penny stock trader.
Tim's DVDs also explain his trading strategy
And you can follow Tim's alerts to get real-time insider knowledge about trades and the market as a whole.
He is also an author, penning a book about his hedge fund exploits, An American Hedge Fund: How I Made $2 Million as a Stock Operator and Created a Hedge Fund.
What Is Tim Sykes Trading Strategy?
Timothy Sykes develops his trading strategy around technical analysis.
Tim's trades are built mainly off stock charts, using them as his foundation to arrive at many of his trading decisions.
He typically shorts penny stocks, identifying any penny stocks that are moving and buying them when their momentum is peaking.
Once the momentum drops, Tim Sykes sells them.
Typically, he doesn't hold his stocks for long, rarely going beyond two days.
Tim Sykes also pays attention to paid promotions and news catalysts, utilizing these elements to help him and the traders he teaches to improve their strategies.
Sykes consistently voices that there are many frauds in the penny stock world, using paid promotion schemes and refusing to offer full transparency.
In part, Tim's teaching style is aggressive because of his constant hitting out against entities using shady practices to win the attention of traders.
He has boldly called out corporations and businesses for using these practices to try and lure in unsuspecting investors
Such practices cause the value of penny stocks to fluctuate, driving them up relatively quickly before they come crashing down.
Tim Sykes also states that the smartest way to optimize an investment is to understand the best trading strategies to handle extremely volatile stocks.
Is Tim Sykes' Pennystocking Silver Legit?
Pennystocking Silver is a legitimate platform and is especially helpful for new traders learning to hone their skill sets.
The Tim Sykes program presents a very aggressive approach to convince new traders to join the platform and delve deeper into trading penny stocks.
Timothy Sykes is a legitimate trading education specialist who has resonated well with new and experienced traders since he started Pennystocking Silver.
More on Tim Sykes' Trading Program
These trading education tools are regarded as some of the best and most extensive that the trading industry offers.
However, some criticisms have been leveled at Tim Sykes.
Some of these critiques include that he flaunts his wealth and is an overly aggressive trader
Though, it's understandable that these criticisms would be directed at Tim because his day trading is aggressive by nature, especially when you consider that one of his strategies is deliberately targeting pump and dumps.
>> Ready to sign up for Pennystocking Silver? Just click HERE! <<
What Is Included in Pennystocking Silver?
Pennystocking Silver has a wide range of trading services and learning software to help people with their day trading by teaching them how to understand how to trade penny stocks.
Tim Sykes offers the following features with his premium subscriptions service.
Tim Sykes Chat Room
Tim Sykes' chat room is one of the most notable features of the Pennystocking Silver platform.
Through the Profit.ly website, where Pennystocking Silver is based, Timothy Sykes operates a chat room alongside other moderators, including Michael Goode, one of his chief millionaire students.
The trading chat rooms also feature other moderators with trading expertise.
Through the Tim Sykes chat room, members can see live trade alerts, otherwise known as Tim Alerts, to help them get a full view of the trading market.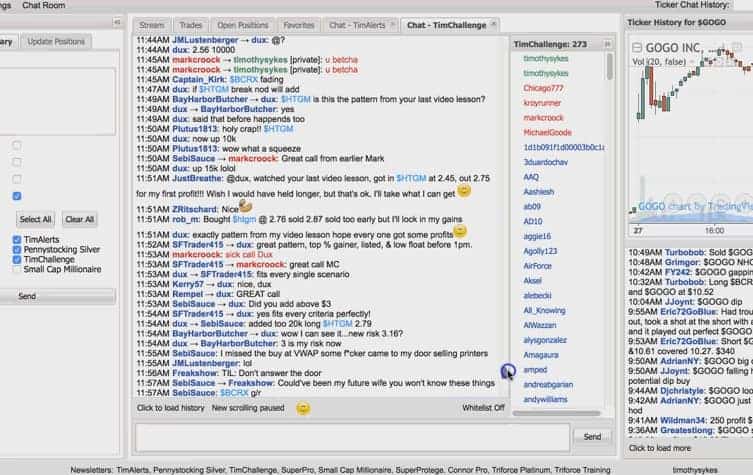 The only drawback, however, is that Timothy Sykes isn't regularly active in the chat room.
As a result, it's hard for new traders to get quality one-on-one time with him to get advice on their trading strategies.
Typically, Tim Alerts are sent via smartphone or email to take action in real-time by members whenever important trade information is available.
If you can catch the trade alerts immediately, you can trade similarly to Timothy Sykes.
If you don't catch them quickly, then you'll struggle to find a solid entry point.
Tim Sykes's chat room on Pennystocking Silver makes it clear that other traders shouldn't copy Tim Sykes' trading decisions but understand the psychology behind his trade strategy so they can make wiser choices in the open market.
Pennystocking Silver members get full access to the Tim Sykes chat room, which provides consistent commentary through each trading day.
There's a members area reviewing trades that take place daily and lets them see the activity of other traders.
Thousands of members enter the chat each day, making the chat room quite busy at times.
>>Sign up TODAY for Pennystocking Silver! <<
Daily Watchlists
Timothy Sykes provides daily watch lists that feature his best ideas and trading strategies.
The watch list mainly features five to 10 stocks each day.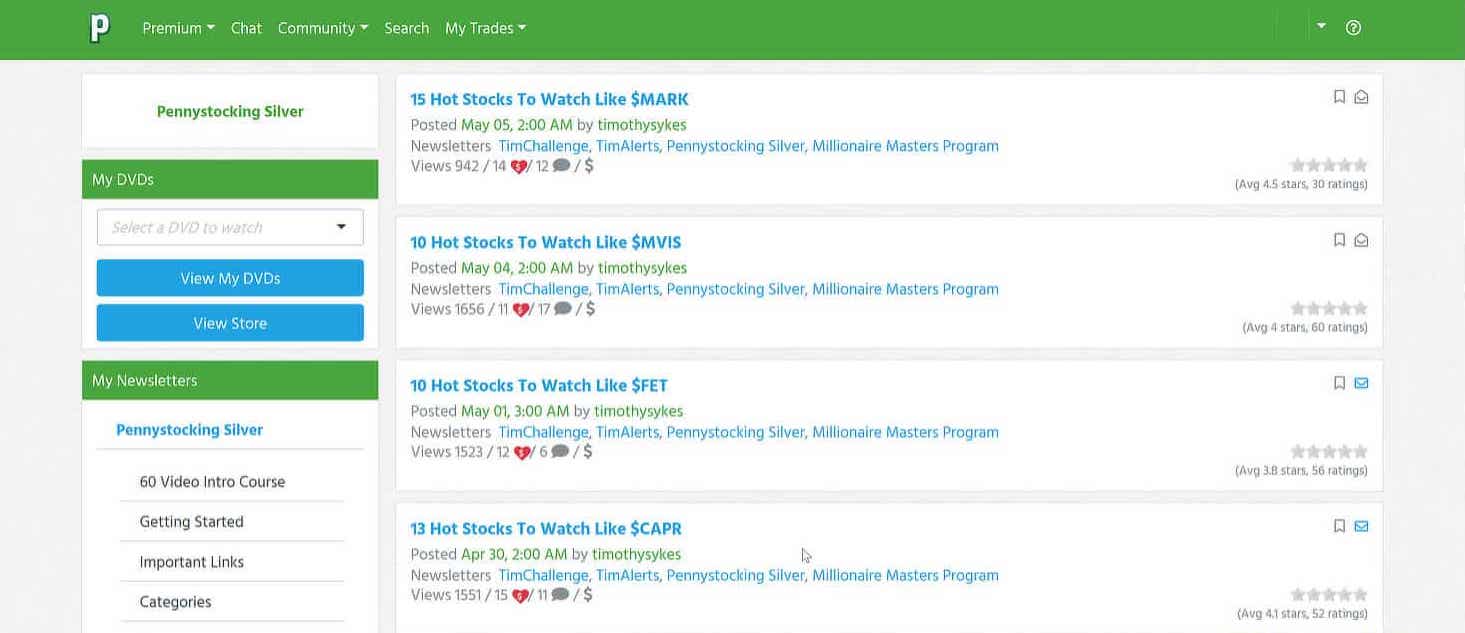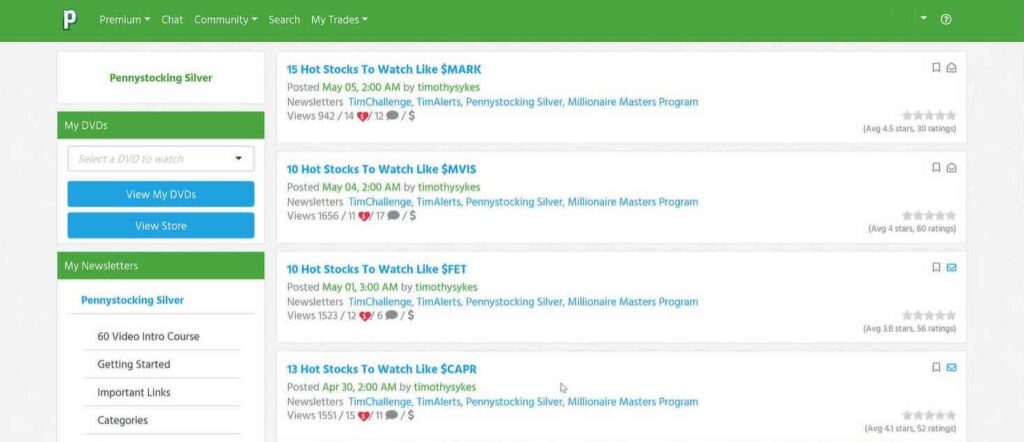 Each of Tim Sykes' watch lists is accompanied by video lessons that offer detailed reasoning for why each watch list is there.
The watch lists and video lessons are helpful; however, Tim Sykes doesn't lay out an entire trading plan for each watch list named.
This means you will have to formulate plans on your own by utilizing the knowledge that he provides.
Live Trade Alerts
Whenever Tim Sykes makes a trade or exits a trade, you'll get Tim's alerts sent to your phone or email.
These real-time trade alerts are also included as push alerts sent to notify members of trading activity, even when they are away from their computers.
Because penny stocks are volatile stocks and move quickly, members are advised to be as fast as possible with their approach to capitalize on the trade alerts.
>>Click HERE to get started with Pennystocking Silver! <<
Video Lesson Library
Tim Sykes' video lesson library is wide-ranging, featuring over 6,000 video tutorials to help people trading stocks or engaging with other trading services.
Every aspect of the stock market and trading penny stocks is covered through Tim Sykes video lessons.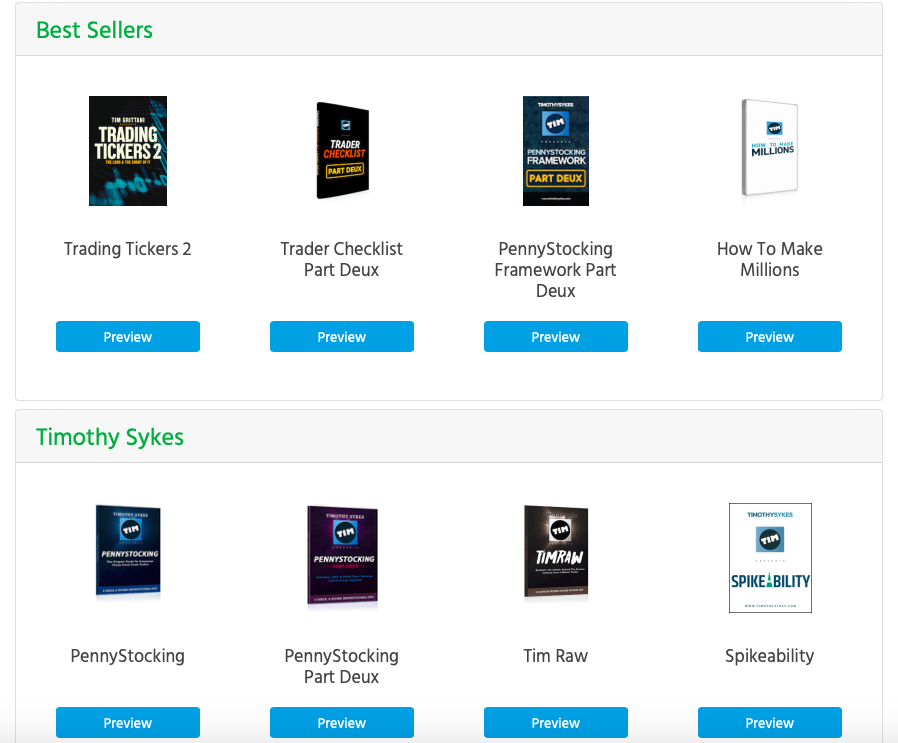 The video lesson library includes an array of topics that cater to specific financial tools and stock market elements that members may find valuable.
These topics include, but are not limited to:
Day trading penny stocks

Technical analysis

Swing trading

Supernovas

Morning spikes

Earnings

Small-cap stocks

Large caps

Sideways price actions

Fading volume

Boxing positions
Admittedly, some of the videos that are included in the library are outdated.
However, they provide useful historical data and trades that allow traders of all experience levels to perfect their respective crafts.
Every aspect of penny stock trading is covered in Tim Sykes' video library on Pennystocking Silver, including a look at hot penny stocks and tips on how to spot trends as a penny stock trader.
The Timothy Sykes videos on Pennystocking Silver are categorized by topic to make things easier for members.
You can study chart patterns like the previously mentioned supernovas and morning spikes.
You can also learn about morning panics and afternoon fades, dip buys and intraday panics, plus plenty more.
There are even lessons about the oil industry, which is important because many oil companies' stocks are traded on the penny stock market.
>>Sign up for Pennystocking Silver by clicking HERE now! <<
Weekly Video Lessons
Each week, Tim Sykes and Pennystocking Silver post weekly video lessons that offer recaps.
These videos are posted to the members' area, reviewing trades as well as technical analysis.
The videos are detailed and are particularly helpful for people looking to analyze hot penny stocks in real-time.
The weekly video lessons are later categorized before being added to the video library.
They are reliable resources for people looking to learn the ins and outs of penny stock trading.
>> Like all that Pennystocking Silver has to offer? Sign up NOW! <<
How Much Does Tim Sykes' Pennystocking Silver Cost?
The Pennystocking Silver plan is the midrange plan that Timothy Sykes offers to provide traders with sufficient information to help them diversify their portfolios.
The Tim Alerts program is the most basic plan, while the Millionaire Challenge is the VIP plan that teaches traders how to make millions from trading.
Members pay $149.95 per month for the Pennystocking Silver Plan.
However, when you use the annual plan, you can save up to 28% with a discount.
With this plan, you get Tim's Alerts and accompanying stock watchlists.
You can access the video lessons, learn how to spot patterns on charts, and get live commentary so you can improve your trade instincts.
You can also access tips on how to find a stock to short and know when the best times are to buy stocks.
No discounts or free trials come with the monthly plans.
Pennystocking Silver Cancellation Policy
According to Tim Sykes, you have to refer to your PayPal email that you used to originally sign up as a new member.
That email outlines full instructions on how users can cancel.
Tim Sykes doesn't cancel the Pennystocking Silver membership for you.
Once you have canceled, PayPal sends a notification to Tim Sykes, and your email/website access will automatically be removed from the website.
Pennystocking Silver Pros and Cons
Pros
Learning/research tools – With a huge video library, several financial tools to explore, and detailed analysis provided by Tim Sykes and his team of trading experts, there's no shortage of information that new and experienced traders will find useful.
Technical analysis – Allows members to better spot chart patterns and understand penny stock trends as well as other quirks within the stock market.
Cons
Timeliness of Tim Alerts – If you're not quick on the draw, then you may not find Tim's Alerts to be particularly useful.
>> Want to get started with Pennystocking Silver today? Click here to sign up! <<
Pennystocking Silver Reviews by Customers
Jerome Torres:
"Timothy is a legit teacher and receives a lot of press for good reason, he's very good at his job. I would consider him a pioneer of social trading, and his platform is the only effective social trading platform that I've come across. The moderation team is excellent at picking out "faulty" trades. The actual content is worth your time. From risk management to trader psychology, everything that is taught is worth learning."
Is Pennystocking Silver Right for Me?
If you're striving to learn about penny stocks and want to perfect your trading education, then you will find Pennystocking Silver to be incredibly beneficial.
You get constant tutorials while also learning to trade from someone with vast experience and success.
And, of the three plans that Tim Sykes provides, it seems to be the most popular choice.
Timothy Sykes' Pennystocking Silver Review: Final Review
Considering Tim Sykes's track record, the learning tools, trading courses, and automation provided by Pennystocking Silver, this program can be a powerful investing tool for traders of all experience levels.
Also, if you're new to trading, Pennystocking Silver can be a solid introduction into the penny stocking world and stock trading as a whole.
As a trading service, few are this detailed and ideal for helping people master the stock market.
So Tim Sykes' learning platform may well be worth the investment.
>> Ready to master penny stocks? Sign up for Pennystocking Silver NOW! <<