A special purpose acquisition company (SPAC) is essentially a shell corporation whose sole purpose is to raise money to acquire one or more businesses or assets. Some people refer to these as SPAC stocks. The target company is usually privately held.
This acquisition is accomplished through a reverse merger or a purchase agreement. Often, SPACs are called "blank check companies" because they are just that: funds from investors sitting in escrow until a company is acquired.
If you are looking for a iist of the best SPACs you can check them out right here.
The Lifecycle of a Special Purpose Acquisition Company
A special purpose acquisition company will go through the normal Initial Public Offering (IPO) registration process, which includes filing an S-1, communicating with SEC regulators, negotiating underwriting agreements along with the roadshow, pricing, and, finally, closing.
The IPO proceeds are then held in a trust account while the management team seeks a suitable takeover candidate.
The terms of the SPAC will vary from deal to deal, but management has a given time to find an acquisition and complete the deal (24-months is a standard timeframe).
Many times, Initial investors into SPAC's will get what are called units which consist of one share, plus a fraction (usually 1/3rd to 1/9th) of a warrant.
When the units split (usually 60 days after their IPO) investors will be left with shares and warrants.
If the time expires, the capital is returned to investors. In many cases, Special Purpose Acquisition Companies will go public with a narrow or sector-specific focus in their search for an acquisition.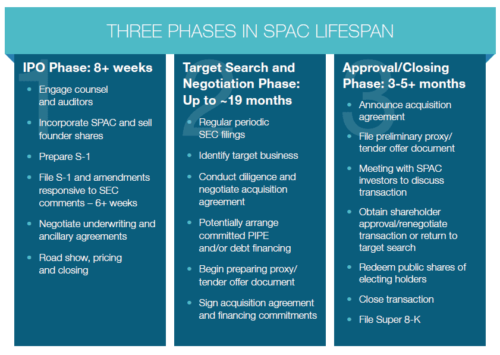 Following a successful acquisition, the SPAC will call a mandatory shareholder vote or tender offer. If the shareholders vote in the negatory, they can get their money back (SPACs are usually priced at $10 per share, but this can vary). If the shareholders, approve the deal, the combination will commence (called a "De-SPAC transaction") and the target business will combine into the publicly traded company.
Public Perception of SPACs
In the past, SPACs were considered risky or were viewed with some suspicion. The SPAC process — to go public through a reverse merger — presents a lower level of scrutiny compared to the traditional IPO.
Because of this lower level of analysis and inspection, many investors viewed SPACs as not being financially healthy enough to complete a public offering through the legacy channels.
The reputation of the SPAC is one of the "fast-track IPO" or the "back door to going public" — in some cases, a company is simply attempting to capitalize on industry hype.
How Does a SPAC Work?
A Special Purpose Acquisition Company or SPAC is a public company that is created to acquire a private company. It works like this: a group of investors or a sponsor with a set of expertise raises money to acquire a non-listed company.
In short, a Special Purpose Acquisition Company sponsor and investor might have no idea what company they will be buying at the outset.
The money raised in a SPAC IPO is placed in an account for a certain period of time—as stated above, this is usually 2 years.
The money in that account is distributed to either complete the acquisition for the private company on the agreement of a merger or when that money is returned to investors after time expires.
If the SPAC is approved by investors, the new company will start to trade on a public exchange.
What is an Investment SPAC?
Investing in a SPAC gives the investor some degree of protection. First and foremost, a Special Purpose Acquisition Company is when money is pooled by investors to buy a private company.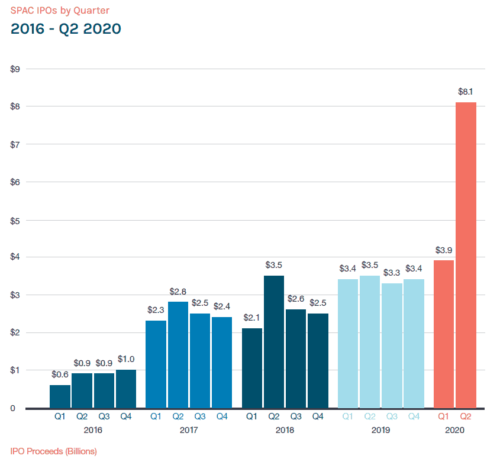 SPACs have been around since the early 1990s but have had varying success since 2003. Using data compiled in 2018, out of 235 SPACS, 127 have successfully found an acquisition and closed, while 108 were forced to liquidate their assets and return money to investors.
What Is a SPAC Warrant?
A Special Purpose Acquisition Company is structured in a way where investor money is held in escrow and when it is time to purchase a company, those funds are used to buy the company.
After the IPO, SPAC units are generally split into warrants and common stock. This gives investors extra incentive as the warrants can also be traded in the open market.
To be frank, the warrants represent the bonus for investors who have put their money into a blind pool.
For example, as stated above, units will often contain ½ warrant, a ¼ warrant, or a full warrant. The warrant type will depend on the sponsor or the track record of who is leading/promoting the SPAC.
The SPAC warrants will be redeemable at certain trading price thresholds. The strike price for most warrants is $11.50 per whole warrant with adjustments for splits, etc. The warrants can be exercised only if the SPAC completes a deal before the specified date, usually 30 days after the De-SPAC transaction.
What Happens if a SPAC Does Not Merge?
At the start of a SPAC IPO, all the investor funds are held in an interest-bearing trust. If a SPAC does not find a good company to purchase or if a deal falls through, investors get their funds returned.
A SPAC generally lists shares at $10 per share and many times these shares will trade higher. If a SPAC whose shares are trading at a premium does not find a target, then those investors can potentially face considerable losses.
In these cases, a Special Purpose Acquisition Company sponsor will propose a vote to shareholders to extend the time frame. If shareholders agree, shareholders must be offered the right to redeem shares pro rata of the cash held in the trust account.
What Happens to SPAC Shares After a Merger?
After an acquisition is found, the sponsors will obtain shareholder approval to buy the target company. If the deal goes through, the investor funds in escrow are then used to purchase the private company.
This is called the De-SPAC transaction. The founders or sponsors will usually take 20% of the common stock and investors receive equity interest according to their capital contribution. After the deal is closed, the new company will file a Super 8-K.
What Is a SPAC Sponsor?
A SPAC sponsor can be referred to as the management team. The sponsors are responsible for finding a private company, negotiating the deal, and closing the deal—guiding it through the De-SPAC transaction until it starts to trade.
Sponsors will also promote, which is another word for them (promoters), the SPAC to other investors, and sell the investment thesis after a company is found. In many ways, a SPAC is only as good as its sponsors.
Is a SPAC a Shell Company?
Yes, a SPAC is a shell company. It has the same limitations of other shell companies and must identify itself and follow the federal guidelines outlined for said companies.
The SPAC on its own does not operate any business or sell any goods. Its sole purpose is to function as a vehicle to purchase another private company and bring it to the market through a reverse merger.
However, after the company is combined, the SPAC is dissolved through the De-SPAC transaction, and at that point, it is no longer a shell company.
The Evolution of the SPAC
The SPAC has evolved in 2020. Richard Branson and Bill Ackman, respected names in the financial world, have both successfully completed SPAC deals. In 2020, SPACs have raised more than $30 billion compared to $13 billion in all of 2019.
In addition, the average size IPO for SPACs has increased from $230.5 million in 2019 to $400.8 million in 2020.
One reason that we have seen a resurgence of the SPAC in 2020 is the "broken" IPO process. The traditional IPO has continually underpriced companies going public and effectively robbed founders, employees, and investors of billions of dollars each year. In 2020, the average company going public is underpriced by 31%, which does not include the 7% in IPO fees, according to data compiled by Jay Ritter at the University of Florida.
Pros of SPACs
One of the most important characteristics of a Special Purpose Acquisition Company is its flexibility. Even sponsorships shares can be adjusted from 20% to 0%.
In short, everything is negotiable. The negotiations on shares and warrants are open especially as the termination date approaches, and really these issues are all up for grabs because there are a lot of SPACs with different amounts of capital.
And here lies another bright spot of the SPAC, access to primary capital.
Lastly, timing is another key factor. A traditional IPO or a direct listing will take an average of 6-7 months to begin trading, while a SPAC will take around 2-3 months.
Cons of SPACs
The vetting of a public company is slow for a reason. Every aspect of a company should be laid bare for investors to know exactly what they are putting their money for, whereas, a SPAC is the opposite.
It is a quick-moving public offering where the paperwork process has been simplified and transparency is low. In short, one of the benefits of the SPAC can also be what actually makes it risky.
Moreover, no SPAC is a sure thing. A recent study by Renaissance Capital found that 89 SPACs that had gone public since 2015 posted an average loss of 18.5%.
Traditional IPOs booked an average gain of 37.2% over that time.
Lastly, promoters can often get sweetheart deals when it comes to SPAC listings. The big names in the industry can ask for a lot of stock.
Similarly, many of the investors in SPACs are just looking for quick cash, meaning they don't plan to buy the company long-term.
How to Trade SPACs
One way to look at trading SPACs is to think about handing a blank check over to a management team.
Since risk is mitigated because you can essentially get your money back, you want to invest in a management team that has a successful track record of dealmaking.
Crucial questions to ask:
What is the management team's reputation?
Have they closed a SPAC before? If so, how well is it trading now?
Read a management team's biography and its performance around business combinations. You will also want to check the share price of the deal post-closing and see how the company performed after going public.
Some management teams have a great track record of finding companies that continue to increase in value over time, while some just have a knack for closing the deal but the companies they choose tend to disappoint.
Others barely get the capital to close the deal and the stock craters on the first official trading day.
Names To Know in the SPAC Space
Think about SPAC research like this: who is the best steward over my money? One name in the industry that is synonymous with SPAC investing is Daniel Hennessy. Hennessy has led two successful SPAC closings and has run a private equity firm for 25 years.
Michael Klein, a former Citigroup banker, is another well-known name when it comes to SPAC listings. Klein's partners and his management team have all worked for leading Fortune 500 companies and his SPAC vehicles have raised $2.5 billion since 2018.
Should I Invest in a SPAC/Blank Check Company?
Any investment should be done after doing research and done with prudence in mind. That said, SPAC companies are shedding their stigmas and becoming a more common vehicle for bringing tech companies and even unicorns to market.
Furthermore, more prestigious investors are getting involved in SPAC investment and sponsorship. Make sure to research the management team leading the SPAC and see that you trust their vision.
Final Thoughts
To conclude, a Special Purpose Acquisition Company is a blank check acquisition vehicle that offers an alternative way for a company to go public. It is losing its checkered reputation as more seasoned and quality management teams use it to bring high-profile companies to the public markets. As more and more big names use the SPAC, the more credibility it will have on Wall Street and could even reshape the industry.