The invasion of Ukraine sent the global wheat markets into chaos, nearly tripling the price of futures since their 2020 bottom.
This has prompted investors to seek out exposure to the golden crop. So, what are the best wheat stocks to buy now?
We explore some options below. 
Best Wheat Stocks of 2023 (Don't Miss It)
Adecoagro SA (NYSE: AGRO)
Adeocoagro is a farming company and wheat producer headquartered in Luxembourg with operations in South America. 
The farming company produces wheat and other food products, including more than 700 thousand tons of food per year from over 568 thousand acres of land.
AGRO positions itself as a low-cost producer, with 10% of its harvest portfolio invested in crops like wheat. Its portfolio focuses primarily on rice, dairy, and sugarcane.
The company also has a strong focus on ESG best practices. 
It prides itself on implementing internal policies that promote economic, environmental, and social sustainability.
The price of AGRO shears skyrocketed following the outbreak of the conflict in Ukraine. 
Seeing nearly 60% gains in less than two months and doubling the price of shares from their December 2021 lows. 
This reaction demonstrated a possible link in investor sentiment between the stock and rising wheat prices. 

The reaction might come as a surprise to some, considering wheat is less than 10% of its crop portfolio.
Overall, the stock price has been trading in a range between $6.5 and $13.5 since its IPO in 2011. 
Shares now find themselves closer to the lower end of that range and closer to their pre-war valuation. 
The current bottom area of the range could present investors with buying opportunities if the stock holds its support levels.
Despite its flat performance, Adeocoagro might still be able to offer attractive opportunities. 
The company pays a generous dividend to compensate for its lack of growth. Shareholders of AGRO can expect to receive an annual dividend yield of 3.95%.
It is scheduled to report earnings for the fourth quarter soon. But third-quarter revenue increased by 18.56% YOY.
In the third quarter, AGRO reported a whopping $378 million surprise that beat analysts' expectations by more than 60%.
Food inflation appears to be cooling down, but the future ahead could be compelling for AGRO investors.
Deere & Company (NYSE: DE)
John Deere is an American manufacturer of farming equipment, forestry machinery, diesel engines, and other heavy equipment. 
The company is not directly involved in the production of wheat. But its machinery is widely used in wheat planting and harvesting other agricultural commodities.
Farmers are likely to increasingly look for ways to lower their costs as inflation soars. Therefore, the rising food costs could help boost sales for the company.
Deere has been working on fully autonomous machinery that could help farms reduce labor and keep their prices competitive. A compelling product in times of economic uncertainty.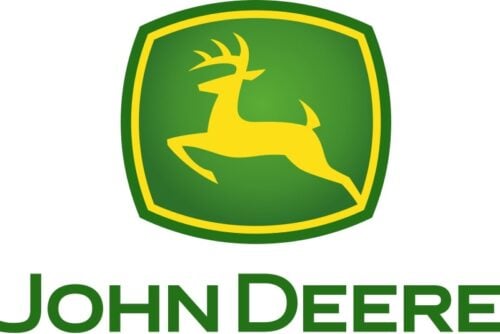 Shares of the company are up 285% since their 2020 bottom, but only by 20% since the war in Ukraine started. 
This might indicate that DE stock is reacting positively to the hike in wheat prices; the majority of the market has been down significantly during the same period.
The company as a wheat stock makes more sense as a long-term investment.  It's possible that the company will not be affected by wheat price fluctuations in the short term. Instead, Deere could benefit from the long-term upward trend in commodity prices.
The company is also well diversified into numerous verticals making it less susceptible to any one sector.
Bunge Ltd (NYSE: BG)
Bunge is an agribusiness and food company involved in food processing, grain products, trading, and fertilizer. 
Bunge operates wheat mills to distribute the golden crop across the Americas.  The company can use the mills to produce flour and wheat protein from wheat they buy on the open market.
The company primarily distributes to other businesses, such as food processors, bakeries, brewers, and snack producers. BG is an old-timer with over two centuries of experience and a world leader in oilseed processing. 
The company is based in the US, but its wheat flour and bakery mix business is produced in Brazil and Mexico.

Wheat does not represent the entirety of its business. 
Therefore, the company can't be considered a pure play. But the price of wheat might still be a significant influencing factor on their overall performance.
Shares of the company were pushed upwards by nearly 50% at the onset of the invasion of Ukraine. Showing a potential link between the stock price and the performance of the wheat market. 
However, the stock has declined, and it's now slightly above where it was over the past year. The company's price history is choppy at best, acting as a cyclical stock and trading primarily in a wide range—similar to AGRO. 
Nevertheless, its exposure to other grains could help the food giant when the time comes for wheat to pull back. While still managing to maintain growth from other products.
BG pays a regular dividend to investors of 2.54%
Anheuser-Busch Inbev SA (NYSE: BUD)
Beer might not be the first thing that comes to mind when you think of a wheat investment. 
But the link between the two runs deeper than you might imagine.
The alcoholic drink is among some of the most popular products made with wheat. 
AB InBev is the world's largest beer company, with hundreds of beer brands within its beverage portfolio.
Budweiser, Stella Artois, Beck's, and Leffe are among some of the company's best-known brands.
The spike in wheat prices means higher costs for beer manufacturers, passed down to consumers. Beer CPI numbers came in at 7.7% YoY in December 2022.
The increase is not ideal for either party at the moment. But it's possible that the increase could benefit BUD once wheat prices come down. 

If the company can maintain its current beer prices, it could see a larger revenue margin when supplies return to normal. 
Consumption of beer has declined in America recently, but experts believe it could be related to a shift in consumer sentiment, not higher prices.
Americans are choosing other distilled spirits as their primary alcoholic drink choice.
BUD is working to catch up on this trend and diversifying itself into other types of alcoholic beverages. Hard seltzers, canned wine, and canned cocktails all form part of the beverage giant's portfolio.
The diversification could help the company weather the inflation storm and come out on the other end victorious. The stock has approached a seven-year-long downtrend after consolidating in a range for the past three years. 
If the stock can finally break free of this trend, its longevity could help technical investors regain interest in the company.
Are Wheat Stocks a Good Investment?
Wheat stocks can be an attractive investment for shareholders looking to diversify their portfolios and gain exposure to the agricultural sector. 
The crop is one of the world's most important crops, with close to 800 million metric tons being consumed globally each year. Wheat is used to make food staples like bread, pasta, and cereals that form part of basic food baskets globally.
The golden crop is a critical pillar of the global economy. Wheat products are cheap and form part of an essential diet for people all over the world.
Its consumption increases during periods of food inflation, as we saw in 2022. That's because people decide to substitute proteins for affordable alternatives.
The invasion of Ukraine and the rising costs of food across the globe have been the recipe for a perfect storm in the wheat industry. Turning the golden crop into a pot of gold for investors.
However, the party could soon come to a halt. Wheat markets could pull back once the war ends and inflation cools down.
But a pullback doesn't necessarily mean that wheat markets will cease to grow. Farmland globally is decreasing in parallel with steady growth in the global population.
In the United States, acreage is decreasing at a rate of 2 million acres per year. This a serious problem for the crop, considering that most of the farming acreage worldwide is dedicated to growing wheat.
The world population is also estimated to grow by half a billion people or close to 6.5% through 2030. 
Furthermore, global wheat stocks appear to have reached historically low levels. Given growing demand and price volatility, it could take some time before stockpiles are restored to full capacity.
These are all good reasons to believe that the price of wheat could continue to rise in the years ahead. Now that you know more about wheat stocks, you might want to add one (or more) to your portfolio.
FAQs
Is Wheat a Good Investment?
Wheat can be considered a good investment due to rising food costs, decreased farmland, and a growing population. The popular commodity could be considered an inflation hedge during times of economic uncertainty. It's possible that as long as the population keeps growing, so will the demand for wheat.
How Can I Invest In Wheat?
There are a number of ways in which you can invest in wheat. Some of the most popular ones include:
Buying wheat futures

Investing in wheat stocks

Investing in wheat exchange-traded funds (ETFs)

Investing in Farmland REITs that harvest wheat 
Is There a Wheat ETF?
The Teucrium Wheat Fund (NYSEARCA: WEAT) is a wheat exchange-traded fund (ETF) that trades in the US stock market.
The wheat ETF provides investors with exposure to the wheat futures market without the complications that come with trading futures. The ETF seeks to track the TWEAT benchmark index.