Ashley Furniture has been a leading producer of home furnishings since 1945. But can you buy Ashley Furniture stock? Read on for the full scoop on the company and a list of competitor stocks.
What Is Ashley Furniture?
Ashley Furniture is a privately owned American manufacturer of bedding and home furniture.
It's one of the largest furniture makers in America and is headquartered in Arcadia, Wisconsin.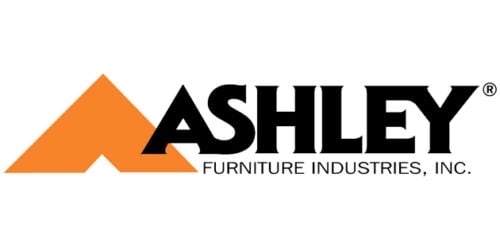 Ashley Furniture makes a comprehensive line of home furnishings, which include bedroom furniture and bedding, upholstered living room sets, recliners, and other wood furniture.
From design to fulfillment, Ashley Furniture is dedicated to delivering the world's best home furnishing selection, values, and service, as well as earning the trust and loyalty of its customers every day.
The company runs 12 manufacturing plants, has ~700 furnishing stores, and employs around 27,000.
It has manufacturing facilities and distribution centers in:
California

Mississippi

Florida

North Carolina

Texas

Pennsylvania

Wisconsin
Its stores are independently operated and owned by licensees in the US, Canada, Central America, Mexico, and Japan.
Ashley HomeStore is dedicated to being a trusted partner and a style leader for home furniture.
As a pioneer in technological innovations, Ashley Furniture has recently invested billions of dollars and resources into its technology, people, and facilities to enhance every aspect of its performance, while reducing customer costs.
Who Owns Ashley Furniture?
Todd Wanek owns Ashley Furniture and runs it with his son, Rob Wanek.
Todd founded Arcadia Furniture in 1970, and that company went on to buy Ashley Furniture about six years after.
Further down the road, he bought the majority stake in the company.
Under the dynamic leadership of Todd Wanek, Ashley Furniture's CEO and President, and Ron Wanek, the family-owned furniture company continues to grow and evolve.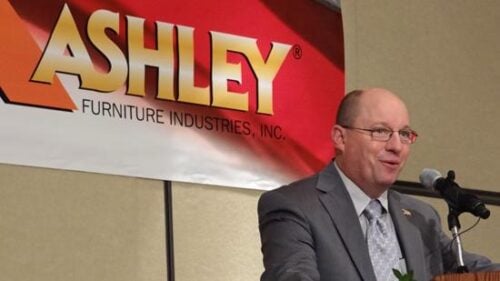 How Much Is Ashley Furniture Worth?
We searched online for credible estimates on Ashley Furniture's net worth, but we couldn't find any.
This is a private company, so they are not required to disclose this information publicly.
However, we found some estimates of Ashley Furniture's revenue.
Ashley Furniture Revenue
The reporting for Ashley Furniture's revenue fluctuates wildly depending on whom you ask.
Ashley Furniture had annual sales of more than $5.2 billion in 2018 according to several sources. However, revenue figures for the next two years are not available.
We will keep you in the loop if we ever run into consistent reporting.
Can You Buy Ashley Furniture Stock?
Unfortunately, Ashley Furniture is not a publicly-traded company, so you cannot purchase its stock.
The good news is that there are some excellent competitors that are publicly traded on the stock market.
We will get to those shortly, but let's see if there's any news on an Ashley Furniture IPO date.
Ashley Furniture IPO Date
We checked, and it doesn't look like there is an Ashley Furniture IPO in the pipeline.
An initial public offering, also known as IPO, occurs when a private corporation first sells its stock to the general public to raise money or capital.
The funds raised from the IPO could be used to invest in the long-term health of the company or pay down debt.
It's a bummer that there's no news of an IPO, but it's expected.
Many successful companies and businesses that have paved their way privately have no interest in selling their shares on the public markets.
Ashley Furniture Stock Symbol
Currently, Ashley Furniture is not listed on any stock exchange, so it does not have a ticker or stock symbol.
We checked to see if the company reserved one, but we couldn't find any news.
If the company ever does reserve a ticker, something like Ashly would be a great choice.
Ashley Furniture Stock Price
Ashley Furniture is not a public company, so we can't know how much the stock is worth.
However, you could make a guesstimate based on its competitor stock prices.
If you average out the stock prices of the competitors we listed, Ashley Furniture stock could go for somewhere around $50 a share.
This is an educated guess, however.
There are plenty of factors that affect the price of a stock; so, if Ashley Furniture is ever traded publicly, we could see an entirely different share price.
Ashley Furniture Competitors
As you cannot currently buy or trade Ashley Furniture stocks, you may be interested in investing in some of its competitors.
Below, we look into some publicly traded companies that are the biggest competitors to Ashley Furniture.
If you want even more stock picks, you can head over to check out our post on IKEA stock.
La-Z-Boy Inc. (NYSE: LZB)
Based in Monroe, MI, La-Z-Boy Inc. manufactures, imports, markets, exports, distributes, and retails a wide variety of upholstery furniture products, casegoods furniture products, and accessories.
La-Z-Boy furniture and accessories are sold in thousands of retail residential outlets in various countries, including the US and Canada.
They are produced and distributed under license in multiple countries, such as the United Kingdom, Australia, and Germany, among others,
You will be happy to know that the company has been benefiting considerably from robust demand trends across all its business units.
Also, its solid cash position is a plus.
The current stock price for La-Z-Boy is around $27.22.

Wayfair Inc. (NYSE: W)
Wayfair Inc. is one of the world's top online retailers of home furniture, decor, and other products.
The company offers a variety of products, such as furniture, pillow and decor, rugs, kitchen and tabletops, lighting, bed and bath, appliances, sofas, mattresses, and closets.
Through its intuitive e-commerce platform, Wayfair offers customers compelling merchandising, visually inspired browsing, easy product discovery, and reasonable prices for over 33 million products from more than 23,000 suppliers.
The company is headquartered in Boston, MA.
Wayfair engages in the e-commerce business both in the US and internationally and offers bedroom, living room, dining and kitchen, home entertainment, game room and bar, home office, patio, entryway and hallway, and bathroom furniture.
The company has a trailing 12-month revenue of about $13.7 billion and has 16,681 employees.
The current stock price for the company shares is $108.23.
Wayfair Inc. operates five branded retail sites: the Wayfair website, AllModern, Joss & Main, Birch Lane, and Perigold.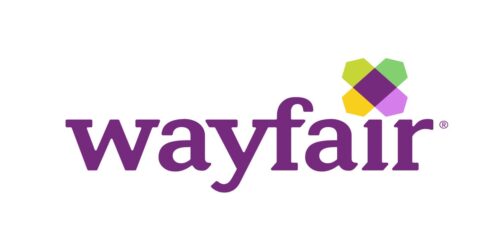 Bassett Furniture Industries Inc. (NASDAQ: BSET)
Bassett Furniture Industries is a leading manufacturer, marketer, and retailer of home furnishings.
The company was founded in 1902, and makes upholstered and wooden furniture for home use, featuring both bedroom and dining suites furniture.
Bassett is dedicated to designing and manufacturing furniture that allows its customers to show their personalities.
Basset designs, manufactures and distributes its furniture products and accessories to a network of licensee-owned stores and company-owned retail stores, as well as independent furniture retailers.
The company has 65 company-owned stores, and Texas is the biggest market among the 25 states in which the company operates.
Bassett stock currently trades for around 17 bucks a pop.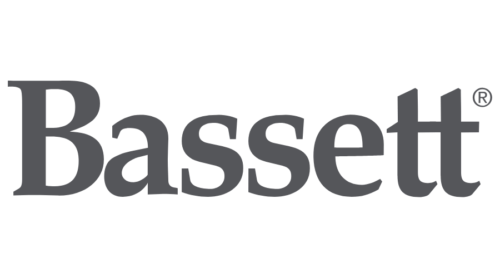 Wait for an Ashley Furniture Stock IPO or No?
If Ashley Furniture was a publicly-traded stock, it could be a solid investment option.
But you probably shouldn't wait on it if you're looking to add home furnishing exposure to your portfolio.
There are plenty of fantastic alternatives in the meantime, and there's no guarantee that Ashley will go public.
So you could be waiting on a stock that will never happen.
Home furnishing has performed fairly well during the last couple of years, despite supply chain disruptions, particularly in chemicals, labor, etc.
So now could be a good time to get in.
Ashley Furniture Stock: Final Thoughts
If Ashley Furniture goes public, it is likely that many potential investors will jump on board and purchase its stocks.
For now, Ashley Furniture competitors, such as Wayfair or Bassett Furniture, could be suitable backups.
For the time being, it seems like the owners of Ashley Furniture are enjoying their privately owned company.
These are just our top picks: there are many more companies with potential.
However, if Ashley Furniture goes public, it is a company that you would like to keep a close eye on as it is one of the biggest names in the furniture industry.
Ashley Furniture Stock FAQ and Recap
Is Ashley Furniture Publicly Traded?
Ashley Furniture is not a publicly-traded company at the moment. There is no news about this online, so it will likely stay this way for the foreseeable future.
Who Bought Out Ashley Furniture?
Ashley Furniture was bought out by Arcadia Furniture in the 1970s. Todd Wanek later bought a majority stake in the company.
What Family Owns Ashley Furniture
The Wanek family owns Ashley Furniture. The company is currently run by father Todd Wanek and his son, Rob Wanek. Todd Wanek has been involved with Ashley Furniture since the 1970s.
Who Is President of Ashley Furniture?
Todd Wanek is the current president and CEO of Ashley Furniture. If he ever steps down, it's possible that his son, Rob Wanek, will take his place. This is speculation, though.
Did Mathis Brothers Buy Ashley Furniture?
Mathis Brothers is partnering with Ashley Furniture, but it did not buy the company out. So Ashley Furniture still remains owned by the Wanek Family.