The digital world is becoming bigger in everyone's lives, meaning there will be investment opportunities. But what digital and technology companies should you invest in? Find out here
With technology improving all the time, thousands of new start-ups are aiming to provide the must-have product – or app – that promises to change our lives forever.
Many of these ideas never really get off the ground. But the expansion of the digital world and the way that we use it will continue to offer up new opportunities.
Some of those opportunities will undoubtedly be financial in nature. The success of AI and other digital ways of doing business means that money is to be made by those who spot the chance to invest early.
These kinds of markets are notoriously volatile – but here are some areas we think you should consider when it comes to your next investment.
Artificial Intelligence (AI)
As with many areas of digital technology, actual 100%-focused AI companies are hard to find. They tend to be part of a wider area of expertise. But there is no doubt that the AI component of these enterprises is making them an attractive proposition right now.
Massive companies like Amazon and Netflix use AI as a central part of expanding their reach and improving their multitude of products. That's why it is a good idea to look for AI stocks where companies are looking to gain an edge on their market – such as in computing and networking.
Fintech
This area is very interesting for anyone considering investing, as it is such a broad term.
Essentially involving any company that combines finance with new technology, fintech has become an integral part of many people's lives over the last few years as we have become more accustomed to electronic payments.
Don't be put off by the high cost of stocks in the fintech sector – the room for growth is still there.
Obviously, there is never an investment without any risk, but fintech companies have done well and customers have continued to use their products even after lockdowns and restrictions have been eased.
Cybersecurity
In an increasingly uncertain world, it is no surprise that the stocks of cybersecurity companies have risen in the last few years. With the rise of home working, a pandemic, and worrying geopolitical news, there has been more to think about when it comes to the security of data.
This can affect large and small firms and the rush to invest in cybersecurity shows no sign of slowing down.
With artificial intelligence used in many new products, there is a neat overlap with another area of the digital world profiled here – and this is a sector that definitely needs keeping an eye on.
T

he Internet of Things (IoT)
The increase in the use of hi-tech doorbells will not have escaped your attention and that is just one very simple example of how everyday objects are now being connected to the internet.
The Internet of Things (IoT) is the term given to this network of devices communicating and working together.
As with other areas of digital technology, a lot of IoT comes as part of a bigger package and the opportunity to invest in a wholly IoT company is rare. There is possibly danger of a slow down in the market as people return to a more normal life after the pandemic.
But risk-tolerant investors should definitely still be interested.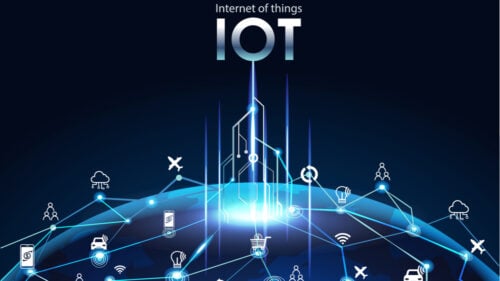 Tech Product
If some of these terms and business areas are difficult for you to understand, that is not surprising. The rate that these sectors have grown in the last few years is dizzying – but that should give you an idea of how promising the investment opportunities might be.
The tech sector will only grow as major companies look to improve the way we live our lives. Doing a little bit of research into an unfamiliar topic would seem to be a good idea as the digital world grows.
The Best Digital Investments: Final Thoughts
As the digital world rapidly expands, more and more investment opportunities are appearing in various sectors across the market. Understanding the emerging sectors surrounding digital technology is essential to making wise decisions when it comes to adding digital investments to your portfolio.
AI, fintech, cybersecurity, and IOT are just some of the areas that could be promising for investors looking to take advantage of an increasingly digitalized world.