Consumers are looking for travel options that are more efficient and environmentally friendly than what's currently on the market.
Savvy investors are taking note and looking to add eVTOL stocks to their portfolios to capitalize on greener and more sustainable transport.
We've already seen major auto companies start to develop electric vehicles, but there are plenty of startups that want to take this technology a step further.
One way that this could happen is through vertical takeoff and landing aircraft (eVTOL) systems.
While eVTOL tech used to be considered a distant dream, other emerging technologies (including developments in energy storage) could be the catalysts to kick off commercial eVTOL aircraft use.
It sounds wild, but flying cars may be coming to market sooner than you think — though they might not take the form of the air-bound vehicles you see in your favorite sci-fi movies.
So buying stock in eVTOL companies now could be a way for ambitious investors to benefit from this trend.
We've rounded up some of the most exciting eVTOL stocks to keep an eye on.
What Are eVTOL Companies?
eVTOL companies develop products that use electric vertical takeoff and landing technology.
These aircraft use similar technology to small drones, and they also hover in a way that is very similar to helicopters.
However, eVTOL devices are much larger and are designed to carry passengers.
There is a wide variety of potential applications for this type of technology.
In fact, most eVTOL companies are looking to develop electric air taxis in major cities.
eVTOL technology could potentially be used in the future for emergency services, deliveries, and more.
eVTOL Stocks to Buy
eVTOL stocks are expected to grow exponentially in the coming decades, as their ability to operate over hilly terrain that hampers helicopters will likely lead to widespread use of this tech.
Here are some ideas to get you started in your search for the top eVTOL stocks.
Most Popular eVTOL Stocks
We're kicking off our list with the most popular eVTOL stocks on the market, so you can see what investment opportunities have already caught the eye of technologically-centered investors.
Joby Aviation (NYSE: JOBY)
Joby Aviation is one of the most exciting names in this nascent industry.
Earlier this year, the company announced its plans to acquire Uber Elevate.
Uber is one of the world's most successful rideshare platforms.
At the end of 2020, Joby Aviation announced that it would acquire Uber Elevate to further its progress in the urban air mobility industry.
This is a huge step forward for Joby, and its share prices have reacted accordingly.
Of all the electric air taxi companies on the market, Joby is arguably the closest to actually launching its services.
Joby Aviation has already proven that its aerial mobility technology works and has been running prototype tests since 2017; it has also tested its products with NASA.
The company's new partnership with Uber will also help expand its testing efforts even further.
Joby's vehicles have a range of 150 miles on a full charge and can reach a top speed of 200 miles per hour.
Analysts are very excited about Joby stock, and many have upgraded their price targets for this company over the next few years.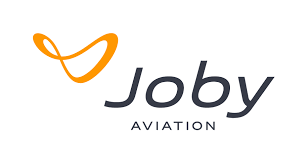 Blade Air Mobility (NASDAQ: BLDE)
Blade Air Mobility is another urban air mobility company with huge potential.
Right now, the company has an app that allows users to charter flights.
The company also runs scheduled flights from hubs like New York and Los Angeles as well as popular vacation destinations, like Aspen and the Hamptons.
Also, Blade Air plans to introduce its fleet of all-electric eVTOL aircraft in 2024, which will allow them to dramatically expand its services.
Blade Air also provides medical transport services.
Specifically, its technology is used to transport vital organs to those in need. The company recently acquired Trinity Air Medical in a $23 million acquisition.
It's important to note that after going public, the share price took a dip — something that often happens with SPACs.
However, Blade Air Mobility is slowly on the rebound, and its share prices are steadily moving upward throughout August and September.
With all of the company's applications of its tech, it has huge potential to continue growing in the future.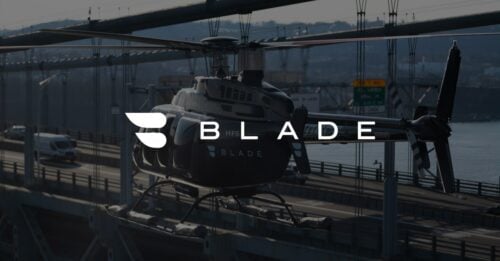 Air Taxi eVTOL Stocks
Interested in eVTOL stocks focused on air travel?
Keep reading for more information about an air taxi stock that could be poised to take off soon.
EHang Holdings Ltd. (NASDAQ: EH)
EHang Holdings is a Chinese company focusing on urban air mobility and smart technology.
This company is leading the air taxi business in China and has been running test flights since 2017.
EHang's goal is to provide safe, efficient, and environmentally friendly transportation solutions by leveraging technology leadership relevant in the field of aviation, smart manufacturing systems, and intelligent transport systems among others.
EHang's vehicles could be used for both passenger transportation and deliveries.
While many eVTOL developers are pre-revenue companies, EHang is already generating revenue, putting them financially ahead of the game.
After spiking in February, EHang stock has been effectively trading sideways for the past several months.
While there are always some risks associated with Chinese companies, EHang does have the potential for real growth if their vehicles hit the market.
Technology eVTOL Stocks
Some companies are already wise to the eVTOL trend and are looking to acquire other organizations with extensive experience in the industry.
Follow along for a look at Broadstone Acquisition Corp's potential acquisition of Vertical Aerospace.
Broadstone Acquisition Corp. (NYSE: BSN)
Broadstone Acquisition Corp. is a SPAC that plans to acquire Vertical Aerospace at the end of 2021 in a $2.2 billion deal.
Vertical Aerospace is a British eVTOL company that is developing its own proprietary aircraft.
Vertical Aerospace deals with major companies like American Airlines and Virgin Atlantic.
Its first aircraft, the VA-X4, will seat five people and have a range of at least 100 miles.
Since Vertical Aerospace already has deals in place with major companies, its financial future looks very bright.
The company expects to launch its first vehicle publicly in 2024 or 2025.
Buying Broadstone Acquisition Corp. now, before it merges with Vertical Aerospace, could help you secure a more lucrative investment before the stock jumps in price.

eVTOL Penny Stocks
eVTOL penny stocks make it easy to get in on the ground floor with this technology before everyone else.
We're providing our best eVTOL penny stock pick for investors on a budget.
Astro Aerospace (OTC: ASDN)
If you are looking to buy stock in an eVTOL company at a very low price, Astro Aerospace could be an option for you.
Astro is based in Texas and is developing a variety of autonomous air vehicles, and it's the only company on our list that trades for under $5.
These drones are very small and can be used for a wide variety of things, including passenger transport, medical evacuations, cargo delivery, and more.
Penny stocks can be very volatile, so investors need to be careful when adding them to their portfolios.
However, if you're looking to buy into the eVTOL market at an affordable price, this could be a good pick for you.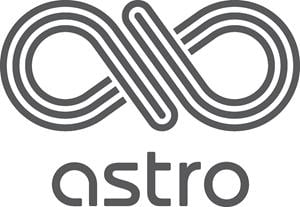 Should You Buy eVTOL Stocks?
eVTOL technology is very new, but it has huge potential.
Right now, many of these stocks are high risk, high reward, so they appeal to ambitious investors.
Implementing eVTOL technology will come with major challenges — most notably, navigating shared airspace safely.
However, these electric aircraft also come with plenty of potential benefits.
Since they are all-electric, they are environmentally friendly.
Additionally, they could help passengers get from place to place more efficiently, especially in cities that struggle with heavy traffic.
Finally, eVTOL companies could offer more efficient local deliveries.
Over the past few years, consumers have been switching away from shopping at traditional brick-and-mortar stores, preferring to shop online instead.
This means there is a huge demand for efficient delivery services.
Since these vehicles would likely work without drivers, e-commerce companies could cut back on labor costs and offer more frequent deliveries.
Companies in the eVTOL industry could see similar returns in the future, especially if Uber and other major companies move forward with their plans for an air taxi service.
Investors interested in the emerging eVTOL market will want to keep an eye on special purpose acquisition companies, as many eVTOL startups are opting to go public using this method rather than an IPO.
eVTOL Stocks: Final Thoughts
eVTOL technology could completely change the way we travel for the next decade.
Not only are these vehicles fast and efficient, but they are also very environmentally friendly.
Be careful when selecting your eVTOL stocks though because all competitors aren't the same — especially in an emerging technology space.
Do your research and make sure you are aware of more than just a few strategies that the company plans to employ to succeed in the market.
If you do your due diligence, investing in eVTOL stocks now could be a good way to capitalize on this exciting trend.