Lululemon Athletica is a famous sports apparel company from Vancouver, Canada. But who are the biggest Lululemon competitors? Read on to learn more.
Chip Wilson founded the brand in 1998 to provide yoga clothing for women that would help reduce sweating.
Since then, it has expanded into a brand that serves men and women with various athletic apparel.
Lululemon has nearly 500 stores throughout North America, Europe, Oceania, and Asia. It employs 19,000 people across its manufacturing and retail businesses.
The company is publicly traded on Nasdaq under its ticker symbol LULU and is included in the NASDAQ-100 stock market index. In 2019 the company had total revenues of $4 billion with an operating income of $889.1 million.

Lululemon's Advantage and SWOT Analysis
Lululemon Athletica has thrice been named one of the fastest-growing companies by Fortune magazine between 2010-2013. What started as a yoga apparel company became a lifestyle brand that caters to all genders.
It manufactures its products and sells wholesale to other businesses, such as yoga studios and health clubs.
In 2020 Lululemon acquired startup Mirror, which had found success with its interactive mirrors for at-home workouts. This style of exercise became increasingly popular during the COVID-19 pandemic.
The company also focuses on the often-overlooked female market. Most sports brands are aimed at men, but Lululemon is the opposite.
Strengths
Diverse product range. In addition to its yoga products such as yoga pants and yoga mats, Lululemon now produces a wide range of items, including tops, jackets, socks, and bags.
Global presence. Lululemon has opened its stores with locations worldwide in the United States, Canada, the United Kingdom, and Australia.
Lululemon controls its brand distribution which isn't the case for many of its competitors. Brands like Nike, Adidas, and Under Armour rely on third-party retailers for sales and aren't in control of the pricing.
Weaknesses
Lululemon Athletica's weaknesses start with its premium pricing. Its prices are higher than competitive brands in the athletic clothing and apparel industry.
Weaker marketing than competitors. Although Lululemon has a strong brand image, it faces tough competition that it does not market equally against.
Top Lululemon competitors have a competitive edge in international markets. Lululemon's weaker global presence compared to its competition makes it difficult for the company to gain market share.
Opportunities
The company can offer new product lines at reduced prices to draw new customers. This would allow them to retain premium prices on innovative products while expanding into new markets.
Adapting stronger social media and online marketing strategies would allow the company to tap into new trends quickly, and to increase customer engagement.
Threats
The athletic apparel industry and sportswear market are extremely competitive. New online stores, retailers, and brands appear every day to compete on price, availability, and quality.
An economic downturn and rise in inflation are multiple threats to the company's growth. These events can affect its supply chain and reduce customers' willingness to pay premium prices for casual clothing.
Constantly changing fashion trends can dramatically affect market demand. Customers may lose interest in sports accessories and athleisure clothing, which will affect the company's growth and annual revenue.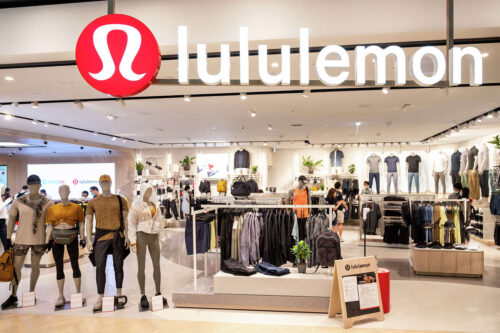 Lululemon Biggest Competitors
Relatively speaking Lululemon Athletica is a new company when compared to those it competes with.
Let's take a look the Lululemon's competitors and alternatives:
Nike – The largest manufacturer of athletic shoes and apparel.

Adidas – The second-largest sportswear brand behind Nike.

Gap – Competes with Lululemon for premium sportswear for women and is more inclusive.
Nike
Nike is the leading brand for sportswear and in particular sports shows. The brand was created in 1964 as Blue Ribbon Sports until a rebrand to Nike in 1971.
The company was founded by Bill Bowerman and Phil Knight and is located in Beaverton, Oregon.
Nike is well known for its range of shoes, including the premium and hard-to-get Air Jordans and Air Force 1s. Alongside its extensive shoe range, Nike sells apparel for sports, including running, tennis, and football.
Nike is listed on the New York Stock Exchange under the ticker symbol NKE. The brand reported total revenue of $37.40 billion in 2020 and had an operating income of $3.12 billion.
Lululemon competes with Nike as the company offers footwear products to the market.
Nike has a primarily male market, while Lululemon is predominantly aimed at women. Both brands sell goods for all genders, but Lululemon has some way to catch up with market leader Nike.

Adidas
Adidas is a lot like Nike in a lot of ways; they are the second industry leader and sell sportswear and sports shoes.
Adidas is the biggest sports brand in Europe but Nike takes the lead on a global scale.
The company began in 1949 founded by Adolf Dassler and is headquartered in Herzogenaurach, Germany.
It is publicly traded on the Frankfurt Stock Exchange under its ticker symbol ADS. The company reported total revenues of €21.915 billion in 2018 with an operating income of €2.368 billion.
Chip Wilson, the founder of Lululemon, is confident that his brand will overtake Adidas for the number two spot by 2025. He believes that the switch to more comfortable activewear gives his company a competitive advantage.

Lululemon Competitors: Gap
Gap is a clothing brand that sells athletic wear under its Athleta brand.
The company was founded in 1969 by Donald and Doris F. Fisher. The headquarters for Gap Inc. is in San Francisco, California.
Gap stores are located worldwide with over 3,500 locations across the world. There are over 2,000 in the United States alone.
Gap Inc. owns several other brands, including Old Navy, Banana Republic, and Intermix.
It is listed on the New York Stock Exchange under the ticker symbol GPS. The company reported total revenue of $13.800 billion in 2021 with an operating income of $-862 million.
Gap and Lululemon compete through Gap's Athleta brand, which targets its sportswear towards women, much like Lululemon.
Athleta beats Lululemon on price and has a broader range of sizes, making it more inclusive.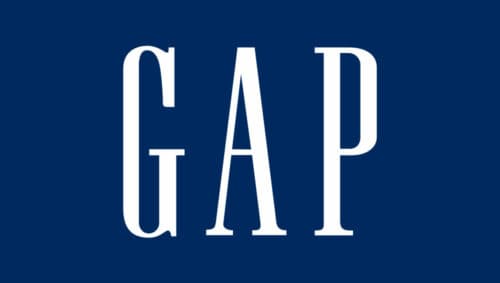 Lululemon Competitors and Alternatives: Final Thoughts
Chip Wilson thinks that Lululemon can overtake Adidas as the second-largest brand in the future. This is a lofty goal and one that will require serious expansion and sales from the brand.
As of now, Lululemon is primarily attracting female buyers.
To really eat into Adidas' (and Nike's) core business, they will need to convince male buyers to shop their brand.
With the right kind of marketing and sustained growth, Lululemon could become number two.