The COVID-19 pandemic has lead to mixed results for shoe manufacturers and other retail companies.
In-person shopping has decreased due to the stay-at-home orders.
Consumers instead flocked to e-commerce websites to get the products they wanted.
With more e-commerce traffic, many retailers are seeing a huge increase in sales.
Shoes are an essential product, and for many people, they are also a collector's item.
As a result, there has been a steady stream of demand despite the pandemic.
In this article, we'll talk about the top shoe stocks on the market to invest in right now.
Which shoe stocks are interesting to you? Find these picks and more on the WeBull platform. When you download WeBull, you'll get a few free stocks just for signing up.
Ready to build your portfolio? With Public.com you can follow other investors, discover companies that are inline with your beliefs, and invest into stocks and crypto with very little money! What are you waiting for? Check out Public Now!
Best Shoe Stocks to Buy
Nike Inc. (NYSE:NKE)
Nike designs and manufactures athletic wear, footwear, equipment, and accessories.
Based in Portland, the company is the world's largest supplier of athletic footwear and apparel.
In 2020, the stand-alone brand had a value of $32 billion.
This makes it the most valuable athletic brand in the world.
Founded in 1964, Nike, Inc.'s best-known features include the Nike "swoosh" and the well-known slogan "just do it."
Since its start, Nike has developed a number of shoe products under its own brand name, as well as brand names like Air Jordan, Converse, Air Max, and more.
2020 was not a bad year for Nike Inc., considering they were able to make up for their March losses relatively quickly.
The company's share price is now the highest it's ever been. They currently trade for just under $142 per share.
This $182.28 billion market cap company won't be going anywhere anytime soon.

Crocs, Inc. (NASDAQ:CROX)
Based out of Colorado, Crocs is the maker of the iconic foam clogs with holes manufactured throughout the toe area of the shoe.
The unique look of Croc footwear has made them a niche footwear choice.
They are particularly popular among middle and high schoolers, although they have a cult following among people of all age groups.
Crocs saw their first market peak back in 2007, before the financial crisis of 2008.
They struggled to regain traction on the market until 2018. 2020 was a record-breaking year for Crocs' stock prices.
Analysts believe this growth is likely due to the brand's deeply loyal customers.
It's never been easier to make retail purchases online, and loyal consumers will support the companies they love and believe in.
Data suggests that Crocs is trading at its highest price ever, at nearly $80 per share.
This reflects an over 50% year-to-date gain. Crocs has a market cap of $5.39 billion.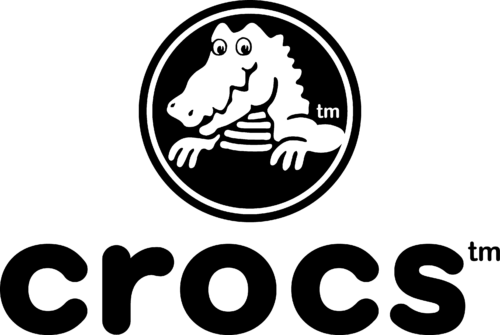 Best Shoe Manufacturer Stocks
Capri Holdings Ltd (NYSE:CPRI)
Capri Holdings is a multinational fashion holdings company.
Formerly known as Michael Kors Holdings, the company was established by Michael Kors in 1981.
The fashion company is best known for its fashion accessories, which include footwear, apparel, watches, handbags, and more.
In 2017 and 2018, Michael Kors Holdings purchased the Jimmy Choo and Versace brands and rebranded as Capri Holdings.
Both of these companies are well known in the fashion industry and are integral to the luxury shoe market.
Brand loyalty and recognition have been Capri's saving grace time and time again.
While Capri was hit during the March 2020 market crash, they've completely recovered their losses since then.
That said, their current share price is not nearly as high as their market performance in the past.
Since these are luxury fashion brands, it's understandable why the brand hasn't performed well in the middle of an economic downturn and pandemic.
When the world starts to open up and jobs return, Capri's success will likely return along with it.
Deckers Outdoor Corp. (NYSE:DECK)
Deckers is another brand that's solely committed to the design and distribution of footwear.
Based in California, Deckers's footwear brands include UGG, Sanuk, Teva, and more.
Their products range from loungewear to activewear and more.
The brand, sometimes referred to as Deckers Brands, was incorporated in 1975 and launched its IPO in 1993.
The brands in Decker's portfolio are sold in more than 50 countries through a variety of retail locations.
These include department and specialty stores, company-owned stores, online stores, and more.
Crypto Alert
I'm A One Percenter
It doesn't matter if you have $500 or $5 million.
Here's what I recommend you do with your money right now.
ATTENTION: The following video is a serious financial warning from one of America's richest men. He believes this event will make the rich even richer while financially affecting countless others and fan the flames of social protest.
It's free to watch and by doing so I believe you'll be ahead of everyone else struggling to understand what is really going on. I hope you take advantage of this opportunity!
Click Here For All Of The Details
We earn a commission if you click this link and make a purchase at no additional cost to you.
On the stock market, Deckers has done increasingly well since 2017, with the exception of March 2020.
The company's shares are currently at their highest point ever and are worth over $325 a share.
Additionally, Deckers has a market cap of $9.14 billion.
Best Shoe Retailer Stocks
Foot Locker Retail, Inc. (NYSE:FL)
Foot Locker is a footwear and sportswear retailer based in New York City.
The company's roots can actually be traced back to 1879, although they have gone through many transitions and name changes since then.
They have over 3,300 retail locations, most of which are in malls.
Foot Locker has footwear retail locations in the US, Canada, Asia, and Europe.
The US is Foot Locker's primary region, where there are more than 800 retailers.
The next closest is Italy, with only 170 locations.
Approximately 70% of the products the company sells come from the Nike (NYSE:NKE) brand.
Data suggests Foot Locker has a current market capitalization of $5.33 billion.
This is based on a current share price of just over $51.
Because the company depends on its retail locations, its earnings and share prices have been very volatile.
However, they have been transitioning to an e-commerce strategy.
This has likely prevented the company's shares from collapsing.
Shoe Carnival, Inc. (NASDAQ:SCVL)
Shoe Carnival is a family footwear retailer. Shoe Carnival is significantly smaller in size than Foot Locker.
They only have a market cap of $713.1 million. They have a total of 419 stores in the United States.
Despite Shoe Carnival's small size, investors are feeling the love.
The company's share prices have rallied more than 250% since April of 2020.
They're now trading for their highest price in history.
Current market conditions suggest that the stock might be overvalued.
Shoe Carnival is now trading for just over $50 a share.
Investors should keep an eye out for an opportune time to buy.
Best Shoe Penny Stocks
Iconix Brand Group Inc (NASDAQ:ICON)
Iconix Brand Group is a brand management company based in New York.
The company licenses brands to manufacturers and retail companies.
They have a focus on footwear, apparel, and accessories.
Some of the many brands the company has owned over the years include Strawberry Shortcake, Ed Hardy, Joe Boxer, Mossimo, Mudd, Pony, Zoo York, and more.
The Iconix brand offerings are now available in retail locations such as Kmart, Target, Macy's, Sears, Kohls, and JC Penny.
In 2020, the company announced they were up for sale.
This hardly made an impact on the performance of the company's share prices, considering they've struggled on the market for years.
Iconix now has a market price of $2.84, with a still impressive market cap of $37.42 million for such a low price.
Investors are hopeful that shares will go up once the company's sale goes through.
Since the company's brands are typically sold in brick-and-mortar retail locations, their sales will likely go up as stay-at-home orders end.
Puma SE (OTCMKTS:PUMSY)
Puma is a German company that designs and manufactures both athletic and casual footwear, accessories, and apparel.
This company is the world's third-largest sportswear manufacturer.
Two brothers originally formed the company in 1924, however, the brothers split the company in 1948.
The brother's two separate companies soon became known as Puma and Adidas.
The company remains popular through partnerships with athletes, musicians, and other public figures.
Some of these partnerships have included Rihanna, Selena Gomez, Jay-Z, and most recently, Neymar, in addition to a number of other big names.
Puma's market performance has picked up since March of 2020. Share prices peaked in December 2020, but have dipped slightly since then.
This means that now might be the right time to 'buy the dip'.
Puma shares are currently worth approximately $10 per share and have a dividend yield of 11.01 percent.
Li-Ning Co. Ltd. (OTCMKTS:LNNGF)
Founded by Chinese Olympic gymnast and billionaire entrepreneur Li Ning, Li-Nig Company Limited is a sports equipment and sportswear company.
Similar to Puma, Li-Ning uses the strategy of endorsing various athletes and sports teams from around the world.
These include sports teams in China, the US, Spain, India, Tajikistan, Mexico, and Macedonia.
Li-Ning stocks are now trading for $6.84 a share. This is the best the company has performed since their IPO in 2016.
Since this company has a relatively small market presence, there are some risks associated with investing in it.
However, there are plenty of advantages to selling in the Chinese market.
The country's population and economic activity are booming, which means there's a huge potential customer base.
Should You Buy Shoe Stocks?
The nice thing about retail items like footwear is that there will always be a demand.
Shoes are essential for so many activities, whether you're playing sports, running errands, or just going for a walk outside.
Shoes are also an item that consumers aren't likely to skimp out on.
High quality shoes provide superior comfort and durability. There's also a huge market for luxury and collectible shoes.
Which of the shoe stocks on our list piqued your interest? Check out Trade Ideas for plenty of great investment ideas. The Trade Ideas platform uses AI-based software to help you find exciting new investment ideas.
Stock Advice That Beats The Market!
Stock Advisor's recommendations
have beaten the market over the past 19 years. Tired of picking losers?
Stock Dork readers can join for only $99 a year!
Check out Stock Advisor today!
Buying Shoe Stock for Beginners
Shoes are not really an industry where people like to buy off-brand.
Try to invest in companies that have a well-established customer base, but haven't yet hit their peak popularity.
Social media influencers have become a successful marketing tool for many shoe companies.
Keep an eye on companies with a strong social media presence as you shop.
Shoe Stocks: Final Thoughts
E-commerce websites make it even easier for people to get the shoes that they want on-demand.
There is no disruptive technology that's going to take away from the popularity or need for shoes in the many decades to come.
Investors who get in early with some of these exciting shoe stocks could see awesome returns!