Read on to learn everything you need to know about Best Buy's competitors.
Best Buy is a popular electronics retail business that operates in North and South America.
The company was founded in 1966 by James Wheeler and Richard M. Schulze.
Originally, the company traded under Sound of Music but rebranded in 1983.
The re-brand was due to the business' focus on a broader range of goods instead of just audio equipment.
The company has its headquarters in Richfield, Minnesota.
Best Buy has several subsidiaries, including insurance and repair company Geek Squad, Pacific Sales, and Magnolia Audio Video.
The company has become the largest consumer electronics retailer in the United States.
Best Buy is listed on the New York Stock Exchange (NYSE) under its ticker symbol BBY. It is included in the S&P500 stock market index.
During the fiscal year ended January 2021, the company reported revenue of $47.26 billion with profit up almost 17%.
There are over 950 stores across America, Canada, and Mexico.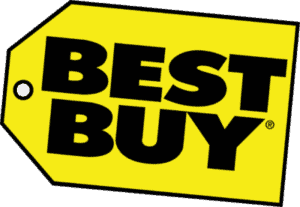 Best Buy's SWOT Analysis
The way Best Buy makes its money is through the sale of goods and services.
A significant bulk of its income is driven by the sale of computing and mobile goods which account for 44% of revenue.
Drones, entertainment, audio, fitness, and smart home technology are other popular items that Best Buy sells.
The sale of merchandise across all categories makes up 93% of Best Buy's total revenues.
Services provided by Best Buy total around 5% of revenue for the company.
This includes things like extended warranty, repairs, technical support, set-up, design, installation, and delivery.
Although they account for a much smaller share of the revenue, the services that Best Buy offers are a core part of the total experience.
Undoubtedly, their merchandise sales are bolstered by the services that Best Buy can offer its customers.
Strengths
Best Buy enjoys a strong market share and brand recognition.
It is a trusted retailer with strong digital sales in addition to in-store visits.
Best Buy's revenue stems from its physical stores and eCommerce platform.
Its Geek Squad and expert services help improve customer loyalty.
This creates repeat business for personal computers, entertainment products, and home appliances.
Weaknesses
Best Buy has limited internal presence.
Nearly 1000 of 1200 stores are located in the US.
While it may be the world's largest retailer, the company focuses almost solely on electronics products.
Opportunities
Strong e-commerce websites provide an opportunity to increase domestic online sales against similar companies.
Low international exposure opens opportunities for expansion globally.
Threats
Stiff competition from other online retailers, eBay sellers, and other direct competitors threaten to take market share.
Economic issues such as inflation and recession may cause consumers to reduce discretionary purchasing.
Employee upsets, such as forming unions or participating in work stoppages can interrupt business.
Best Buy Biggest Competitors
Best Buy competitors and alternatives take a broader product category approach, and include:
Walmart – The largest retail chain in the world.

Amazon – The largest eCommerce store in the world.

Apple – A computing and mobile technology company with its own storefront.
Walmart (NYSE: WMT)
Walmart is the largest company in the world in terms of total revenue.
It is a supermarket chain that operates in the United States and Canada as Walmart.
The company is also active worldwide under different names such as Asda, in the United Kingdom.
It has over 11,400 stores throughout the world and the company sells a large range of products.
Walmart has an emphasis on being a one-stop shop and is a popular destination for groceries, clothing, and home goods.
It also offers a range of electronic goods which puts it in competition with Best Buy.
Best Buy is highly specialized in selling consumer electronics and has a much wider selection than Walmart.
Walmart remains hot competition thanks to the high foot traffic it experiences and its more diverse selection of goods.
The company employs over two million people worldwide.
In 2021 Walmart had reported revenue of $556.2billion and an operating income of $22.55 million.
Amazon (NASDAQ: AMZN)
Amazon is one of the most valuable brands in the world with a market capitalization of over $1.5 trillion, behind Apple.
The company started with Jeff Bezos in 1994 as an online book retailer.
Since then, the company has innovated and expanded to offer a wide range of products and web services.
Amazon employs 1.3 million people around the world, with over 810,000 in the United States.
One of the most popular product types it sells is consumer electronics which makes it a strong competitor for Best Buy.
Amazon is the third biggest consumer electronics seller in the United States.
It sits behind Best Buy and Walmart in this category, but its share in the industry is increasing.
Amazon offers Amazon Web Services which sells cloud computing services and smart home tech such as the Ring doorbell and Alexa smart speakers.
Amazon reported total revenue of $386.064 billion in 2020 and had an operating income of $22.9 billion.
Its retail products are Amazon's most significant source of revenue.

Apple (NASDAQ: AAPL)
Apple is the largest technology company in the world.
They have a market capitalization of over $2 trillion making them the most valuable company in the world.
Apple designs and manufactures a highly popular range of tech products.
Its smartphone, the iPhone, is one of the most popular smartphones in the world.
The iMac, iPad, and AirPods are among its product range that are highly sought after.
The company introduces new products to market each year and people queue up to be the first to get them.
Apple supplies Best Buy and other retailers with their goods but in 2001 the company launched its own brick and mortar Apple Stores.
This put it in direct competition with Best Buy and they have become the fourth-largest retailer for consumer electronics.
The company also uses its retail space as a base to have local experts available for repairs.
The company reported total revenues of $274.515 billion and has an operating income of $66.288 billion.

What Is Best Buy's Advantage?
Best Buy's competitive advantage is that it is a specialized retailer and can offer more focused services.
For example, Best Buy can sell electronics, upsell accessories, and suggest services such as Geek Squad.
When compared to Walmart and Amazon, the company has a better reputation for being knowledgeable and trustworthy when it comes to electronic goods.
The company offers a much wider range of goods than its competitors and benefits from the human element.
Best Buy Competitor FAQs
How Is Best Buy Different from Its Competitors?
Best buy focuses on electronics and technology only.
It sells popular items such as smart home devices, gaming consoles, and office equipment.
By specializing in these areas only, the company is better able to provide expert advice and service to customers.
What Companies Are Similar to Best Buy?
Apple Store is considered similar, but it is quite limited due to offering Apple products only.
Some eBay stores are similar to Best Buy but not as well known.
Likewise, there are stores known for office supplies, such as Office Depot and Office Max, but they're associated with business needs more than tech devices.
Before the Covid-19 pandemic, the company most similar to Best Buy may have been Fry's Electronics.
That company shut its doors as of February 24, 2021.
Who Are Best Buy's Biggest Competitors?
Best Buy's biggest competitors today are larger retail stores such as Walmart and Amazon.
These competitors do not offer the same level of skill and selection with electronics, but they're popular as one-stop shops.
Best Buy Competitors Analysis: Final Thoughts
There is strong competition in the consumer electronics market but Best Buy has established itself as an industry leader.
The industry is growing and will continue to grow for a long time.
Best Buy has a strong online presence as well as many retail outlets across the country.
Its diverse range of goods from mobile devices to household appliances, coupled with helpful staff, and good reputation will continue to play in Best Buy's favor.