Did you know the best coins to buy are not always the most popular gold coins?
Investing in the best gold coins is a great way to diversify your portfolio.
Precious metals portfolios hedge against economic downturns or other market disruptions worldwide.
Read this guide to learn the best gold coins to buy.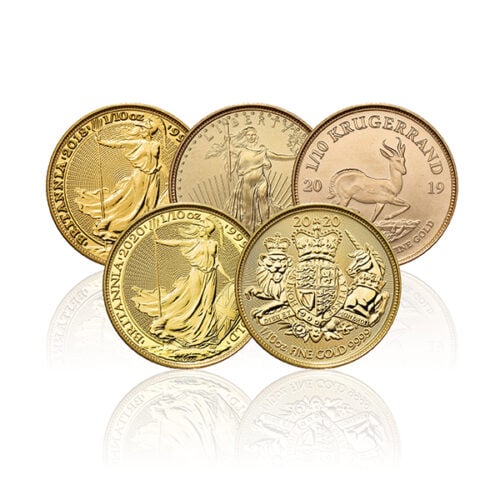 Why Buy Gold Coins?
Investors collect and buy gold coins for a variety of reasons, including:
Gold coins have been a way to store wealth and value throughout history

The appeal of buying physical gold is that it is tangible as opposed to paper or electronic money.

Gold coins can be bought to build up incremental ownership of gold.
Gold (and gold coins, more specifically) can provide a hedge against inflation and are considered by some to be a haven during uncertain economic times.
With the price fluctuation and the risk of market crashes, gold coins are becoming more popular for investors looking for a long-term financial solution.
This is because the price of gold generally goes up and rarely falls.
Also, gold coins can be a good investment option due to their low premiums and high liquidity.
So whether you are a long-term investor or new to the world of investing, gold coins have many benefits.
What Are the Best Gold Coins to Buy for Investment?
Investors have used these coins for centuries; just like stocks, they're an excellent way to make money.
Here are the best gold coins to buy for your investment.
Gold American Eagle Coin
The American Eagle coin is a gold eagle coin with a face value of one dollar, and it's legal tender in the US.
The Gold Eagle coins are made of 24-karat gold and have an overall weight of over one troy ounce.
The American Gold Eagle coin has been the official gold bullion coin produced by the US Mint since 1986.
Investors use them in place of gold bullion, shares, or other investments such as stocks or bonds.
Investors can exchange American Gold Eagle coins for cash at the current market price, trade for other coins, or buy 1 oz gold coins with lower face values but higher numismatic values.
Canadian Gold Maple Leaf Coin
The Royal Canadian Mint minted Canadian Maple Leaf Gold Coin, which is Canada's official currency.
It is currently one of the most sold gold coins worldwide.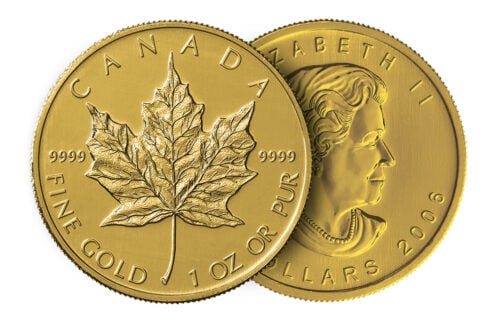 This investment can grow over time due to its limited minting by the Royal Canadian Mint.
With a 1 oz gold Canadian Maple Leaf Coin, you'll receive $1,000 worth of pure gold within a sealed, tamper-proof air-tight capsule.
As an investment, this coin has long-term growth potential as it can be traded or used as a currency outside of Canada.
A good investment with low risk and high return made the Gold Maple Leaf Coins popular gold coins globally.
American Buffalo Gold Coin
The United States Mint issues the one-ounce American Buffalo Gold Coin that provides investors with a secure storing method for their wealth.
The Gold Buffalo Coin is a physical coin.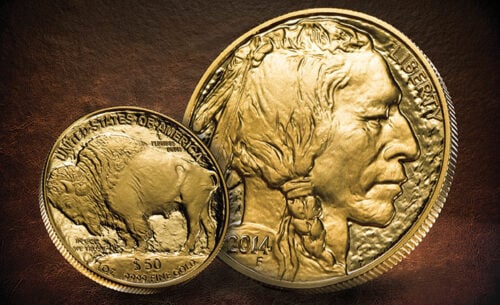 Investing in proof coins provides investors with an opportunity to diversify their holdings in a physical form.
You can buy the coins as proof sets or uncirculated coins.
It can benefit those looking for more control over their investments or access to physical proof coins rather than digital coins like Bitcoin.
Uncirculated coins are the coins not approved to circulate.
The Buffalo coin or gold bullion coin is an investment option for those who don't want to tie up their money.
The best gold coins to buy usually come with a higher profit margin than the spot price.
Some American Gold Buffalo coins are rare and limited-edition coins with high collector value.
The Gold Buffalo coin has a 90% purity, including the gold content, and the United States Mint minted it.
Also, Hawaii issued this coin in 2006 as an official currency.
It has a face value of $50 and is legal tender throughout every state in America.
The South African Gold Krugerrand
The rand refinery minted the South African Krugerrand coin in 1967.
They have been closely associated with the heritage of South Africa and the wildlife that they protect.
They are South Africa's popular fine gold coins due to their rarity, high purity and face value, and Gold Bullion status.
The gold Krugerrand from South Africa is from pure 24-karat gold, weighing 22.34g or 0.77 oz and measuring 31 mm in diameter by 28 mm in thickness.
There are more Krugerrands in circulation than any other 1-oz gold coins combined.
A further hallmark of the coin is the security thread inside, which makes this coin an official legal tender value in South Africa.
Austrian Philharmonic Gold Coin
The Vienna Philharmonic Coin is a coin produced by the Austrian Mint.
The Gold Philharmonic coin features a portrait of the famous composer Wolfgang Amadeus Mozart on one side and an image of a violin with bows on each end on the other.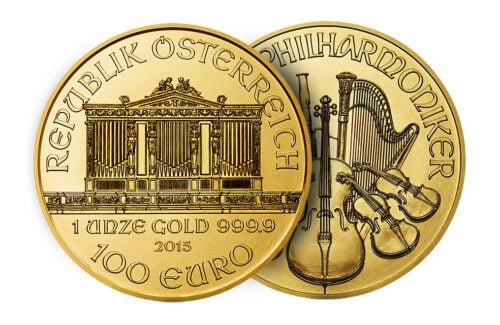 This Gold Philharmonic coin is harder to counterfeit because it is 24-karat gold.
Collectors covet the royal mint gold Philharmonic because of its unique design and status as something rare and valuable.
Gold Sovereign Coins
People have used fine gold coins as a currency for centuries, and the most widely used resource is the Sovereign Coin in the United Kingdom.
The Royal Mint produces this British coin with gold Britannia on the obverse side.
The Gold Sovereign Coin is a gold coin that the British government approves and features Queen Elizabeth II.
The Royal Mint first minted these gold coins in 1817, and people have used them as a medium of exchange for many years.
The coin is made from gold and has Queen Elizabeth II's head on one side and an image of gold Britannia with a trident on the other.
It is one of the earliest examples of precious metals used as currency in the United Kingdom.
Chinese Panda Gold Coin
The China Gold Panda coins are a type of gold bullion coin minted by a State Council decree on December 22, 1982.
The Chinese Panda Gold Coin weighs about 4.09 grams.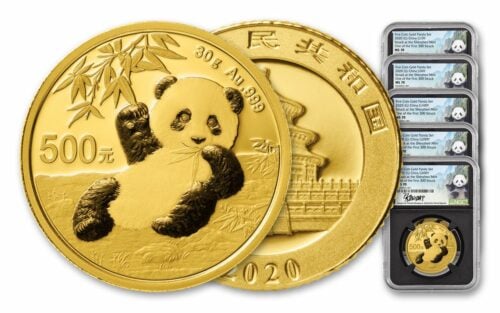 It is the first and the only coin issued by China.
The Chinese Panda Gold Coin design is for investment transactions.
It contains real gold inside, which makes it a better choice than other digital currencies.
The five ounce coin carries a face value of 2000 Yuan, or approximately $300 USD.
The coin comes in various sizes, ranging from as low as $5 face value.
Australian Gold Kangaroo Coin
The Australian Gold Kangaroo Coin is a legal tender coin minted by the Perth Mint.
The Australian Kangaroo Coin is made of a gold iridium alloy and is therefore immune to corrosion from the elements.
The coin has a face value of $5, although people can accept it at face value or a discounted rate depending on market forces.
The Austrian mint's popular gold coins are for investors and collectors.
Are Gold Coins a Good Investment?
People use gold coins or other bullion coins traditionally as a safe-haven investment outside of the stock market.
Gold investing is an excellent way to invest in precious metals, and investors can protect their wealth with these investments.
Gold investors and coin collectors see gold or bullion coins as safe-haven investments.
They help investors protect their wealth, with the added convenience of being smaller than gold bars.
Some investors prefer holding a previous metals portfolio that does not involve storing gold bullions physically, which means consumers can purchase the precious metal with confidence.
What Size Gold Coins Should I Buy?
One common question that people ask when investing in gold coins is what is the coin size.
Answers may vary depending on your specific investment needs, but here are some considerations to get you started.
Large-sized gold coins are more expensive upfront than small-sized ones, like the 1 oz gold coin (1 ounce), but you get a better return on your investment by spending more money on larger-sized gold coins.
The size of your coin should depend on how much you plan to invest and what type of investor you are.
For example, if you want to invest a small amount of money and have long-term goals, then a smaller 1 oz gold coin would be better because it gives you a higher return per unit of investment.
Investing in Gold and Precious Metals with Coins
If you want to invest more in gold and other precious metals, a larger coin is better because it is more profitable.
Gold coins come in different sizes, shapes, and weights depending on the country that mints them.
Depending on the country and its standards for gold coins, you'll need to make sure that you purchase the right size for your needs.
If you want a smaller 1 oz coin or an ounce of gold, you might want to look at buying the American Eagle gold coin.
Best Gold Coins to Buy
The best gold coins to buy are the most valuable for their size, containing .9999 fine gold.
Fine gold (.9999) will have more of an impact than a 10-gram, variety.
If money is not an issue and you want to purchase a large coin, you should check out the Canadian Gold Maple Leaf Coin.
The size is dependent on the total ounce of gold coin, but most start at 1/20 oz. and go up by 20–30% with each increase in price point.
Final Thoughts: Best Gold Coins to Buy
Precious metals are an asset that is not only tangible but also has historical value.
Gold prices vary with the price of spot gold and current market conditions.
The best way to invest in coins is by buying them from a reputable mint, and many enable buying gold online.
When investing in bullion coins, you're not just buying a commodity but also partaking in long-term value investment.
As an additional benefit, buying gold bullion coins from a reputable company will ensure that you get the best quality coin possible.