Follow along for a deep dive into Blue Origin stock and some close competitor stocks to keep an eye on.
Blue Origin is an up-and-coming space travel company that has piqued the interest of investors from all over.
Its main competitor is SpaceX, and its primary mission is to provide space travel to the general public.
Eventually, it plans to help people live and work in space.
Blue Origin focuses on sustainable space travel by developing reusable flight vehicles, rockets, and launch vehicles.
So can you buy Blue Origin stock? Keep reading to find out!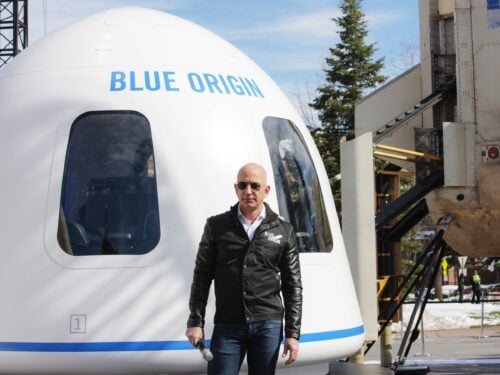 What Is Blue Origin?
Blue Origin is a private company founded by Amazon's previous CEO, Jeff Bezos, in September 2000.
The President and CEO Bob Smith and 3,500 employees work to build and launch rocket engines to carry payloads and space tourists.
Each rocket is designed to be reused at least 25 times to reduce waste and cost.
The company plans to build a commercial space station and enable people to live and work on the moon.
It also plans to offer space travel to tourists looking to take a vacation that's out of this world.
A Brief History of Blue Origin
Founded by Jeff Bezos in 2000, Blue Origin is the dream child of the man responsible for founding Amazon.
Bezos has had an interest in space and orbital travel since a young age, and in 1999, he decided to take a chance and quietly launch a space company.
The company began in Kent, Washington with 10 employees.
The public didn't even notice the company launched until 2003 when Bezos began purchasing land in Texas for its use.
Bezos began speaking publicly about the project in 2005.
He spoke of his desire to create vertical takeoff and landing reusable launch vehicles, stating that the current method of using expensive disposable rocket boosters made space exploration too expensive.
He also told the world of the New Shepard rocket, one of the reusable launch vehicles he envisioned.
It was to help lower the cost of spaceflight and make space travel more accessible.
Bezos also shared his plan to make human travel of the solar system a realistic endeavor for mankind.
In 2008, the space company had announced plans and timetables for the New Shepard, indicating that it would be ready to start unmanned flights by 2011 and manned flights by 2012.
The plans were ambitious, which was to be expected of the man who helped to found Amazon.
By 2011, Jeff Bezos had taken his vision for the company completely public, stating that he not only wanted to make space exploration possible but that he wanted to make space travel a commercial venture, seeking to offer customers the chance to fly into space on the New Shepard.
His goal was clear: to decrease space travel costs while increasing its safety.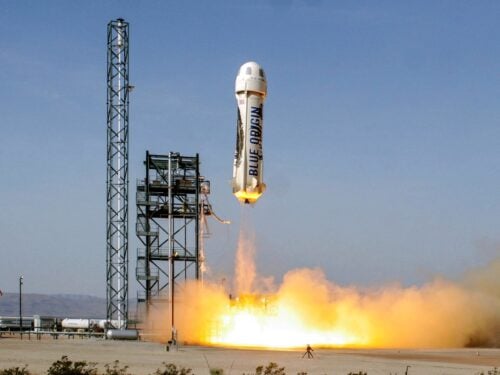 Recent Successes
Blue Origin's goals had been set out before it, lofty and daring, and the company made headway towards them as quickly as possible.
It increased from 10 employees in 2000 to 250 employees in 2013.
Within the next two years, it added another 150 employees to its staff, resulting in just over 400 employees in 2015, the year that the New Shepard took its first developmental flight.
In November 2015, just seven months after its first flight, the New Shepard rocket was launched again.
This time, however, the rocket made monumental history.
New Shepard flew into space at an altitude of 100.5 kilometers, and then descended back to Earth using parachutes, landing safely on the launch pad just 11 minutes after takeoff.
This was the first time in history that a suborbital booster had ever been launched into space and returned to Earth.
In January 2016, Blue Origin made it a point to prove the reusable aspect of the booster, and launched it again into space, landing and returning safely.
The New Shepard booster would do it once more in April of 2016, for a remarkable three launches into space with safe re-entry and soft landing.
In 2016, Blue Origin invited journalists to tour the Kent, Washington headquarters and manufacturing site for the first time.
The company continued to grow, and in 2016 employed nearly 1,000 people.
During this time, Bezos shared his vision of how the company will grow into the future.
One of his ideas is to move heavy industry to space and reserve Earth for residential and light industry only.
He also wants to create a space tourism industry.
Bezos believes the entire aerospace industry could see a boom in development if it's made available for entertainment and leisure purposes.
In 2016, Blue Origin announced their newest rocket, the New Glenn, named after John Glenn.
The New Glenn would also be reusable and capable of vertical launches and landings.
In 2017, the company announced it had acquired its first paying customer for orbital satellite launches, Eutelsat, who expects to launch TV satellites in 2022 using the New Glenn launch vehicle.
Two more companies were soon to follow, OneWeb and Mu Space, announcing they'd chosen Blue Origin for satellite launches as well.
While manned launches are yet to be, the company auctioned off a seat on the first private astronaut mission in June of 2021.
The seat sold for $28 million, and the winner launched alongside Jeff Bezos and the first astronaut crew of Blue Origin in history.
Who Owns Blue Origin
Amazon founder and billionaire Jeff Bezos owns Blue Origin.
He founded the aerospace company in 2000.
Bezos announced his retirement as CEO of Amazon in 2021 and cited plans to become more involved with Blue Origin in his open letter to employees of Amazon.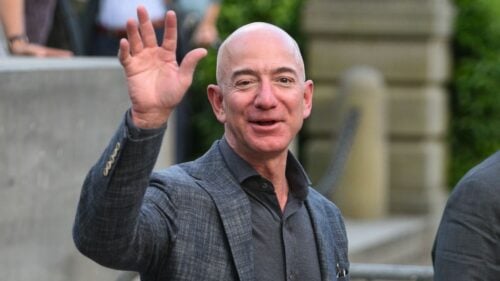 What Is Blue Origin Worth?
Estimating Blue Origin's worth is no easy task.
The company has remained very private in terms of its projects as well as income.
While there are no figures for orbital satellite contracts, an estimated $100 million of future space tourism tickets have already been sold.
And Jeff Bezos is determined to make the company a success.
As of 2014, the amount of money that Jeff Bezos had personally placed into Blue Origin was over $500 million.
In 2017, Bezos announced that he would continue to fund Blue Origin, providing to them $1 billion per year from the money made from sales of his equity in Amazon.
Blue Origin Revenue?
The company keeps its funding facts secret, thus revenue is at best estimated.
Blue Origin's annual spending is estimated at upwards of $1 billion.
Since 2017, Jeff Bezos has provided $1 billion per year to stay afloat.
Why Is Blue Origin Valuable?
Blue Origin is valuable because it represents an up-and-coming industry that will allow for advances in science, industry, and entertainment.
Jeff Bezos equates Blue Origin and the work it is currently doing to that of the early aviation industry.
While the company may be in its fledgling stage, it is one of few space companies putting research and effort into affordable space travel and reusable rockets.
Bezos has stated he believes Blue Origin to be the most important work he's ever done.
The development and fine-tuning of reusable rockets are what he calls the heavy lifting, something that can only be done by a company as well backed as Blue Origin.
This heavy lifting is the way to ensure that aerospace travel and industrialization can happen in the future.
He believes that Blue Origin is the setup that will allow future space company startups to gain success.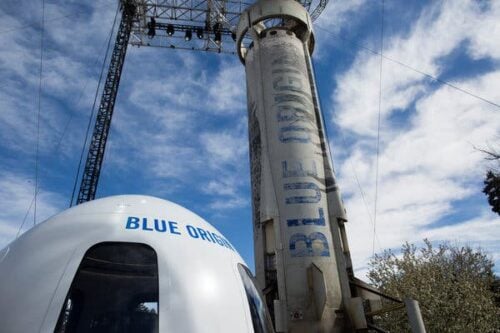 Is Blue Origin Publicly Traded?
Investors often eagerly ask, "is Blue Origin public?", and sadly it is not.
If it continues on its current path of explosive growth, it will likely be publicly traded in the future.
Can You Buy Blue Origin Stock
At this time, Blue Origin stock is unable to be purchased, and no initial public offering (IPO) is planned.
While you may want to invest in Blue Origin, it is not possible to do so yet.
Recent news surrounding the company and its competitors continue to foster speculation of an IPO in the near future.
Blue Origin IPO Date
Unfortunately for space stock traders, no IPO date has been publicly announced as of May‌ 2023.
We'll make sure to keep you posted if this changes.
Blue Origin Stock Symbol
It doesn't look like Blue Origin has secured a stock ticker, so we don't know what its stock ticker could be.
ORGN would be a great ticker name, but unfortunately, it's already taken by Origin Materials Inc.
Blue Origin Competitors You Can Buy
While Blue Origin may not be available to the public yet, there are competitors in the space industry that are, as well as competitors that have an impact on the aerospace market.
Not all of these are space stocks, but they are some of the closest competitors that are trading on major stock exchanges.
Virgin Galactic Holdings Inc (NYSE: SPCE)
Another major player in the global space industry, Virgin Galactic, is a publicly-traded company that may be worth investing in.
Founded in 2004, this company was another early entry into the aerospace market.
It focuses on offering suborbital flights and space tourism.
As of 2021, the company has had two manned test flights.
The first test in 2018 carried two pilots to an altitude of 82.7 kilometers, officially reaching outer space.
The second flight carried two pilots and a passenger.
During the flight, the passenger floated in the cabin, demonstrating the weightlessness experienced at the altitude the flight achieved.
Boeing Co (NYSE: BA)
Boeing claims to be the largest aerospace company in the world and is a leader and innovator in the field.
When looking for a comparable investment to Blue Origin stock, Boeing is a solid choice that shows no signs of slowing down.
Boeing provides leading solutions for the design, production, modification, service, and support of satellites and human space exploration vehicles.
A prime example of its space exploration vehicles is the CST-100, used for transporting astronauts to and from the International Space Station.


Wait For a Blue Origin IPO?
Investors and traders who are bullish on space travel, tourism, and exploration may want to invest in Blue Origin if its stocks are publicly traded.
Meanwhile, you can also allocate a portion of your portfolio to similar stocks that are currently available.
Blue Origin Stock Price
Because Blue Origin is not publicly traded, there is no stock price currently available.
A price won't be available until the company has an IPO, which has not yet been announced.
The competition ranges from $10 to over $200.
The successes of the company and backing from Jeff Bezos make it likely that the stock price will be at the higher end of that range.
Blue Origin Stock: Final Thoughts?
While Blue Origin stock is not currently available, it will likely be in the future, especially with the interest surrounding the space tourism industry.
Blue Origin's owner, Jeff Bezos, is becoming much more involved with the company this year, and if the price of Amazon stock is any indication, you can bet that Blue Origin stock will be priced high when finally available.
There's a good chance that investing in Blue Origin could be your shot to hit the moon if an IPO is offered.
Blue Origin Stock FAQ
Read on for our answers to the most commonly asked questions about Blue Origin stocks.
Is Blue Origin Funded by NASA?
The National Aeronautics and Space Administration (NASA) has granted over $415 to three space companies, one of which is Blue Origin.
The funding is provided to build the commercial space station that will eventually replace the International Space Station (ISS).
Does Blue Origin Have a Future?
Many people wonder if Blue Origin is failing because it lost a bid to build a lunar lander for the moon.
In reality, the company has big plans for the future.
One such plan is to launch a private space station named Orbital Reef in 2025–2030.
What Is the Stock Name for Blue Origin?
Blue Origin is a private company and does not yet have a stock name.
We'll make sure to keep you posted if this changes.
How Much Will Blue Origin Cost?
The estimated cost for Blue Origin stock shares when it goes public is about $100.
This is a general stock price based on what its close competitors are trading for.
Is Blue Origin a Subsidiary of Amazon?
Blue Origin and Amazon were both launched by Jeff Bezos, but neither is a subsidiary of the other.
This also means that buying Amazon stock is not a gateway to owning a piece of the Blue Origin pie.
Is Blue Origin Part of SpaceX?
Blue Origin is not a part of SpaceX.
It is actually a direct competitor.
Who Won the Blue Origin Auction?
Justin Sun, the founder and CEO of the blockchain platform Tron, paid $28 million to fly with Jeff Bezos into space in 2021.