Dogelon (ELON) was a breakout cryptocurrency that skyrocketed in value during 2021 before seeing a sudden drop. But will Dogelon Mars reach 1 cent? Read on to find out if this crypto coin still has some gas in the tank.
What Is Dogelon Mars?
Launched in April 2021, the Dogelon Mars coin is a micro-cryptocurrency that was built on the Ethereum blockchain.
The Dogelon Mars cryptocurrency is named after Tesla CEO Elon Musk, who also founded SpaceX. Many believe the name connection with Musk was designed to attract plenty of early investors.
Known for his crypto passion and aims to reach Mars, Elon Musk, in name at least, has helped Dogelon Mars to surge in popularity, benefit from social media hype, and entice more investors.
ELON uses Ethereum's security to prevent digital asset theft and protect the community-based coin. The project says that it is a fork of 2013-launched Dogecoin, one of the most popular meme coins.
Like Shiba Inu, half of the initial supply of Dogelon Mars was given to Vitalik Buterin (the creator of Ethereum), who later donated his coins. The remaining 50% was added to the Uniswap liquidity pool, locked forever with Ether.
Though enormously vague plans cast doubt, the Dogelon project hopes to become the first-ever interplanetary currency.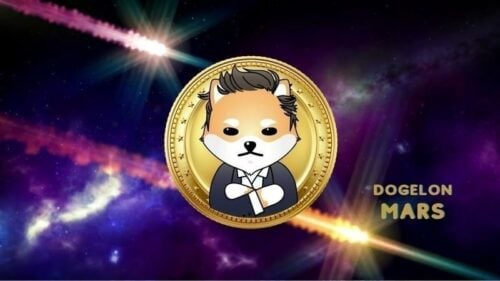 More on ELON
While scams are common in the crypto space and various cons have chased retail clients away, Dogelon Mars has thus far proved itself as a meme coin.
When it launched, Dogelon Mars Elon wasn't listed on many cryptocurrency exchanges. Today, however, it is featured on a number of both centralized exchanges and decentralized exchanges, which list a variety of major cryptocurrency pairs.
It's fairly easy for anyone from a skilled bitcoin buyer to a novice investor to buy Dogelon Mars Elon tokens through centralized exchanges like Poloniex, Gate.io, HotBit, and AOFEX.
Although more complicated, advanced cryptocurrency traders prefer to buy Dogelon Mars through decentralized exchanges, such as Uniswap and Gate.io.
Fortunately, there are multiple platform options to accommodate traders looking for alternatives.
Is Dogelon Mars a Pump and Dump?
Dogelon Mars does not appear to be a pump and dump. Regardless, meme coins have the potential to see some form of pumping. So it would be wise to approach any investment in meme coins with caution.

How to Buy ELON
Right now, the easiest way to get a hold of Dogelon is through cryptocurrency.com. It's accessible to most crypto investors and has a solid reputation.
There's also KuCoin, but the platform is not licensed to operate in the US, which could be dicey. To be clear, KuCoin has earned a solid reputation overseas, but the repercussions for trading on an unlicensed exchange are murky.
A popular method that many traders are using is buying tradable currency pairs to swap for ELON. The favorites are Ethereum-based coins with low gas prices, such as Stellar Lumens (XLM).
Dogelon Mars Market Capitalization
Following its October peak, Dogelon Mars Elon had a market cap greater than one billion USD. That means the total market value of the circulating supply was more than a billion dollars.
Estimates vary, stating that 1-500 trillion tokens are in circulation on any given day. At one point, Dogelon Mars made it onto the list of the top 100 cryptocurrencies ranked according to market capitalization.
Despite the huge market caps, Dogelon Mars has slipped off the top 100 list in 2023.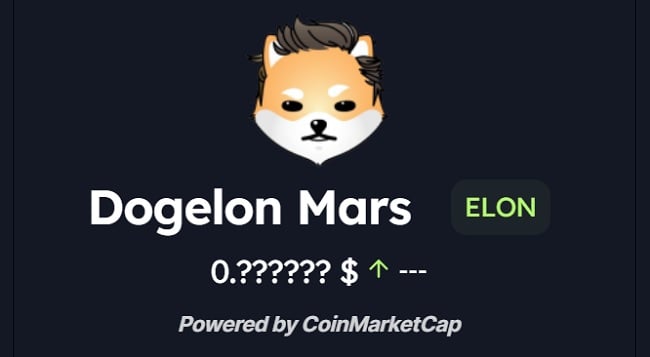 What's the Current Dogelon Mars Price?
The current Dogelon Mars ELON price is around $0.0000005159 — a far cry from its all-time high so far is $0.00000259.
However, it's important to note that we are seeing a slump in crypto across the board right now, so this isn't anything specific to ELON or other meme coins.
Even the crypto king Bitcoin has taken an enormous hit (a few decimals from being down 50%).
Dogelon Mars Price Prediction
Giving a fair Dogelon Mars price forecast is difficult at this time, as crypto, in general, is seeing a downward trend. So we're going to break down what it could look like if we see the market reverse into another bull run.
Before the recent crypto downturn, some experts believed Dogelon Mars could have a value of $0.000002 by the end of December 2021.
Moving into 2022, prices are expected to reach $0.000003 within the first six months, then close the year at a maximum of $0.000004.
Some Dogelon Mars price predictions anticipate that 2023 could see a similar pattern, rising from a minimum price of $0.000005 in the first half of the year and then ending at a maximum price of $0.000006.
Some expert analysts also believe that the end-of-year value for 2024 could reach $0.000008, and $0.00001 by the end of 2025.
It's expected that ELON's price could continue to gradually rise year after year, with a price prediction for 2030 of an average of $0.00004588.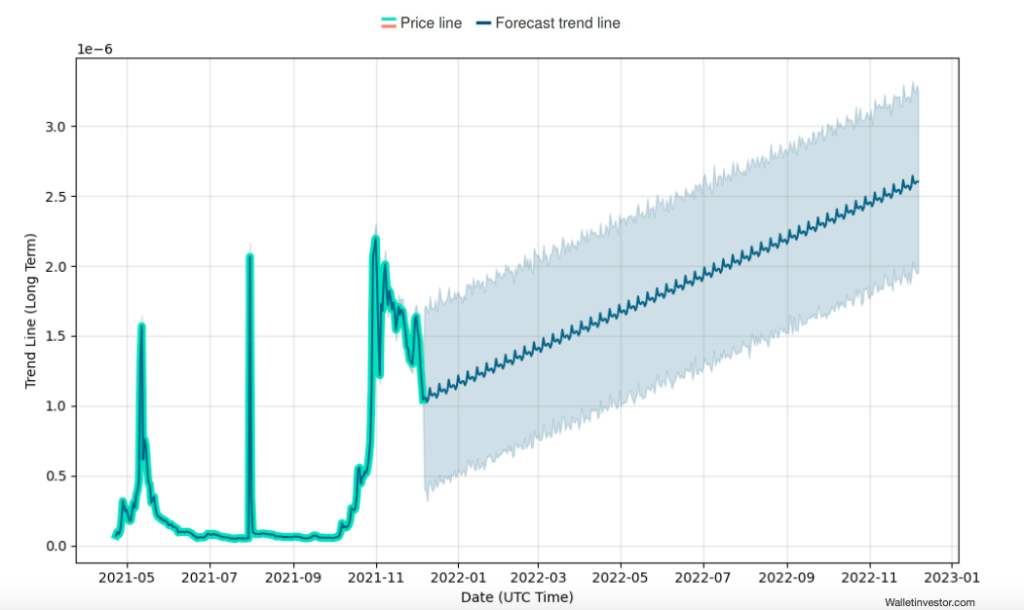 Though, if the crypto market doesn't stabilize to previous levels, these predictions may not hold.
Also, even if the market does stabilize, these predictions still may not occur.
Is ELON a Good Investment?
Meme coins like Dogelon Mars are very volatile, meaning that they will likely only appeal to traders with a high-risk tolerance. New investors may not see profits (if any) for quite some time, assuming the coin does go up again.
Right now, the coin's price is so far down that it's likely that only early investors are in the green.
Here's what the charts look like, courtesy of CoinMarketCap: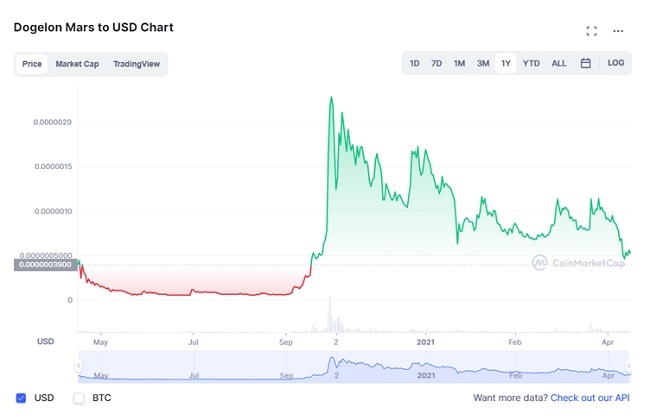 Much of Dogelon Mars' current success has come from online hype on social media platforms and jokes within crypto communities.
Future plans for the Dogelon Mars token are unclear.
A big part of the currency's ongoing success, therefore, comes down to a committed community. This could, understandably, scare some investors away who want to invest in a coin with a clear roadmap and utility.
Can Dogelon Mars Reach 1 Cent?
The question in many people's minds is whether Dogelon Mars can really reach 1 cent. Unfortunately, this is virtually impossible at this time.
The market cap of Dogelon Mars would become almost double that of the total cryptocurrency exchange market to hit this price target.
Currently, the only viable path for Dogelon to reach an average price of 1 cent is through a coin consolidation. Many cryptos that have a massive number of coins in circulation are consolidating their coins and rolling out a V2 — or even V3. SafeMoon is a notable example.
Still, plenty of folks are still holding out hope due to ELON's performance in 2021. Along with Shiba Inu, Dogelon Mars was, surprisingly for many, one of the best performers in the last quarter of 2021. In October 2021, ELON soared by 4,000%.
Ethereum and Bitcoin similarly reached record highs on the cryptocurrency exchanges in October 2021. But these are both down as well.
Will Dogelon Mars Go Up 2022?
Unless the trajectory changes, it's hard to tell if Dogelon Mars could start trending upwards. Its momentum seems to be largely tied to its sibling meme coins. If they don't bounce back, it's hard seeing ELON flying high on its own.
You might be able to leverage its volatility for a swing trade. But with ELON's downward trend, you'd need to execute some solid market timing.
Many meme coins are in this boat right now, and maybe we'll see a reversal when the next canine crypto takes off.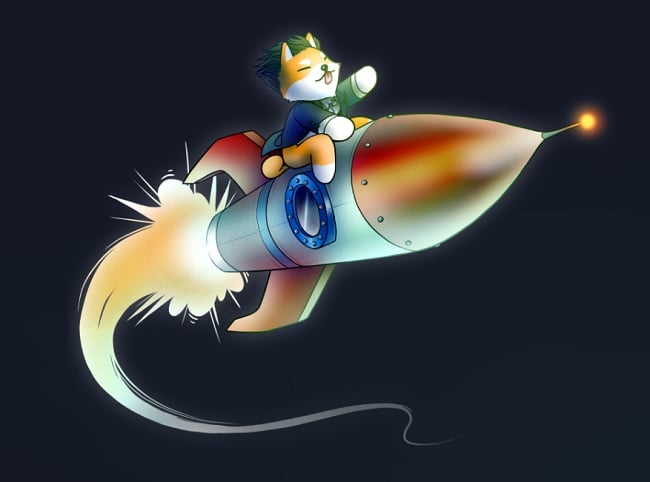 Does Dogelon Have a Future?
Meme cryptos like the ELON coin are heavily dependent on community hype. There still seems to be a lively online presence that could spell hope for this troubled crypto coin.
Its older brothers SHIB and DOGE have gained momentary momentum, only to lose steam. Dogelon might follow suit and see temporary price hikes, but it might never catch its second wind.
Nothing is certain, and coins backed with loyal communities are hard to predict. But ELON will likely need to see some steady growth before investors are ready to get back on the ship.
Can Dogelon Mars Reach 1 Cent: Final Words
While Dogelon Mars may not be able to reach $.01, there still might be some more gas in the tank for this crypto coin.
If you choose to invest, keep in mind that nothing is a sure thing, and digital tokens like these are a very risky investment.
Make sure to do your own due diligence and only invest what you can afford to lose.
Dogelon Mars FAQ
Is Dogelon Mars Legit?
Dogelon Mars is a real cryptocurrency that has withstood the test of time, so it does appear to be legit.
While it may be a meme coin, it has an enthusiastic base of owners — similar to Shiba Inu.
Can I Buy Dogelon Mars on Coinbase?
Dogelon Mars is not available on Coinbase at the moment. It takes a while for meme coins to get traded on this crypto exchange, so it's anyone's guess if or when this will change.
Where Can I Buy ELON Mars?
You can buy Dogelon Mars directly on any of these services:
KuCoin

Uniswap

Gate.io

OKEx

Hotbit

Cryptocurrency.com
Is Dogelon Mars a Good Crypto to Buy?
If you believe in ELON and in buying the dip, Dogelon Mars could be a good buy. That being said, it's been on a downward trend for months, and there's no telling where the floor is going to settle.
What Price Will Dogelon Mars Reach?
Because of the downward trend we're seeing in crypto right now, it's difficult to predict what price Dogelon Mars could reach. Before the drop, some predicted that Dogelon would reach $0.000003 within the first half of 2022.