As a beauty lover, you've probably heard of Sephora. It's a retailer that specializes in selling cosmetics and other beauty products.
But, does Sephora have a credit card? Read on to learn more about the Sephora credit card and how it could benefit you.
Does Sephora Have a Credit Card?
Yes, Sephora does have a credit card. The Sephora credit card, Sephora Visa credit card, and Sephora Visa Signature credit card are the three credit card options offered by Sephora.
You can apply for the Sephora credit card accounts at your nearby Sephora store, online on the Sephora website, or through the Sephora app.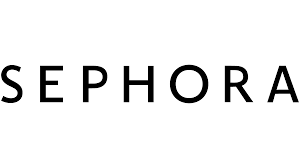 Regardless of how you apply, after you're accepted, you'll get a 25% discount on your first purchase. The best part is there are no annual fees upon getting a Sephora credit card.
Types of Sephora Credit Cards
If you're a regular Sephora shopper, it might be worth considering signing up for one of the store's credit cards. With three different types of Sephora credit cards, each has its own set of benefits.
Sephora Credit Card:

You can only use your Sephora credit card at Sephora stores and online only. You will receive 2x the Beauty Insider points and 4 percent back in rewards for every dollar spent upon using this card.

Sephora Visa Credit Card:

Anywhere Visa is accepted, you can use the Sephora Visa credit card to make purchases. Once authorized, you will receive 2x the Beauty Insider points and 1% back in rewards on all other Visa-accepted purchases in addition to earning 4% back on every $1 spent in Sephora stores and online.

Sephora Visa Signature Credit Card:

This card has all of the same features as the regular Sephora Visa credit card, plus Visa Signature perks including Visa Concierge, Roadside Dispatch, and Visa Signature Travel.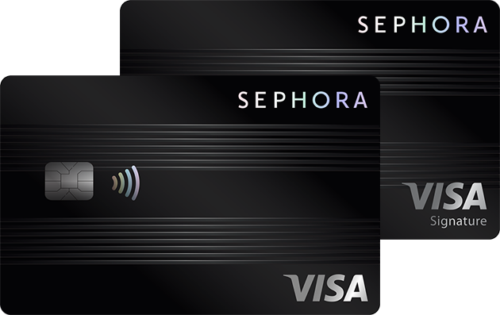 What Credit Cards Does Sephora Take?
Sephora does take Visa, MasterCard, Discover, American Express, Sephora, and JCPenney credit cards. To use for your online purchases, you can save different credit cards.
You have the option to add, edit, or remove your information during the checkout process.
On some orders for Visa, MasterCard, American Express, and Discover cards, Sephora may ask you to enter your 3 or 4-digit card identification number for security reasons. Your credit card will only be charged when the successful order is shipped.
Does Sephora Accept Debit Cards?
Yes, Sephora accepts debit cards. This means you can use your debit card as a form of payment for Sephora purchases both in-store and online. Currently, Sephora accepts debit cards from Visa and MasterCard.
The funds are placed on hold when an order is placed, making them unavailable to you. The funds won't be released until the order has been shipped successfully.
Does Sephora Accept PayPal?
Yes, Sephora accepts PayPal. Paypal is an alternative way to pay for your order at Sephora's website. Anyone with an email address registered on PayPal can use it to safely send payments online.
You can use your credit card, debit card, bank account, or PayPal account balance to pay for any purchases made on Sephora.com.
Does Sephora Do Payment Plans?
Looking to make a big purchase but don't have the cash on hand? Many people turn to payment plans to get the things they want without breaking the bank. Good thing Sephora accepts AfterPay, Klarna, and Zip.
With Afterpay and Klarna, you can divide your purchase into four interest-free installments. Your credit or debit card will automatically be charged once every two weeks after your order is placed for the first of four installments.
When you use Zip (previously Quadpay) at Sephora, you can pay for your Sephora purchase in four installments over the course of six weeks.
You must be a US resident, have a billing address in the US, credit or debit card, and a US phone number in order to use Afterpay, Klarna, and Zip payments.
Sephora Payment Options
Sephora accepts the following forms of payment:
Credit/Debit cards (Visa, Mastercard, American Express, Discover, Sephora, and JCPenney credit cards)

Sephora and Kohl's Gift Cards and Birthday Gifts

Kohl's Rewards and Kohl's Cash

Sephora Beauty Insider Points and Cash

Sephora Credit Card Rewards Points

Kohl's Credit Card Rewards Points

Paypal

Klarna

Zip (previously QuadPay)

Afterpay
Sephora Rewards
With Sephora's free rewards program called the Beauty Insider Program, you may accumulate points on all of your retail purchases and exchange them for rewards.
When you provide or check out with the email address that is registered to your Beauty Insider account, you will earn rewards (1 Beauty Insider point) for every dollar you spend on:
Sephora online

Sephora retail stores

Sephora at Kohl's stores

Sephora inside JCPenney stores

Kohl's and JCPenney websites

Instacart, Instagram Checkout, Facebook Checkout, and YouTube Shopping (only for Sephora merchandise)
Beauty Insider Cash can be redeemed at the point of purchase at Sephora and Sephora at Kohl's locations, both in-person and online. When choosing your payment option, you will have another chance if you neglect to choose Beauty Insider Cash at checkout.
When an item that was originally ordered using your Beauty Insider account is returned or canceled, all points earned, including bonus points, will be deducted from your account.
If you don't use your Beauty Bank to earn points for 12 months or more, all unredeemed points expire.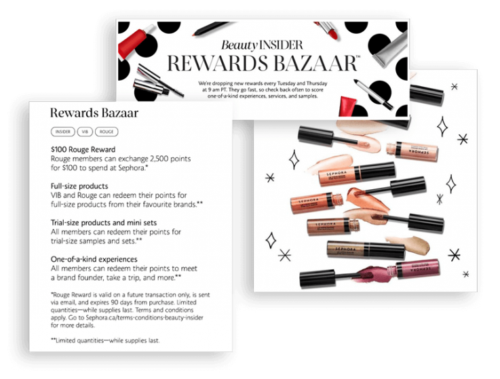 Final Thoughts: Does Sephora Have a Credit Card?
If you're not already a Sephora cardholder, it might be time to sign up. The rewards are generous, and the convenience of being able to earn points with every purchase is hard to beat especially if you shop there often. Plus, who doesn't love getting free stuff?
So whether you're stocking up on your favorite beauty products or just need to pick up something quick, using your Sephora credit card could definitely the way to go.