Hotel real estate investment trusts (REITs) offer an otherwise piece of the hospitality space that can bring higher returns than traditional REITs. And with that said, you may wonder, what are the best hotel REITs to buy right now? Luckily, this article answers just that.
Best Hotel REITs
Apple Hospitality REIT Inc. (NYSE: APLE)
Apple Hospitality REIT has a diverse portfolio of upscale and luxury hotels in the United States.
Formed in 2007, Apple Hospitality REIT has over 20 years of experience in the hospitality industry through its predecessor companies. The company is one of the largest of its kind, mainly owning properties with a focus on large room counts.
The REIT currently encompasses 218 hotels with nearly 28,700 total guest rooms. These accommodations exist in 86 markets throughout 36 different states.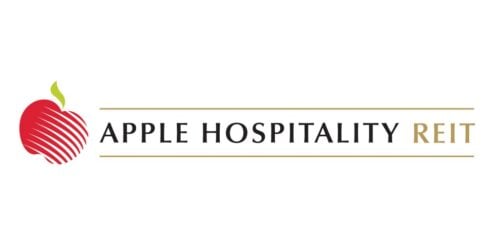 Many locations are well-known and respected brands, such as Marriott, Hilton, and Hyatt.
As Apple Hospitality searches for new locations to invest in, it follows strict guidelines for aligning with the best brands and hospitality teams.
The REIT also has a habit of reinvesting in its hotels to bring in higher returns across the board.
Financial numbers from the last several quarters remain at impressive levels, consistently beating expectations for revenue and earnings per share.
This translates to a positive stock outlook that has nearly recovered to pre-pandemic heights.
Shareholders will delight in a 5.84% dividend yield, and Apple Hospitality has already announced an increase in this monthly distribution to approximately 6% starting in November.
Even more so, the $3.77 billion market capitalization gives this hotel REIT a firm foundation to stand on.
Park Hotels and Resorts (NYSE: PK)
As the name implies, Park Hotels and Resorts owns a range of high-end and luxury properties. The company spun off from the Hilton line of hotels at the beginning of 2017, creating a headquarters in Virginia.
In September 2019, it acquired the Chesapeake Lodging Trust to incorporate a new level of investments into its current portfolio.
Park Hotels and Resorts added premium locations in key markets such as Boston, San Francisco, Los Angeles, and Miami with this purchase.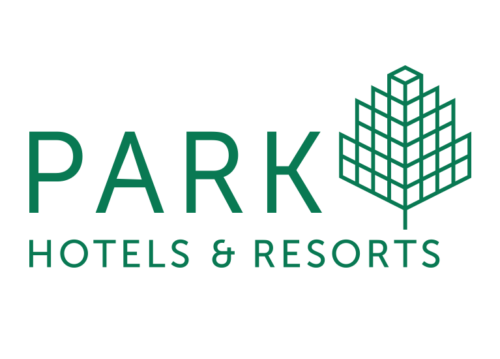 Over 88% of its 47 hotels fall into the luxury range, with 80% of locations covering central business districts or prime resort spots.
Park Hotels and Resorts offers roughly 30,000 rooms to guests around the country.
Through careful capital allocation, the company invests back into current hotels to increase value while scouting for new targets to bring on board.
There's a lot of liquidity behind the $2.82 billion market cap, and this hotel REIT continues to preserve a strong and flexible balance sheet.
Revenue from the second quarter surpassed expectations, and past performance numbers show this is a common trend with Park Hotels and Resorts.
Although share prices have dipped, investors are optimistic about the company's earnings prospects. A 0.32% dividend yield is just the icing on the cake.
Related: The 10 Best Monthly Dividend Stocks For Income Investors
Hyatt Hotels Corp. (NYSE: H)
Hyatt Hotels Corporation dates back to 1957 when entrepreneur Jay Pritzker purchased the Hyatt House motel in Los Angeles.
The company went public in 1962 after considerably expanding its operations both in the United States and overseas.
After a brief split, Hyatt's domestic and international companies merged in 2004 to become Hyatt Hotels Corporation.
As of January 2022, Hyatt's portfolio includes more than 1,150 hotels in 70 countries on every continent north of Antarctica.
It now contains more than a dozen unique brands ranging from upscale to luxury with all-inclusive options mixed in.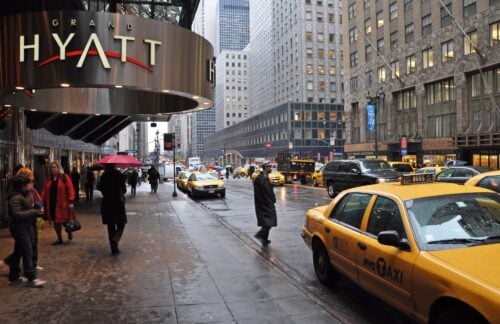 In October of this year, Hyatt opened its first lifestyle brand hotel in Southeast Asia, further expanding its global footprint.
This hotel is one of many Hyatt locations popping up worldwide as the hospitality company reaches new heights. Despite a slowdown from the Covid pandemic, Hyatt trades 40% higher than it did five years ago.
Revenue numbers continue to increase as time passes, over 183% higher than figures from last year, and market capitalization sits over the $9.5 billion mark.
Hyatt's success should continue well into the future as people turn to trusted brands for business trips and family vacations.
Marriott International Inc. (NASDAQ: MAR)
Marriott International is another well-known name in the hotel space, with 30 distinct brands. This hospitality REIT operates out of Maryland and dates back to 1927.
Travelers can choose from brands such as the iconic Ritz-Carlton, extended stay options at the Residence Inn, or something firmly between the two.
These brands represent the largest portfolio of any REIT in the hotel industry, with over 8,000 properties in 139 countries and territories.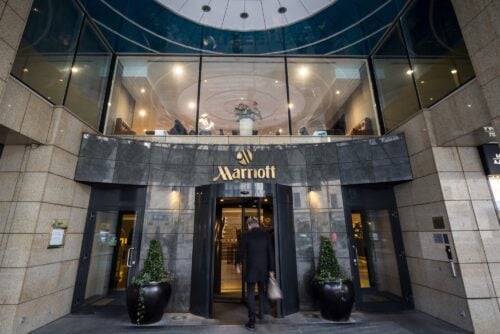 The company seeks to purchase the City Express brand in late 2022 or early 2023 to increase its property count in the affordable midscale segment.
City Express has 152 hotels across 75 cities in Mexico and a handful of other Latin American nations.
Other exclusive deals see hotels opening up in strategic locations for leisure and business travel in areas without a Marriott presence.
Most notable is the Ritz-Carlton cruise line, taking the luxury travel experience to a whole new level.
Ultimately, it is no surprise that Marriott International has seen healthy stock growth and solid revenue numbers since recovering from the lows of 2020.
Company momentum should keep things moving in the right direction, and the funds to pay out a dividend indicate good standing.
Pebblebrook Hotel Trust (NYSE: PEB)
Pebblebrook Hotel Trust owns premium upscale and resort properties in major US gateway cities. The real estate investment trust came to be in 2009 with a specific focus on urban hotspots.
When looking for new properties, the company performs extensive research before investing in locations with operational and reinvestment opportunities.
This helps Pebblebrook to build upon a goal of long-term returns to investors.
One way it accomplishes this is through a quarterly dividend of 0.25% paid out to shareholders, thanks to the careful use of free cash.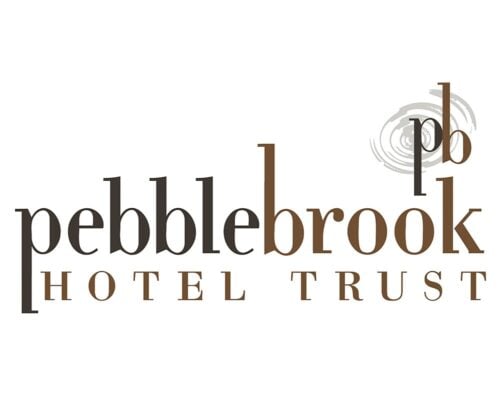 Fifty properties exist primarily in coastal cities, stretching from Key West to San Diego. Other Pebblebrook locations appear in New England, the NorthWest, and the Chicago area.
In 2022 alone, the REIT added four hotels to its collection as part of an aggressive approach to growth. Financials consistently come in higher than advertised, much to the delight of investors.
At around $16 per share, PEB stock offers easier entry than some of the big names in hotel real estate. Shares are currently down a bit, presenting an opportunity to buy the dip.
Should You Buy Hotel REITs?
Real estate investment trusts generally perform well on the market, providing a number of properties in diverse locations to minimize risk factors.
Focusing on the long game, investors can buy REITs in hopes of gradual gains and often passive income in the form of a dividend yield.
They also offer a great entry point into the real estate industry without having to shell out excessive capital for direct investment. Best of all, there's never a need to deal with the messy side of property repairs or evicting unruly tenants.
Hotel REITs are a unique foray into the sector, with money driven by occupancy rates to the effect of short guest stays.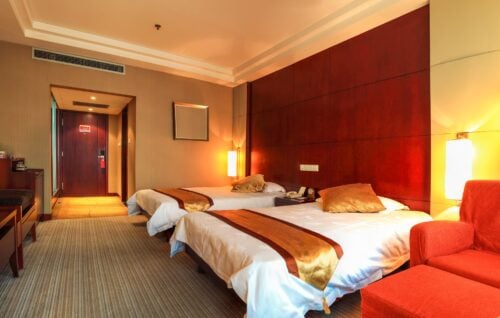 After being cooped up for so long, people view travel in a new light and take full advantage of hotel stays. Whether for work or personal reasons, hospitality REITs benefit from a renewed desire to get out into the world.
Hospitality REITs are sometimes subject to seasonal travel and economic changes that keep people at home. The result is more volatility than other REITs, but it can ultimately lead to higher gains.
Related: Are Mortgage REITs Safe?
Do REITs Do Well During Inflation?
Where To Buy Hotel REITs
Like stocks, hotel REITs live on major exchanges like Nasdaq and the NYSE. Anyone looking to invest needs only to find a reputable brokerage for making trades.
In the digital era, most investors use online companies like Robinhood and Webull for simplicity and convenience. Each brokerage is commission-free and allows you to execute trades from your own computer or mobile device.
When deciding between the two, Robinhood tends to tailor to newer investors, while Webull has more complex tools for anyone well-versed in trading.
Final Words
REITs typically offer a lower-risk approach to investing that pays off in the long run through growth and dividends. Hotel REITs continue to perform well and avoid the struggle of tenants and long-term occupancy.
Many of the best hospitality REITs offer name-brand experiences clients know and keep coming back to for more.
Should this trend remain, hotel REITs look to be a solid investment strategy for several years to come.
You might also like:
The 4 Best Cell Tower REITs To Buy Now
These Are The 9 Best High Yield REITs For Income To Buy Right Now!
The 8 Best Mortgage REITs To Buy Right Now!
These Are The 10 Best Residential And Apartment REITs To Buy For Income!